Featured Designer FWP – LJS Designs
Happy Friday friends! It's a new day, and we're debuting a new Featured Designer! As you know, over the past year and a bit, we've had all of our designers in the spotlight as our featured designers, so we've started fresh with a new series of featured designer FWP products that will center around the letters of the alphabet! Lorie of LJS Designs is up next with the letter "M", and she has an amazing kit for us, M is for Mystery! This kit is just soooo fun! I LOVE all the amazing elements that Lorie included that make it useful for lots of different kinds of layouts. Take a look . . .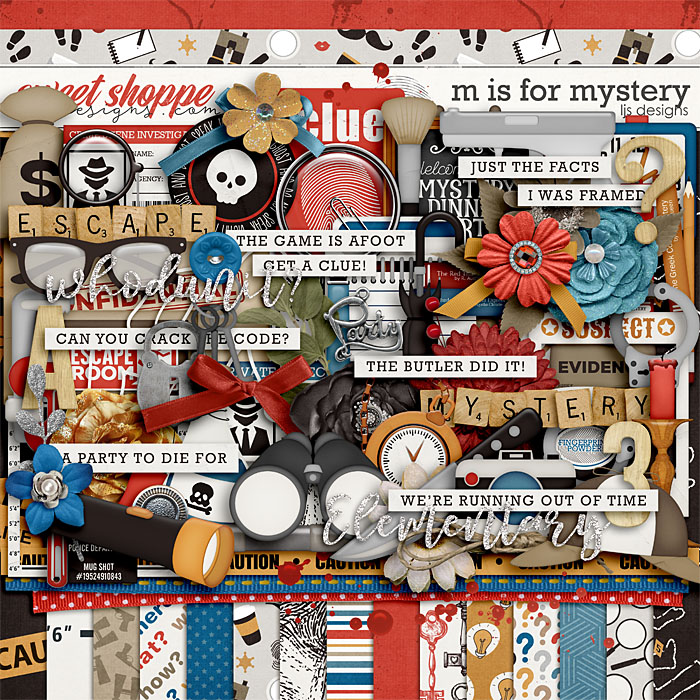 I asked Lorie a few questions about this kit and the process she went through to create it. Here's what she had to say:
Tell us a little bit about the direction you took for your letter of the alphabet.
I went with M is for Mystery and did my best to create a kit that could be used for various events and/or hobbies.
Did you find it difficult coming up with a concept for your letter?
I thought M would be easy, but the words I kept coming up with, memory, moment, magic, etc. didn't feel unique, and I am always looking to do something different. In the end, it was my creative team that came up with "mystery" because a number of them had Escape Room photos and/or Murder Mystery Party photos they needed to scrap. I figured if they needed a Mystery kit, other people may also need it.
I also asked Lorie a few more questions about herself, her love for this hobby of ours, and some of her favorite layouts or products:
If you could use one word starting with the first letter of your name that describes something about you, what would your word be and why?
Technically, it is not one word, but I always refer to myself as Last Minute Lorie because I am always working up until they very last minute, no matter how hard I try not to. I can be three days ahead on a kit, but somewhere along the way, I am going to do something that messes up my schedule and puts me behind. It is a source of real frustration for me.
What kit are you most proud of creating in the last year? Why?
I think my favorite last year was my Christmas kit, The Nutcracker. I started doing my word art differently, which was a lot of fun, and the kit came together easily. I am my own worst critic, but I thought it turned out cute.
When you aren't designing digital treats, what do you spend most of your time doing?
Working. In addition to designing full time, I also work full time as a production planner for an international fruit company, so I work a lot. When I do take time off, I like to read or watch the Walking Dead with my son.
Share a quote that you think is perfect for scrapping!
I actually came to scrapbooking through another hobby, genealogy. I started out scrapping my family history and then moved on to scrapping my family for future generations. I believe as long as we carry our loved ones with us and tell their story, they never really die, so a quote that resonates with me and why I scrap is: "Remember me in the family tree, my name, my days, my strife. Then I'll ride upon the wings of time and live an endless life." Linda Goetsch
Do you have a contest, call or giveaway that you want to share with our readers? Tell us about it!
Yes! I am going to host a very easy contest that will ask people to post three of my products that they would like to win and then choose at least two random winners to get their picks.
The Babes created some gorgeous layouts with M Is for Mystery. I was seriously blown away by the wonderful, unique pages the Babes creates with this kit! They really show off how amazing Meagan's kit is, and we hope their pages inspire you.
S0 go fill up your shopping cart with $10, and M is for Mystery will be automatically added for FREE! This special offer will only be available through Friday, March 29 when our new releases go live, so don't delay! And don't forget to come back next week when we have a little sneak peek into our fun, bi-weekly sale involving our amazing featured designers! Have a great weekend!