Featured Designer FWP – Jenn Barrette
Happy Friday friends! It's a new day, and we're debuting a new Featured Designer! As you know, over the past year and a bit, we've had all of our designers in the spotlight as our featured designers, so we've started fresh with a new series of featured designer FWP products that will center around the letters of the alphabet! Jenn Barrette is up next with the letter "Q", and she has an amazing kit for us, Q Is for Quirky. Jenn has always had such a fun, eclectic style, and "quirky" was the PERFECT word for her to use as a jumping off point for this kit. Take a look . . .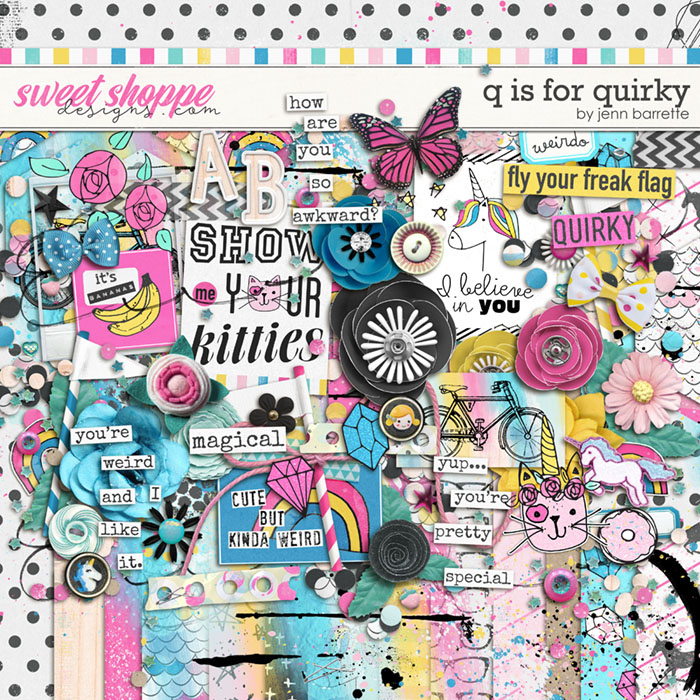 I asked Jenn a few questions about this kit and the process she went through to create it. Here's what she had to say:
Tell us a little bit about the direction you took for your letter of the alphabet.
I decided to go with Q is for Quirky and right away wanted to make something fun, bright, and girly . . . like me! I started doodling right away and had so much fun making this kit.
Did you find it difficult coming up with a concept for your letter?
As soon as I heard about the direction our new Featured Designer kits were going, I was so pumped! I was so happy to get "Q" and knew exactly what I was going to go with. Synonyms for quirky include: unconventional, outlandish, and eccentric—so basically me and my designs! It was meant to be!
The Babes created some gorgeous layouts with Q Is for Quirky. I was seriously blown away by the wonderful, unique pages the Babes created with this kit! They really show off how amazing Jenn's kit is, and we hope their pages inspire you.
S0 go fill up your shopping cart with $10, and Q Is for Quirky will be automatically added for FREE! This special offer will only be available through Friday, May 31 when our new releases go live, so don't delay! And don't forget to come back next week when we have a little sneak peek into our fun, bi-weekly sale involving our amazing featured designers! Have a great weekend!