Featured Designer – Robin Carlton
Happy Friday friends! It's a new day, and we're debuting a new Featured Designer! And this one is EXTRA special!! As you know, over the past year and a bit, we've had all of our designers in the spotlight as our featured designers, so we've started fresh with a new series of featured designer FWP products that will center around the letters of the alphabet! And, this week we get a super sweet treat because our fearless leader, Robin Carlton, put her designer hat back on and is up with the letter "Y". She has an amazing kit for us, Y is for Yours Truly. I get really excited whenever Robin decides to do a little designing for all of us, and she really came through with this kit! Take a look . . .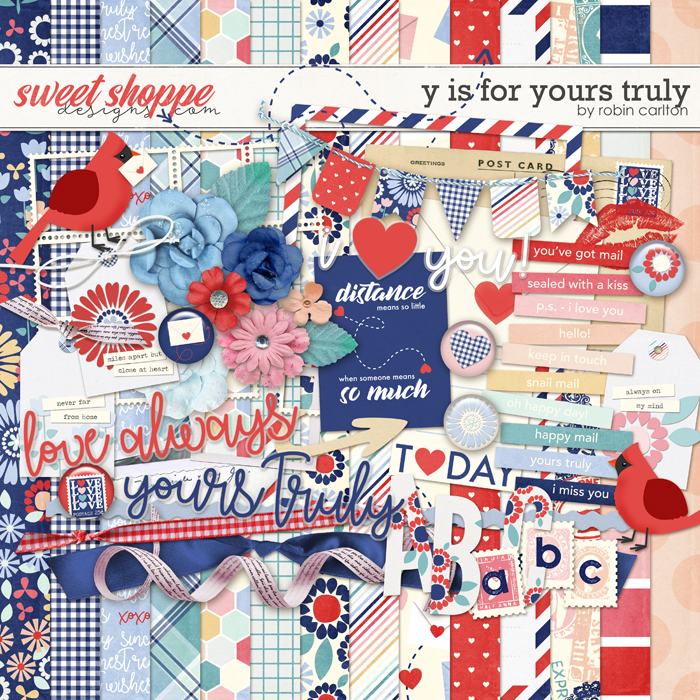 I asked Robin a few questions about this kit and the process she went through to create it. Here's what she had to say:
Tell us a little bit about the direction you took for your letter of the alphabet.
Well, a month or so ago, I realized we had a hole in our Featured Designer schedule and were missing someone for the letter Y. After asking the team about it and getting some encouragement from the other designers, I decided to put my designing hat back on and give it a try myself. From the very beginning, I couldn't get the phrase Yours Truly out of my head because I thought a kit from "yours truly" was kind of unusual and fun. From there, it became what kind of theme for Yours Truly might work, and my mind immediately went to letter writing, penpals, and long distance relationships because yours truly, love always, etc. are the perfect way to end a letter.
Did you find it difficult coming up with a concept for your letter?
I really didn't even consider another theme for the letter Y, but I thought I would share this fun brainstorm from Lorie that had us all giggling in the designer forum after I asked if a kit from me would suck. "It will not suck. It will be 'yummy.' You Only Live Once, so go for it. Think of it as design 'yoga' — the chance to stretch your skills and reconnect with 'yesterday.' By the time you finish, we will all be screaming 'Yippee' and you will be 'yearning' to make this a 'yearly' event."
I also asked Robin a few more questions about herself, her love for this hobby of ours, and some of her favorite layouts or products:
Do you have any plans for kits or collections coming in the future? Get us excited about what's on the horizon for you!
I'm actually pondering the idea of making a return to designing. Is this something anyone would want to see? I'm not sure, but I'd love a little encouragement if you like what you see this week! In addition to this week's Featured Designer freebie, I also contributed some goodies to our DSD collab, Best Day Ever, and I totally love those pieces and am having a blast, so designing again is a definite "maybe" at the moment!
Are you addicted to anything? What is it and why are you addicted?
I actually just kicked a crippling addition to Starbucks! For awhile there I was going every single day to get a Venti Starbucks Iced Mocha, nonfat, with whip. I still absolutely love them, but going a couple of times a month now is a much better situation for me and my wallet.
Show us the last layout you scrapped!

I'm a super private person and don't share much online, but the last layout I scrapped was actually last DSD using Sunflower Days from Grace to show off my wedding last year! After a couple of crazy years getting through the immigration process with my now husband in 2017-18. I am sooo thrilled and grateful to be married to the man who is truly my best friend.
Show us three layouts from the gallery that made you smile when you saw them.
Normally we do this question regarding the designer's personal creative teams, but we have such an incredible and inspiring community of scrappers here at SSD, so I thought I would show off a few pages that have jumped out of the gallery at me over the past couple of weeks!

How amazing is this page from Tammy? I adore Megs' Remember the Magic: Fab 4 kit, but Tammy took it to this next level with this spectacular, whimsical page! Each quadrant is a mini layout on its own, and ultimately, I think it's near perfection as far as scrapbook pages go! So fun!

Ok, so I admit it . . . I love love love layouts with blocks and grids and small photos, and this page from Biancka is seriously to die for! Biancka never disappoints. Her gallery is always sooo inspiring, and this beauty is seriously no exception! It is seasonal perfection!

I am a massive fangirl of Em Stafrace of Nifty Pixel fame, and our newest designer Jennifer Fehr, and when the two of them come together in a scrapbook layout, magic happens! I am constantly blown away when I look through Em's gallery, and can't recommend adding her to your favorites strongly enough! She is amazing!

Everyone on the staff here at SSD was so excited to have a kit designed by Robin, and the Babes just went wild with it. I was seriously blown away by the wonderful, unique pages the Babes created with this kit! They really show off how amazing Robin's kit is, and we hope their pages inspire you.
S0 go fill up your shopping cart with $10, and Y is for Yours Truly will be automatically added for FREE! This special offer will only be available through Friday, October 18 when our new releases go live, so don't delay! And don't forget to come back next week when we have a little sneak peek into our fun, bi-weekly sale involving our amazing featured designers! Have a great weekend!