Thursday Treats – Holiday Recipes 11/14
We're definitely headed into the holiday season now! For many of us, the holidays immediately make of us think of specific foods – tastes and treats from our past. I thought it would fun to ask the designers and Sugarbabes to share a few of their family favorite holiday recipes with us. Maybe one of these will become a new favorite for YOUR family.
First off, Kristin Cronin-Barrow shared Roasted Turkey Barley Soup
She said "My parents make this turkey soup every holiday that a turkey is served. Sometimes I think the turkey soup is looked forward to more than the turkey dinner.. LOL."

Ingredients:
1 turkey carcass
12 C water
2 tbsp olive oil
1 C diced onion
3 diced carrots
1 C diced celery
¾ C barley dried & drained
1 tsp salt
2 bay leaves
2 C diced COOKED turkey
2 tbsp soy sauce
1/3 C minced fresh parsley
Pepper to taste
Instructions:
Place turkey carcass in a large stock pot, add water and bring to a boil. Reduce to a simmer, leaving lid ajar. Simmer for about 3 hours then strain broth and skim off fat. Refrigerate broth overnight.
Heat oil in a large saucepan. Add onions, carrots and celery. Sauté over medium heat until soft. Stir in barley to coat. Add stock, salt and bay leaves then bring to a boil. Cover with lid slightly ajar. Reduce heat to medium-low and simmer for 45 minutes, stirring frequently.
Meanwhile, preheat oven to 350°F. Toss diced turkey with soy sauce and spread on foil-lined baking sheet. Roast turkey in the oven for about 15 minutes, set aside.
When soup has simmered for about 45 minutes stir in turkey, then simmer for an additional 15 minutes. Discard bay leaves before serving, adding parsley and pepper to taste.
Next, Brook Magee shares a recipe she makes every Christmas, Apple-Orange Cranberry Sauce (from Williams Sonoma)
Ingredients:
1/2 orange (NOT a navel)
2 C water
1 tart apple
3 C fresh cranberries
1 1/4 C sugar
1/2 tsp ground cinnamon
1/4 tsp ground cloves
Instructions:
Squeeze the juice from the orange and set aside. Remove and discard the membrane and dice into small pieces. In a small saucepan over high, combine rind and water. Boil for about 10 minutes, drain and put aside.
Peel, core and dice the apple. Rinse and sort the cranberries. Combine both in a pan. Add the orange juice, rind, sugar and spices. Bring to a boil over high, then reduce partially cover and simmer stirring occasionally about 10-15 minutes. Cool an hour before serving.
Up next, Meagan Tuck has a classic favorite, Libby's Pumpkin Rolls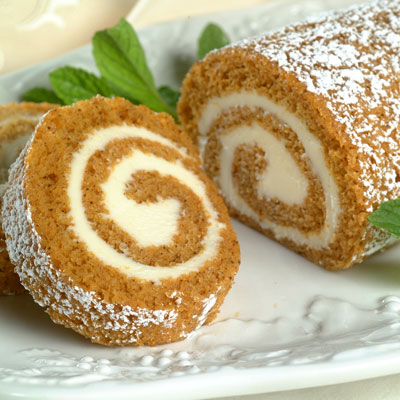 Ingredients:
Cake
1/4 C powdered sugar to sprinkle on towel
3/4 C all purpose flour
1/2 tsp baking powder
1/2 tsp baking soda
1/2 tsp ground cinnamon
1/2 tsp ground cloves
1/4 tsp salt
3 large eggs
1 C sugar
2/3 C Libby's Pure Pumpkin
1 C chopped walnuts, optional
Filling
1 pkg 8 oz cream cheese, room temperature
1 C sifted powdered sugar
6 tbsp butter or margarine, softened
1 tsp vanilla extract
powdered sugar, for decoration
Instructions:
For the cake: Preheat oven to 375° F. Grease 15×10 in jelly-roll pan, line it with wax paper. Grease and flour paper. Sprinkle a thin, cotton kitchen towel with powdered sugar.
Combine flour, baking powder, baking soda, cinnamon, cloves and salt in a small bowl. Beat eggs and sugar in large mixer bowl until thick. Beat in pumpkin. Stir in the flour mixture. Spread evenly into the pan. Sprinkle with nuts.
Bake for 13-15 minutes, or until top of cake springs back when touched. (possibly 11 minutes if using a dark pan) Immediately loosen and turn cake onto prepared towel. Carefully peel off paper and roll up cake and towel together, starting at the narrow end. Cool on wire rack.
For the filling: Beat cream cheese, 1 cup powdered sugar, butter and vanilla in small mixer bowl until smooth. Carefully unroll cake. Spread cream cheese mixture over cake and reroll. Wrap in plastic wrap and refrigerate at least 1 hour. Sprinkle with powdered sugar before serving if desired.
Finally, Sugarbabe Cassie shares Chocolate Covered Peanut Balls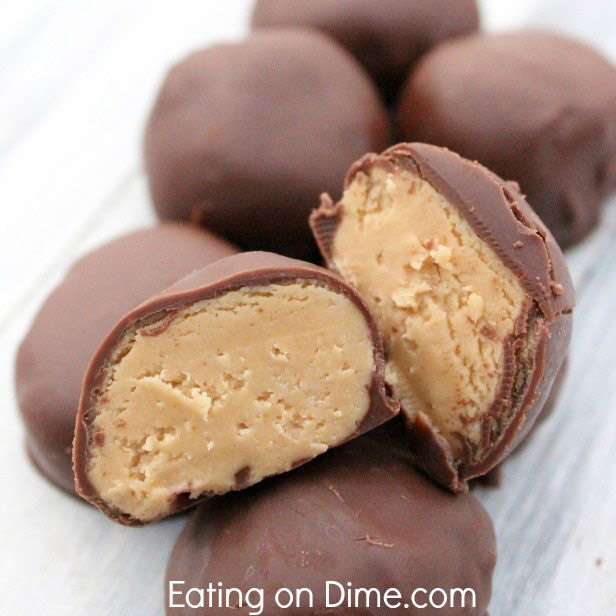 Ingredients:
1 1/2 C creamy peanut butter
1/2 C butter, softened
1 tsp vanilla
3 C powdered sugar
12 oz bag of chocolate chips
2 tbsp shortening
Instructions:
Line a cookie sheet with waxed paper and set aside. Mix peanut butter, butter and vanilla in a large bowl. Slowly add one cup of powdered sugar to the creamy mixture, mixing well each time. By the time you get to the third cup of powdered sugar, the mixture will become very difficult to stir with a spoon. Mix with your hands.
Once all of the powdered sugar is incorporated into the peanut butter mixture, start forming 1 inch balls by pinching off and rolling between your hands or using a small scoop. Place the balls on the cookie sheet. After you've made all the balls, start melting the chocolate and shortening together. You can use a double boiler or simply put a metal or glass bowl on top of a saucepan with a small amount of boiling water.
One at a time, drop the peanut butter balls into the melted chocolate. Lift it out with a fork and place on the waxed paper. Once they are all coated, place the cookie sheet in the refrigerator for 15-30 minutes until chocolate is hardened.
Will you share one of YOUR family's favorites with us in the comments?