Featured Designer FWP – Studio Basic Designs
Happy Friday, friends! We've come to the end of another week. How's everybody doing? Wherever you are in the world, I hope you and your loved ones are safe and healthy. I'm really grateful for our sweet community, especially right now when things are so strange. And this is sure to be a fun weekend with all the NSD celebrations going on in digiland!
Today I'm excited to introduce Rubia Padilha of Studio Basic Designs as our Featured Designer!
As you know, the current theme for our Featured Designer freebies this year is a Mix Tape. Each designer will create something inspired by one of their favorite songs, and at the end of the year, we will have an amazing mix tape compilation! Rubia has created a beautiful kit for us, inspired by a song from the Disney film, Tarzan—You'll Be in My Heart. Take a look . . .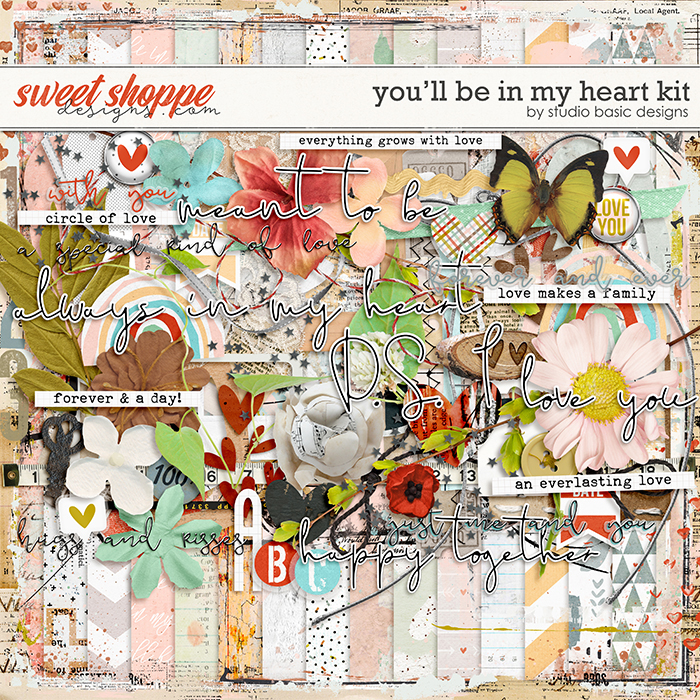 I know we all love Ru's grungy, artsy design style, and this kit is a perfect representation of why we all love her so much!
I asked Rubia a few questions about this kit and the process she went through to create it. Here's what she had to say:
What song did you choose as your inspiration? Why does it speak to or inspire you?
I chose You'll Be In My Heart by Phil Collins—the one from Tarzan. The reason I LOOOOOVE it sooo much is because of Brian, my son (my pre-teen now lol). When he first came home, we used to watch that movie all the time. He looooves it, even today. And this song says a lot about our story together. . . . It is our song, for sure. ♥
How did you decide what direction to take your kit after choosing the song for our mix-tape?
I asked my team for a little help! I was choosing between You'll Be In My Heart and few other songs, and the girls told me this one was better considering all the photos I usually post of Brian and the fact that Mother's Day is coming up. So, as most of the kits I make inspired by Brian, I just let things go. It is about love and our love and our relationship and how my life is better because of him.
I also asked Rubia a few more questions about herself, her love for this hobby of ours, and some of her favorite layouts or products:
What kit are you most proud of creating in the last year? Why?

I Wish You…, no doubt! This was, actually, also inspired by a song! And Brian. LOL The song is called I Wish You Love and I just love how "light" it is. And Brian is a part of it because I wish he can be that "light" one day, no matter what life brings him. And the colors!!! I could use these over and over and over!!
Do you have any plans for kits or collections coming in the future? Get us excited about what's on the horizon for you!
Oh, I have a list (and a Pinterest board) full of ideas! There is something that I have been planning to do for years now . . . a wedding kit. Not just a wedding kit, but something more artsy. I think it is still on my to-do list only because I can see it done on my mind, but I am worried about actually doing it and not having it be like I imagine it, you know? Overthinking problem.
Show us the last layout you scrapped!
The last one I made was using one of my favorite collabs (and I have too many favorite collabs! LOL). This is Brian and Ozzy, our dog. Brian even asked me to print it so he can have it in his room.
Do you have a contest, call or giveaway that you want to share with our readers? Tell us about it!
YES! Soon! Stay tuned for the next Studio Basic Guest Call!
The Babes created some amazing layouts with You'll Be in My Heart, and as always, we love seeing how each member of our talented team brings their own style to each and every page they create! All our Babes are brilliant at showing off the versatility of each product in the Shoppe, and we hope their layouts inspire you. . . .
With that, go fill up your shopping cart with $10, and You'll Be in My Heart will be automatically added for FREE! This special offer will only be available through Friday, May 15th when our new releases go live, so don't delay! And don't forget to come back next week when we have a little sneak peek into our fun, bi-weekly sale involving our amazing featured designers! Have a great weekend!