Featured Designer FWP – JoCee Designs
Happy Friday, friends! We've come to the end of another week. How's everybody doing? Wherever you are in the world, I hope you and your loved ones are safe and healthy. I'm really grateful for our sweet community, especially right now when things are so strange. Keep hanging in there!!
Today, in addition to the anticipation for DSD, I'm excited to introduce Jo Corne of JoCee Designs as our Featured Designer!
As you know, the current theme for our Featured Designer freebies this year is a Mix Tape. Each designer will create something inspired by one of their favorite songs, and at the end of the year, we will have an amazing mix tape compilation! Jo has created a beautiful kit for us, Thank You for the Music, inspired by one of MY favorite ABBA songs. Take a look . . .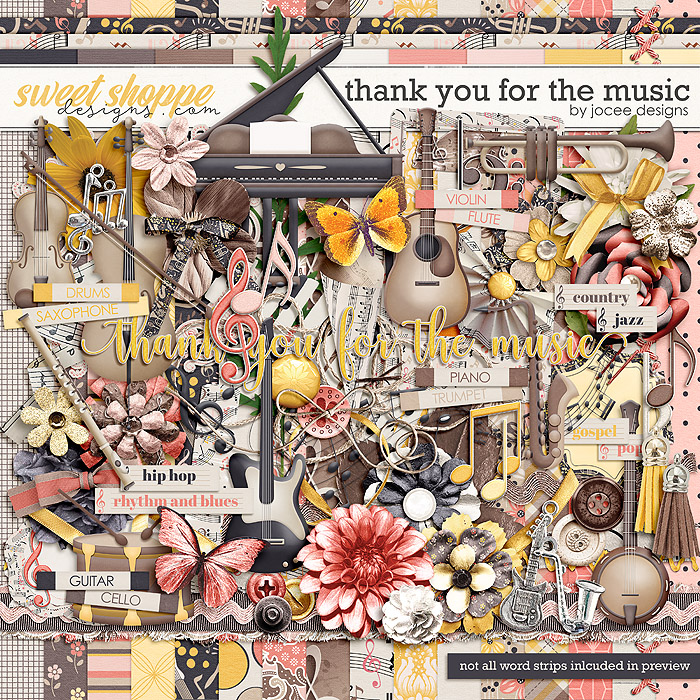 I love the beautiful, muted color scheme of this kit and how it manages to be both specific and versatile.
I asked Jo a few questions about this kit and the process she went through to create it. Here's what she had to say:
What song did you choose as your inspiration? Why does it speak to or inspire in you?
I chose Thank You for the Music by ABBA. I chose this song as I listen to music all the time whilst working. I can't work in silence—the quiet is too loud! When I was studying at school I would study for exams with the radio on in the background. Choosing this song is the perfect way to say "thank you" for being my constant companion, plus need I say more than . . . ABBA!!
How did you decide what direction to take your kit after choosing the song for our mix-tape?
I studied different music themed scrap kits. I surfed all over Pinterest looking for inspiration with quotes, images, and colours. I knew I had some commercial use musical instrument templates in my stash and once I decided on my colour palette, I immersed myself in creating the papers and then the elements. I knew I wanted the main elements of my kit to be the musical instruments and the word strips that have many genres of music listed. I had a lot of fun, whilst listening to music, creating this kit.
I also asked Jo a few more questions about herself, her love for this hobby of ours, and some of her favorite layouts or products:
What kit are you most proud of creating in the last year? Why?
The one I am most proud of is Gone But Not Forgotten. This kit is in honour of my late brother who passed away 28 March 2006. He was only 33 years old and my only sibling. His passing has left a huge hole in our family, and I wanted to do something to honour him and to keep him close.
Show us the last layout you scrapped!

What is the last book you read? Did you love, hate it or was it just meh?
I have found an Australian authoress, Natasha Lester, who writes the most amazing stories moving between WWII and the present day. She has such a way with filling out her characters and weaving a brilliant story. I am on a bit of a Natasha Lester binge at the moment and have read two of her books back to back and have one more to do. The Paris Secret, The French Photographer, The Paris Seamstress . . . and so many more. I highly recommend her books.
When you aren't designing digital treats, what do you spend most of your time doing?
We are currently in a sever lockdown here in Melbourne, have been for about three months, so, apart from designing I have been reading up a storm, doing as many puzzles as I can get my hands on, and quietly doing my mind!
The Babes created some amazing layouts with Thank You For the Music, and as always, we love seeing how each member of our talented team brings their own style to each and every page they create! All our Babes are brilliant at showing off the versatility of each product in the Shoppe, and we hope their layouts inspire you. . . .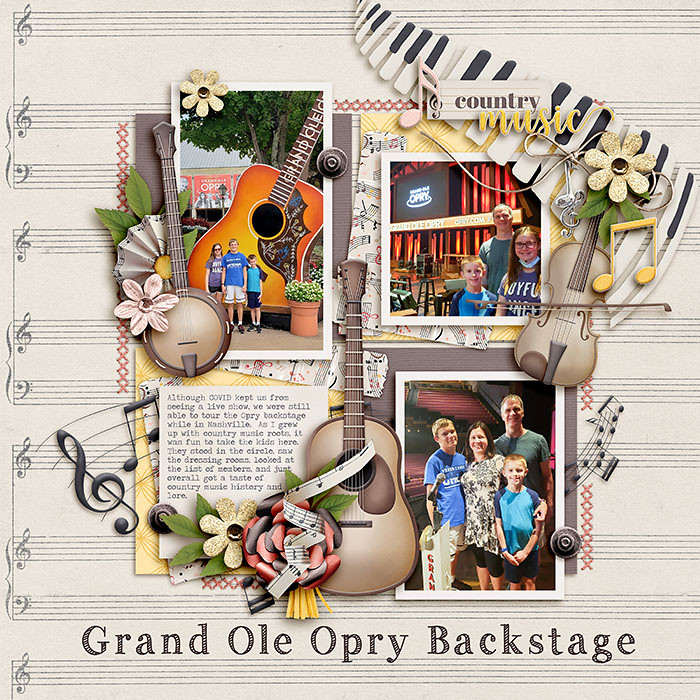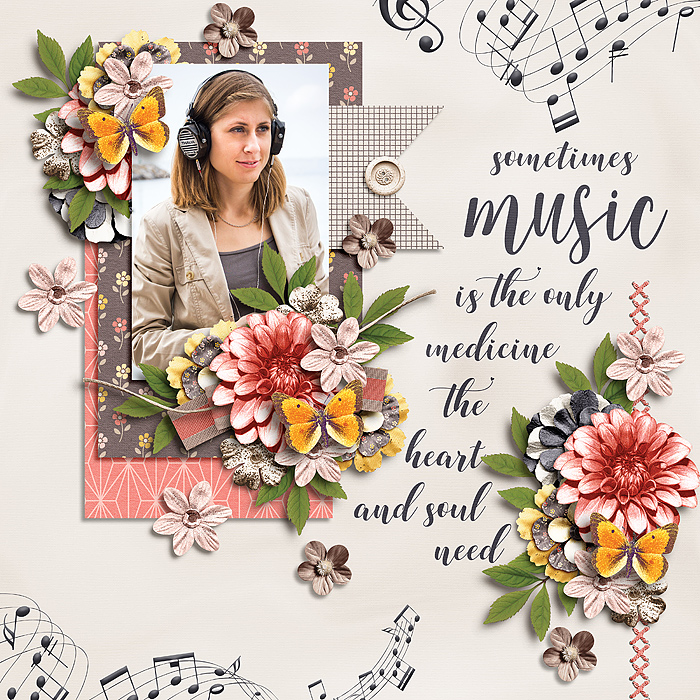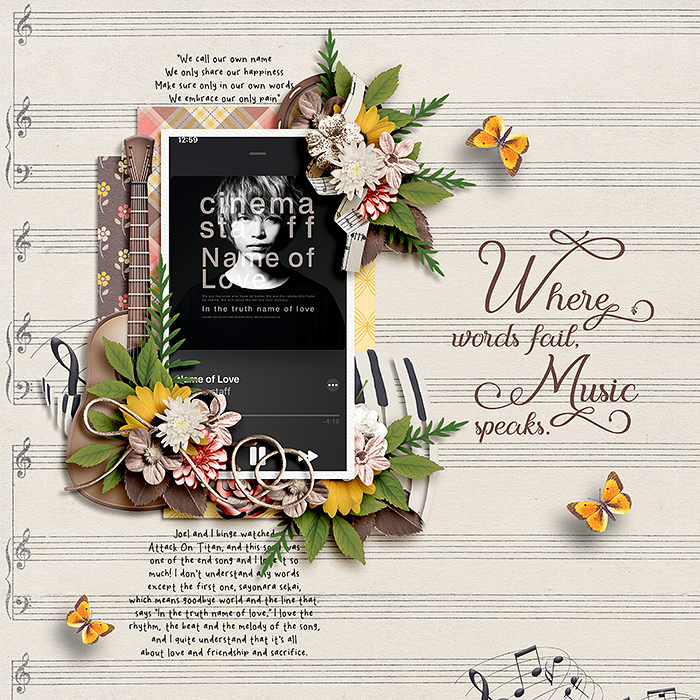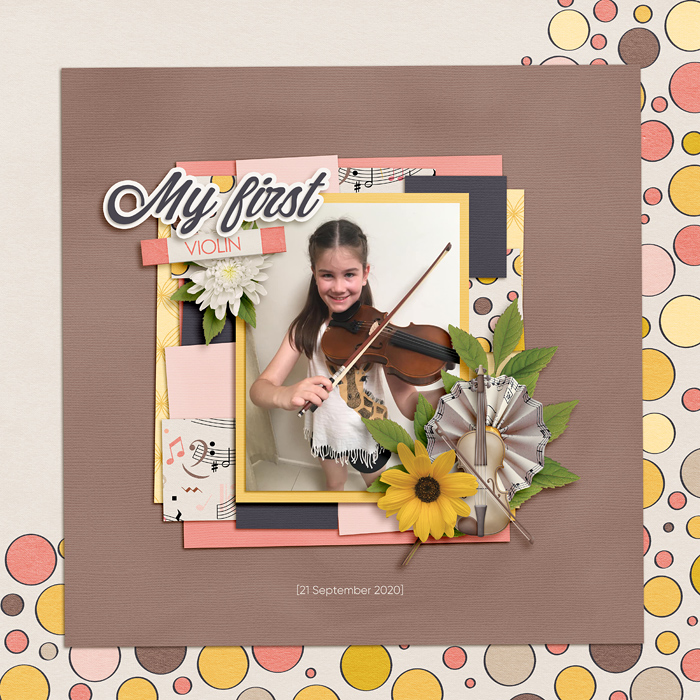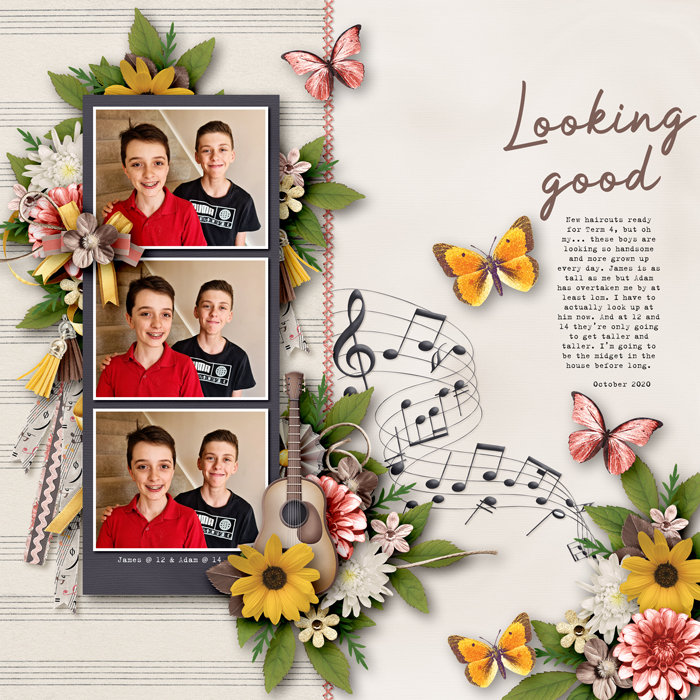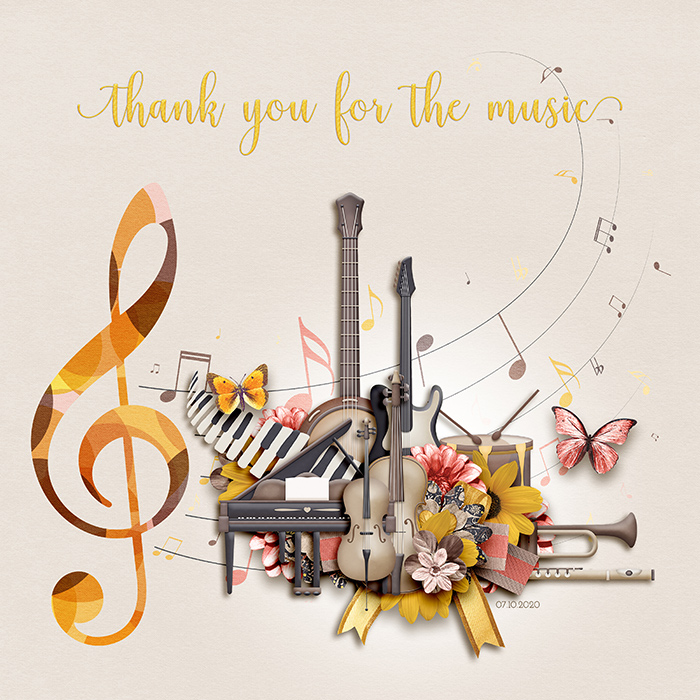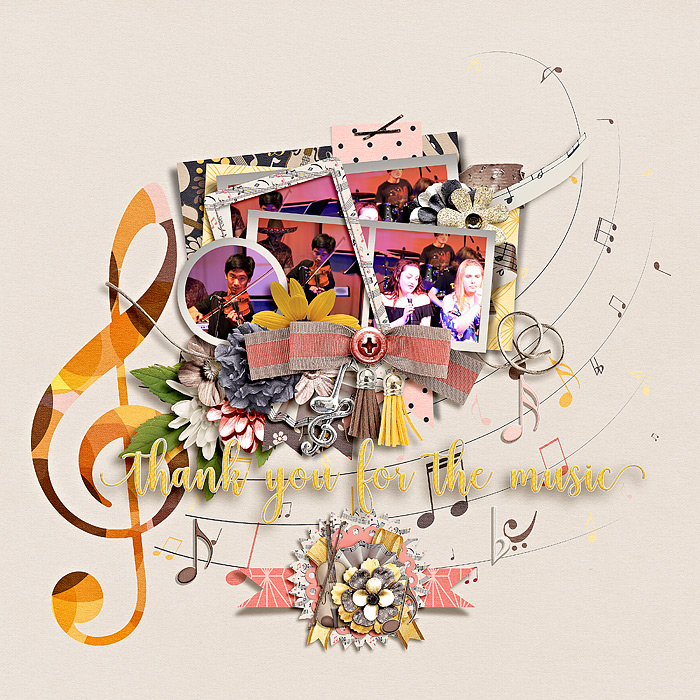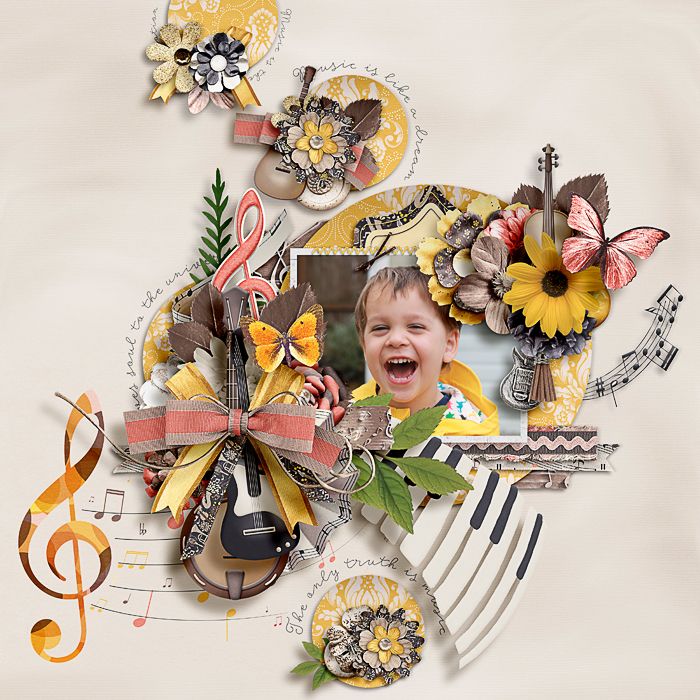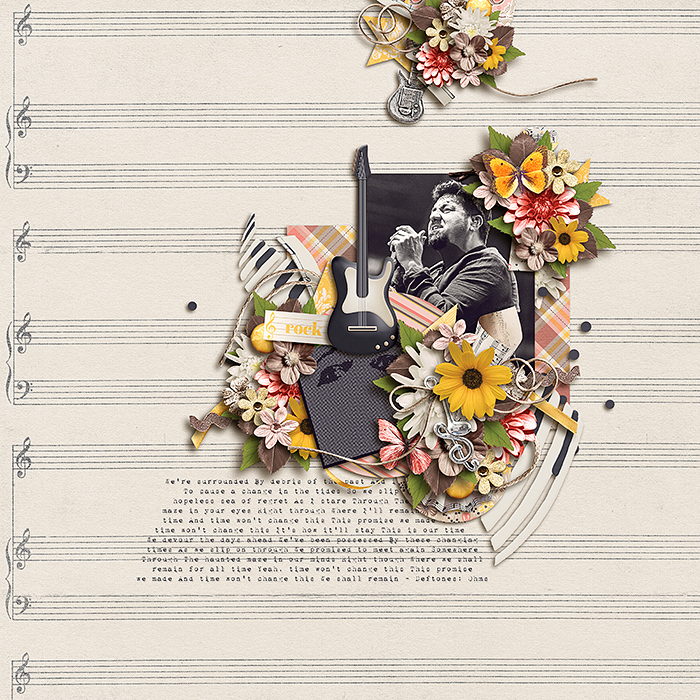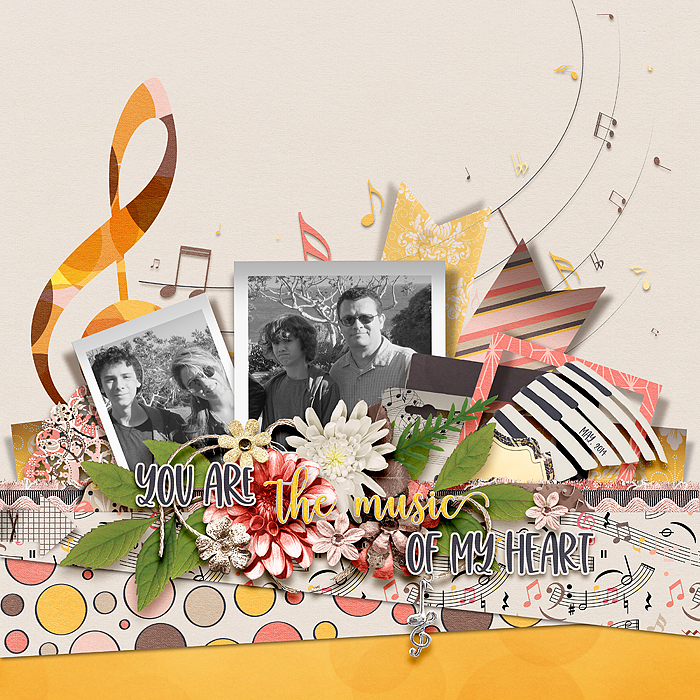 With that, go fill up your shopping cart with $10, and Thank You for the Music will be automatically added for FREE! This special offer will only be available through Friday, October 30 when our new releases go live, so don't delay! And don't forget to come back next week when we have a little sneak peek into our fun, bi-weekly sale involving our amazing featured designers! Have a great weekend!