Featured Designer FWP – Red Ivy Design
Happy Friday, friends! Another week has come and gone, and we're half way through March. My how time flies! I hope everyone is looking forward to a wonderful weekend making memories doing the things you love with the people you love.
Today, I'm excited to introduce Alice of Red Ivy Design as our next Featured Designer! This year, our fabulous designers are celebrating some of our most memorable days in our new A Day To Remember series of kits! Alice's contribution to this theme really speaks to me right now! A Waiting for the Sun Kind of Day is perfect for those of us who are coming out of winter and anxiously awaiting spring! And, I'm sure many of you who are just beginning your winter season will feel a similar kind of yearning. Take a look!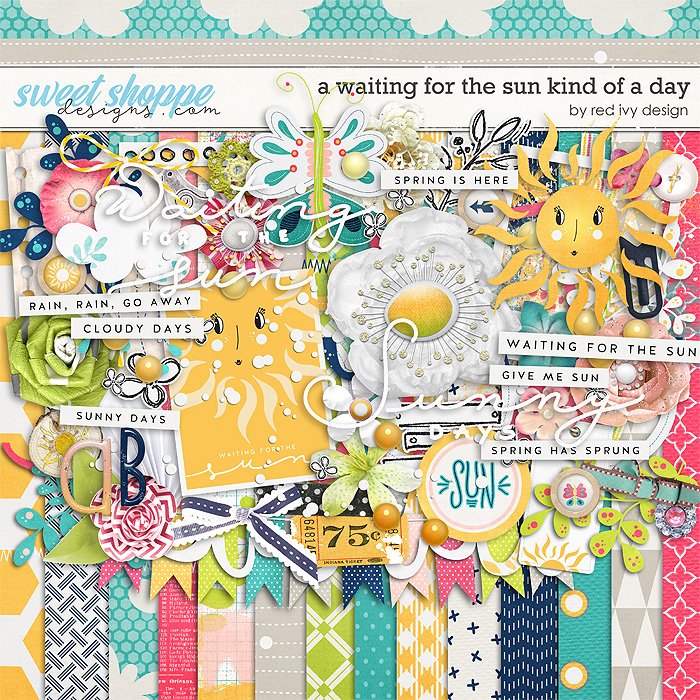 We had a few really warm, sunny days here where I live, and then it got cold and snowy again. So, this kit really speaks to me as I wait for the sun to reappear. I love the fresh, springy colors SO MUCH!
I asked Alice a few questions about herself, her love for this hobby of ours, and some of her favorite layouts or products:
What is your favorite way to spend a day?
The past years have been really, really hectic for me, with little to no moments to truly get some rest. So, ideally, now that winter seems to have a come back in my corner of the world, I would love to be able to spend an entire day on the couch watching old movies while drinking hot tea, with a warm blanket, fuzzy socks, and all. 
Your Featured Designer 15 is coming up, what product are you most excited to put on sale?
It's difficult for me to choose just one product but I'll have to go with the Embrace Your Inner Weirdness collection. Often times we mistake our uniqueness or our authentic way of self-expression for "weirdness" out of the desire to fit in or to be accepted. The message I wanted to convey with this collection is that we don't have to sacrifice our authenticity; what we perceive as weird may be the exact thing that makes us unique.
If you could visit anywhere, where would you go and why?
One place I would really like to visit is Alaska. I so love the mountains, wild nature, and the large, untouched stretches of land I keep seeing in pictures! Alaska seems to have a special vibe to it—something that is really hard to put into words.
Show us a favorite product in your store or layout in your gallery.
Another favorite of mine is the Brave collection. I like creating kits with motivational, optimistic messages. Having recently gotten a degree in Psychology, I want to incorporate in my designs concepts and ideas that I know are important and helpful for each of us. I hope I can brighten, even just a little bit, people's day not only with my designs but also with the messages that I put out there.

As for a favorite layout—again, it is super hard to choose just one! Browsing through my gallery though, this one caught my eye made with the Brave collection:
The Babes created some amazing layouts with A Waiting for the Sun Kind of Day. As always, we love seeing how each member of our talented team brings their own style to each and every page they create! All our Babes are brilliant at showing off the versatility of each product in the Shoppe, and we hope their layouts inspire you. . . .
With that, go fill up your shopping cart with $10, and A Waiting for the Sun Kind of Day will be automatically added for FREE! This special offer will only be available through Friday, March 26 when our new releases go live, so don't delay! And don't forget to come back next week when we have a little sneak peek into our fun, bi-weekly sale involving our amazing featured designers! Have a great weekend!