Featured Designer – JoCee Designs
Happy Friday Y'all!  It's almost September, are you ready?  Dreaming of pumpkin spice and everything nice?  Not me, it's been in the 90's almost everyday here this past week in Michigan, I can't even imagine drinking something hot right now!  It's my pleasure to announce our next featured designer – Jo of JoCee Designs!  As you know, our fabulous designers are celebrating some of our most memorable days in our new A Day To Remember series of goodies!  Jo's A Self Care Day is something I think we can all relate to or need in our lives!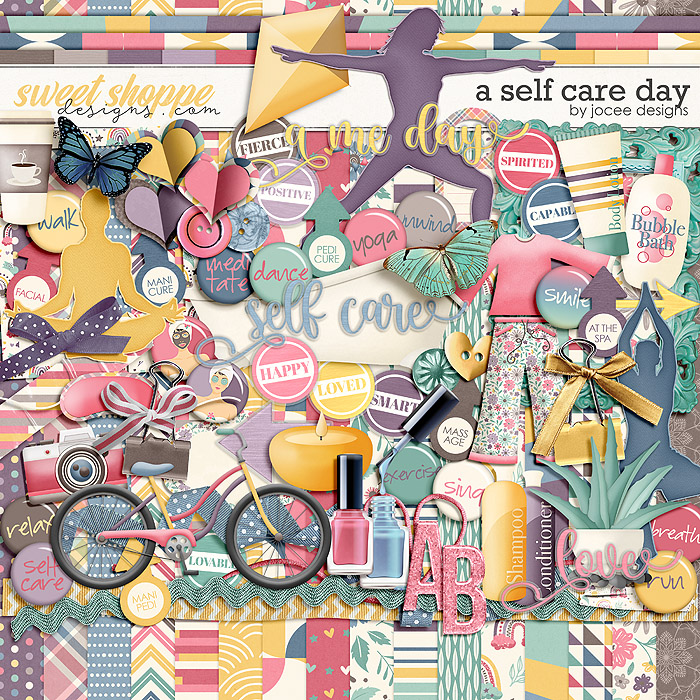 As you know we love to ask the designer some interview questions scrapbooking, designing, and life in general to go along with their feature, so let's get to it!
Walk us through a typical "day in the life" of you!
Down here in Melbourne we have been in lockdown for over 200 days in total (!) so most of my 'day in the life' has been stuck at home. I am a morning person, so I am up around 6.30 or so after being woken up by my fur baby Enzo demanding attention, love, and food in that order. I then do my exercises, either yoga or out for an early morning walk. After that it's shower, dress and prepare for the day. If I have a magazine to work on, I will do that first… after another play/love/snug session with the fur baby. If I don't have a magazine I will dive straight into my designing and get as much done as I can before I break for lunch. After a walk around the block to air out the brain and eating lunch, it's back to designing until I either get screamed at by said fur baby for attention or I must get up and come up with dinner for the family. After dinner I either will read, watch a show, or do a puzzle. I re-found my love for puzzles during our first lockdown in March of last year. Suffice it to say, after over 200 days in lockdown, I now am the proud owner of many many many more puzzles and even have four waiting for me right now.
What kit are you most proud of creating in the last year? Why?
It's a bit of an obscure collection, to be honest. It is a redo of an older collection I created a few years ago that I really did not like. I challenged myself to make it better in the hopes I would fall in love with it. And, thankfully, it worked. I was thrilled with the way my reworked Denim and Diamonds Collection turned out and proved be well received by our wonderful customers.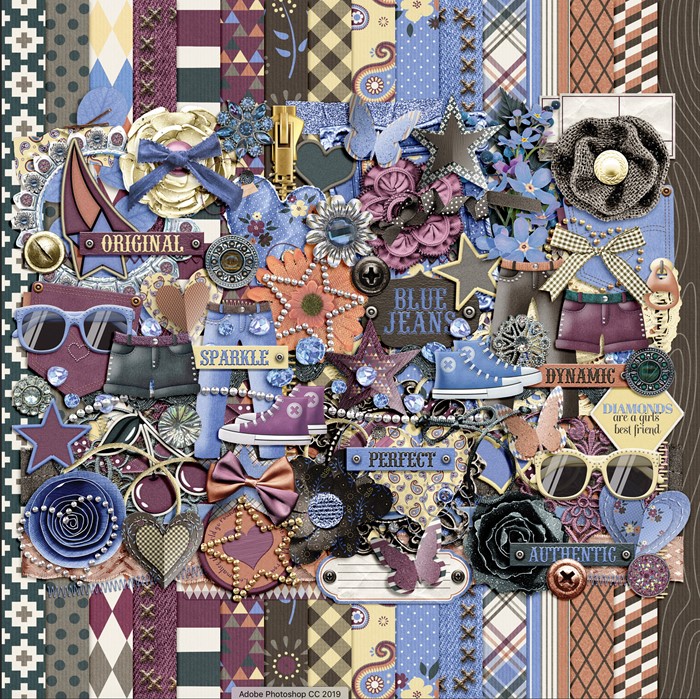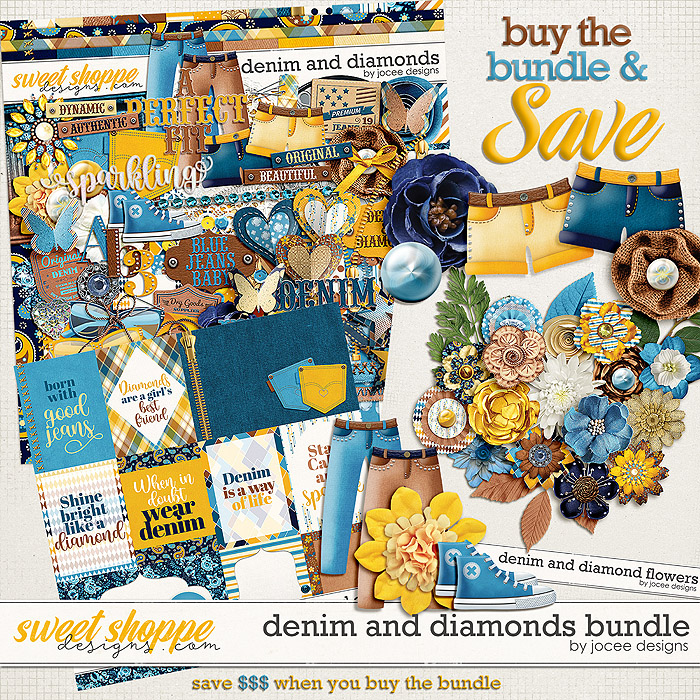 Is designing your only job, or do you work outside of designing? 
Designing is my main job as of the beginning of this year. I resigned my 'out of home job' in December 2020 after being there 16 years. However, I still freelance for them creating the magazine I had been designing in those 16 years. Golf/grass related… suffice it to say, my designing is far more creative, lol.
If you could visit anywhere (anyone), where would you go / who would you see and why?
Right now, we would absolutely love to visit with my In-Laws in the UK. My husband has not seen his folks/sister in nearly two years. His parents are 89 years old, and his sister is their main care giver. They've had some scary times with my MIL having Covid in April of last year and their health is not the greatest at as you can imagine at that age. After that, a cruise in the Mediterranean to make up for the one we had to cancel last year due to Covid.
 Do you have any pets?
I have the most beautiful fur baby eva! EnzoBlu is his name, Enzi for short, and he is a blue-point ragdoll. He is nearly 7 years of age, and we absolutely adore him. He is very needy, always wants attention and can scream blue murder if he is being ignored. But… when he wants love he wants his tummy smoothed and his chin tickled, it's the best. He sleeps on my bed, if not on me, at night and is my alarm clock every morning by meowing very loudly in my ear and tapping me on my head!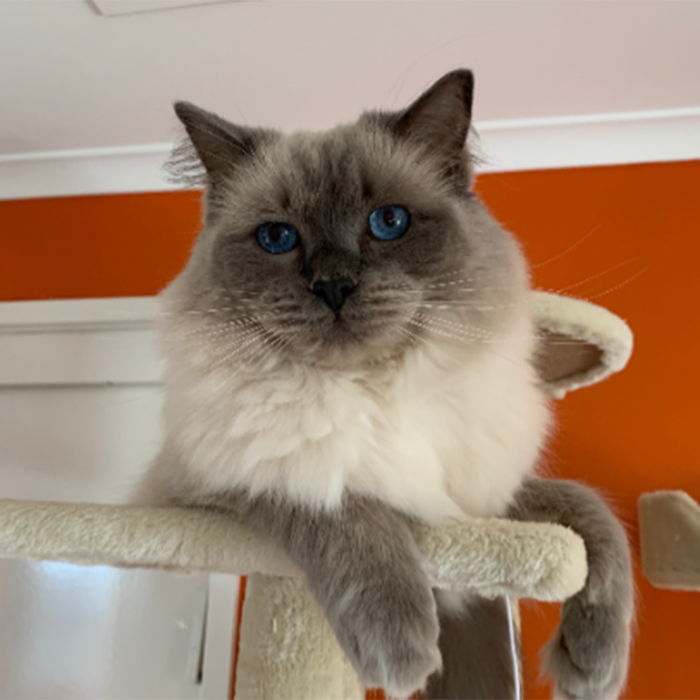 How did you get started designing?
About 12 years ago I started out as a layout artist for another store and absolutely loved it. I was working in a job as an art director for a golf related company and realized I needed a more creative outlet than what I was doing at work and digital scrapbooking was it. I then realized I wanted to try my hand at designing. I had studied design at college and had done art at school. I'm pretty self-taught although I always grabbed whatever learning opportunities there were to enhance my abilities. I have even taken classes with our very own awesome Traci Reed and Megan of Studio Flergs. I spent a few years at the store where I had been a layout artist and then moved to two more stores before finally being accepted at THE best store in town, SweetShoppe Designs. I am now home.
Now let's see what are team has created with a Self Care Day!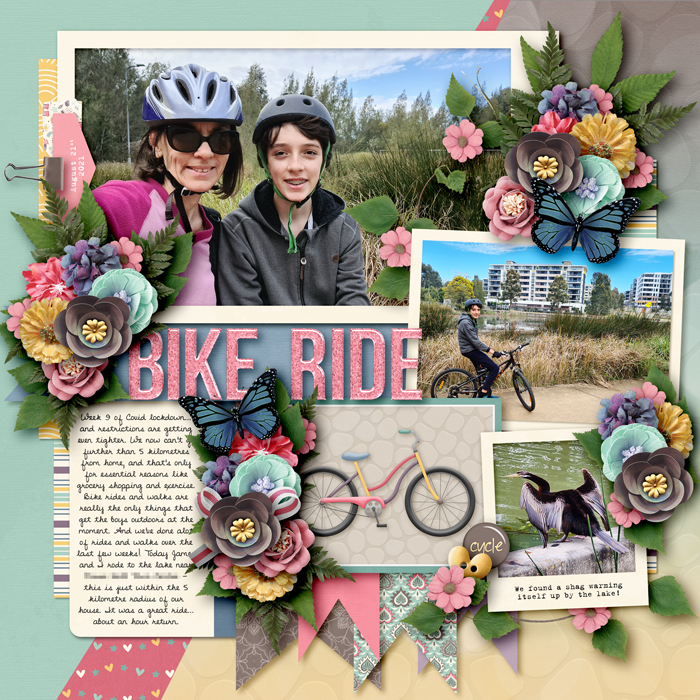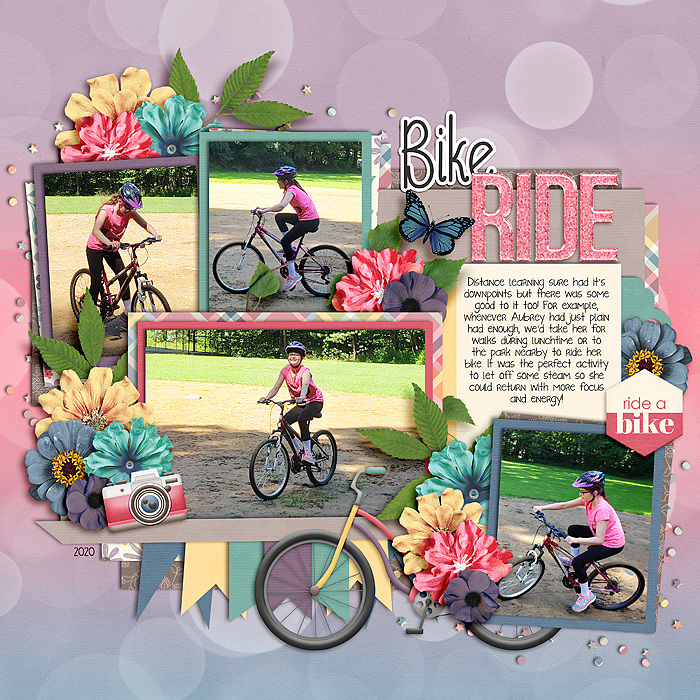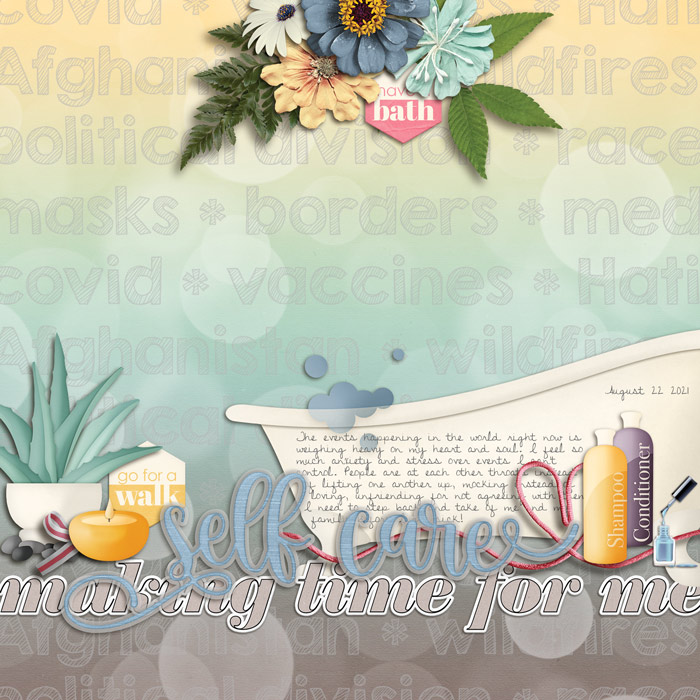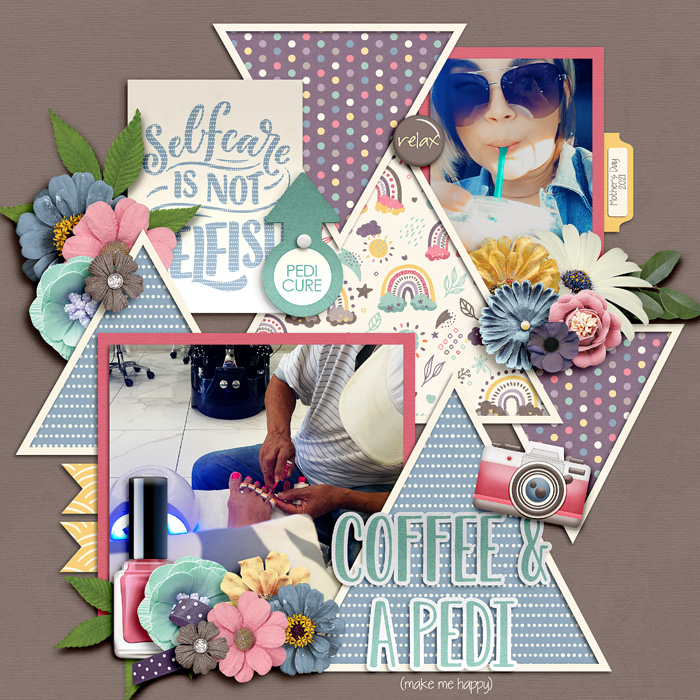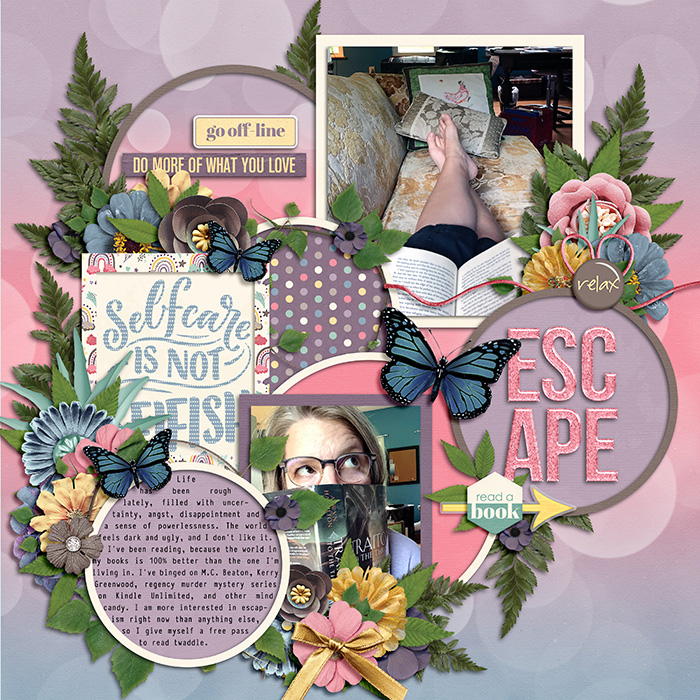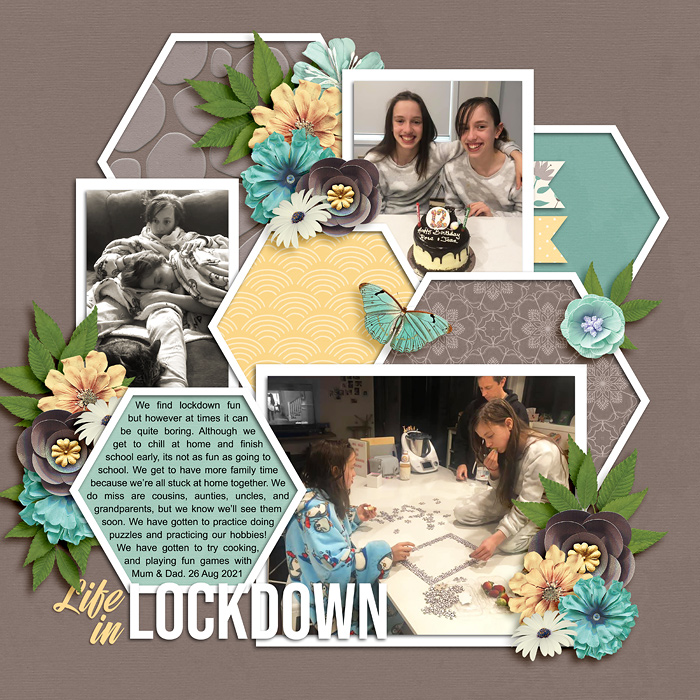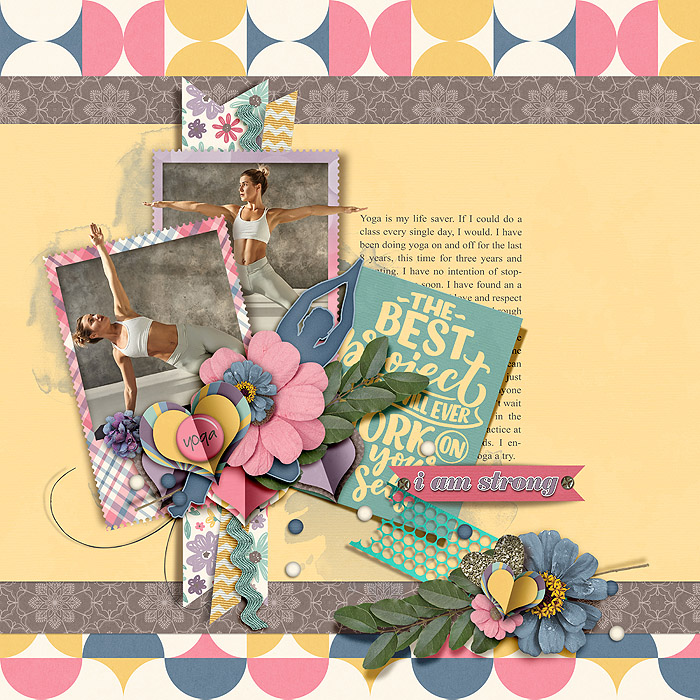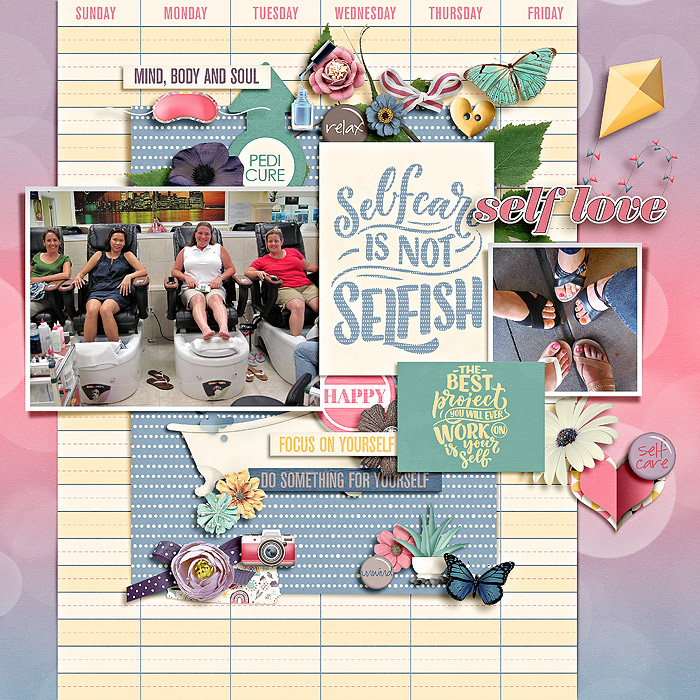 Now it's time to go fill up your shopping cart with $10, and A Self Care Day will be automatically added for FREE! This special offer will only be available through Friday, September 10th when our new releases go live, so don't delay! And don't forget to come back next Friday for a sneak peek at Jo's Feature Designer 15 sale.  It will start Tuesday, September 7th!   Have a great weekend!