Sugar Babe Sunday – Monochromatic Layouts – 3/27
"Color is a power which directly influences the soul." – Kandinsky
In honor of National Color Therapy Month and the ancient Indian Festival of Colors, Holi, we are continuing our celebration of color with this week's SugarBabe Sunday as we examine monochromatic layouts.
A monochromatic color scheme is a color palette in which a single color tint is used as the basis for all shades and hues found within the image. The shade of color is varied by changes made to the saturation and/or brightness of the base color. White and black are always present as the two extremes on either end of the spectrum for whichever color is chosen for the monochromatic color scheme.

Monochromatic Scheme Characteristics:

Based upon a single color
Includes the various shades and hues of the base color
Black and white can be present

What is a Monochromatic Color Scheme – Definition, Examples by Sam Kench at StudioBinder
Monochromatic color palettes are used by artists, interior designers, and filmmakers alike because they help to create a mood. Warm colors, like red, yellow, and orange, evoke warm or excited feelings like optimism, enthusiasm, and passion. Cool colors, on the other hand, such as green, blue, and purple, typically have a calming effect and tend to be relaxed and subdued. In our 3/17 Thursday Treats post on Color Therapy, we ended the blog post with a brief run-down on the psychology of color you can reference for your next layout.
"Whether you realize it or not," writes Sam Kench, "certain colors evoke certain psychological responses in the human brain at a subconscious level. These pre-determined associations have been reinforced throughout generations of storytelling for both the subconscious associations and for the thematic relevance. Refer to the helpful chart below for some of the most common responses associated with particular colors."
What are monochromatic colors? • The psychology of color visualized
Artist Georgia O'Keeffe once said, "I found I could say things with colors that I couldn't say in any other way – things that I had no words for." Color and the psychology of color are tools you can use as a scrapbook artist to convey meaning and add depth to your layouts. With this in mind, I asked the SugarBabes to show us some of their monochromatic layouts and talk to us a bit about their creation process. To be technical, what we're really looking at are monochromatic(ish) layouts, where everything is based on a single color plus what we consider neutrals in scrapbooking: black, white, grey, kraft, or cream. So let's take a closer look!
Pink
femininity, youth, innocence, sympathy, health, romance and love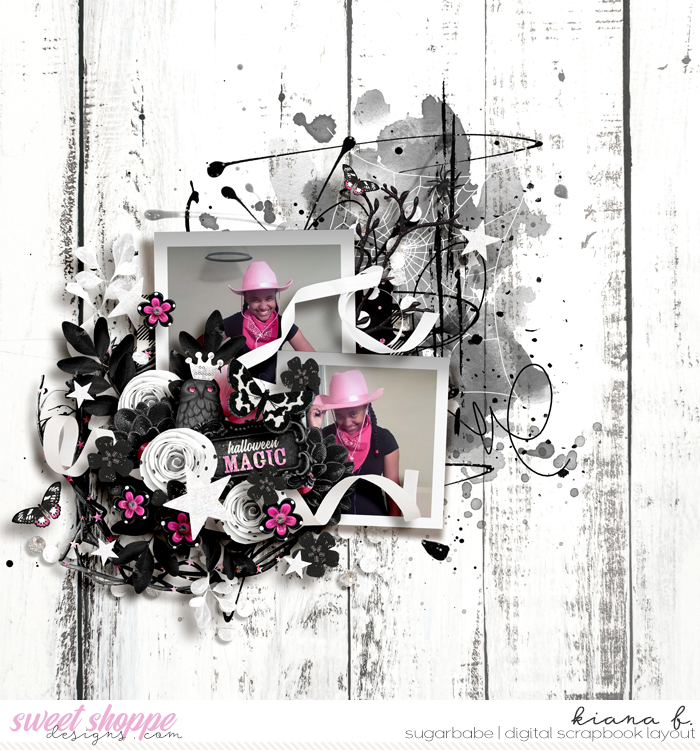 Kiana said: "Seeing the kit was all the inspiration I needed for this page. It's like Kristin designed this kit after looking thru my photos. How could I not create a page to match the colors of my daughter's Halloween costume that year?"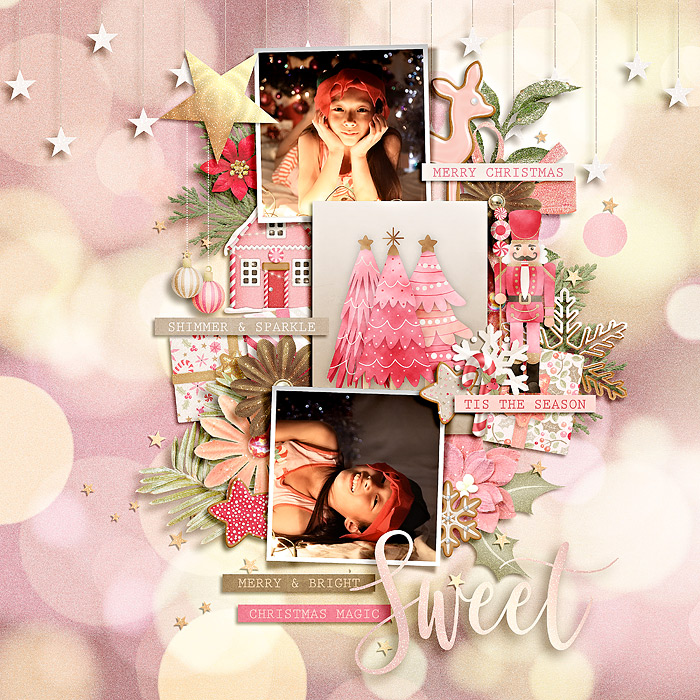 Eve said: "This collection called pink Christmas so I tried to find photos that fit (that's my daughter in pink Christmas pyjamas) and use all the pinks!"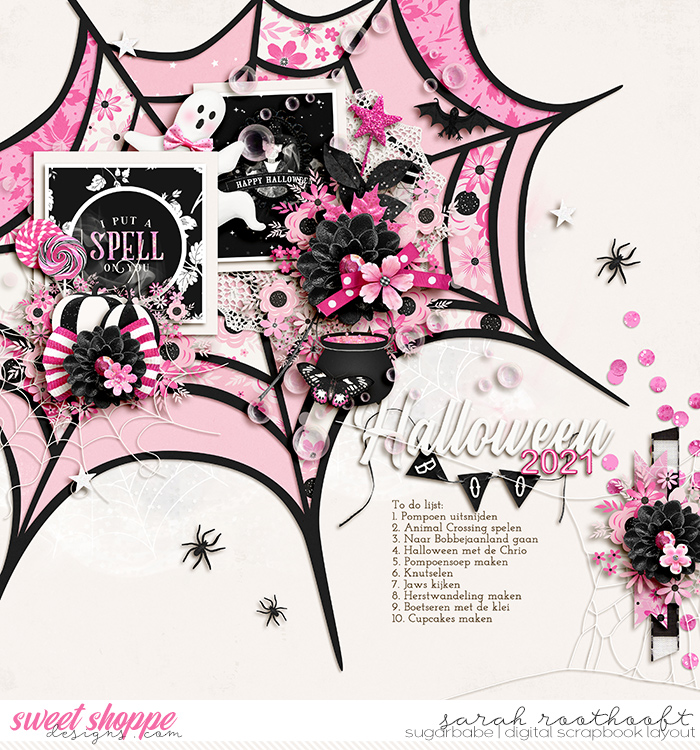 Sarah said: "Pink is not a typical Halloween color. But since it's a layout about the things that my teenage bonus daughter and I were planning to do last Halloween, I thought the pink was perfect."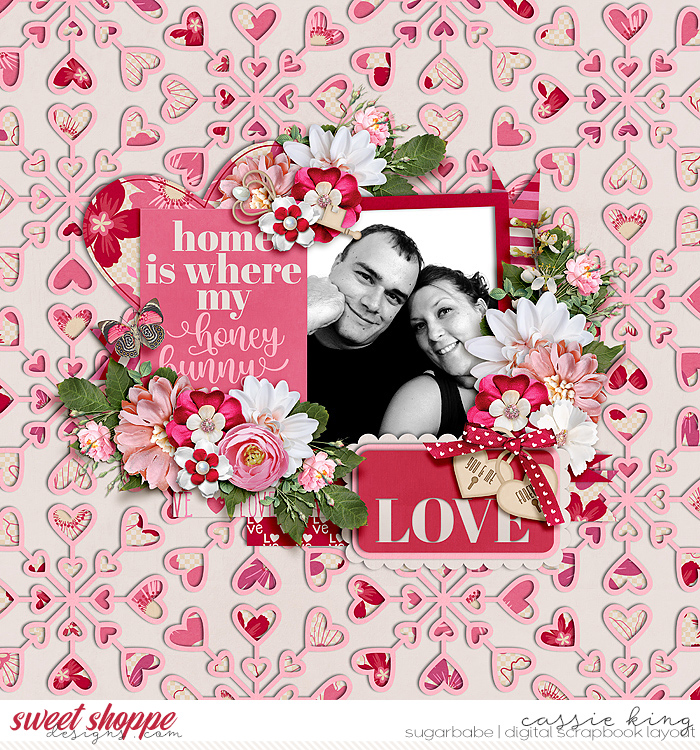 Cassie said: "I never intentionally choose to scrap monochromatically but I always love the pages that end up that way. There's just something about a monochromatic page where every piece works together, with no colors clashing, to create a cohesive page that allows the photos to shine and makes my "matchy-matchy" personality very happy!"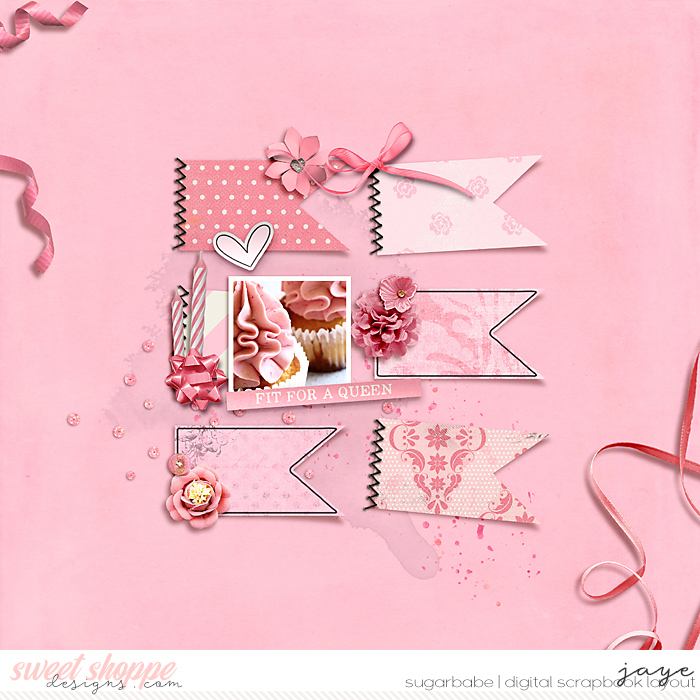 Jaye said: "A pink cupcake deserves a pink page don't you think? I thought the photo of the cupcake was delicate and soft, so the new birthday collab was perfect. I see this and it makes me smile."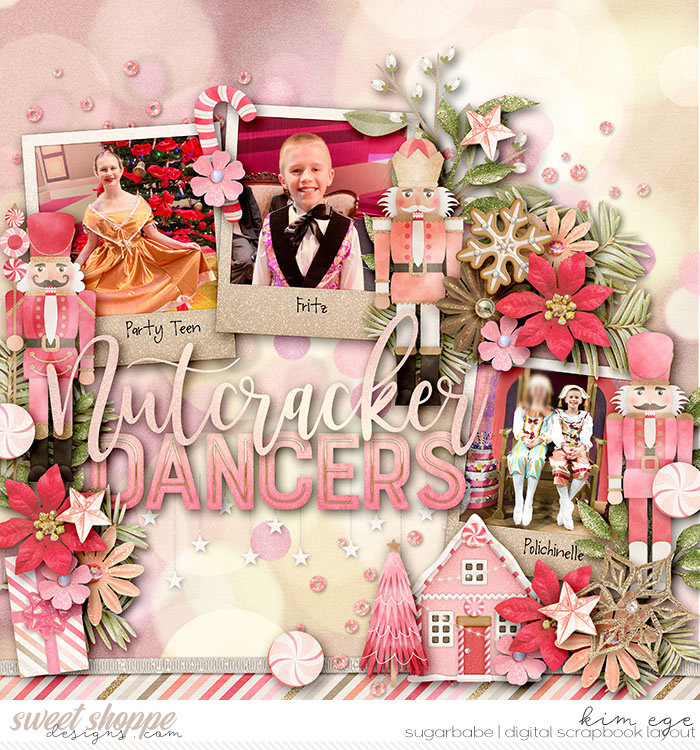 Kim said: "This pink Christmas kit from Flergs with the Nutcrackers came out at just the time when two of my kids had been in The Nutcracker. For this one, the kit really drove the color choices for me, and I love it."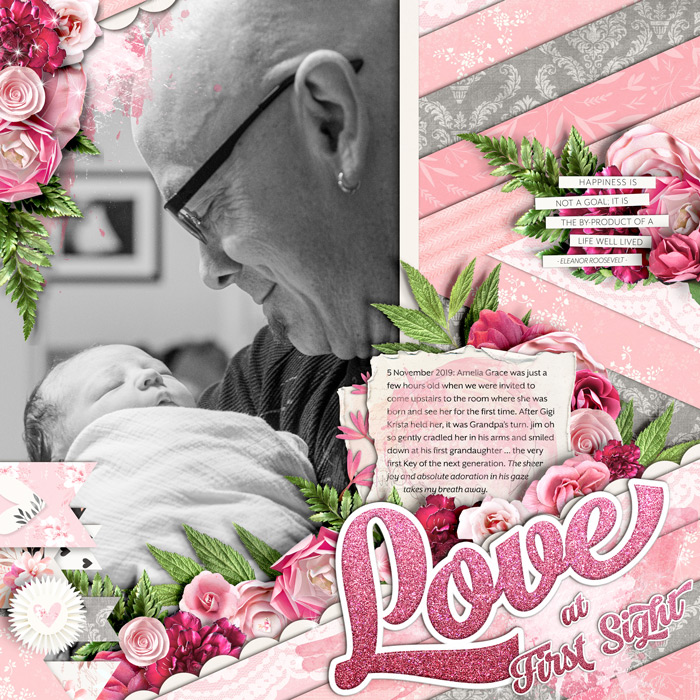 Angie said: "Newborn skin is nearly always blotchy and red, so the easiest solution for a pic of an hours-old infant is to convert it to black-and-white. That gave me complete freedom to work with any color. I chose light pink to represent youth and femininity – she is our first granddaughter – and the deeper shades of pink to represent the deep and instantaneous love I could see in my husband's eyes."
Red
excitement, warmth, love, fire, strength, passion, heat, desire, courage, confidence, power. anger, aggression, war, danger, stress, wrath, revolution, defiance, sacrifice.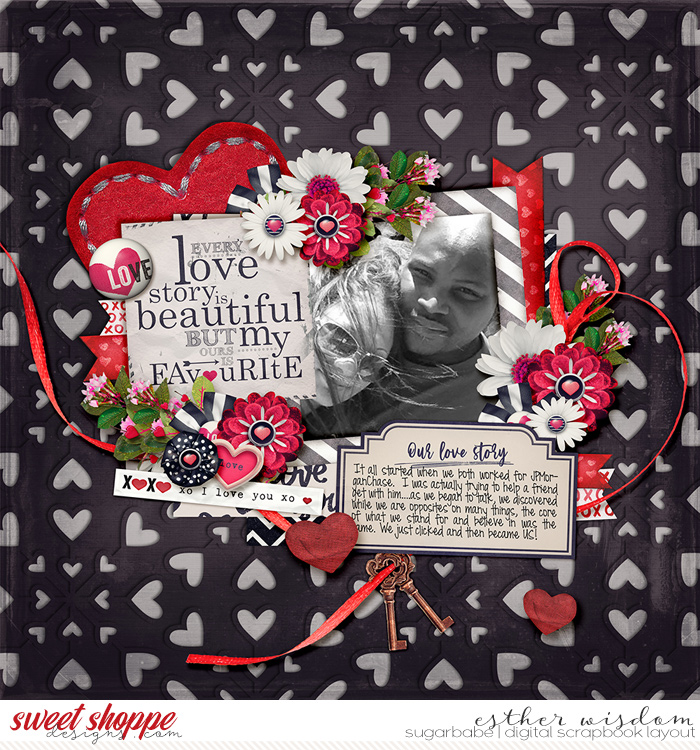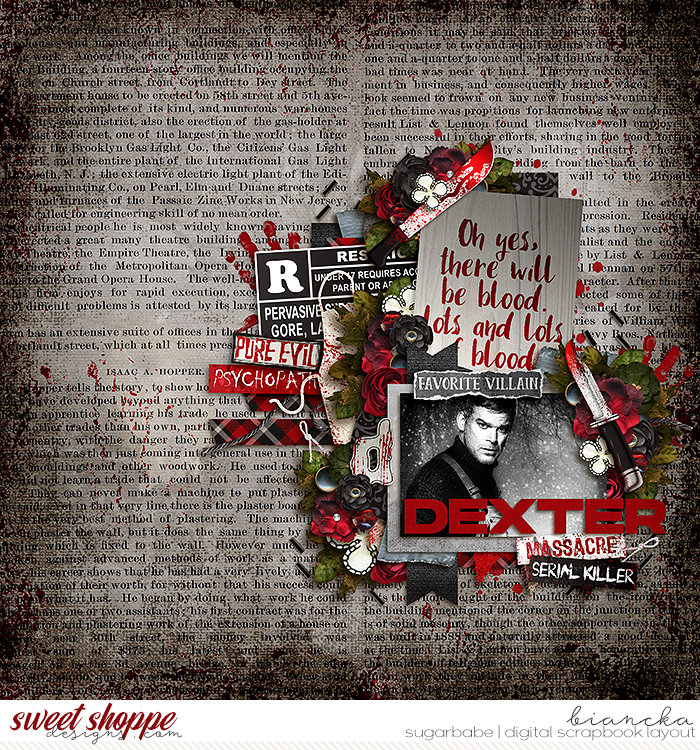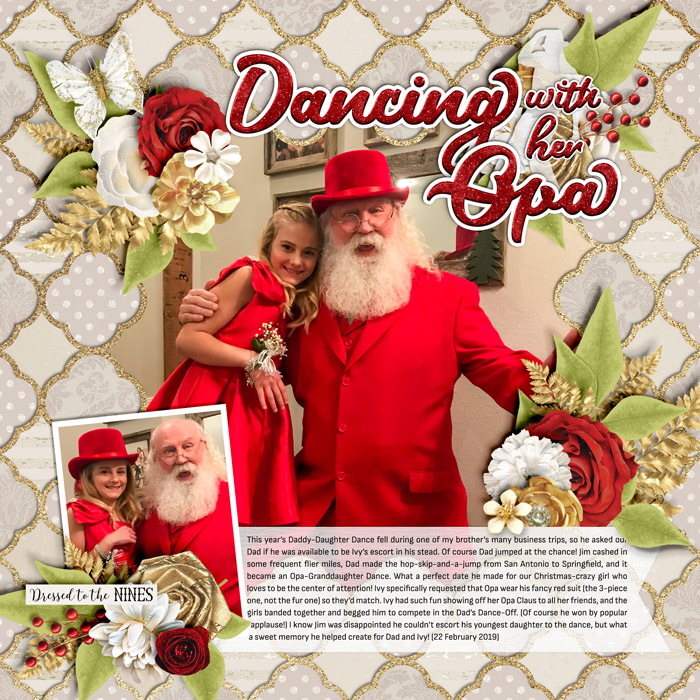 Angie said: "The subject of these photos really drove the design of this layout and my color selection. My Christmas-loving niece, Ivy, asked her Opa (a professional real bearded Santa) to take her to the annual Daddy-Daughter dance and specifically required that he wear his red three-piece suit and top hat. Since that was a key element of the story, I chose to use elegant creams, golds, and white as my neutrals and accent with strong pops of red. I love the way the design subtly introduces the story before you ever get to the journaling: her excitement to show off her Santa Opa at the dance and his sacrificial love for his granddaughter."
Orange
playful, energetic, fresh, healthy, warmth, happiness, flamboyance, fun. over-emotional, frustration, warning. Peach is sweet and affable; vibrant orange is vitality, energy, and encouragement.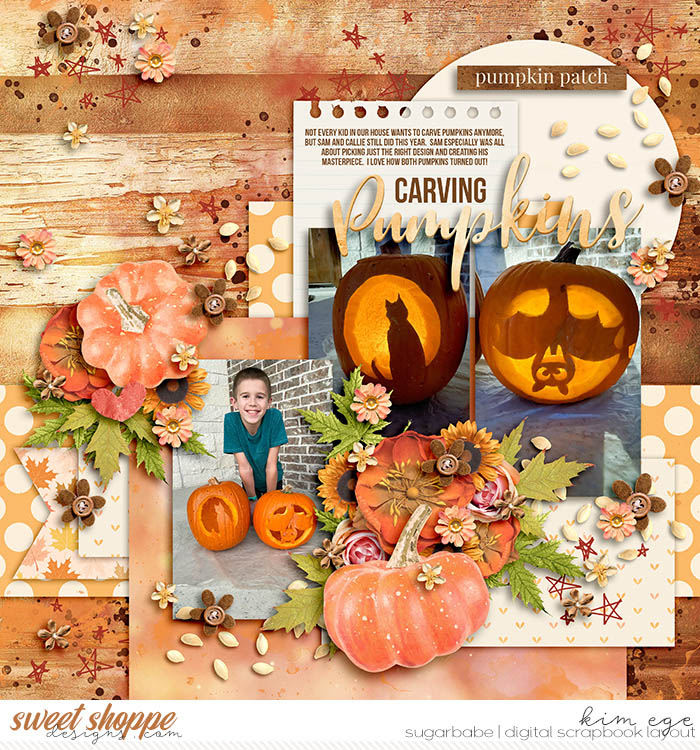 Kim said: "The Shoppe always has the best fall kits, but we don't have what people consider "fall" weather really where I live. So when we do pumpkins, I get excited to scrap with all the fall colors. In this one though, the orange against the wood background was just right for me."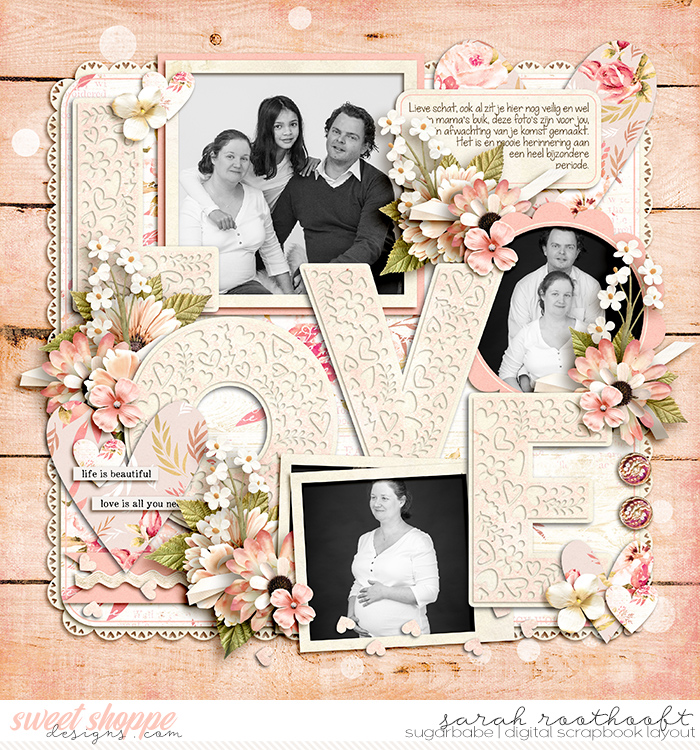 Sarah said: "I wanted to use a soft color for these photos that are very dear to me. I was going through my stash and found this kit. The soft [peach] spoke to me."
Yellow
sunlight, creativity, friendliness, confidence, happiness, cheerfulness, joy, energy, mental clarity, intellect, wealth. deceit, depression, hazard, cowardice. "Lighter shades play on the happiness aspects … darker shades, including gold, add more weight and give a sense of antiquity."


Kiana said: "Another one that my initial intent was not monochromatic. I loved the sun highlighting my daughter in this photo and wanted to bring it out more so went for this kit from Flergs. All the gold tones were perfect."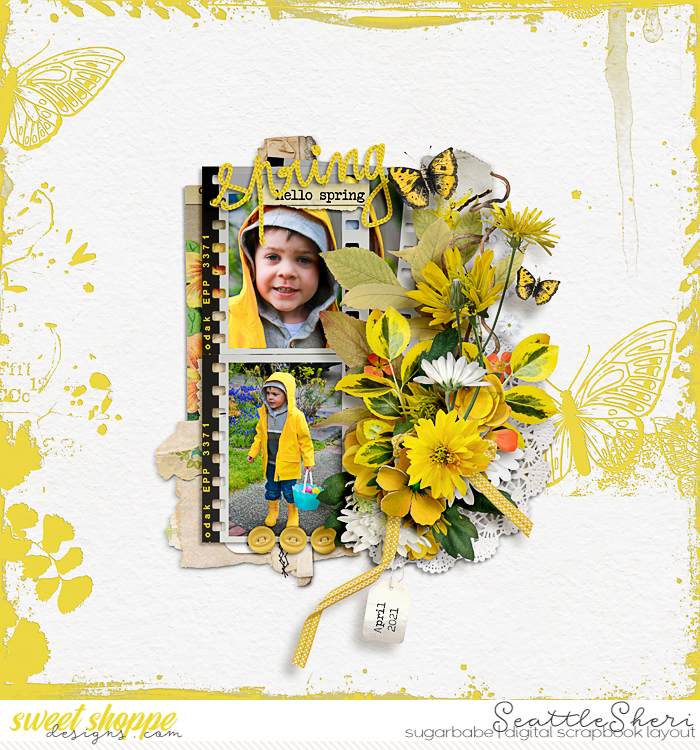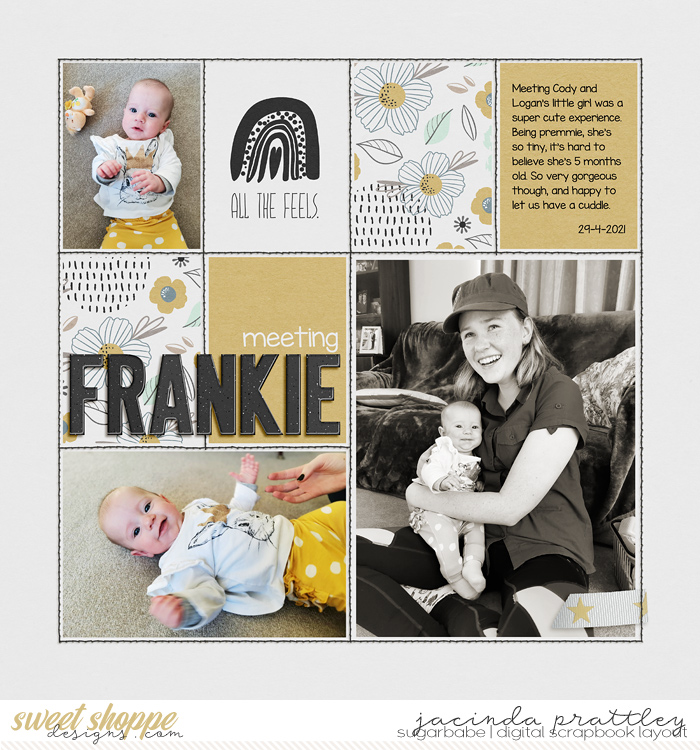 Jacinda said: "The mustard and neutral colour scheme was taken from the baby's clothing. Since my daughter had a bright blue shirt on, I used a black & white then sepia filter on that photo so the focus stayed on the baby."
Green
natural, eco, environmental, stable, balance, peace, good luck, prosperous. jealousy, illness, greed, corruption, envy. Brighter, lighter greens evoke growth, vitality, and renewal; darker, richer greens represent prestige, wealth, and abundance.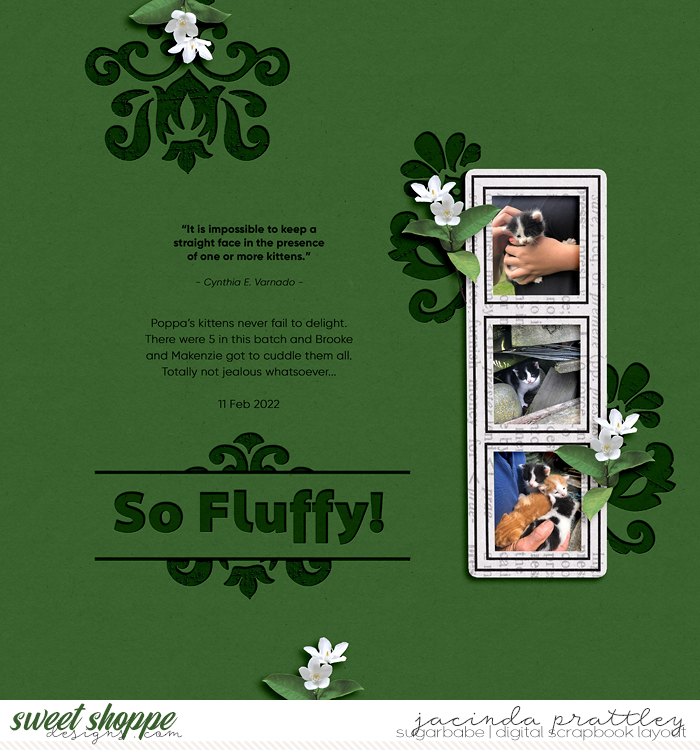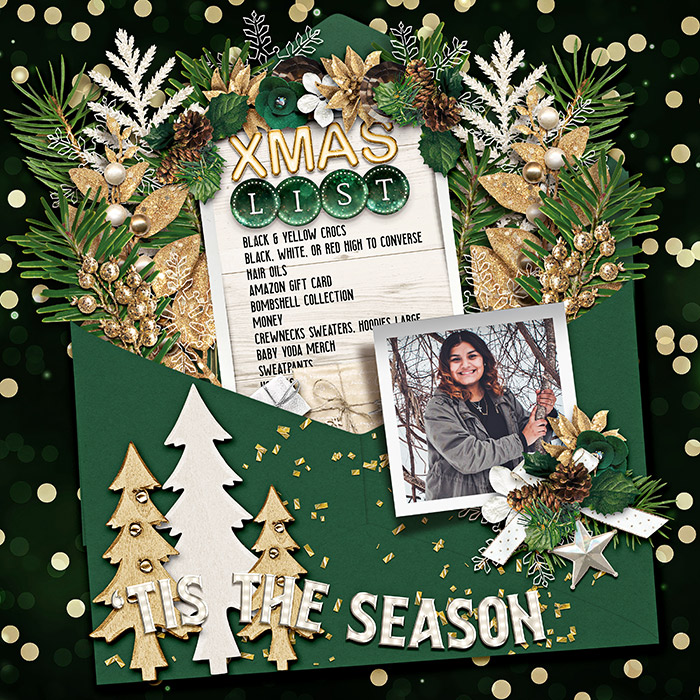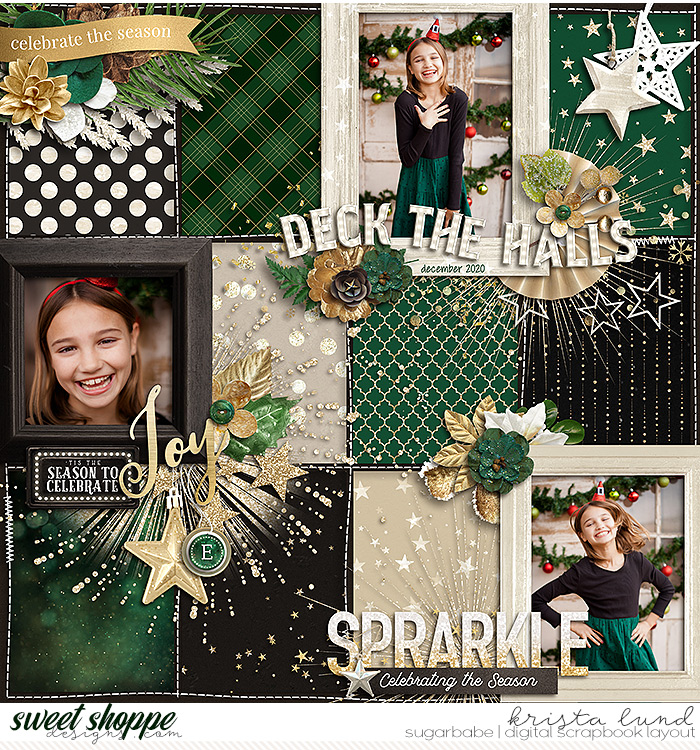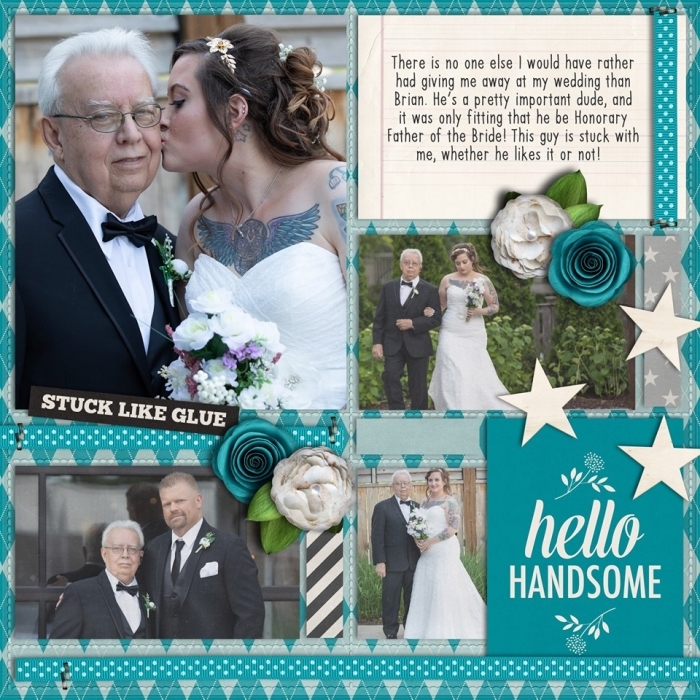 Laura said: "This turquoise went perfectly with the colors from my wedding"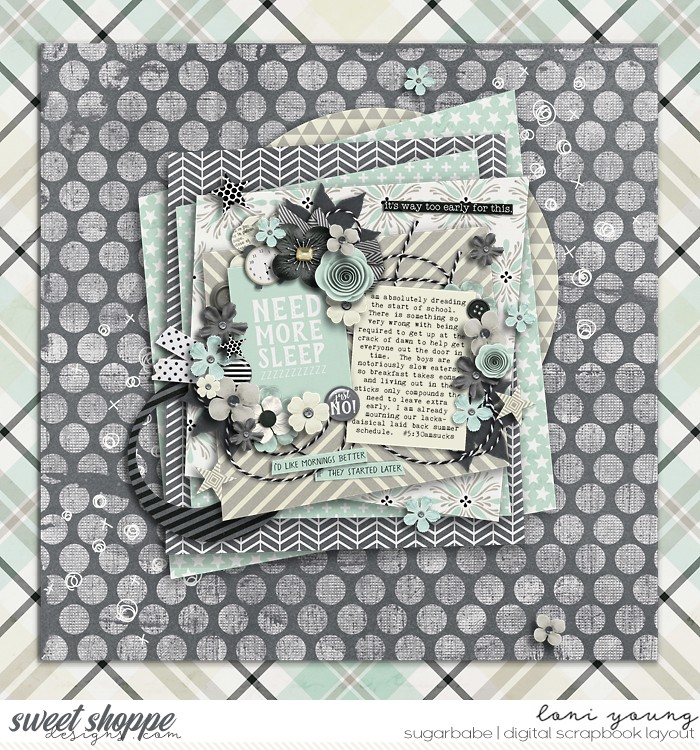 Loni said: "The colors of this kit are so calm and really represented the emotion and state of being I was longing for when I worked on it."
Kim said: "This layout is the cover of my 2020 scrapbook. I display my most current book in our built in shelves, so each one ends up there for about a year. For this reason, I tend to think about my colors differently when I scrap the covers, and I wanted 2020's book to feel soothing and peaceful, despite the crazy year that it was."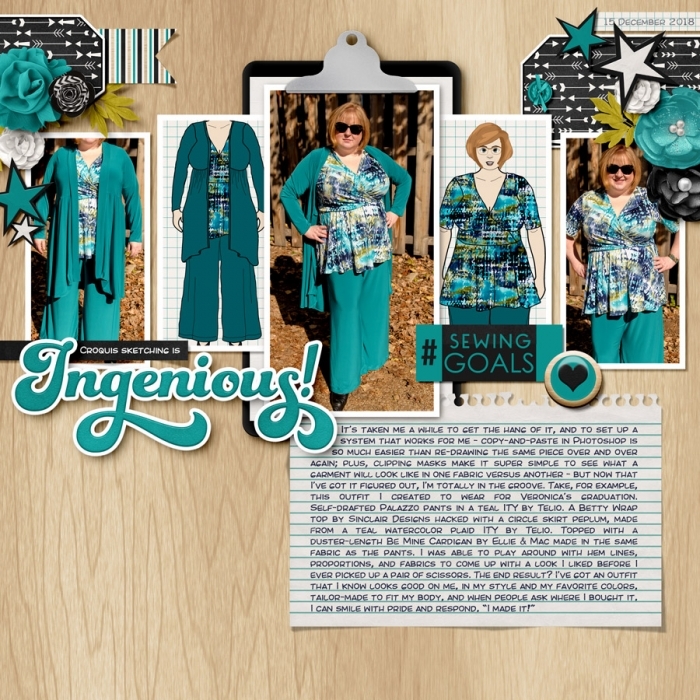 Angie said: "In this case, it was less about the emotion evoked by the color and more that I wanted the focus to stay on the side-by-side comparison of the croquis sketches and the finished garments, so setting the page on a neutral foundation of light wood with black and white elements allowed the teal green to take center stage. Adding a title, word art, flowers, stars, and additional deco elements in that same shade of teal green jazzed it up, but still kept the eye focused within that horizontal photo band."
Blue
serene, trustworthy, inviting, efficiency, intelligence, professional, peace, calmness, reliable, tranquil, harmony. coldness, aloofness, indifference, sadness, depression.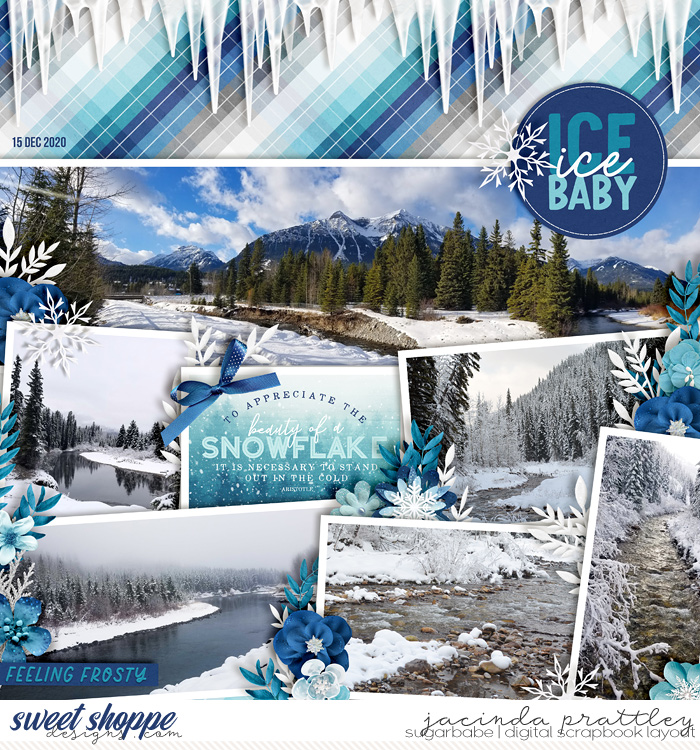 Jacinda said: "What better way to reflect the cold in the photos, than using whites and blues? I think the less competing colours, the more the photos stand out."


Sarah said: "My favorite color is blue. So I am always drawn to kits with blue colors. And I just love the blue colors in this layout. I think they give the perfect Winter vibe."

Kiana said: "This page didn't start out monochromatic. That wasn't my goal but as I was creating and looking at the picture the blues went so well I couldn't resist grabbing mostly blue variations of elements for my cluster."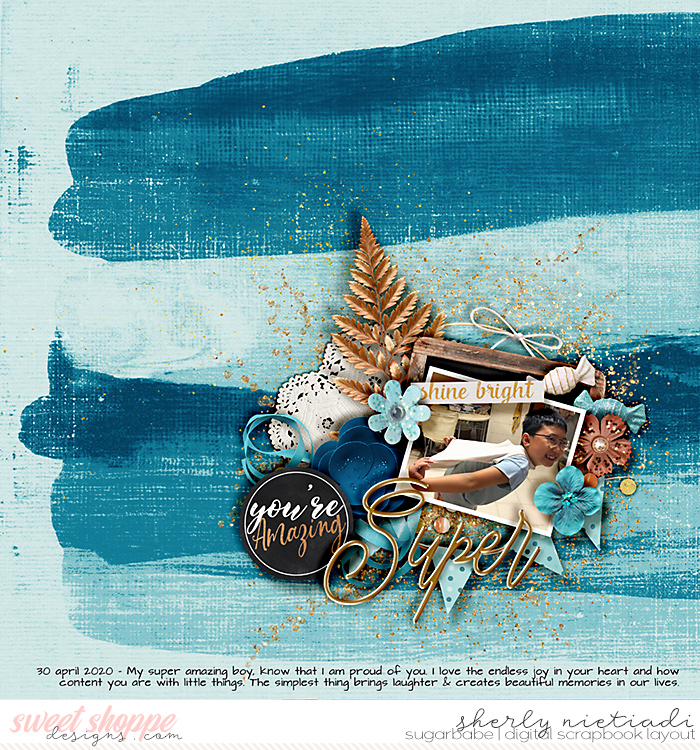 Sherly said: "I am strongly attached to colors when it comes to scrapping, but, most of the time I don't intentionally create monochromatic pages. They just came together, depending on which elements in the kit that draw my interest."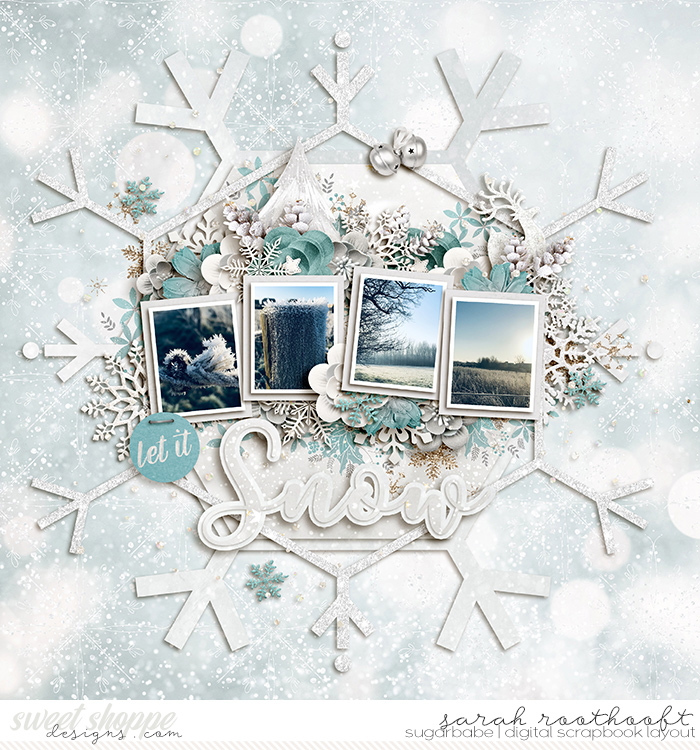 Sarah said: "Looking at this layout, I can just feel the cold with all those icy colors."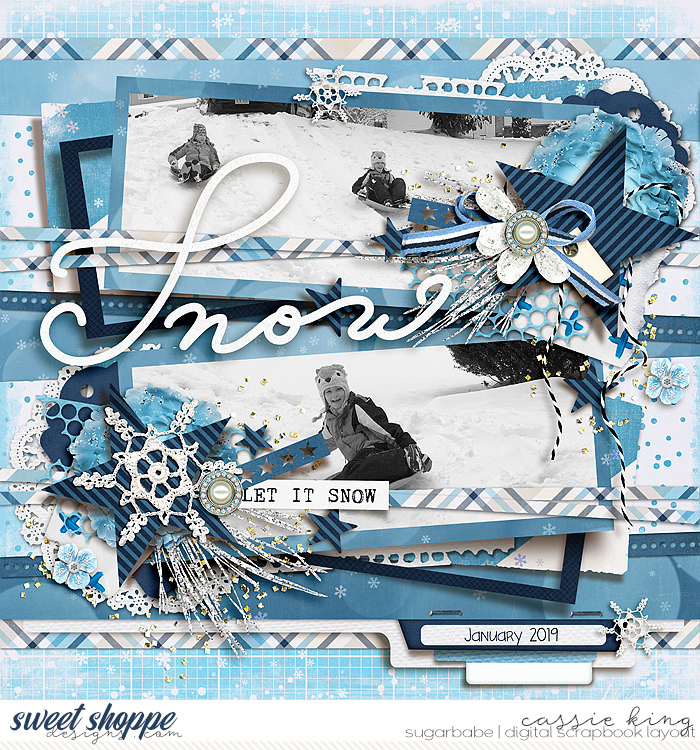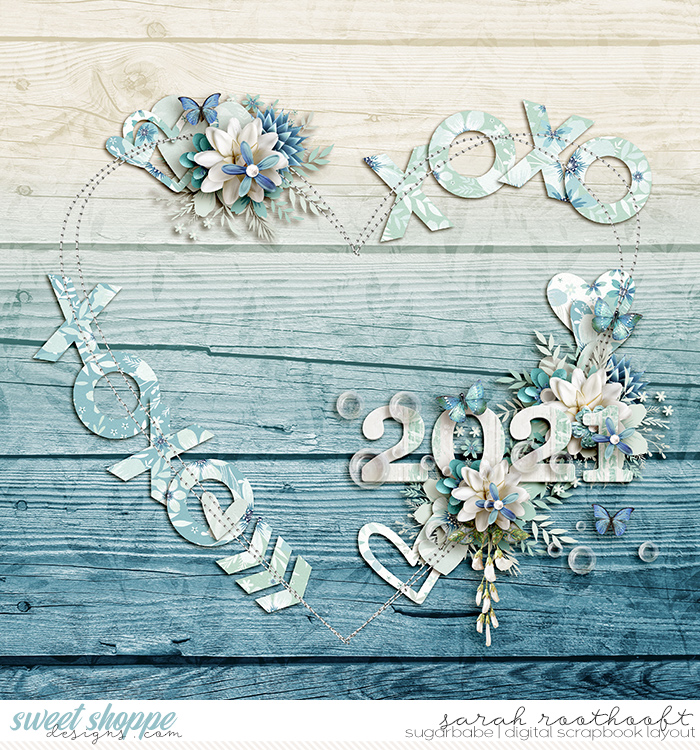 Sarah said: "This is the cover of my 2021 year book. Like I said, blue is my favorite color and I wanted some soft blue colors for my cover. That's why I chose this kit. I love how serene the colors and the layout turned out."


Mary said: "When looking back through my gallery, I see that I don't really scrap monochromatic a whole lot. These layouts came from kits that were already in a way monochromatic and I just scrapped with the kit."
Purple
luxury, quality, creativity, wisdom, mystery, romance, royalty, majesty, nobility, opulence, sentimental. arrogance, gaudiness, profanity, inferiority. Lighter shades bring to mind spring and romance … darker shades add more mystery and symbolize creativity.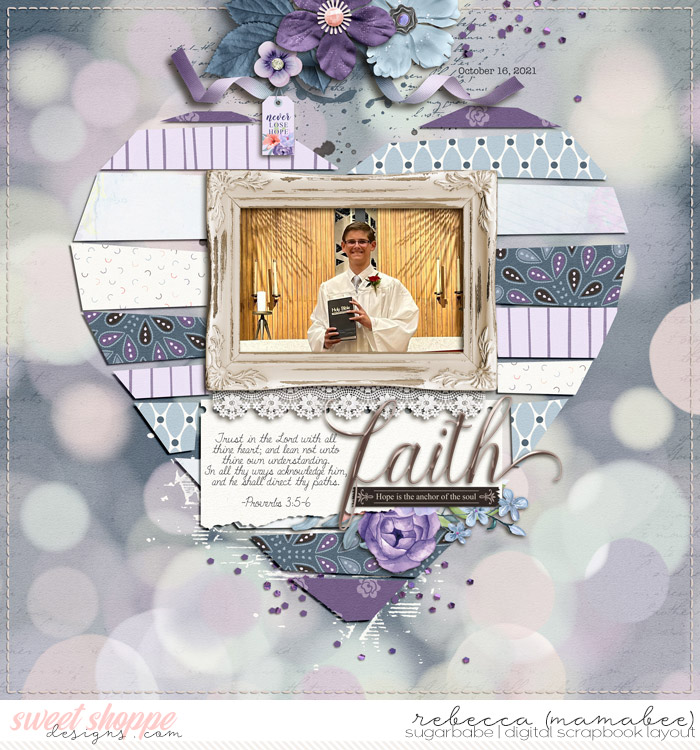 Rebecca said: "My son's confirmation… using purple as it's the color of royalty and my son is a child of the King."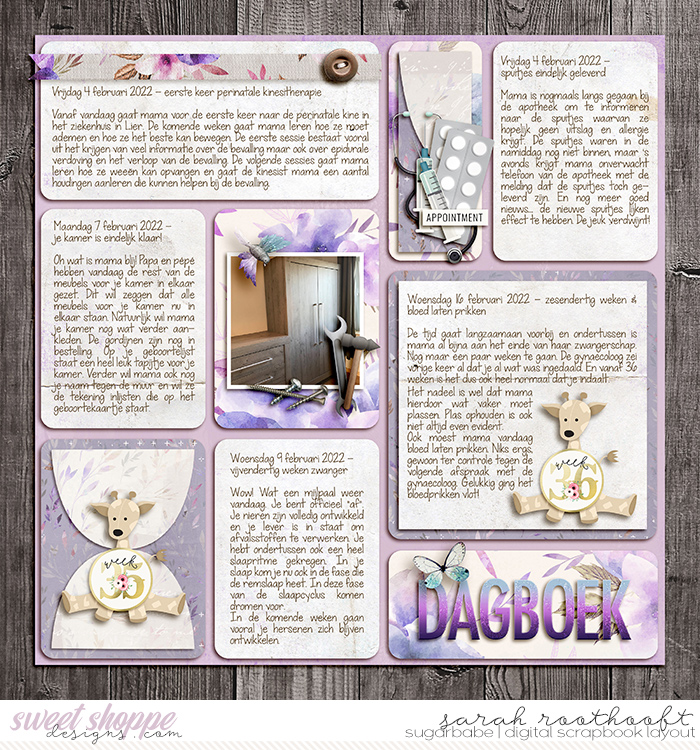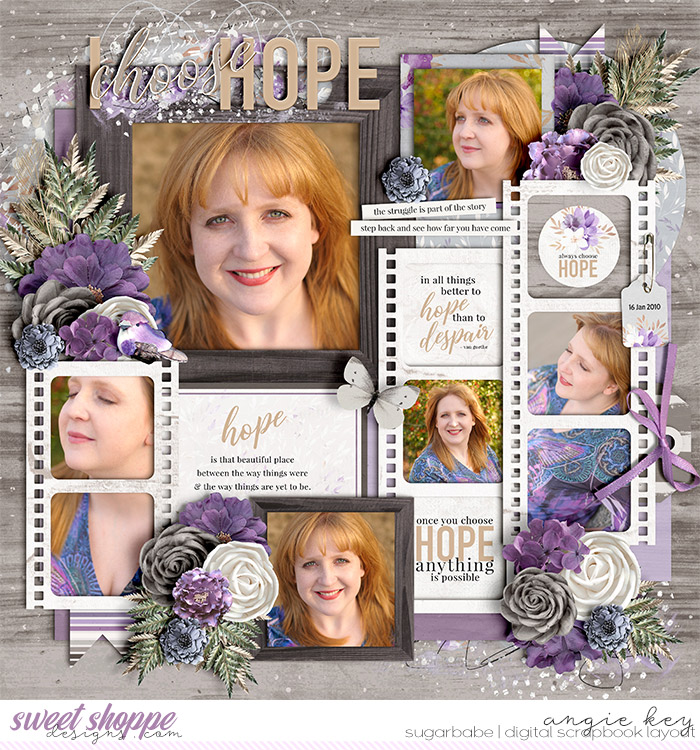 Angie said: "These photos were shot the day after my 33rd birthday just after I'd clawed my way out of a months-long battle with clinical depression. The purple symbolizes the creativity and springtime and growth that had finally returned to my life after such a long period of darkness. It also doesn't hurt that it matches the butterfly-painted top I wore in the photos!"
White
purity, light, hope, simplicity, virtuous, healthy, innocence, perfection. coldness, emptiness, unfriendliness.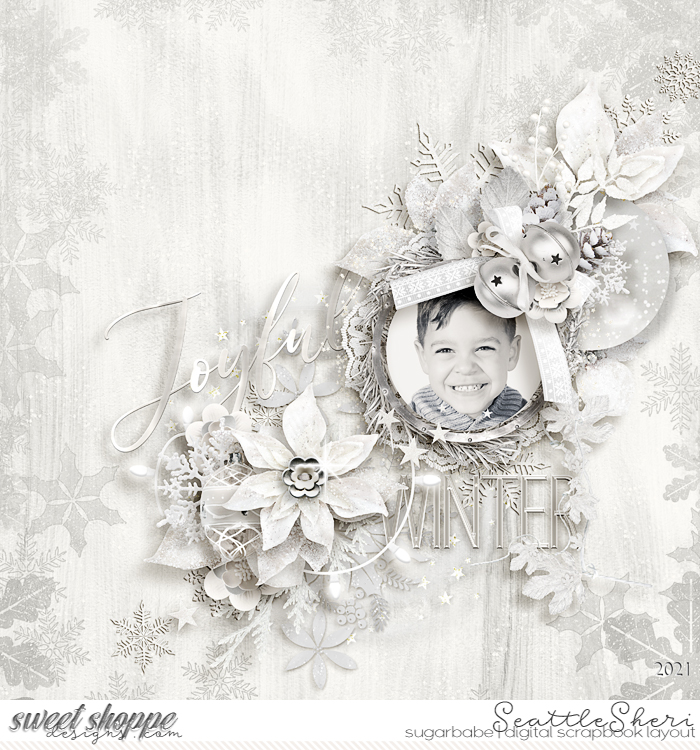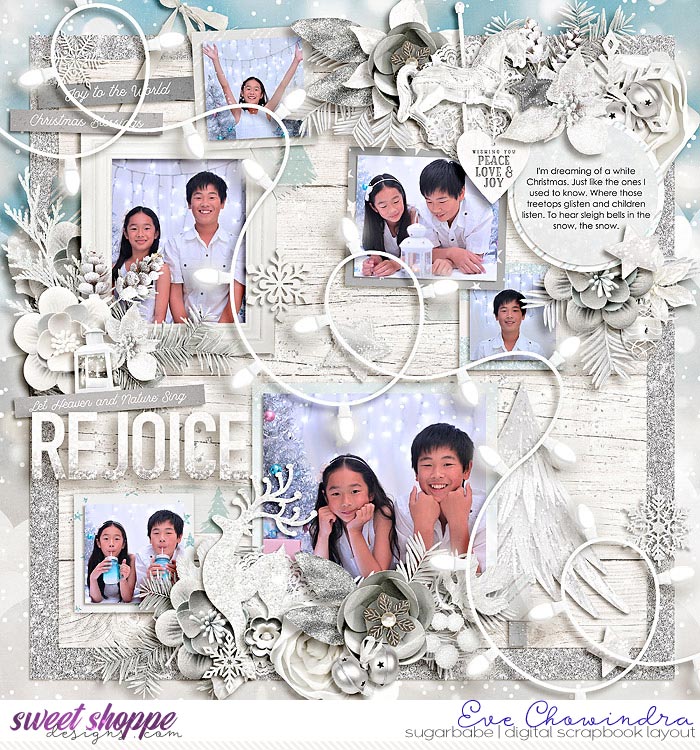 Eve said: "I have Christmas photos of the kids wearing white clothes and when I saw this collection, I know that I want to use all the whites, silvers to emphasis the photos."
Black & Grey
black: glamour, security, sophistication, wealth, power, formal, luxury, elegant. fear, mourning, oppressive, heavy, death, evil, mystery.
grey: elegance, neutrality, respect, wisdom. decay, pollution, dampness, blandness.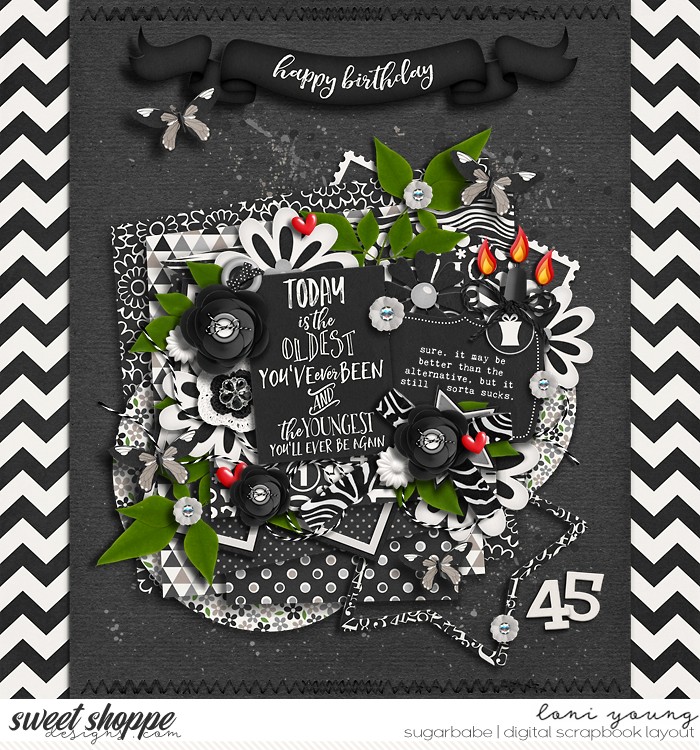 Loni said: "I loved how fitting the starkness of the black & white scheme reflected my melancholy mood of not loving another year of getting older. The pops of green lend flashes of vibrant color and represent the bold growth of life experienced."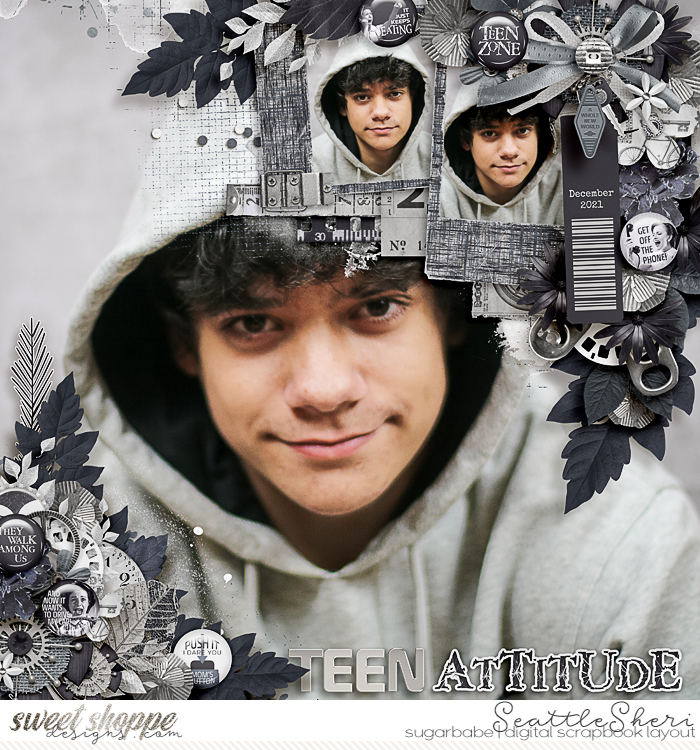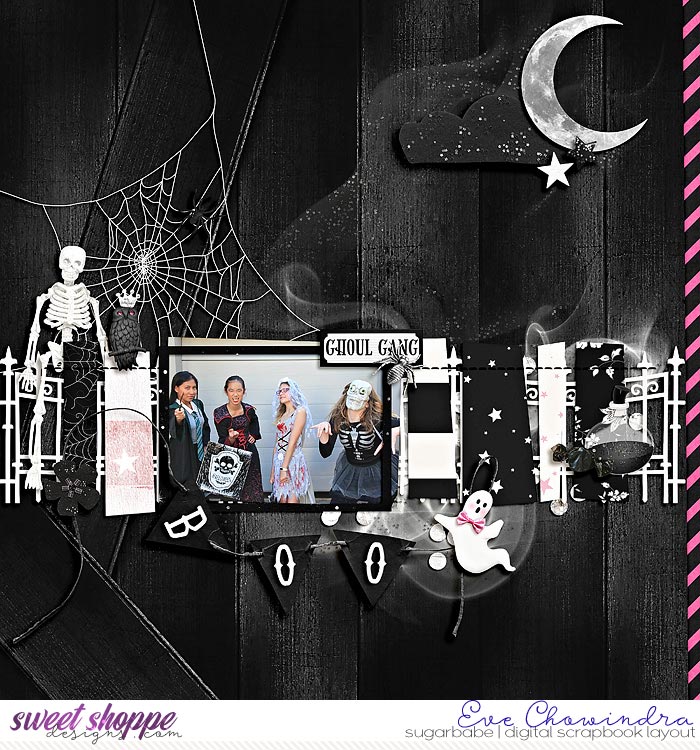 Eve said: "This halloween collection has so many unique elements in blacks and they just calls me to do a monochromatic layout!"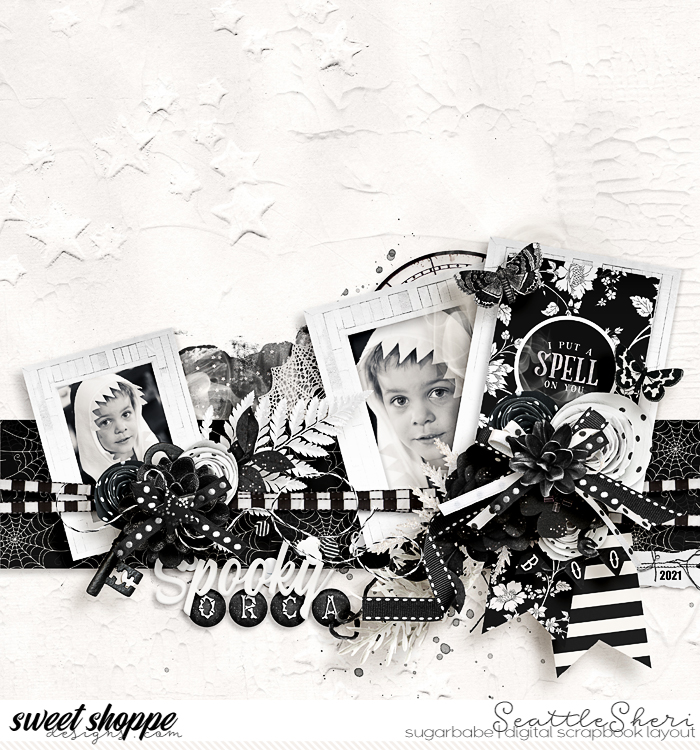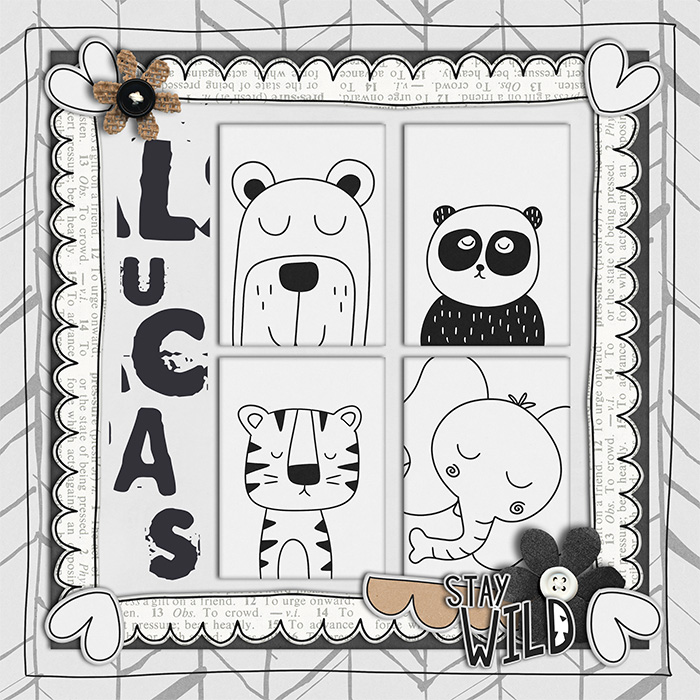 Laura said: "I decided to go neutral with this layout because i had it printed on canvas for my nephew's nursery."
Brown
calm, reliable, nature, tradition, richness, sturdy, rustic, wholesome, grounded, simple, strong, durable, natural. dirt, dull, poverty, heaviness, simplicity.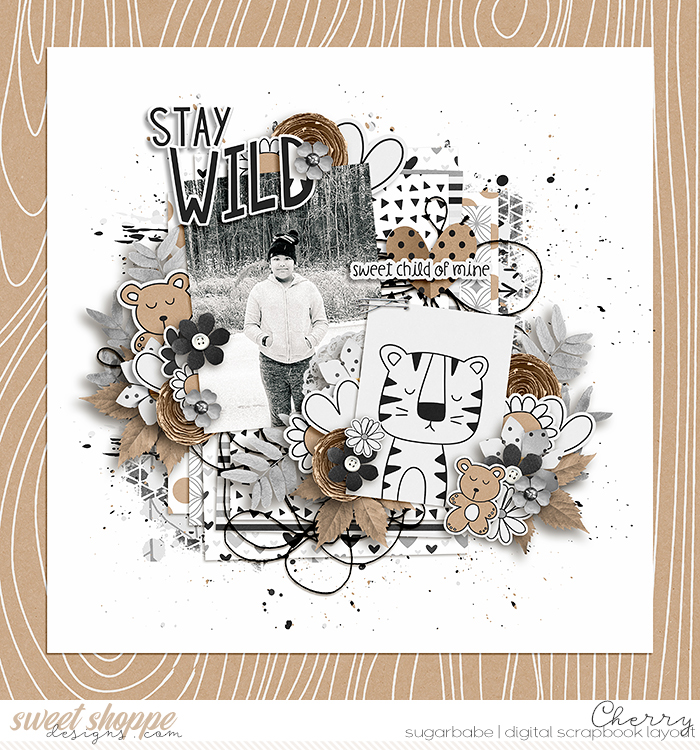 Cherry said: "To be honest, this page took me a while to finish. Most of the time, when there's a kit that leans into monochrome, I tend to try and put an element or a paper that would make a highlight so that my page will not not look too (blended together), because I'm not good at making a monochomatic page. But this one, I challeged myself to try to make it where the elements would still stand out, the papers will not make it (too) plain, and the photo will still pop. To give justice to the beautiful kit."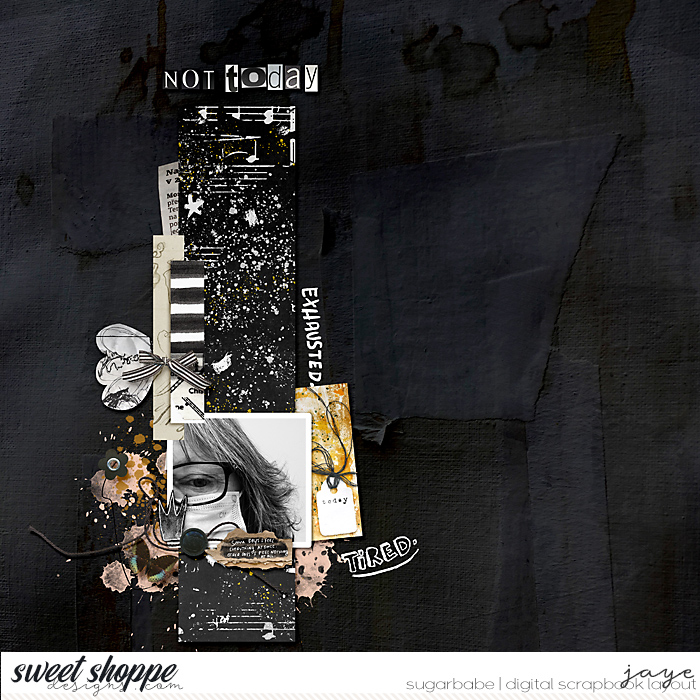 Jaye said: " I picked the dark background and colours because I was not in a good place the day I created this page. The kit I used was everything I needed to express those feelings."

Sarah said: "All those brown-ish colors give this layout such a warm feeling. They remind me of falling/changing leaves in the Fall. I think the title worked beautifully with these colors."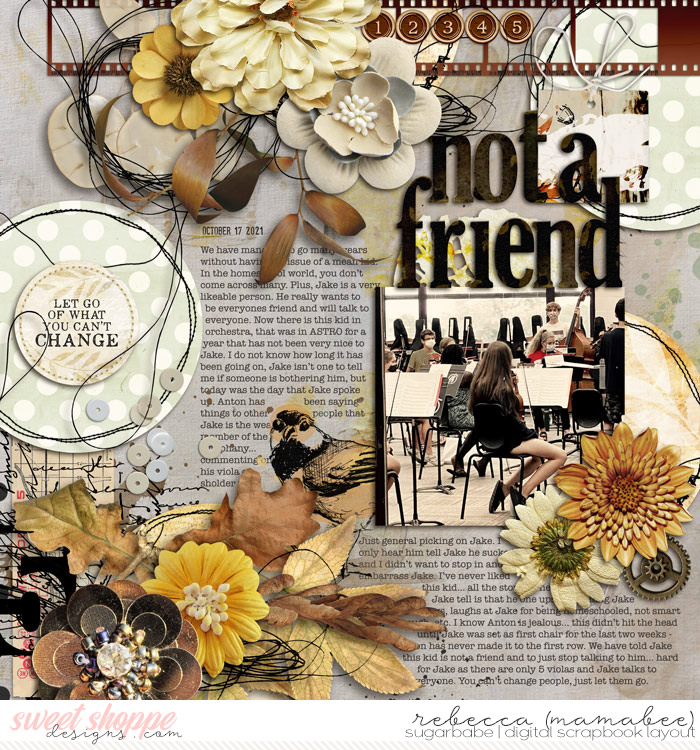 Rebecca said: "This story of a kid who is bullying my son during symphony… I wanted to convey a feeling using dark yellows/browns that this is just a blip in time, you will rise out of this wiser."

Jaye said: "I picked the neutral because I felt it just fit the photo. He had broken his wrist and was missing hockey, a trip to McDonald's put a smile on that little face after sitting in the stands watching his friends on the ice."
---
"There are truly no limits when it comes to using color in bold and creative ways," writes Sam Kench. "Explore the thematic and psychological effects of color in your own … projects," including your next scrapbook layout.
I can't wait to see what you create! Be sure to post it in the Sweet Shoppe Gallery so we can admire your work and leave you some positive feedback. Tell me in the comments – what's your favorite color to use in a monochromatic layout, and why?