Show-Off & Shout-Out with the Sugar Babes: 9/18
"Let no one ever come to you without leaving better and happier."
Mother Teresa
How was your summer, my sweet scrapbooking friends? I hope you enjoyed some rest and relaxation as well as our Summer Scrap-A-Thon here at the Sweet Shoppe. As our store owner, Robin, said recently, we were absolutely blown away by how many of you participated in this year's event! Thank you for joining us for our summer of laid-back scrapbooking challenges and lots and lots of prizes. Congratulations to all of our winners, including Nikki a.k.a. nowens (July's $50 winner), smileark (August's $50 winner), Tracie a.k.a. tkradtke (Grand Prize "Win Your Wishlist" winner), and the six scrapbookers who won a kit or mini-bundle: Trina a.k.a. tjscraps, Scrap-therapy, LisaMT, slfam, ~Cindy~, and JillW.
Most of all, congratulations to each and every person who created even a single layout based on one of our Summer Scrap-A-Thon challenges. That's one more memory you've recorded for yourself, for your family, for future generations to read and enjoy. I love what La'Shawn a.k.a. shawnbear had to say about the Scrap-A-Thon: "It was just the kick in the rear I needed to get my scrapping mojo back. So that was a win!"
But don't worry; and don't think that the end of the summer means the end of your scrappy challenges and creative motivation. With the month of September, we've resumed our "This or That?" Challenges. Each month, we give you 15 pairs of challenges so you can choose "this one" or "that one" to create. For example, in September, challenge #14 offers Jock Life (#14a) or Nerd Life (#14b). Challenge #2 tells you to scrap with a bulleted list (#2a) or with a numbered list (#2b). You get the idea… complete 5, 10, or 15 challenges by the end of the month, and you will earn a 20%, 30%, or 40% discount in the Sweet Shoppe and a chance to win a $50 gift certificate. You'll find all the details in the September "This or That" Challenge post here.
But there's another aspect to our monthly challenges and it might just be my favorite part. It's the "Show Off & Shout Out" thread and it's all about spreading love to the scrapbookers in our community who inspire you! Here's how it works:
Reply to the thread to claim your spot. Throughout the month, update it with
links to 15 pages in the Gallery on which you've left a comment (we call it "leaving love"),
an image of a layout you created this month and posted in the gallery you want to show off,
a sentence or two about why you're proud of the layout you created or why you love it so much,
an image of a layout someone else created and posted in the gallery to which you want to give a shout out, and
a sentence or two about why their layout inspires you or what you love about it.
That's all there is to it: leave love for 15 layouts in the gallery, share your Show Off, and share a Shout Out, and at the end of the month, you could win a free kit or mini bundle up to $15 in value.
I asked some of the Sugar Babes to share their own Show Off and Shout Outs to wrap up the month of August and get us in the right frame of mind for September. Here's what Krista (norton94), Cassie (kingsqueen82), Krista (kristalund), Jenny (iScrap), Rebecca (MamaBee), and Ally (allyanne) had to say:
Krista's Show Off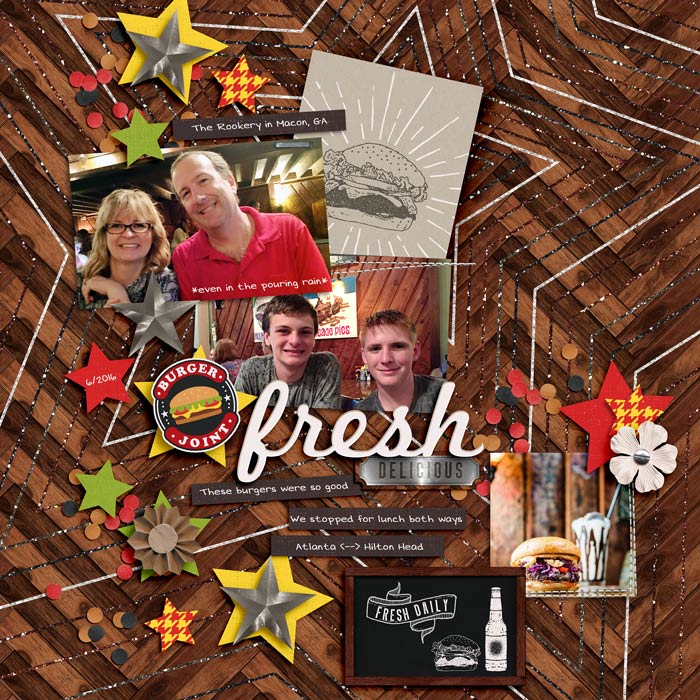 Why Krista is proud of this layout: "I'm proud of this layout because I challenged myself to use some lesser quality photos to use this amazing themed kit. I didn't scrap the photos from years ago because of poor indoor lighting (and we were sopping wet from a downpour), but I'm glad I did because the memory is fun to have and the page turned out so well. I played around with glitter styles for the stars on this page and love the effect."
Krista's Shout-Out
Why Krista loves "Test" by piccolina: "I was immediately drawn to the adorable storytelling photo series; clean and effective style; and bold, graphic title work. I love the colorful paper peeking through the cut-out title in the lined school paper background, again more storytelling without words. Piccolina's page is just so well thought out that I had to take a look at her gallery, and I'm a big fan!"
Cassie's Show Off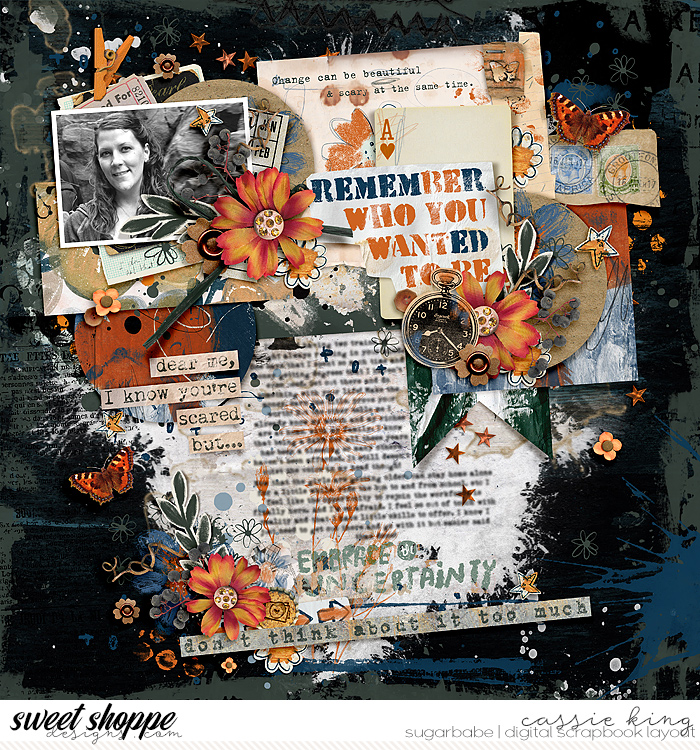 Why Cassie is proud of this layout: "I really like this page because it's a little different than my usual style. While I admire art journal-y, grungy type pages I'm not very good at them so when one turns out I'm extra thrilled!"
Cassie's Shout-Out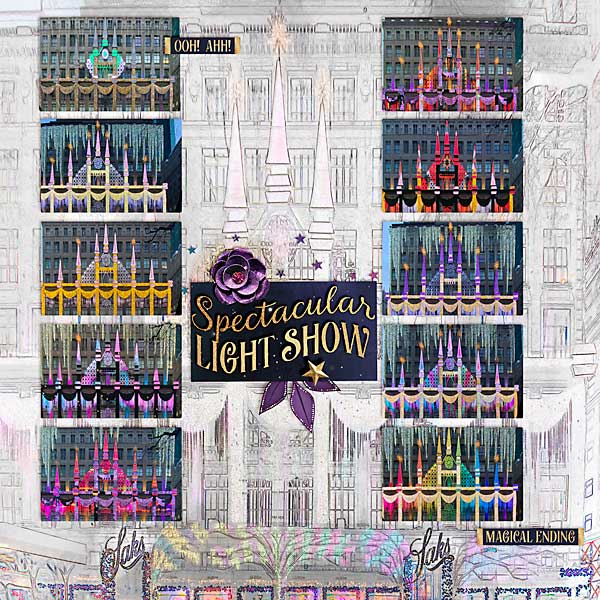 Why Cassie loves "Spectacular Light Show" by Chai: "I love the sketched black and white background with just a teeny bit of color on Chai's page. It supports but doesn't overpower her beautiful photos and the series of color changes in the photos themselves is so much fun – as if I'm actually watching in real time myself!"
Krista's Show Off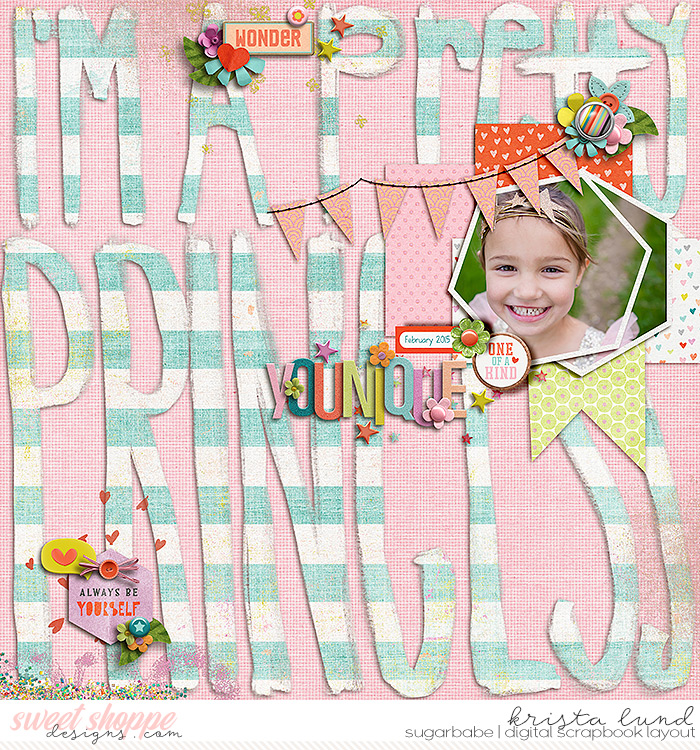 Why Krista is proud of this layout: "I am proud of this layout for a couple of reasons. First, it isn't a pocket page <grin>. Second, I blended the large words with a template to create the perfect page design."
Krista's Shout-Out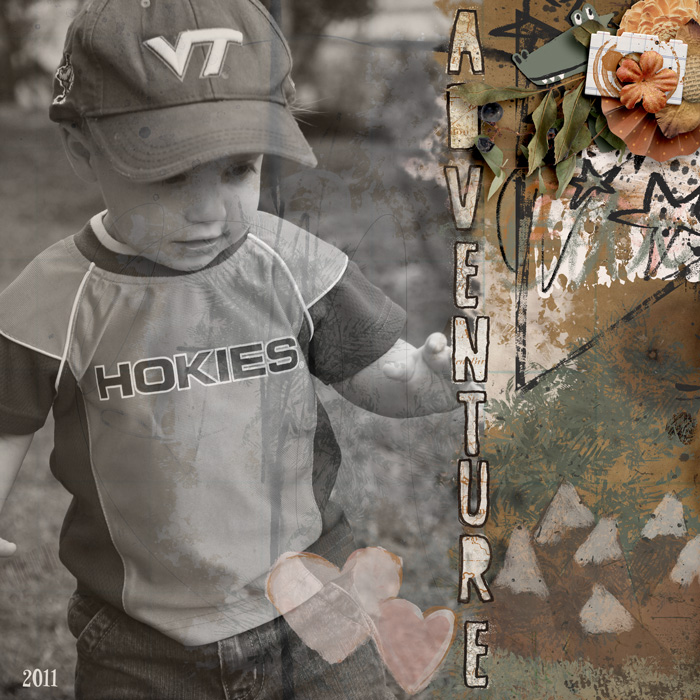 Why Krista loves "Adventure" by Kimberly27: "I love the editing of this large photo. I love the artsy photo and the monochromatic feel of the layout. The little alligator sticker popping out in the corner is the cutest touch."
Jenny's Show Off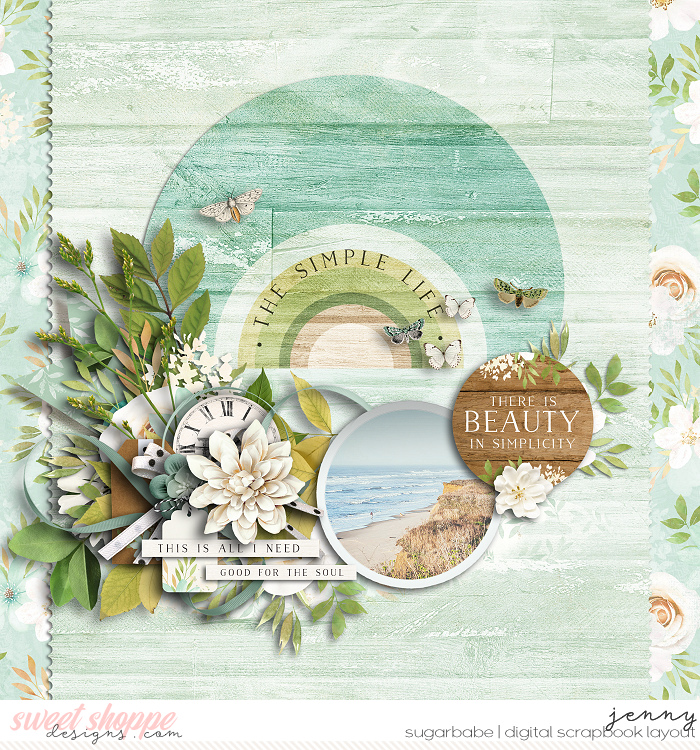 Why Jenny is proud of this layout: "There is little I love more than the beach. I love the relaxing colors of this stunning collection and the template made it easy to customize the colors of the rainbow to match the mood I was trying to capture. I feel at ease just looking at this page and I can smell the ocean breeze and hear the waves just looking at it!"
Jenny's Shout-Out

Why Jenny loves "2022" by joelsgirl: "I love seeing rainbows used in unique ways, so this page immediately jumped out of the gallery for me. I love the photo and layering placement displaying expert skill using that background paper! This will make a stunning cover page to her 2022 album with the B&W photo of her beautiful family!"
Rebecca's Show Off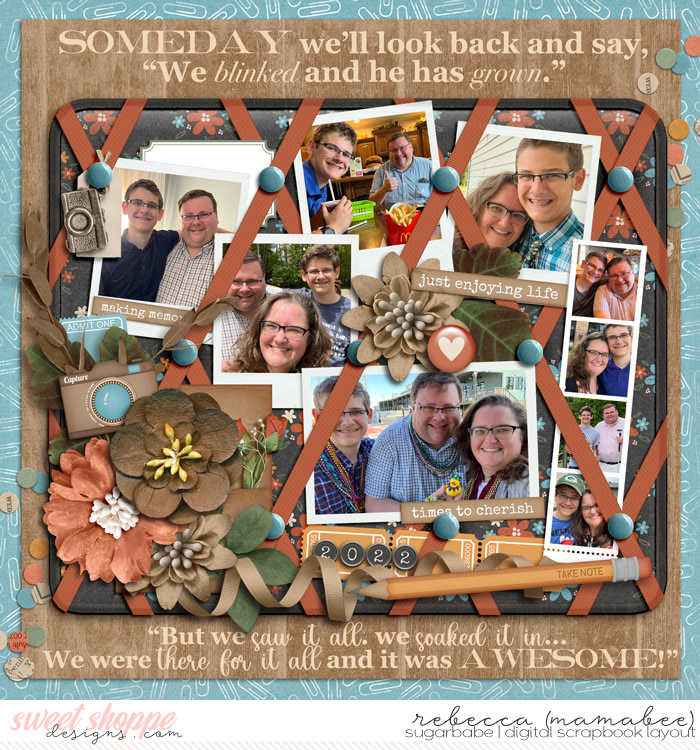 Why Rebecca is proud of this layout: "My son is growing up fast and I'm hit with the thought daily that I only have three years left until he graduates and off to college… I want to make sure we stop and really take note of what our time together, no regrets… also this is why I scrapbook – to remember these family memories."
Rebecca's Shout-Out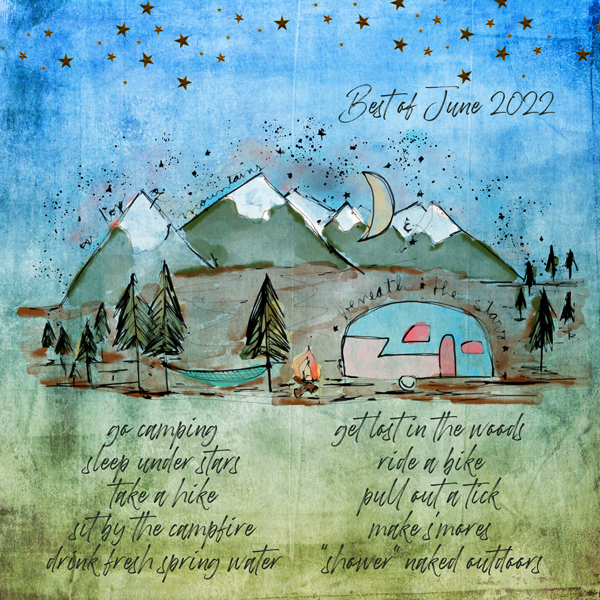 Why Rebecca loves "Best of June 2022" by Angbrey: "What is there not to love with this layout?! I love how Angela took the drawing awesomeness of Ru and Val, and created a stunning "painting" worthy of framing. I'm also in love with a great recap of a month or fun family event."
Ally's Show Off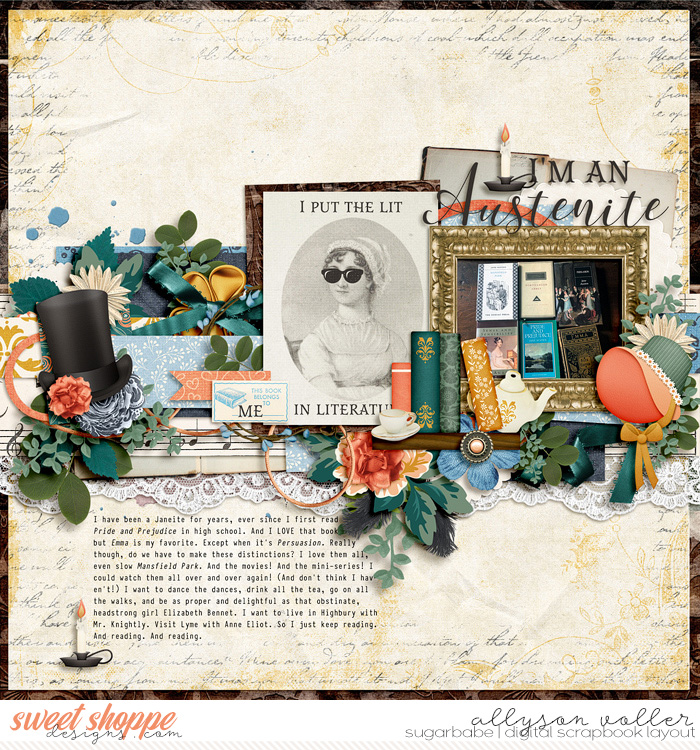 Why Ally is proud of this layout: "This page is out of my comfort zone for sure, because it's almost photo-less! I loved this kit by Meagan's Creations as soon as I saw it, and being a huge Jane Austen fan, I knew I needed to use it right away. I loved how the fun themed elements in this kit lent themselves to little clustered pictures, and I just adore that card with Miss Austen wearing the sunglasses! I like when I make pages about my passions and not always about events or day-to-day stuff, too. Even though August was a low-scrapping month for me because of travel, I am super happy that this is one of the pages I made."
Ally's Shout-Out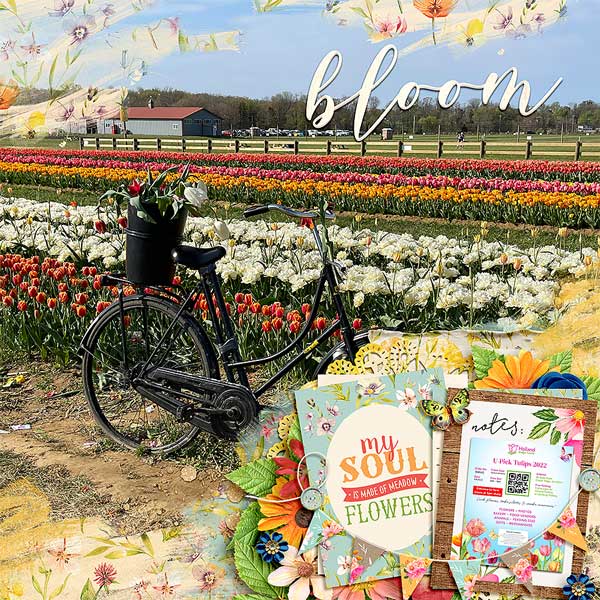 Why Ally loves "Bloom" by picturemom: "I love that gorgeous photo background blend with the fun patterns showing through! The little journal card and flyer photo are perfect here with the clusters and banner. This whole page is just beautiful and whimsical and I love that!"
---
"Focus on building up others, and your own sense of self-worth will improve. Some call these random acts of human kindness. But the truth is, acting unselfishly is not random at all. Instead, it is a conscious, concerted effort to make the world better by making someone else's life better. The bonus: you will be happier by doing it." – Scott Hamilton
If you're tired of all the toxic negativity in the world around us, leaving love on layouts is one small thing you can do to lift your own spirits as well as those of another scrapbooker. If you're ready to get started, come join us in this month's Show Off and Shout Out challenge … We'll see you there!