Sweet Talk with: amyjcaz – 9/5
Hey everyone I'm excited to bring you one of our newest blog features, Sweet Talk, which sheds some light on YOU. Our amazing community members. Once a month we will indulge in some "sweet talk" and have some fun getting to know you all a little bit better.
"When someone tells you a piece of their life, they're giving you a gift." – Patrick Rothfuss
We'll start off with an ice breaker and show off some gorgeous pages then we'll end the interview with a lightning round of 15 questions to learn some fun, interesting and cool things about a different member of the sweetest spot in town!
This month I'm excited to introduce: Amy, (amyjcaz in the forum)
How you came to find digital scrapbooking?
Amy says: "I had been paper scrapping since the late 1980's and I swore that I would NEVER stop creating layouts by hand. But then I won a friend's blog contest where the prize was six digitally completed layouts of my family. She scrapped them, she emailed them, I printed them… and I was sold!"
What's your day job, where you live, pets, kids?
Amy says: "I am a SAHM but also occasionally do photography as a side job. My husband is the Athletic Director of the largest high school in Washington State and I volunteer hundreds of hours taking photos of their varsity events. I also spend a lot of time serving in my church, where I currently have the job as Relief Society president. Basically, I make sure all the women in our church are cared for. I have been married to my high school sweetheart, John, for 28 years. We live on the dry side of Washington State and have four children: Anderson (married to Rebecca), Cayden (married to Mckelle), Sydney 21 is away at college and our youngest son, Branson, is just starting high school. Oh, and we have a sweet bulldog named Rosie."
I loved looking through her gallery and this regal & noble page really caught my eye:
"Besides the huge and dramatic 'noble' title this page is stunning with the regal eagle sitting perched on the branches. I love that there is some artsy bordering but not too much to overpower the main focus of this page."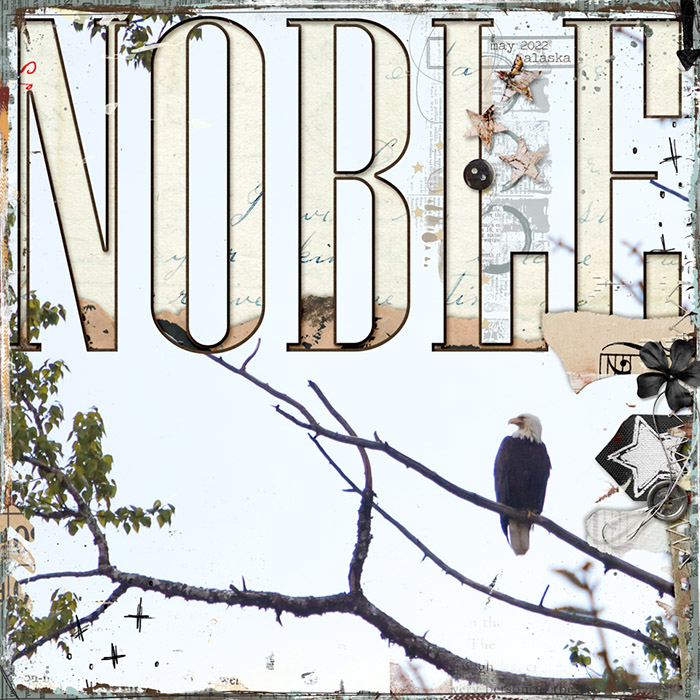 I also asked Amy about her favorite pages from her own gallery here and this is what she shared:
"My family prefers layouts with multiple photos on the pages. As I go through our scrapbooks I have to agree that those layouts are my favorite to look at. But when I am scrapping, I enjoy creating the grungy, artsy, single photo pages most. They are my therapy. All that beautiful white space with just a touch of element goodness, a single photo that pops and a gorgeously big title… yes please."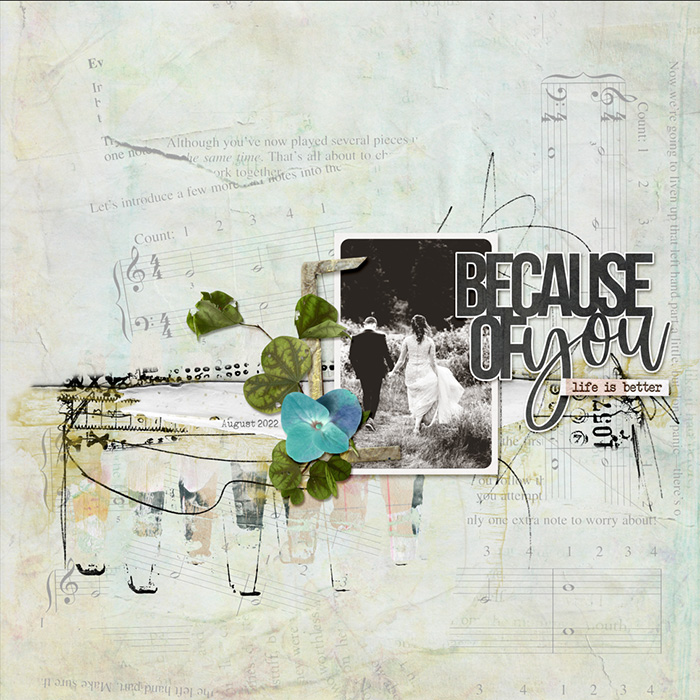 "I am a sucker for a "cover the entire page" layout. When I happen to love a picture just THAT much- I slap it on the whole dang spread and let it talk to me. I also love making pages of my boys without any flowers or greenery. Masculine layouts are my favorite to grunge up the photo and have fun with the effects."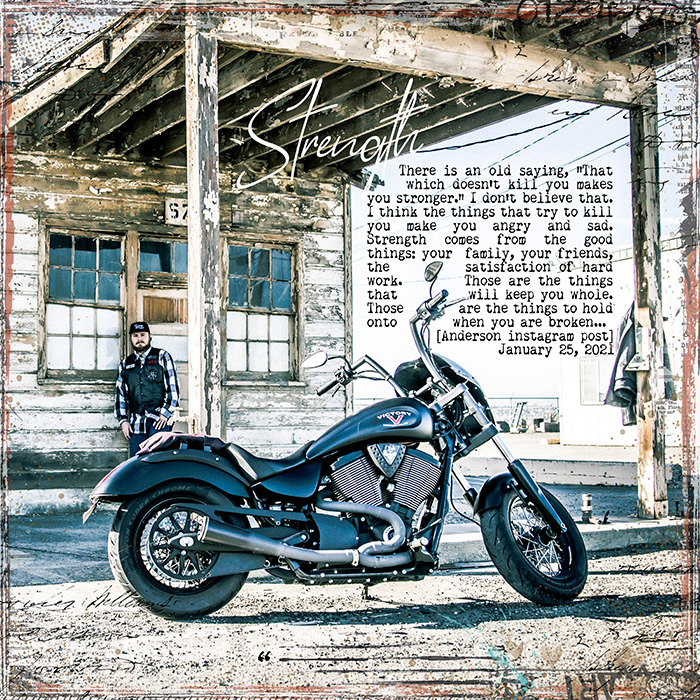 "I am big into journaling and try hard to get the "real story" whether in my own words or those of others. I see myself as the Memory Keeper or the one in charge of our Family History, so I also scrap photos that wouldn't make the cut in someone else's album. I feel that it is often those "ugly" pictures that tell the best story of our daily lives."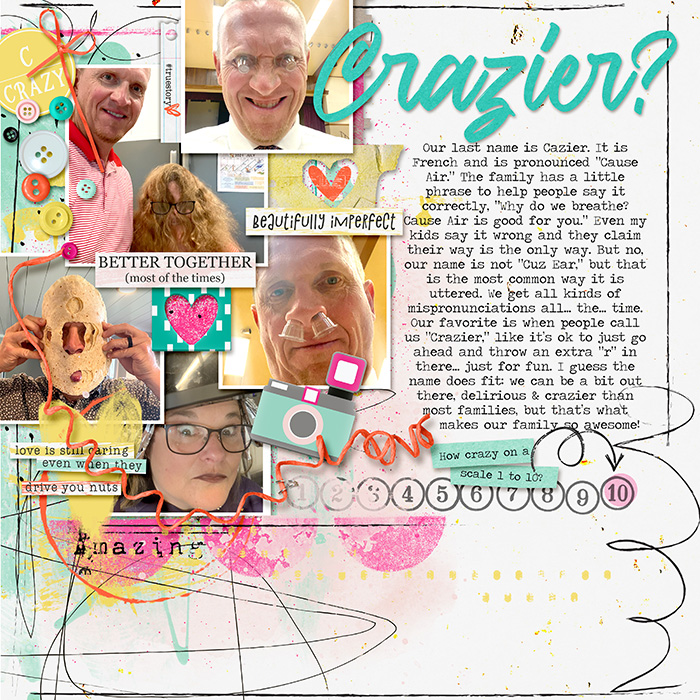 I can always find something to fawn over while I'm in her 
gallery
 here at SSD. But this interview isn't all about her gorgeous creations before we go let's learn some more about Amy. I gave her a list of questions to choose from and asked her to answer any 15 of her choice.
1. What type of music are you into? I love it all! Except Jazz- I am not a fan. When Branson was 9 years old he said it best, "My mom sings in the kitchen when she works all of the time. She sings old and new music."

2. Are you an introvert or extrovert? Introvert for sure. I love days that I can just stay home, not go anywhere or see anyone and can just find peace in my home, in my own space with my family. I often feel lost and out of place in a crowd, even among friends. But I do put on a good show, so I am not sure how many people know this about me.

3. If you could tell us to read one book, what would you recommend? Do you have any idea how difficult it is for me to answer this question? I feel like I am cheating on all my other favorite book children by singling one out. But if you insist I pick one, A Single Shard by Linda Sue Park is my absolute favorite read. And yes, it is a young adult book. My entire library is full of them. Life is complicated enough so I prefer to dive into books that are clean, entertaining and shorter than most adult novels. We just remodeled our home after living in it for 23 years and I now have my dream library! My absolute favorite words are, "Amy will you help me pick out a good book?" Chills…

4. What's your guilty pleasure? Diet Dr Pepper (cherry or cream soda) with just a touch of coconut coffee creamer added. It. Is. Amazing. Really, you have got to try it.

5. Tell us one of your nicknames? Everywhere I go there are always multiple Amys. I have a very unique middle name (Jerusha) so whenever I need to distinguish myself from the rest I go by Amy J, a loving nickname my dad has always used.

6. What song would be on the soundtrack to your life, and why? I have to admit I did a Google search for this one LOL. But I did find the perfect match! "Nothing Ever Goes as Planned" by Styx is my life's theme song. The only thing I have learned to count on is that you can't really count on anything going the way you think it will. But, that's totally OK. I really do try to embrace the bumps and bruises, twists and turns and occasional free falls of life. What other choice do we have? If we are along for the ride we might as well put our arms up in the air and smile for the camera.

7. If you could create the ideal career for yourself what would it be? With my youngest child entering high school this question has been at the forefront of my mind. I have considered High School Photography teacher or middle school librarian. I even thought about selling my extra LEGO pieces (just couldn't part with any) or hosting LEGO birthday parties. And while I dream of being a professionally organizer for The Home Edit team, they won't be knocking on my door anytime soon. At this moment I am leaning toward branching out with my photography and actually advertising to get more bookings and make paid photoshoots a more frequent thing.

8. What's your favorite board game? I am always asking other families what their new favorite game is and I love trying new games! We had a woman from Italy visit our home for six weeks this summer and she suggested DixIt. Our new family favorite, this game is just incredible. The artwork on the cards alone is a conversation piece, as each one gives off a sense of dreamlike states and oddities. The game comes with a ton of cards but you can purchase expansion packs to add more fun. How to play? Think Apples to Apples but in picture form! But the best part? It is good for all ages and it seriously takes two minutes to teach someone how to play the game!

9. What is a weird talent you have? My family calls me the The Queen Tetris Packer. I can fit anything and everything you need into a suitcase, car trunk, drawer etc. It's a gift and I wear my crown proudly.

10. Everyone loves it, but you just don't get the appeal…what is it? Bacon, I just don't get the hype. My one exception is in Pasta Carbonara. Not sure why, but in this dish bacon is heavenly.

11. What's your favorite season? I am not sure if I have a favorite season. Spring and Fall have all the colors and smells. Summer has vacations and green grass and swimming. Winter has Christmas and snow. But I can say for certain that January and February are my least favorite months. They are dark, there are no more Christmas lights. They are cold and dreary with no Christmas music or joyous anticipation of the holiday to come. And if there isn't any snow on the ground, my grass is dead and ugly with soggy leaves scattered around.

12. Is your bed made everyday? Yes, but that hasn't always been the case. Back in the days of babies and toddlers who had the time? But I found that a clean, organized home brings me immense joy and helps me feel at peace. If I can pull open my junk drawer and say the words, "It's so pretty," I can die a happy woman.

13. What is the first thing you'd spend money on if you won the lottery? LEGO. LEGO and more LEGO. Oh, and a bigger LEGO room! Oh, I am in no way complaining about my current LEGO room. It is only a year old and I love it! We covered the popcorn ceiling with blue tiles! (No they are not authentic LEGO, that would have been an astronomical cost!

14. You're alone for 24 hours, what do you do? Free time for me is always one of the following: a long nap, reading, building in my LEGO room, or digi scrapping. Crazy enough I also find it therapeutic to work in my yard or organize a drawer or closet.

15. What would your 10-yr old self say about you now? "Always recognize that all you have ever wanted has come true! You were a talented cheerleader at BYU and you actually graduated with a four year degree. You married the man of your dreams and both of you continue to work on keeping the marriage solid and fun, and when it's not, you work on that too. You have four healthy kids despite run ins with Leukemia, premature births, divorce, depression and anxiety. Your kids are OK. And when they weren't, just being their mom and loving them was enough. So yeah, you are overweight and a few months away from turning 50, but life has treated you really, really good. Even when it didn't- you had people who love you by your side. Always remember that."
WOW a whole Lego room?! That is awesome and a little intimidating I admit. I love that her favorite guilty pleasure is pop/soda…I'm an addict and need to cut back to diet soda before my middle section outgrows me…lol.  I enjoyed learning more about her and I hope that you all did too. Thank you again, Amy, for letting me interview you for this "sweet talk" feature.
See you all next time!