Show-Off & Shout-Out with the SugarBabes – 11/1
Kind words can be short and easy to speak, but their echoes are truly endless. – Mother Teresa
Here at the Sweet Shoppe, our favorite way of sharing kind words is through leaving love in the Gallery, which is what we call leaving comments for one another on the scrapbook layouts we've posted. I don't know about you, but nothing puts a smile on my face quite like seeing an alert that someone's left me a message! Even something as short as, "Beautiful layout!" or "Love this photo!" or "Thanks for sharing this story!" makes me feel good. Who wouldn't want to share that feeling with others?
We love spreading kindness here at the Sweet Shoppe so much, we've made it part of our monthly challenge-and-reward system. Want a chance to earn a free kit or mini bundle? You'll find this month's Show Off & Shout Out thread stuck to the top of our This or That Challenges forum. Reply to the thread to claim your spot. Throughout the month, update it with
links to 15 pages in the Gallery on which you've left a comment,
an image of a layout you created this month and posted in the gallery you want to show off,
a sentence or two about why you're proud of the layout you created or why you love it so much,
an image of a layout someone else created and posted in the gallery to which you want to give a shout out, and
a sentence or two about why their layout inspires you or what you love about it.
That's all there is to it: leave love for 15 layouts in the gallery, share your Show-Off, and share a Shout-Out, and at the end of the month, you could win a free kit or mini bundle up to $15 in value. Our winners for October will be announced soon, so be sure to keep an eye on the forum for details.
I asked some of the Sugar Babes to join me in sharing our Show-Off and Shout-Outs to wrap up the month of October. Here's what Kiana, Krista, Eve, Cassie, Jay, and I had to say:
Kiana's Show Off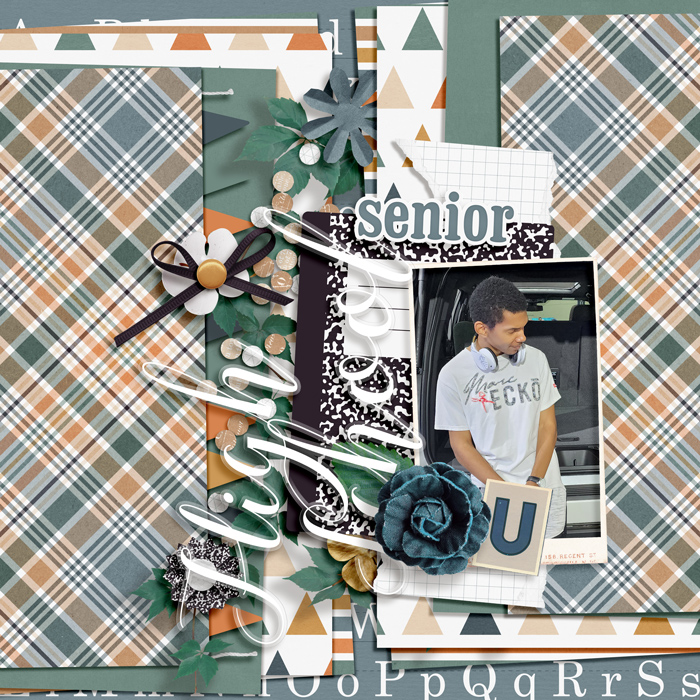 Why Kiana is proud of this layout: "This month was not a scrapping month for me. With workloads, hubby in the ER twice, and time just seeming like it's moving too fast, I haven't gotten into my groove. I chose this layout because it came together so seamlessly during DSD. I always love a good spin-a-lift and putting that spin on my own older layouts is fun and useful since now I have a completely new page for the books."
Kiana's Shout Out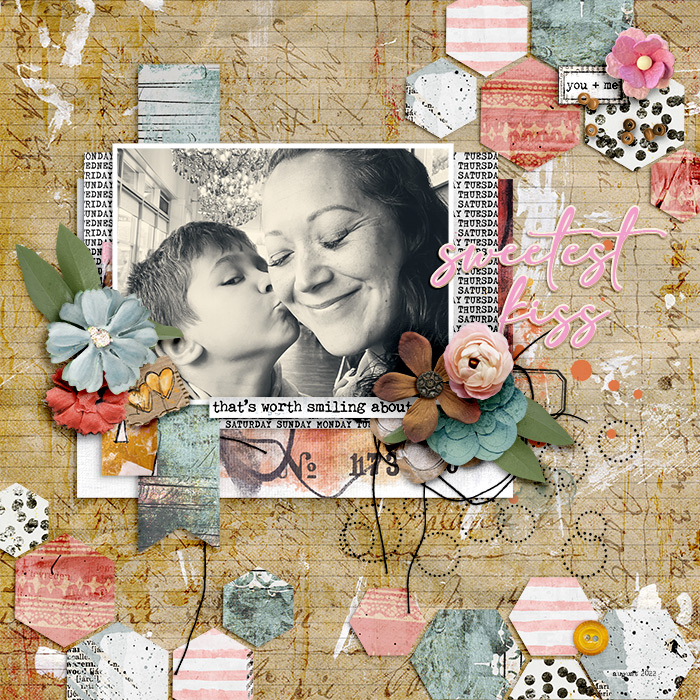 Why Kiana loves "Sweetest Kiss" by bcnatty: "bcnatty is an amazing scrapper to say the least, but really draws me in with this layout is that sweet, serene, smile on her face. The messy background with the hexagons and each wordbit and flower is placed perfectly. Everything here adds so much interest yet that photo still takes the center stage of melting your heart."
Krista's Show Off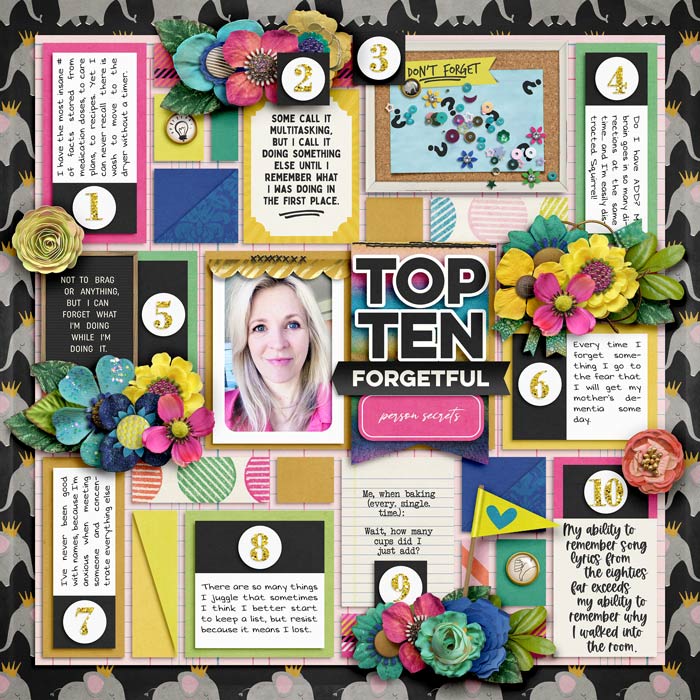 Why Krista is proud of this layout: "I am happy with how this page turned out because I adjusted the template to fit my needs rather than just journal in a block – I love how the little spots make you pause to read them all. I didn't use photos for each item, so I altered some of the journal cards or elements to fit. It tells my story and documents my here and now."
Krista's Shout Out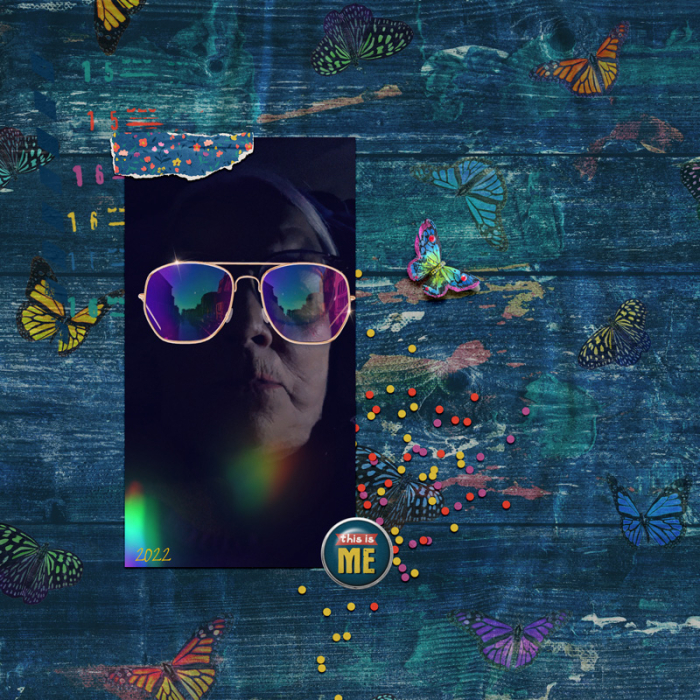 Why Krista loves "Moi" by Electra: "Amazing and artistic! Creative and cool! I love the pops of color with the scatters and butterflies, but overall keeping a dark page really pops those glasses!"
Eve's Show Off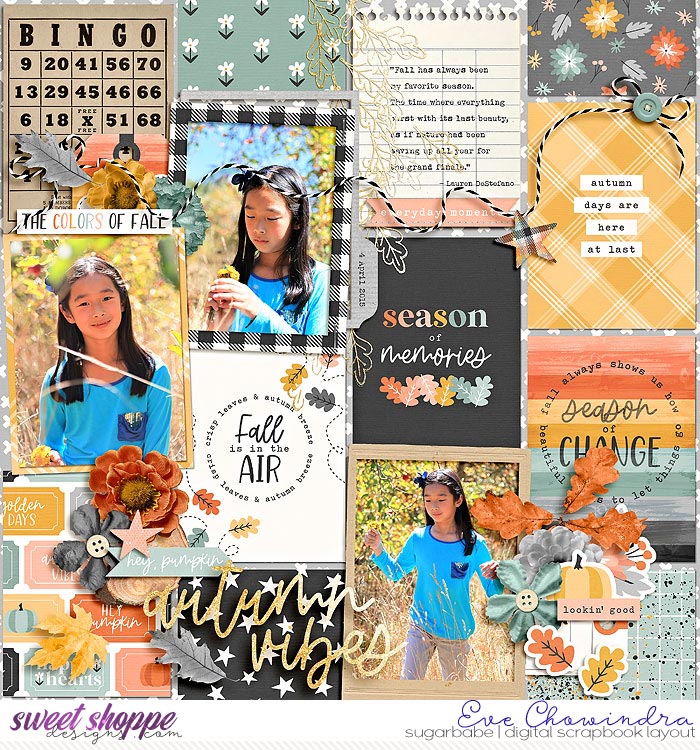 Why Eve is proud of this layout: "I don't know why but I struggle with pocket pages but this layout came together pretty quick and easy to me. It's still structured like a pocket page but still has the vibe of a regular page with the clustering and elements scattered on the layout."
Eve's Shout Out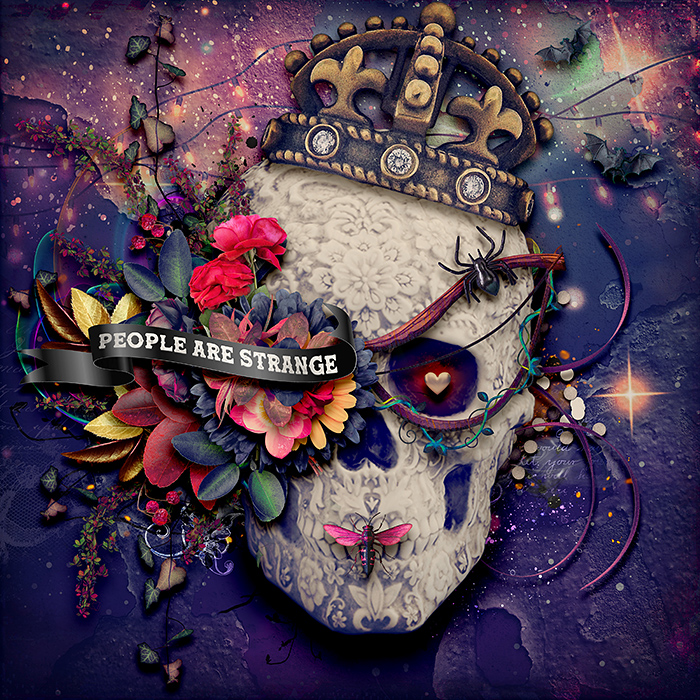 Why Eve loves "People Are Strange" by HeatherH: "I love photoless layouts and this one is amazing. The placement of each element is perfectly done Love the clusters on one side and all the other scattered elements on this page."
Cassie's Show Off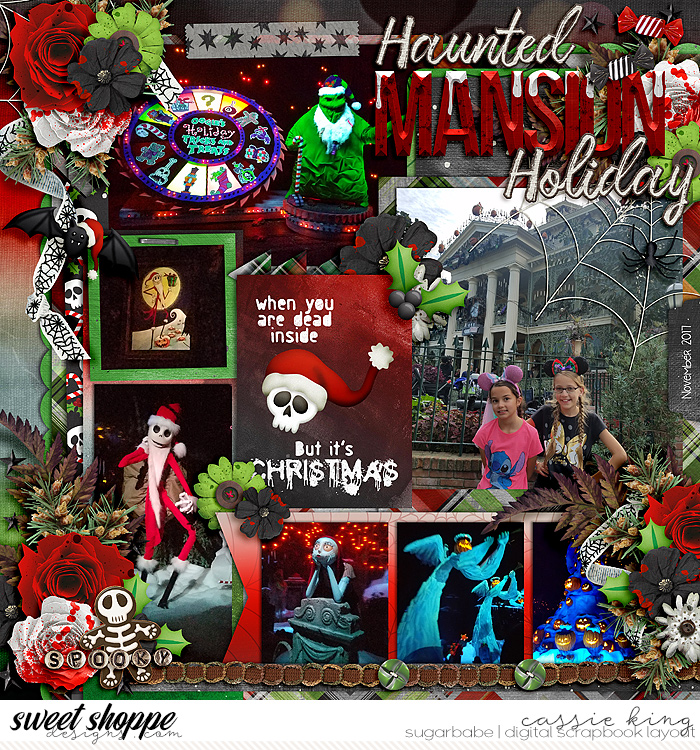 Why Cassie is proud of this layout: "I love all things Disney so this page documenting one of our family Disney trips makes me happy just looking at it! This was a difficult color palette to scrap with too, but I'm pleased with how it turned out!"
Cassie's Shout Out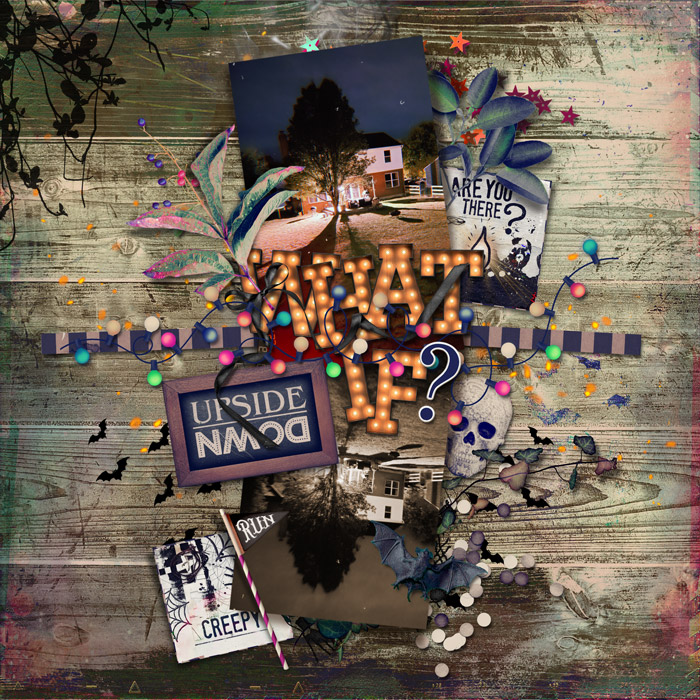 Why Cassie loves "Upside Down" by Heidi Nicole: "There is so much to this page that I love! First, I absolutely adore the mirrored photos and the fact that she converted the upside down one to black and white. I also think it's so clever that she used the ribbon to divide the page and how she uses plants to signify the "real world" and bats and skulls to indicate the underworld. Rather befitting I think!"
Jaye's Show Off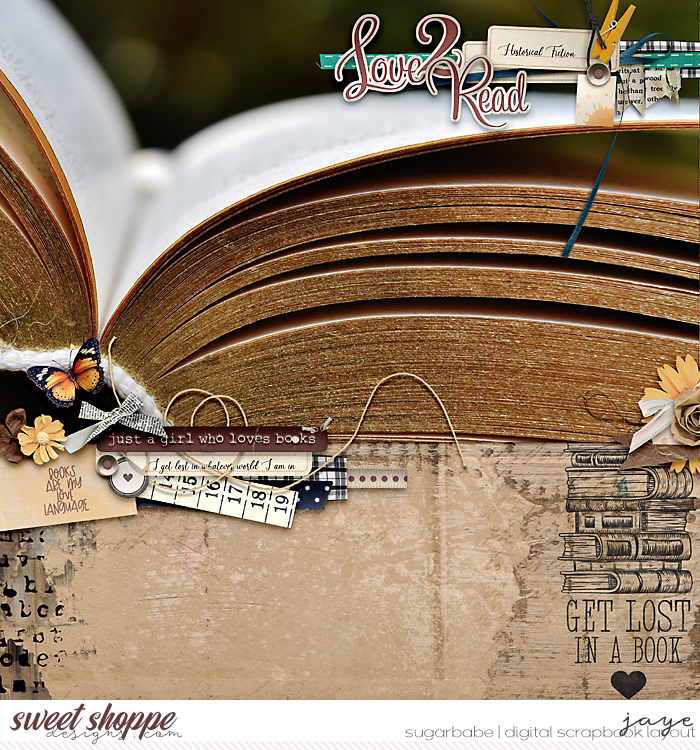 Why Jaye is proud of this layout: "I have gotten back into reading again, I tend to go in fits and starts. I love the perspective of the photo and to me, it looks like I can jump into the pages of whatever story I am currently reading. The older paper and stamps just seem to finish off the page and along with the theme."
Jaye's Shout Out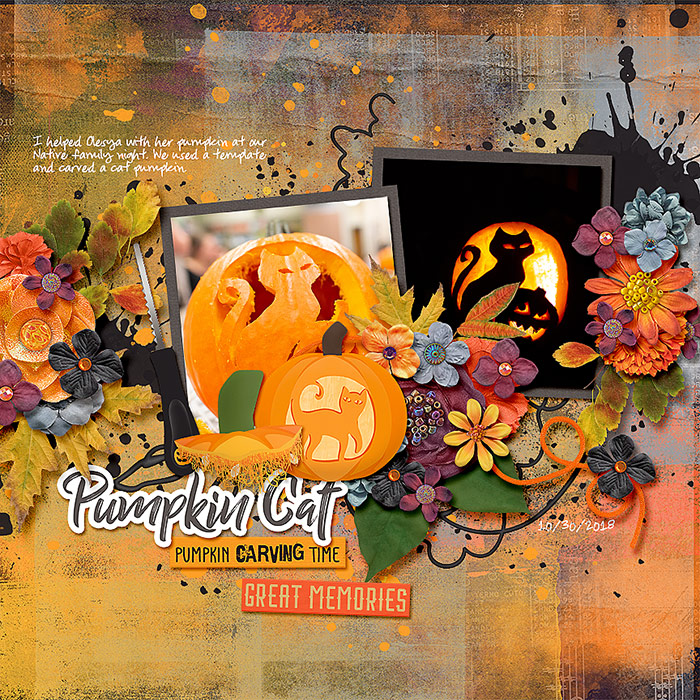 Why Jaye loves "Pumpkin Cat" by navaja77: "I love how the photos are shown lit and unlit, the black matting behind the photos really makes them pop. Ophelia's attention to detail with the placement of her elements draws your eyes in and across the page to appreciate the carving even more."
Angie's Show Off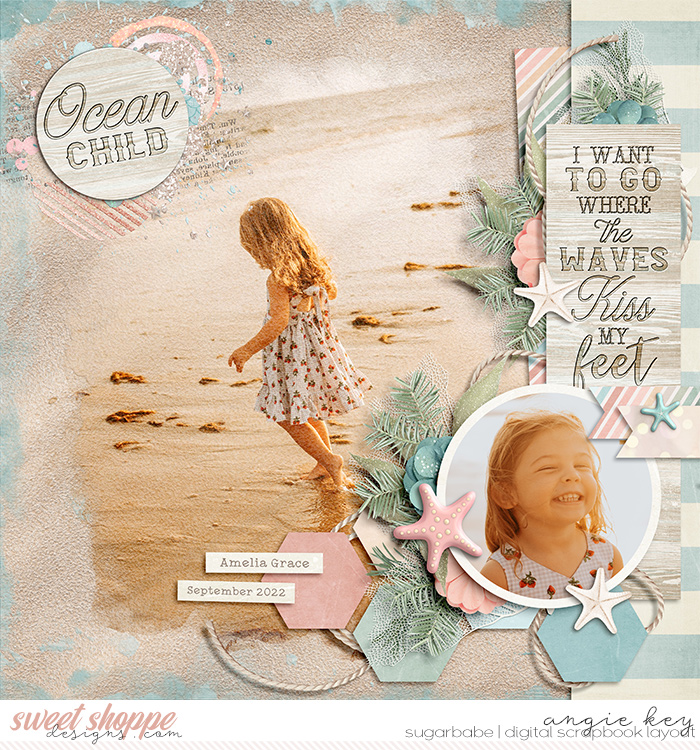 Why Angie is proud of this layout: "I spent the month of September in a period of major scrapper's block. Turns out what I needed were some new photographs to inspire me! My stepson and daughter-in-law took their girls to the beach for the first time, and I adore the photos they brought back. I blended together two templates to create this layout, and that's what I'm most pleased with: the way the photo mask and painterly layers of the LJS Designs template worked with Photoshop blending modes to create the background, and the clustery layers from the DSI template layered atop it oh-so-perfectly. Scrapper's block: busted!"
Angie's Shout Out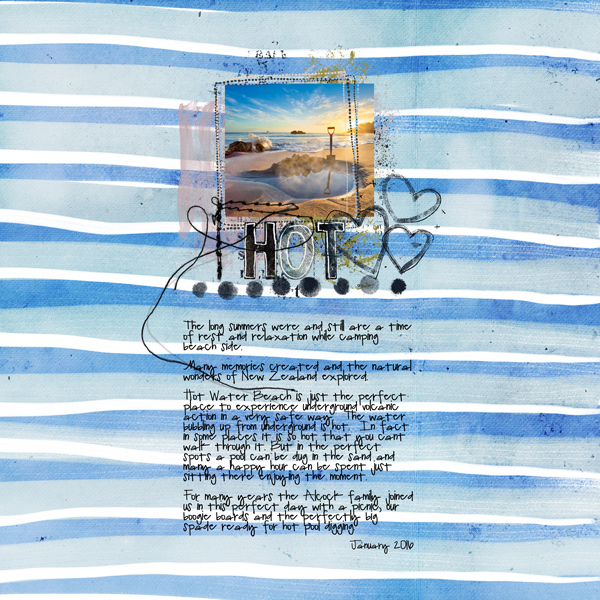 Why Angie loves "Hot" by tam65: "I'm utterly entranced by this layout. What initially drew me in from the Gallery was the combination of the vibrant blue striped paper against the vivid colors of the photograph. And that photo – oh my word, it's absolutely gorgeous! But it's when you read through the journaling that you understand the significance of the 'perfectly big spade' and the reason they've dug a hole on the beach. In just a handful of sentences, Tamara has fleshed out a complete story behind this natural wonder of New Zealand and its meaning to her family. Well done!"
---
As Oscar Wilde wrote, "The smallest act of kindness is worth more than the grandest intention." My challenge to you this month is to push past just intending to leave feedback in the gallery … and actually do it. It only takes a moment, and I promise you'll brighten someone's day!