Featured Designer – Meagan's Creations
Happy Friday!  It's time for our next featured designer.  This year our them is 'Designer's Choice'  What does that mean? Well, just what it sounds like! This year our wonderful team of designers will be coming up with a heap of fantastic new collections inspired by whatever is exciting or motivating them in the moment. They have total freedom to express themselves however they'd like, and we're super excited to see where this adventure takes us over the next year.  This week we have Meagan Tuck of Meagan's Creations and she has created this lovely collection called Calm Home!  My goodness, I just love it!  The colors alone make me feel calm and this theme is so versatile.  I think it works for scrapbooking your home, those lazy days at home or anything really since the colors are so neutral.  I think you're going to love having this one in your collection!  Don't forget you can grab this beauty free with a $10 purchase, just add $10 worth of goodies to your cart and Calm Home will automatically be add!  The offer is until our new releases go live on March 10th.
She has also created several add-ons if you want even more goodies to go with the base kit.
Now you know it's time for our interview, with questions that you all submitted this year.  We've asked each designer to choose from each category and I think you'll love learning a little more about them.
Tell us about your journey with digital scrapbooking… How did you find out about it? Did you start with paper first? How did you get started designing? Where was your first shop? How and when did you end up at Sweet Shoppe Designs?
MEAGAN: I started paper scrapbooking in 2006. I was trying to get my wedding album put together. That's a big project to start with! I soon found that as a broke college student, scrapbooking was not a cheap hobby! A friend showed me how she made a custom header for her blog and I dove into the world of digital scrapbooking. I had some experience with Photoshop from school and so it was fun to get back on the computer and work with art. I got on a Creative Team (Dream Big Designs, you might know Cheri 🙂 ) and she encouraged us to try designing things ourselves. It was a learning process but I looked up tutorials and joined some designer courses to get the process down. I started at a now-closed Stuff to Scrap store and learned more about how I needed to market and build a team to get my name out there. I hopped around from shop to shop, looking for a team that was as dedicated and driven as I was to make my hobby something more. I had applied for SSD before when Scrap Matters was closing but decided again when I saw a call in 2018. So happy I tried again and made Sweet Shoppe Designs my home in July of 2018 🙂  The team has been so supportive and loving and it's great to be with so many talented and beautiful designers.
Do you ever feel like you've done it all already and your style is repetitive?
MEAGAN: Definitely! Sometimes it's really hard to come up with a theme for a new collection. I feel like some of the themes that we need for our pages most often, like Summer, Christmas, birthdays, there are SO many in the store already but how to put a fresh spin or twist on it is a challenge!  To keep me motivated and out of that slump, I do try to play around with different styles and themes and that's where collabing with the other designers here at SSD can help me get out of my shell and experiment with new styles. 
Show us a recent mood or inspiration board… or two.
MEAGAN: I've started doing some "Home" themed collections, like my FWP, inspired by the styles and trends of home decor. I LOVE walking through Hobby Lobby and Michael's and just ogling all the fun decor so that's mainly what I look up for inspiration on these kits. Here are the mood boards for my two releases this week.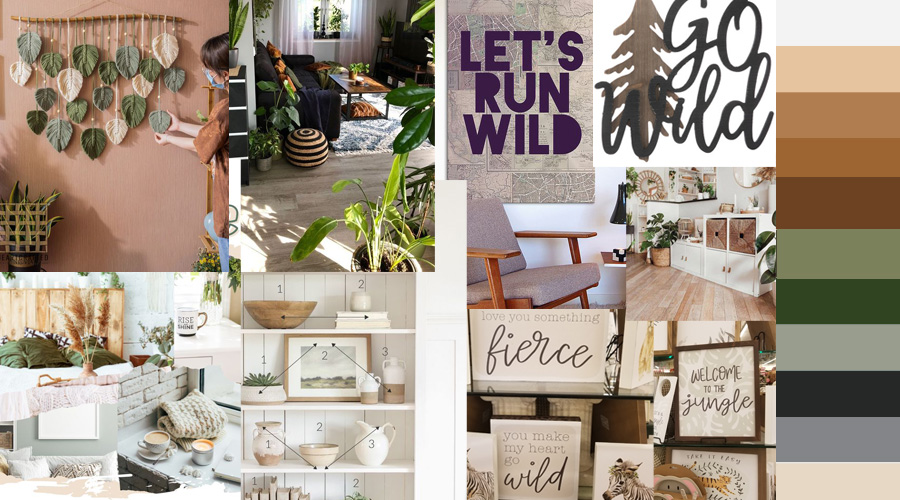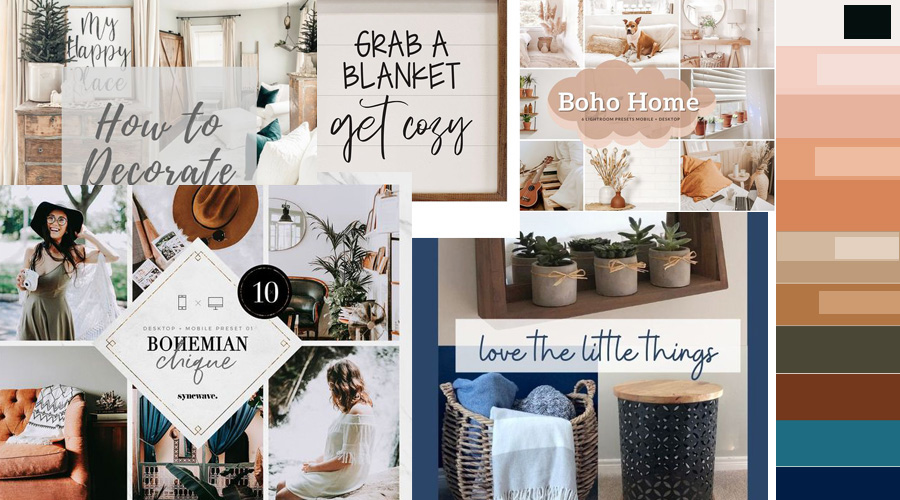 What are your must-haves when creating a kit or collection? How do you know when a product is "finished"?
MEAGAN: I do make a list of the generic things that need to be in a collection: flowers, ribbons, strings, scatter, frames, buttons/fasteners, paints, and word art. Deciding on what fonts to use for a collection is a big part of the planning process for me and I feel is important for setting the right "mood" for the collection. I LOVE making the word art and wordstrips for the collection and I write out a list of phrases that I must include. I aim for 80-100 elements for a kit and so if my checklist has all been completed and I don't have additional word art ideas, I'll make the preview. I may decide to add/change some things once I make the preview so I keep that option open. 
Do you use your own art in your kits? Show us some of your favorite original illustrations.
MEAGAN: I had so much fun working with WendyP Designs on our collection "Animated Dream: Peanuts" and made a lot of the little cartoon characters and images myself. The animation style of the movie was so unique in my mind, blending computer renderings with some hand drawn-looking elements like lines on their faces so I did a blend with my elements, some having an outline to look doodled and others more 3-D. You can see some of them below.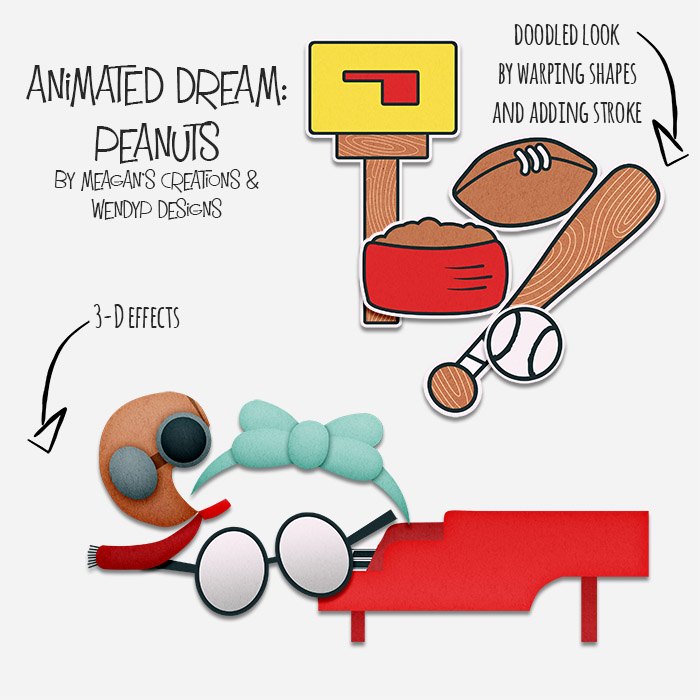 Show us a preview for one of your first kits, compared to a recent kit you're proud of. We want to see how far you've come!
MEAGAN: "Sweethearts" is a kit I made at least 5 years ago. I loved the chalkboard style but might have taken it a bit too far with this collection. The color palette was fun.    Compared to "Loving Home", it has a little bit of chalkboard love and pushes the monochromatic color palette a bit. I had fun with the signs and playing around with the limited color palette.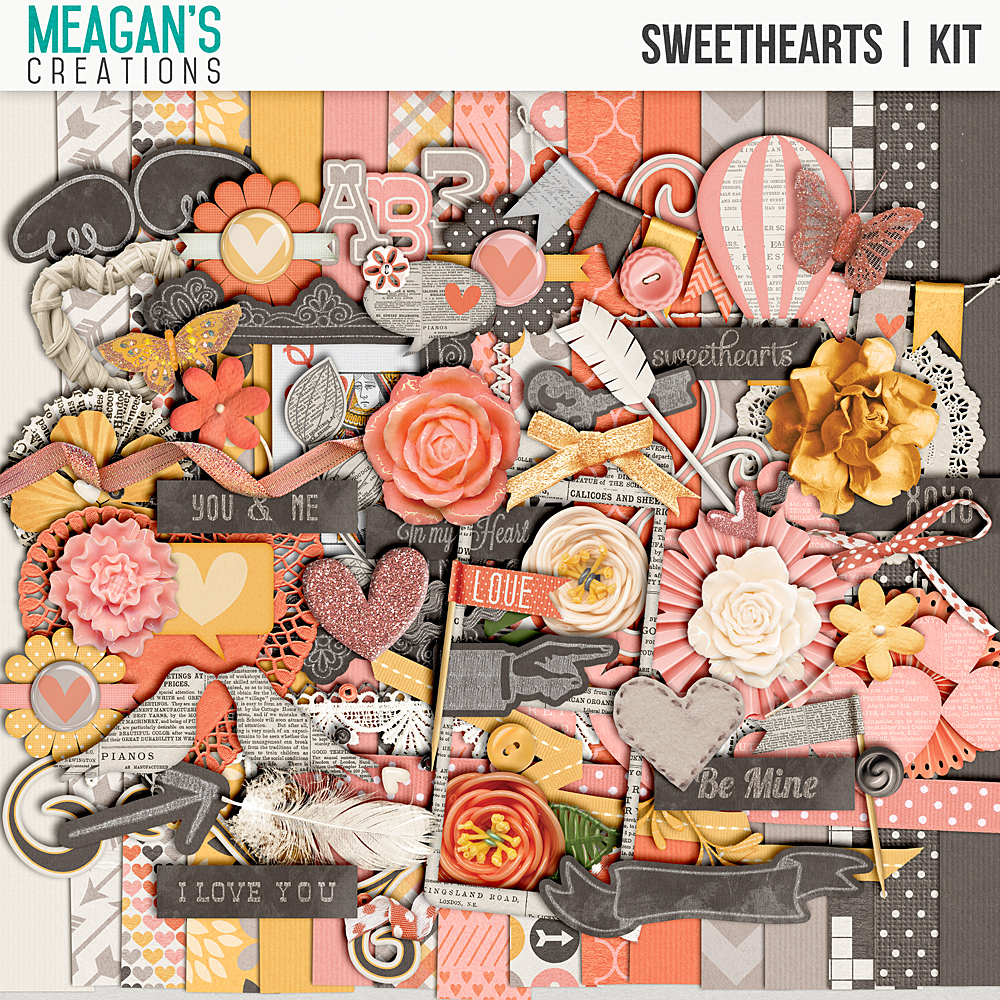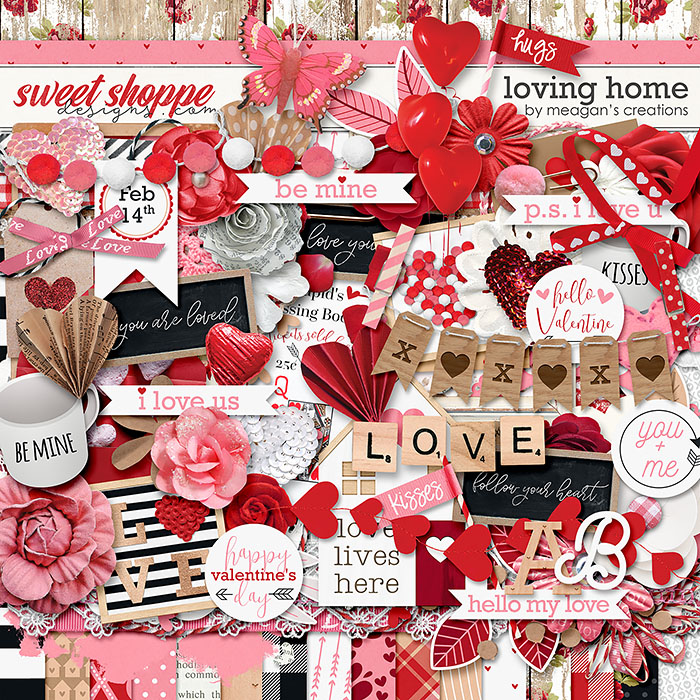 If you could go on a date but only had $25 to spend, where would you go?
MEAGAN: My husband and I actually recently used a great Groupon-type deal to go ax-throwing with my sister. Pretty fun! I'd definitely do that again! I'm a deal-seeker so I look for cheap bowling deals, river boat cruises or a fun community theater play in our area.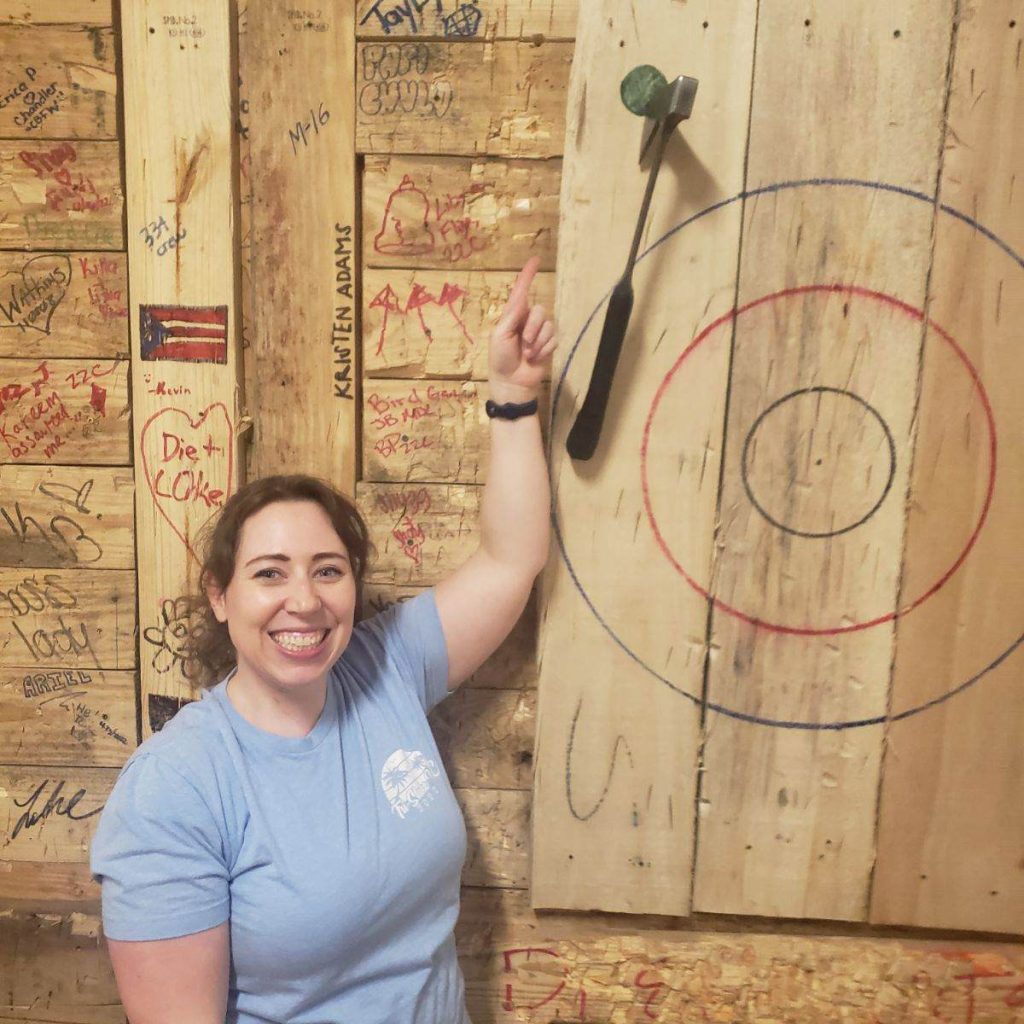 What's the last really great book you read or tv show you watched?
MEAGAN: My husband and I are fans of Jonathan Stroud and Netflix just recently released Season 1 of "Lockwood and Co." which is based on a book series by Jonathan Stroud. We loved the book series and the tv series did a great job of representing it. I thoroughly enjoyed it and we binged it over a weekend. Super fun!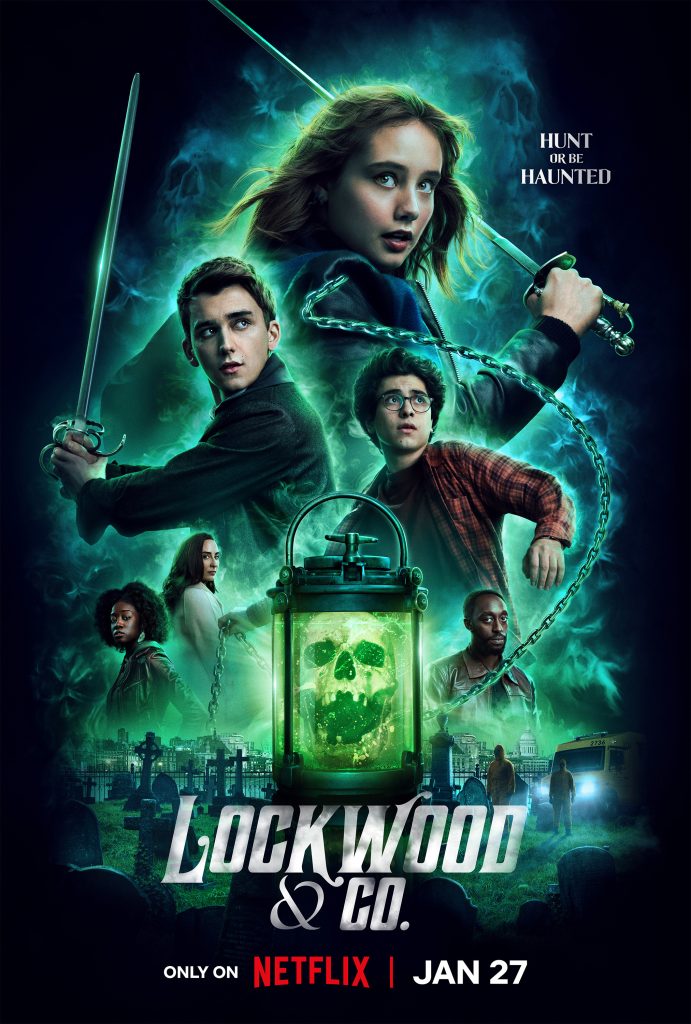 When you were a child, what did you want to be when you grew up?
MEAGAN:  I wanted to be an actress or singer. Unfortunately, I don't sing well but I still enjoy it! I never got to do theater in high school or college but I'm auditioning soon for a Sherlock play at my local community theater. Wish me luck!
I need to try axe throwing, looks so fun!  How about a little inspiration from the team?