Show Off & Shout Out with the Sugar Babes – 3/2
Kind words are a creative force, a power that concurs in the building up of all that is good, and energy that showers blessings upon the world.
Lawrence G. Lovasik
If you could use some of that creative force, power, and energy in your life, the "Show Off & Shout Out" thread in our This or That Challenges forum is a great place to start. Here's how it works:
Reply to the thread to claim your spot. Throughout the month, update it with
links to 15 pages in the Gallery on which you've left a comment (we call it "leaving love"),
an image of a layout you created this month and posted in the gallery you want to show off,
a sentence or two about why you're proud of the layout you created or why you love it so much,
an image of a layout someone else created and posted in the gallery to which you want to give a shout out, and
a sentence or two about why their layout inspires you or what you love about it.
That's all there is to it: leave love for 15 layouts in the gallery, share your Show Off, and share a Shout Out, and at the end of the month, you could win a free kit or mini bundle up to $15 in value.
I asked some of the Sugar Babes to share their own Show Off and Shout Outs to wrap up the month of February. Here's what Cassie, Eve, Kiana, Kim E, Rebecca, and Sherly had to say.
Cassie's Show Off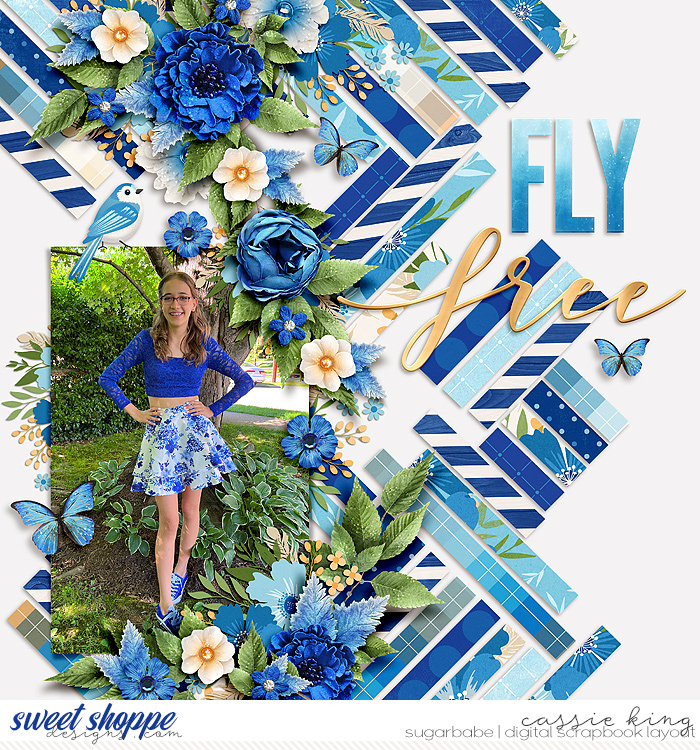 Why Cassie is proud of this layout: "I've said it before and I'll say it again – I LOVE a good photo to kit match up! I love how perfectly the blues in my daughter's dress match the blue in the kit and that the greenery in the photo's background flows seamlessly into the kit foliage in my page. Being able to showcase so many fun patterned papers on my page is the cherry on top! This page was a scrap lift so I can't take credit for the design but I will say that I also really enjoyed turning a paper page inspiration into a digital design that I can use again and again."
Cassie's Shout Out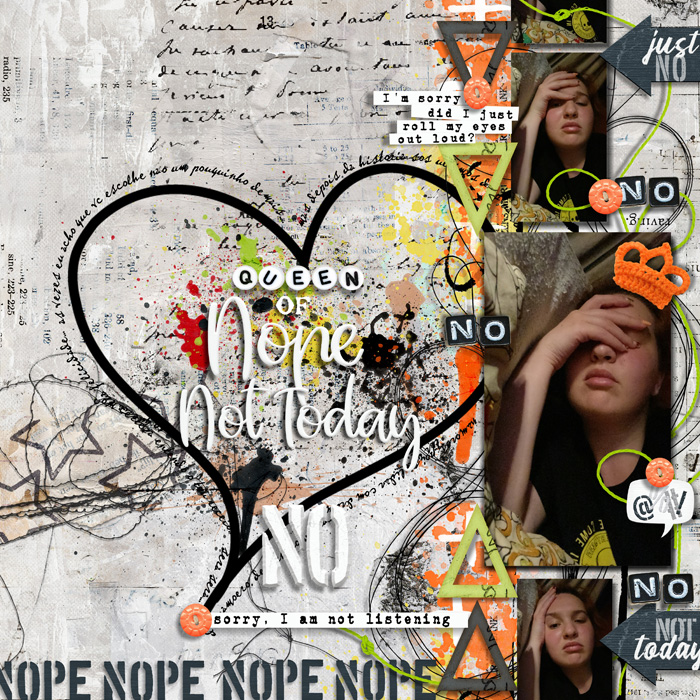 Why Cassie loves "Queen of Nope" by MrsPeel: "I truly love how this layout is the such a great example of art therapy. Not every photo scrapped has to be posed and perfect to be meaningful and these photos do a fabulous job of telling her story and portraying the emotions felt by her daughter. Cynthia does a fantastic job further supporting the "ugh" feeling of the photos with the grey background and abundance of word arts. I myself have said "No, no no no no no way!" in the past as if just one no simply won't cut it and that's what comes to mind when I see all the word art, stamps and multiples titles. Her meaning is well conveyed! Lastly, the placement and direction of the green and grey triangles is excellent for drawing attention to the largest photo and center title work while balancing the element heavy side of the page with the less busy side of her page. Everything works together perfectly!"
Eve's Show Off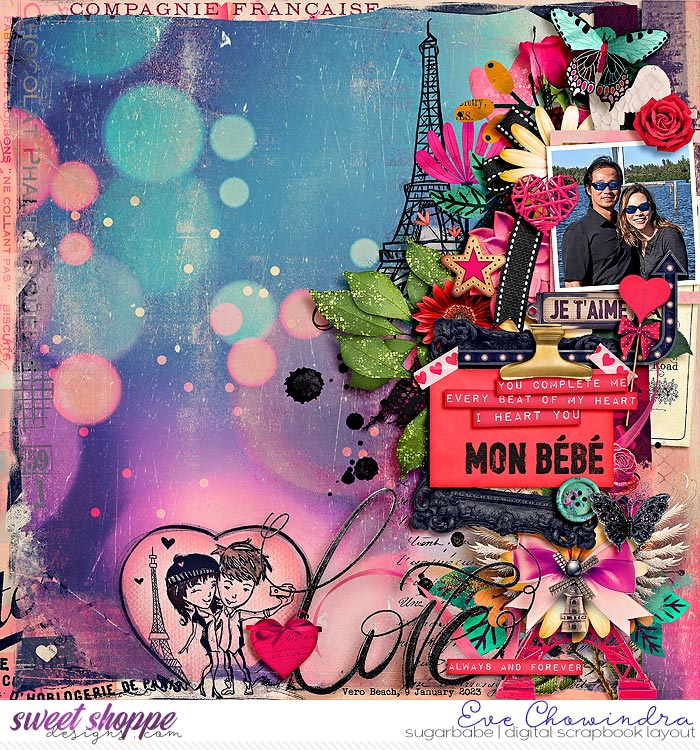 Why Eve is proud of this layout: "I'm using template for the base of this layout and when I added the title and some doodle stamp on the bottom part of the layout, it makes an interesting flow on this page and I really like the composition of the finished page."
Eve's Shout Out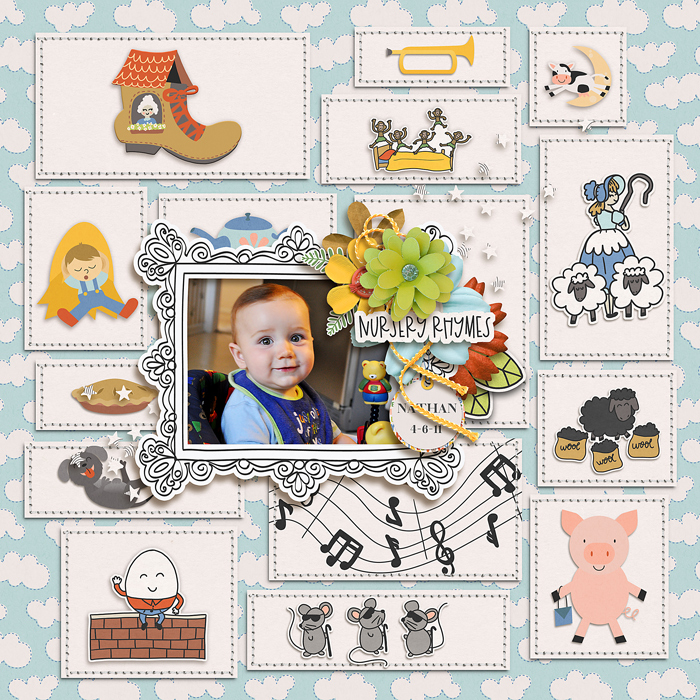 Why Eve loves "Nursery Rhymes" by SweetChar: "I love the block designs and all the fun elements from the nursery rhymes book that she used. It's just so sweet and it looks like it comes out from a story book!"
Kiana's Show Off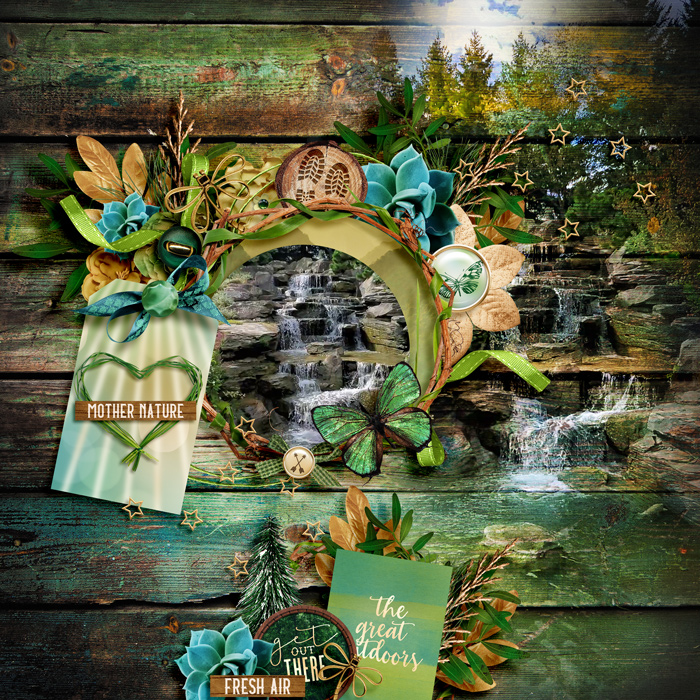 Why Kiana is proud of this layout: "The wood background was the perfect canvas for me to blend the waterfall pic into seamlessly. I brushed out the edges a bit so you wouldn't see the "photo edge" lines and then just used blend modes for the look I wanted. I also really loved so many elements in the kit, that I just had to try and cluster them in …lol. In the end I really love how this turned out."
Kiana's Shout Out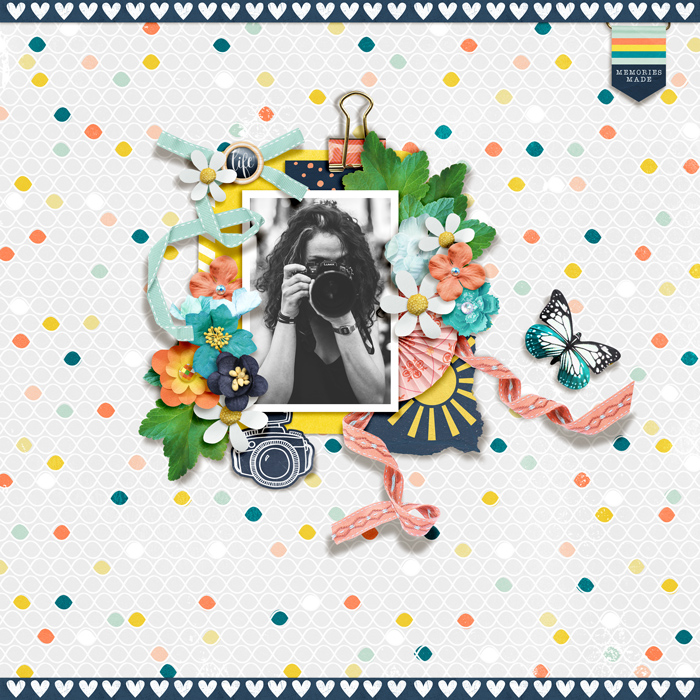 Why Kiana loves "Memories Made" by Erin3: "I love when photographers take a photo of themselves taking a photo…lol! The b&w photo lends itself well to the colors of the clustered flowers and layers around it. And the funky dotted background adds a bit of playfulness."
Kim's Show Off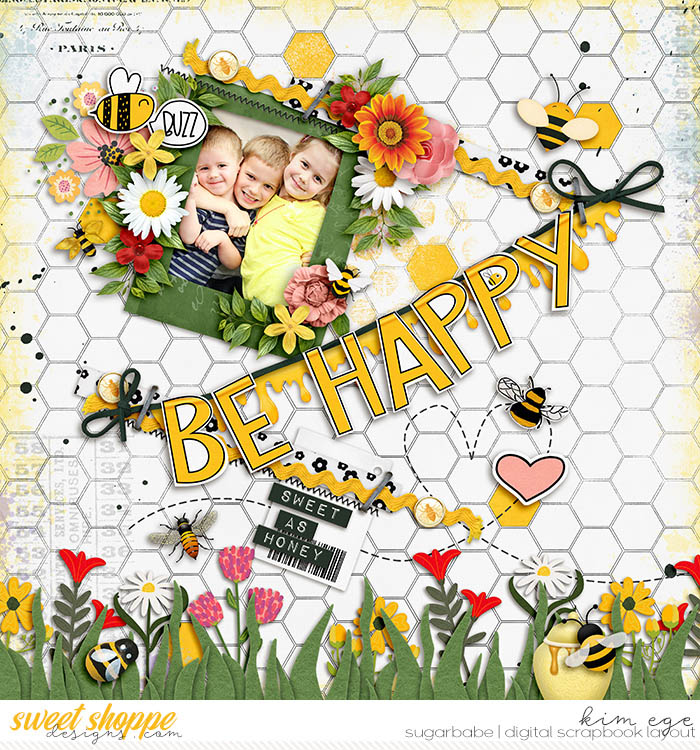 Why Kim is proud of this layout: "Sometimes when I am working with a huge collab, I am overwhelmed by all the choices of elements and papers. There's a lot to love in the SSD collection I used, but I feel like the "just right" elements jumped right onto the page this time for me. I love how all the flowers and bees came together in the clusters, and using the "Z" shape in my design makes me think of the "buzz" of bees even more."
Kim's Shout Out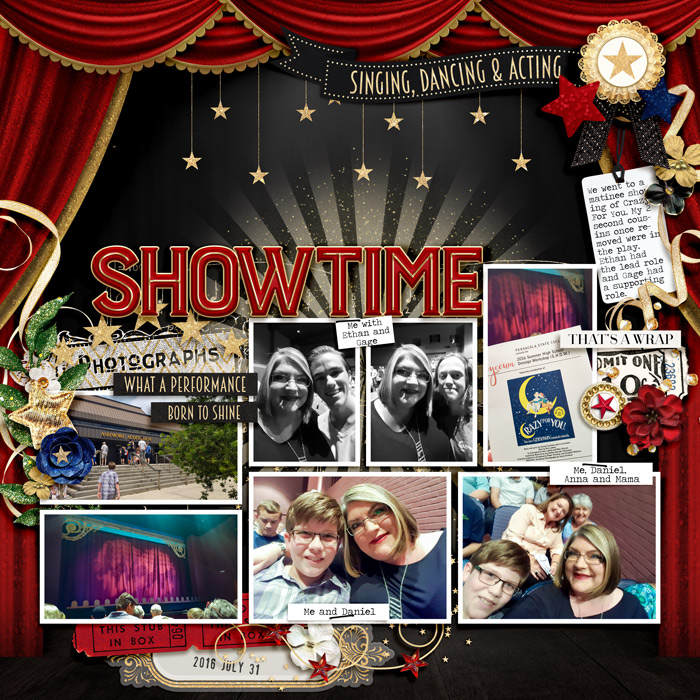 Why Kim loves "Showtime" by gonewiththewind: "As someone who likes to scrap for my family with a lot of photos and let the photos tell the story, this layout stood out to me because it does such a great job of placing and showing off multiple photos but still having a great and eye catching design. This is something this scrapper is really good at. I love how the elements and clusters perfectly frame the photos without distracting from them, and the background paper choice just finishes the framing off perfectly."
Rebecca's Show Off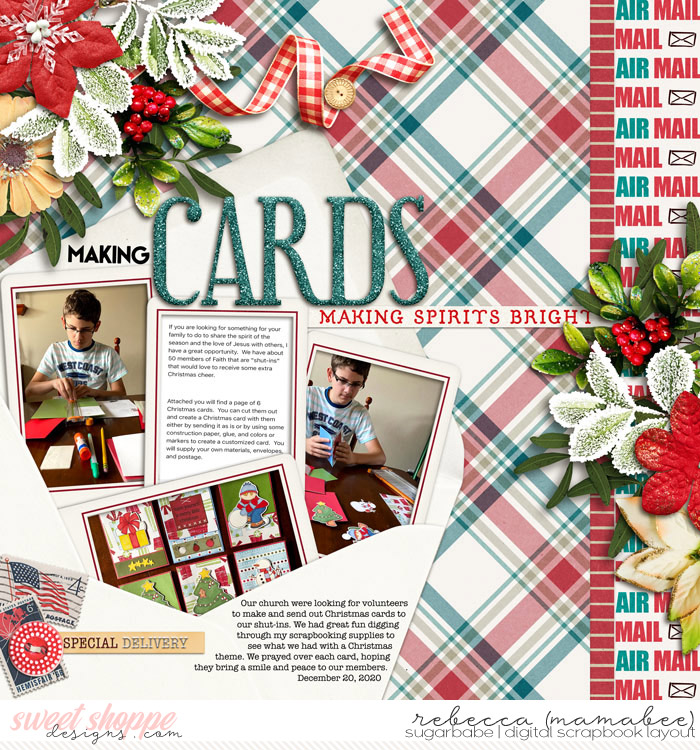 Why Rebecca is proud of this layout: "I love mixing kit themes… taking a "snail" mail kit and mixing it with a Christmas kit to make this layout about my son volunteering to make cards for church shut ins. This page came together quickly… and the title was as Bob Ross called a "happy accident." My title was just Making Cards and I wanted something to bridge the edge cluster into the layout. I didn't even realize the word art that I put there until I was done and it all together the title came to be, Making Cards, Making Spirits Bright."
Rebecca's Shout Out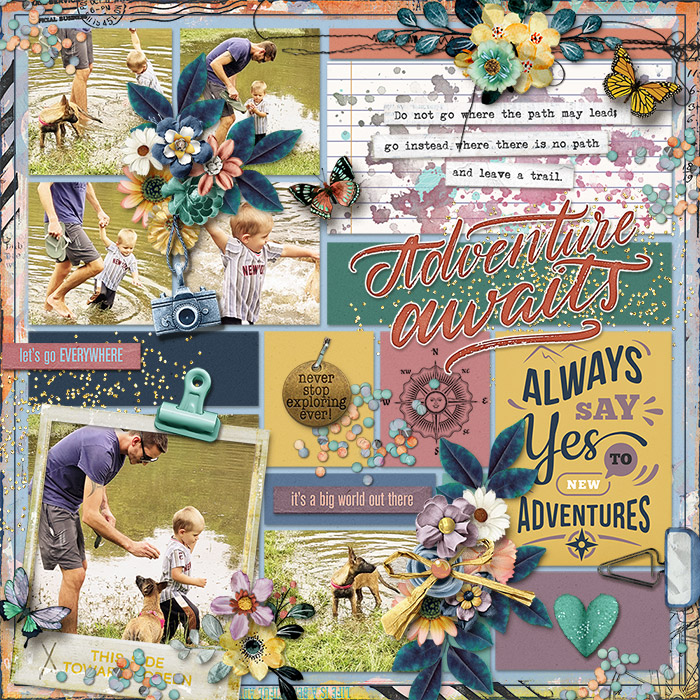 Why Rebecca loves "Yes to Adventure" by Chaos Lounge: "This is just such a fun and happy page! I don't even know where to start on all the things I love about this layout… I love the grouping of the four square photos, showing how much fun they are having in the water… all the splashes of paint, glitter, and scatter that supports the movement… and all the clusters, expertly placed, that just keeps you looking at the layout."
Sherly's Show Off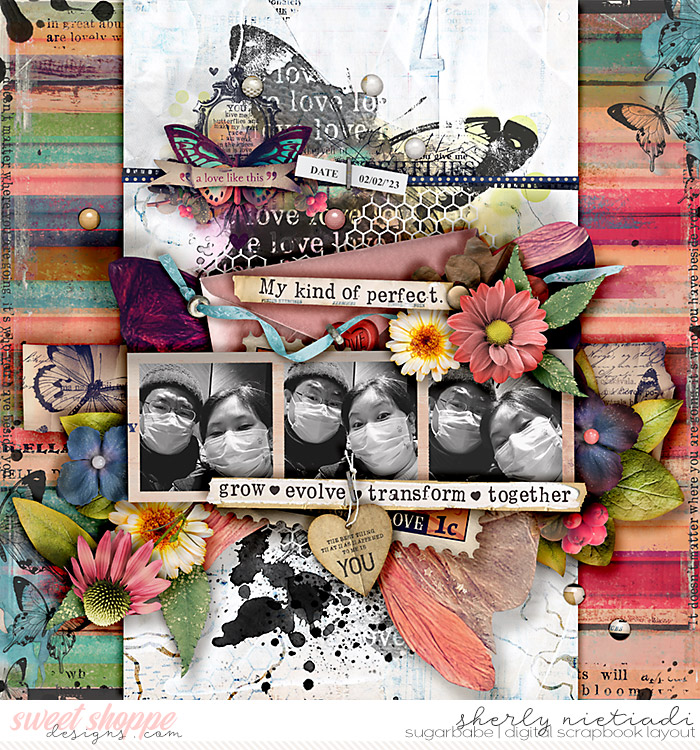 Why Sherly is proud of this layout: "I love that this page of mine showcases fun photos of my husband and I! I think I managed to use Em's template and made it uniquely mine by changing the big layers of paper butterflies with stamped butterfly and a big flower underneath the clustering. I especially love the use of that colorful striped background, it goes well with the whole page."
Sherly's Shout Out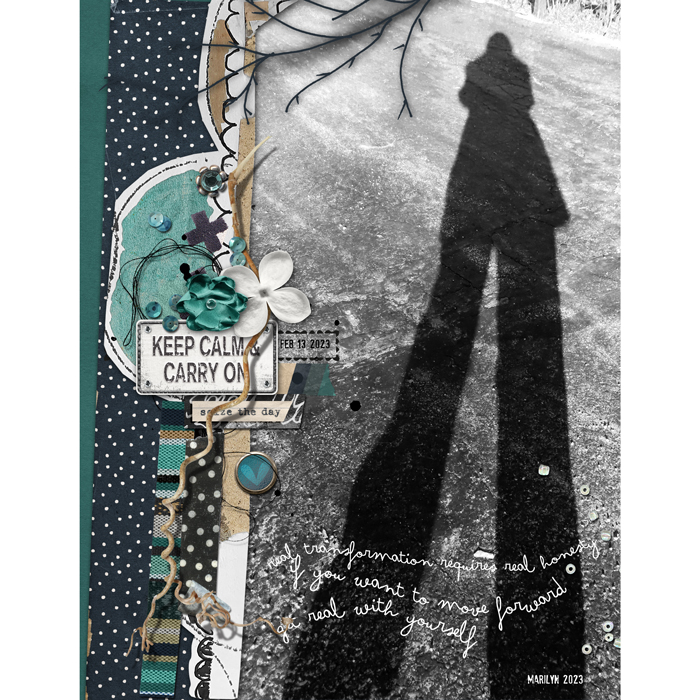 Why Sherly loves "Anisoptera" by mcurtt: "This page is so gorgeous! I love the b&w photo of her very tall shadow and the journal on it! The layering of clusters are just the perfect amount to make the whole composition so beautiful and meaningful."
---
"I don't want to live in the kind of world where we don't look out for each other," said Canadian writer Charles De Lint. "Not just the people that are close to us, but anybody who needs a helping hand. I can't change the way anybody else thinks, or what they choose to do, but I can do my bit."
If you 're ready to get started doing a bit of your bit, come join us in this month's Show Off and Shout Out challenge … We'll see you there!