Featured Designer – Studio Basic Designs
Hi my sweet friends!  So, did you take a look in the forums to see all the Summer Scrap – A – Thon winners?  I'm so impressed!  I helped Robin tally everything up and we had so many people participate!  Reminded me of the early days at SSD when the forums were always hopping!  We hope you all had a great time and hang out with us more this fall.  I also heard we'll be announcing someone new joining the team very soon, so be sure you check back later to find out who it is!
Now, it's time to welcome our next featured designer, Studio Basic Designs aka Ru, one of the sweetest ladies in all of digiland!  As you know, this year our theme is 'Designer's Choice' What does that mean? Well, just what it sounds like! This year our wonderful team of designers will be coming up with a heap of fantastic new collections inspired by whatever is exciting or motivating them in the moment. They have total freedom to express themselves however they'd like, and we're super excited to see where this adventure takes us over the next year.  Ru's I Am My Own Mess is a beautiful kit and it's something we can all relate to, right?  We all have had those moments…. I know I sure have, especially lately! Even if you're not into scrapping pages about yourself and emotions, this is just a lovely kit full of great elements and Ru's signature artsy style!   You can get it for free, just add $10 worth of goodies to your cart and it will automatically be added to your cart. The offer is good until our new releases go live on September 22nd.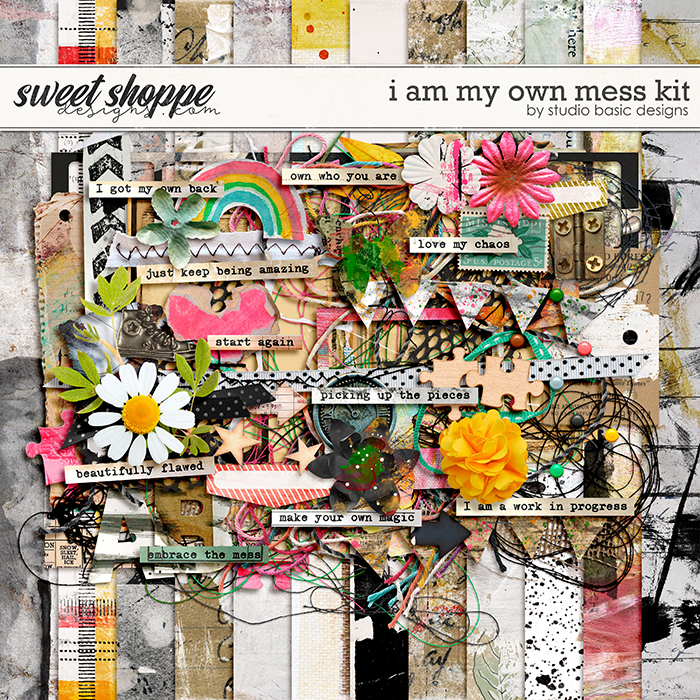 She has also created a lovely bundle of extras that are 25% off this weekend thanks to our new release sale, so be sure to grab that if you love all the trimmings…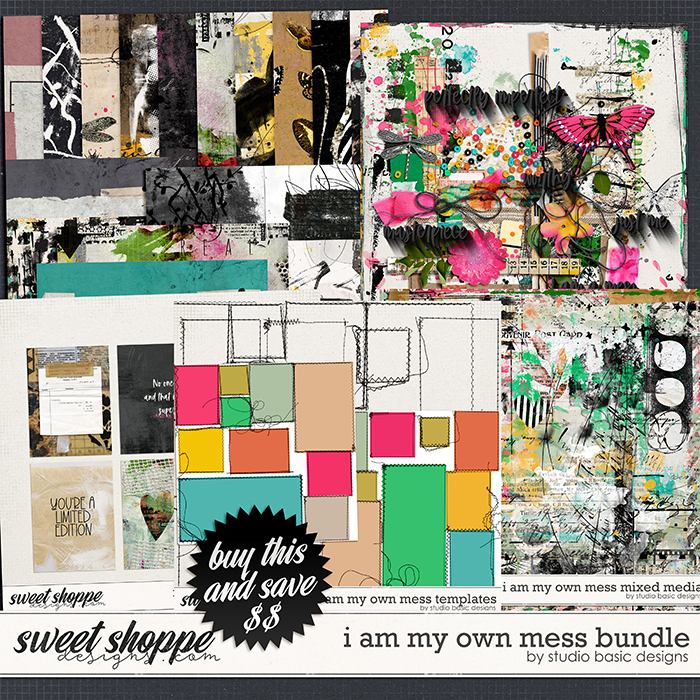 As you all know, we have asked Ru some questions that were submitted by our Sweet Shoppe community, I can't wait to see what she said.
How do you define your style? What does that style include? How has your style changed over the years?
Ru: I don't think I can define my style, even now, after 14 years working with scrapbooking. (OMG! 14 YEARS!!) Buuuut what I know about my kits and packs and products is that I try to think "how would someone use it?" and try to imagine things being used together and that works most of the time – I hope, at least. lol
Where do you find inspiration for a new kit or template?
Ru: In life. Everything inspires me – or not. LOL I must say I am dealing with some lack of mojo these last few months, but most of the time, I try to keep my eyes open on what is happening in tv series/movies, social media. Oh! And Pinterest. Me loves some Pinterest. 🙂
What comes first when designing? theme or color palette?
Ru: Theme AND name! I can't search for colors without a theme and having the name of what I am doing first. 🙂
Show us a recent mood or inspiration board? or two.
Ru: Sure! This one is from my last collab with Em (The Nifty Pixel), All Of Me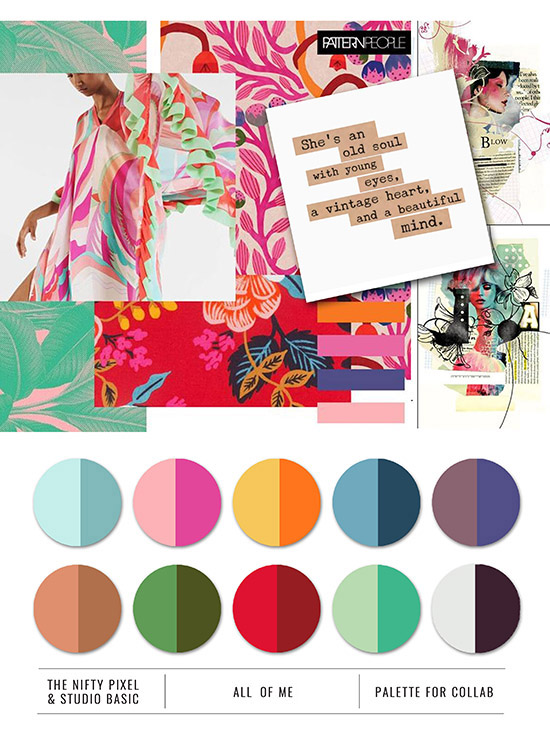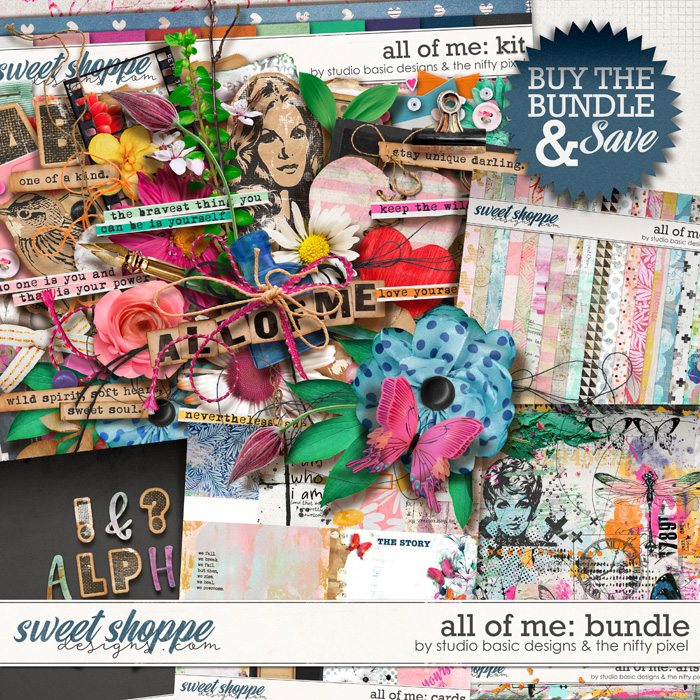 When it comes to collabs, do you usually work with designers that have styles that you're comfortable with and you think complement your own designs or do you like to challenge yourself and work with designers that have a completely different style?
Ru: Ohhhhhh! Collabing with *anyone*, no matter what style this person has, is always fun! The fact we are exchanging ideas and making everything work together as much as we can… I looooove working with different people/styles.
What brings you joy?
Ru: Brian, my kid (that is not exactly a kid anymore, since he is 13 years old already!) and Ozzy, my dog. And food. And sleeping. LOL
 If you had an hour to yourself, but were not allowed to use it to scrapbook or design, what would you spend the hour doing?
Ru: Eating! Or sleeping! (I know! Again! lol) But now seriously… maybe just staying outside watching people coming and going, you know? I love just sitting in the grass and watching other people living their lives. 🙂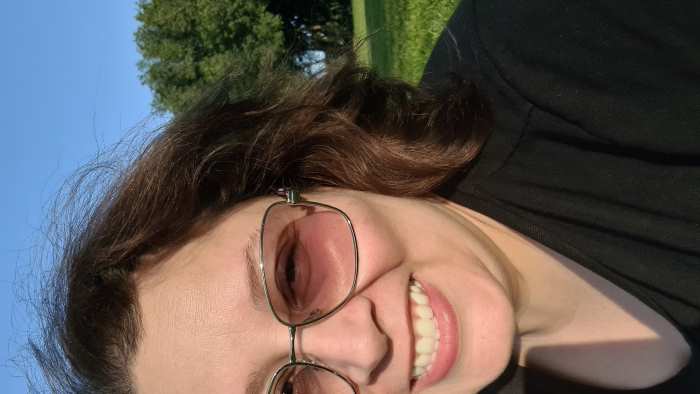 What song(s) are playing in the soundtrack of your life?
The one I dance when no one is watching would work? Dog Days of Summer by Florence + the Machine.  If yes,  because, man! I really need to believe in it. lol
My goodness, I'm right there with you Ru, I know we couldn't stop listening to Dog Days of Summer after we say the last Guardian's movie!  It hits just right.   I don't know about you all, but I love seeing how our designers start with those mood boards and they turn into the final kits, it's so amazing!  I so wish I had that talent.
Now, let's see how the team has been using I Am My Own Mess this week.







Ok y'all, I hope you get some good shopping and scrapping in this weekend!  Don't forget to come back next Friday for a sneak peek of the 15 goodies Ru will have in her Featured Designer 15 sale!