Hidden Journaling On A Digital Layout
OK… I know with paper scrapping it's easy to hide our journaling and be able to come back to it to read in the future, but sometimes we just need to rant and vent and just blow off some steam but have you ever thought about doing it on your digital layouts? Yes, it's different… yes, it means you can't go back to read it. It's about the art and the therapy and not actually about the story… there is something therapeutic about just writing down a rant or vent or to tell someone STFU and then just being over it… sometimes we just have to write it out and that's all we need to get over it, kwim? Then we throw on art over the top of it to just be artistic and put us in a better mood… You all know I'm a storyteller at heart, but I'm also a scrap therapy person too… I think it's really important to use journaling as a form of therapy and realized the importance of it last year after my mental breakdown… One day last year, I just sat at the computer and started writing about how depressed and anxious I was and how I finally realized I needed professional help and how hard it was to make that appointment and finally take care of myself… I then lowered the opacity of the text so that nobody could read it. I didn't "hide" all of it though, I left the most important part of it bold… as my title… the lesson learned was the most important part of the therapy and what I wanted to look back on… but all that other stuff was just getting it out and not something I need to go back and read… I don't need to dwell on the past, but dwell on that verse in scripture that used for the title.
This past week, I did some journaling as a note to a person who left me some not so constructive criticism on one of my favorite layouts… I wanted the layout to be something happy to remind me why I love to scrap and that I love my bold colors and lots of texture… but hidden behind all the paint was me sticking my tongue out at this person and telling her that her words aren't going to change how I scrap with lots of color and texture… it's not something I need to read and re-hash again, but the layout as a whole is a reminder that I love to scrap and use bold colors and bold background papers and lots of clusterings and stuff like that…
I really really want to encourage you to give it a try… the layout doesn't have to be about the journaling or even theme related… you can make it a happy layout and then hide some not so nice journaling behind it… write about your biggest pet peeve that you haven't told anyone but is building up in you… even if you say something like "put your shoes away in the closet instead of leaving them in the middle of the floor" and then scrap a nice layout about that person over the top of it… I just want to encourage you to spill your heart on paper for the therapy aspect of it and not really for the memory of it…
I love you all, you're like family to me and I'm just trying to share how important "letting go" is in our lives… it's better to live in the moment than to hold something inside of us… just get it out and say good riddance and hide it because you don't need to go back to it if you're truly letting go, kwim?
So, here are some ways we can hide our journaling, along with some examples from the babes:
1. Lower the opacity or change the text to a color that blends in with the background paper, or even use a messy font on a busy background paper so you can't read it.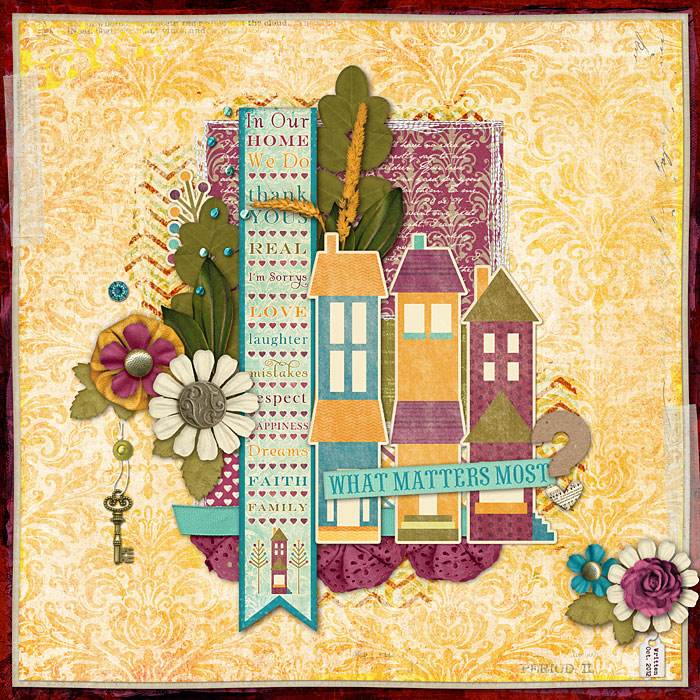 layout by Stephanie
***************************************************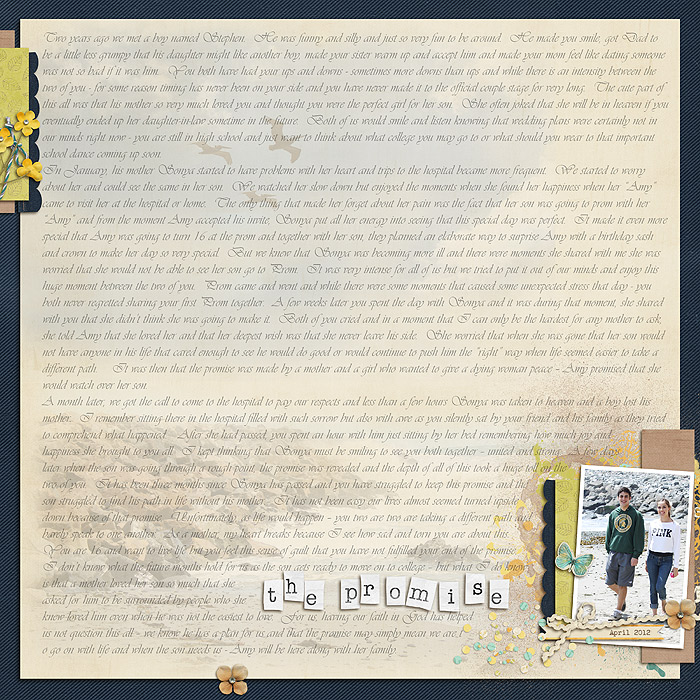 layout by Darla
2. Hide a note in an envelope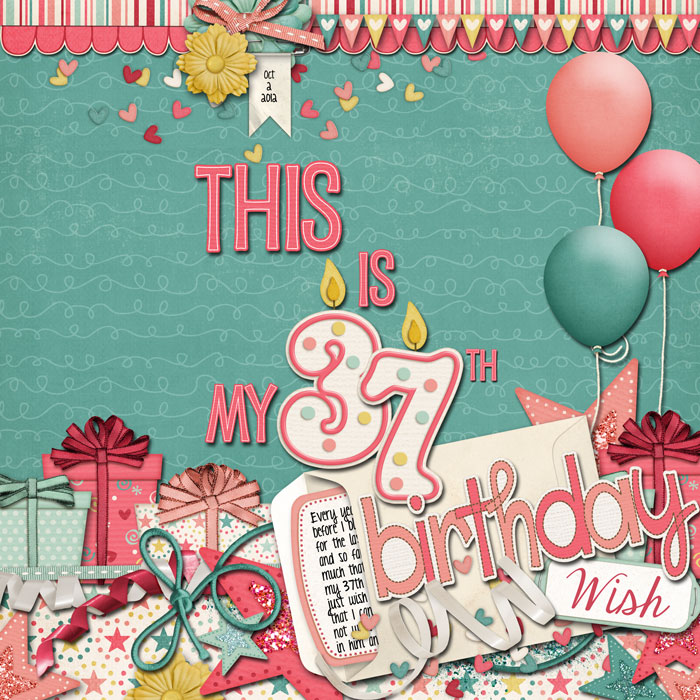 layout by Rebecca
3. Hide your journaling behind a bunch of paint or doodles or stamps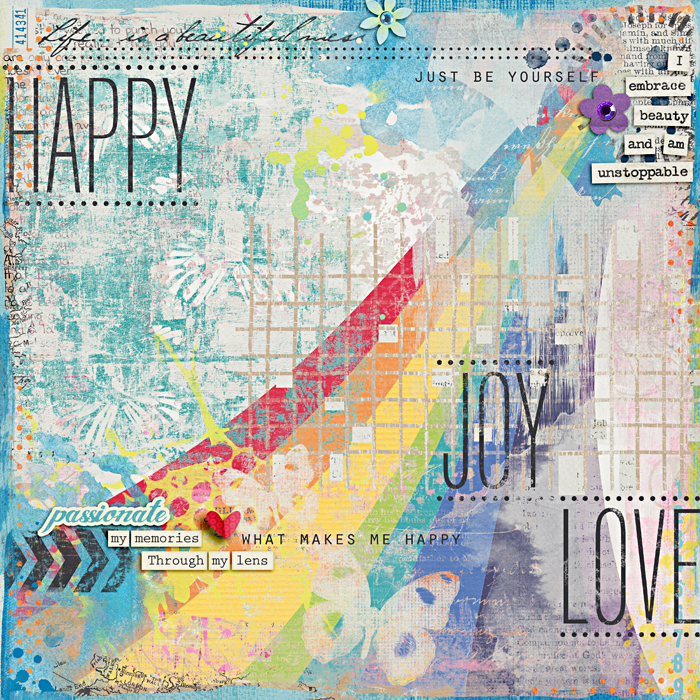 layout by me
(if you look in the upper left-hand corner you can see a bit of the journaling showing underneath the paint) 
4. Hide your journaling behind elements, ephemera, and paper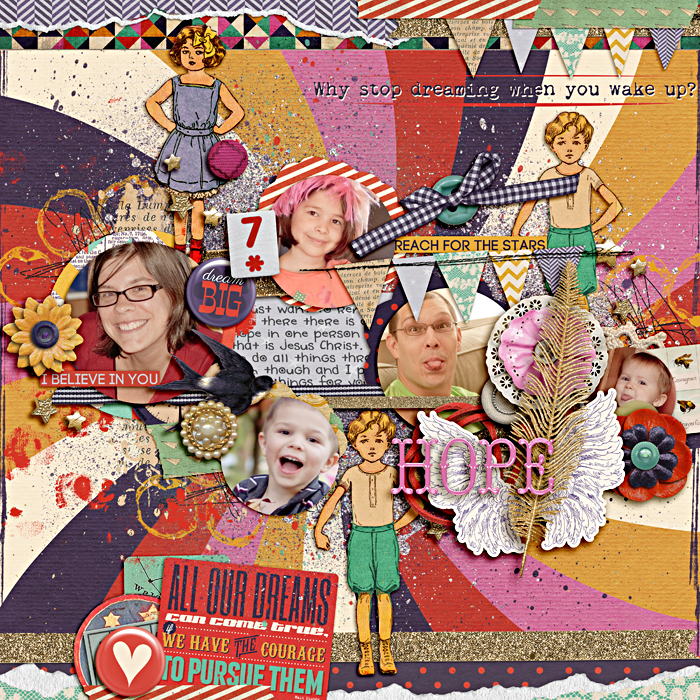 layout by me
(next to each picture of each kid I have a rant I don't want my kids to ever see or hear from my mouth, hidden behind the ephemera and elements and papers and then I show the positive message that I do want them to see and know) 
5. Erase your journaling – you can do this several ways
1. hide the layer the text is on when you flatten for printing
2. use a brush stamp as an eraser – see this tutorial on using .abr files as an eraser, be sure to rasterize or simplify your text first and then choose a nice grungy brush with your eraser tool to erase your text
3. use blending options on your text, moving the black and white triangles at the bottom to get it the way you like it
a.  right click on the fx button at the bottom of your layers pallette and click on "blending options"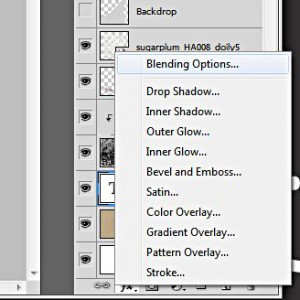 b. adjust the black and white triangles for "underlying layer" at the bottom of the box that pops up, using "alt" to separate the halves of the triangles
– move the black triangle to the right until the text disappears then pressing the "alt" button click on the left half of the black triangle and move it back to the left until some of the text comes back, or to your liking
– then move the white triange to the left until the text disappears, then pressing the "alt" button click on the right half of the white triangle to move it back to the right until some of the text comes back, or to your liking
– continue to adjust the triangle halves until you get it the way you want it to look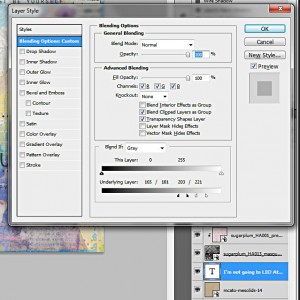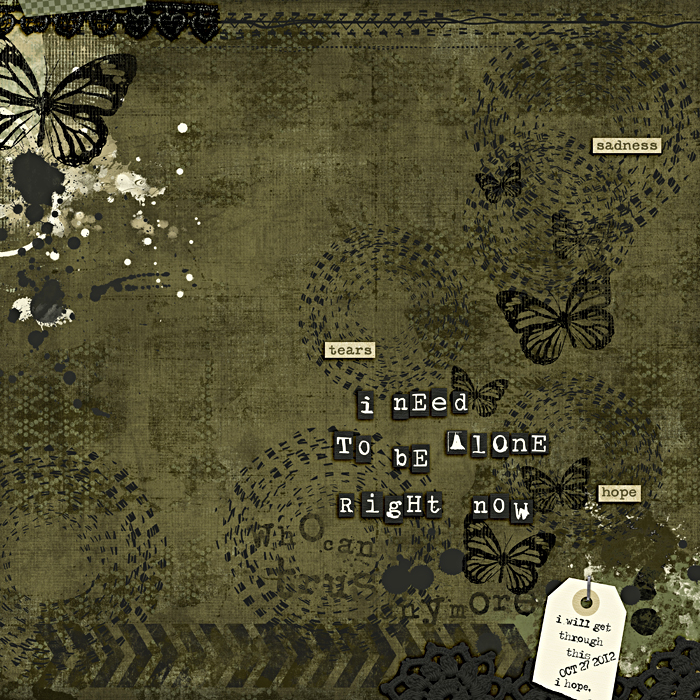 layout by me