Scrap Like A Sugarbabe: Jacinda Prattley

Jacinda is so inspirational in the things she scraps about. Not just her family life but she's often writing letters of advice to her girls and telling her own story.  I could get lost in Jacinda's journaling! That's why I'm so happy that she's chosen to talk about hoe she journals for her Scrap Like a Sugarbabe tutorial!
About Jacinda:
I'm a Kiwi girl, living downunder in Auckland New Zealand, with my husband of 12 years, and two daughters aged 9 and 6. I started scrapping when my oldest was born, and managed to create a couple of paper style albums. I was always paranoid about cutting the papers wrong, and wasting the money I'd spent on them, so each page took me days and days to complete.  It was a relief to discover digital scrapping a few years later, and much, much cheaper too. (All paper scrapbooking products in New Zealand are imported, so the cost is prohibitive). Now I can digitally cut/clip papers to my hearts content, knowing Ctrl Z is my new best friend.
My Claim To Fame:
Hmm…I had to ask the other Sugarbabes what they thought my claim to fame was. I'm generally a template scrapper, and while I feel I use templates well, it's not really a claim to fame because it's the designer that's done all the hard work there.  They reminded me that I'm good at doing journal heavy or photoless pages, so that's what I'm going to concentrate on today. I'm going to give you a little insight as to my thought process in putting those kinds of pages together
OK, let's get started:
First of all, I guess I should start with WHY I do journal heavy pages. I consider scrapbooking to be like a visual journal of sorts, and for my daughters in particular, I write down/scrap any advice or stories I want them to know. I also want them to know about ME, and the life I've lived. Who knows, maybe they'll take on board some of the life lessons I've learned along the way. Some of these stories will have photos that go with them, but many won't. I still want the story told though, so I don't let the lack of photos stop me. My worst fear is that I leave this world before my girls. I want to leave them with messages from my heart. No one loves them like their mother, and I'm the best person to tell them that. The journalling I put on my pages may be something from my heart, or it may be something I've found online that I want my girls to know. A Butterfly Told Me is one of my favourite sites for advice to young girls.
Using a template:
Sometimes, I'll have a template I need to use for one of my creative teams, so that will drive the overall page design. I will generally take out photo spots and fill them with journalling instead as I did here: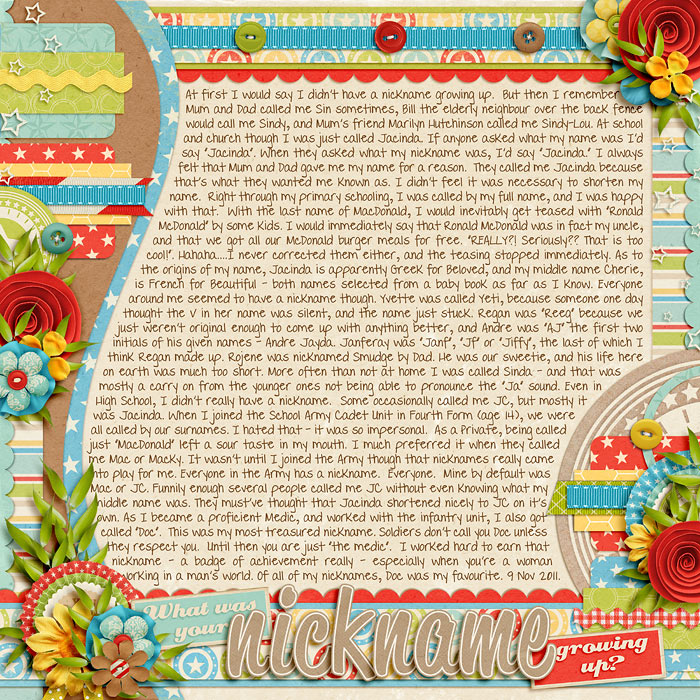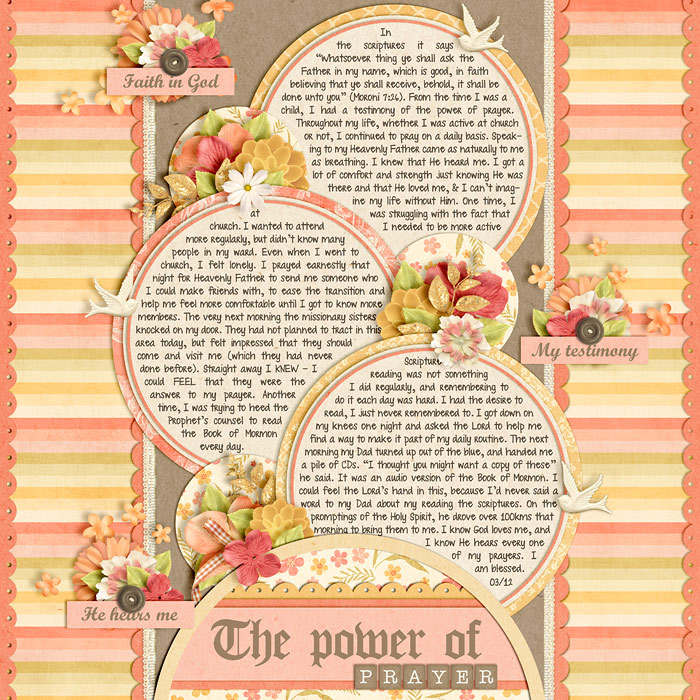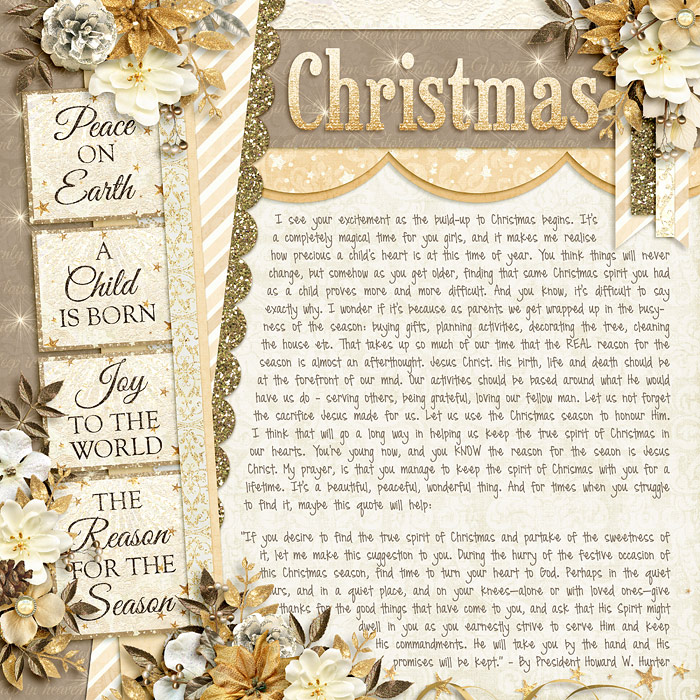 Story First
Other times I start with the story first, then embellish around it. I almost always place the text on the page first, deciding on format (one column, 3 columns, top to bottom centered text etc, for variety) and then embellishing. It's easy enough to move around later as I tweak things to fit: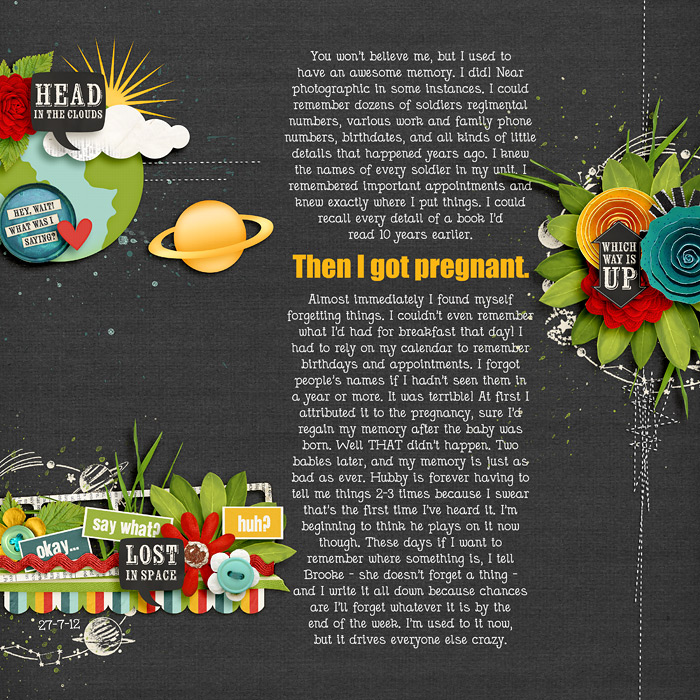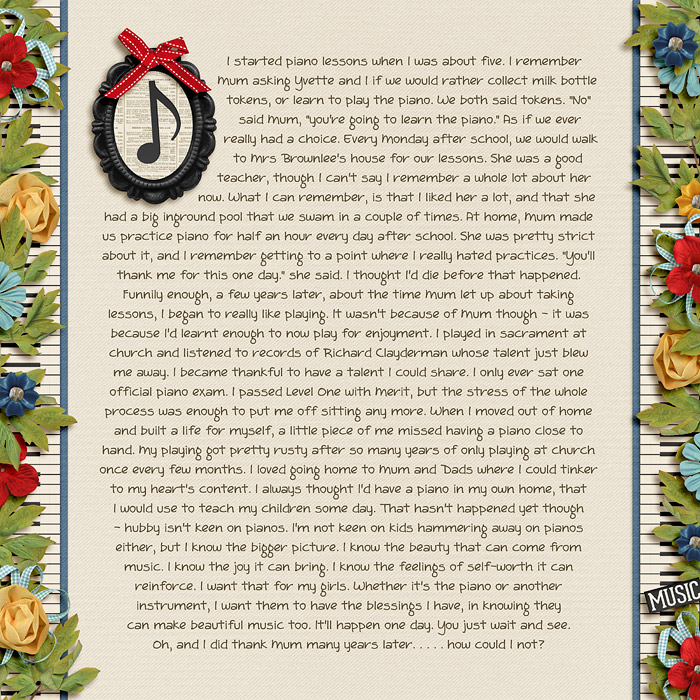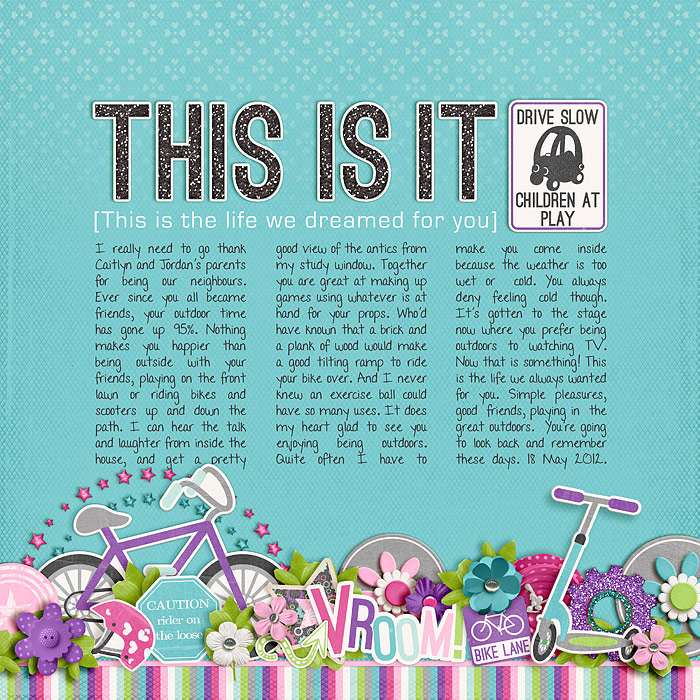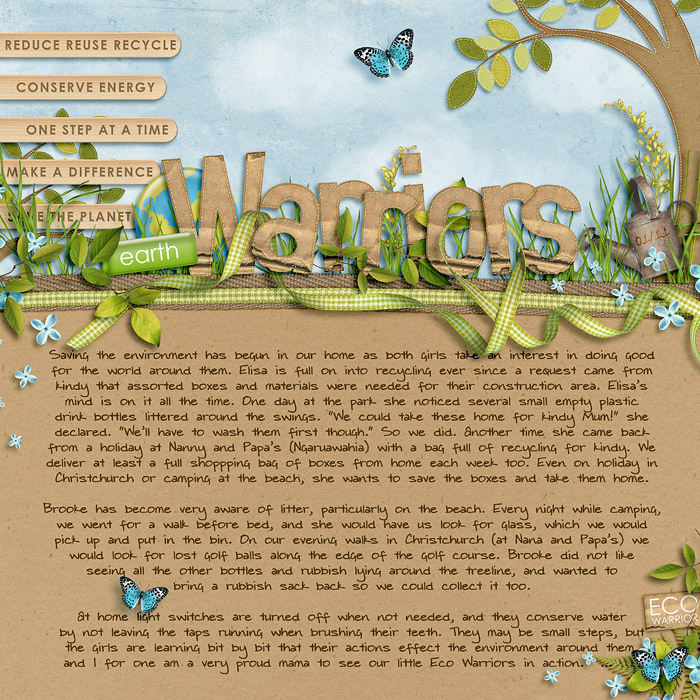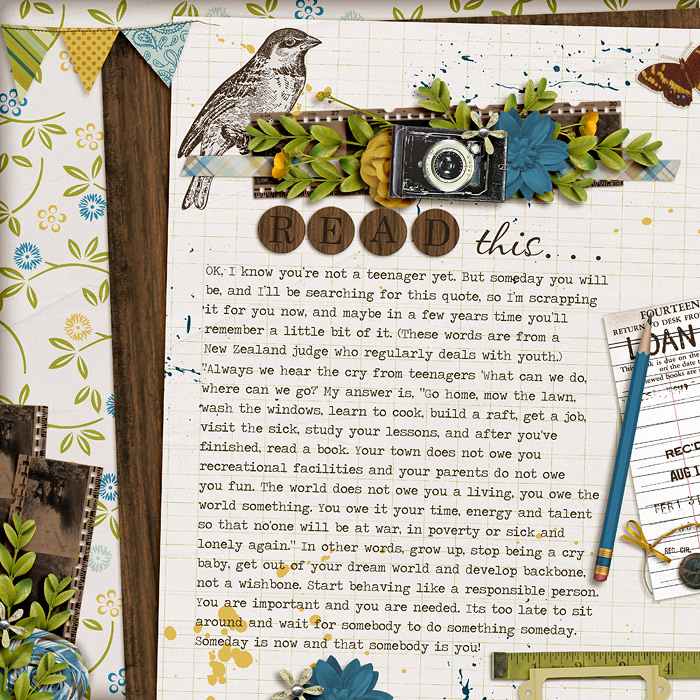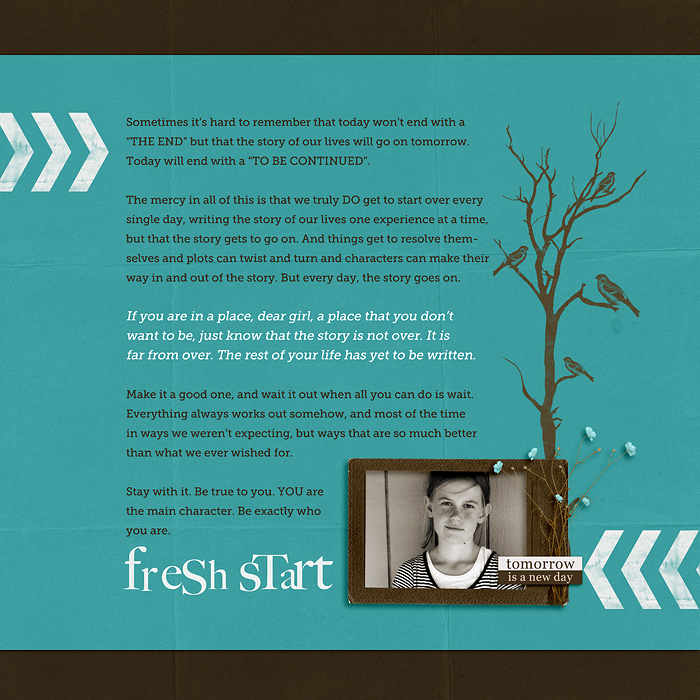 Kit Driven
This next layout was kit driven. I knew I wanted to use the word strips in the journalling, so I did that first, then decorated the edges afterwards: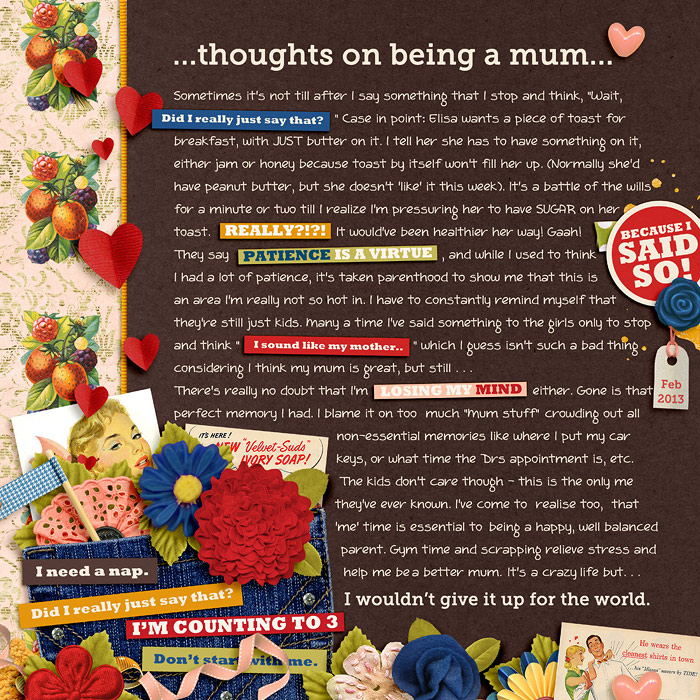 Sometimes the journalling I want to include is just snippets of everyday life. More like bullet points than a paragraph. When that happens I look at the elements in the kit I'm using, and take inspiration from there: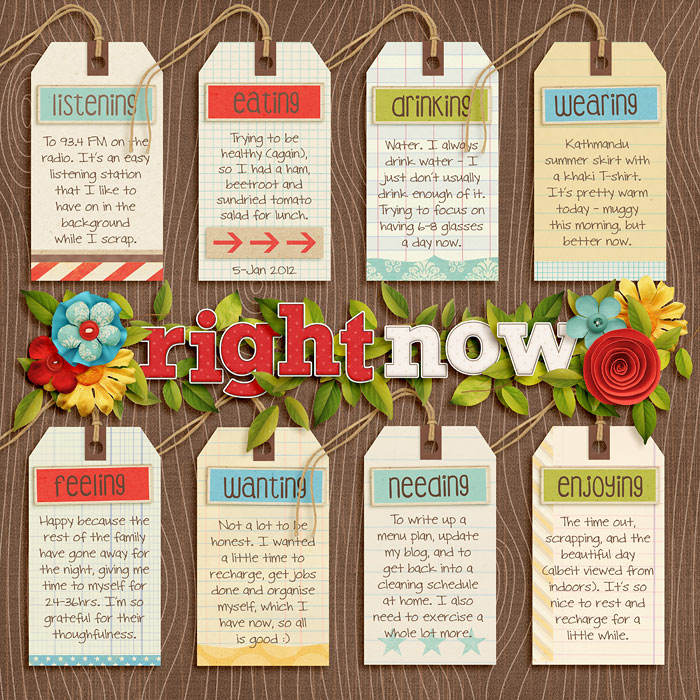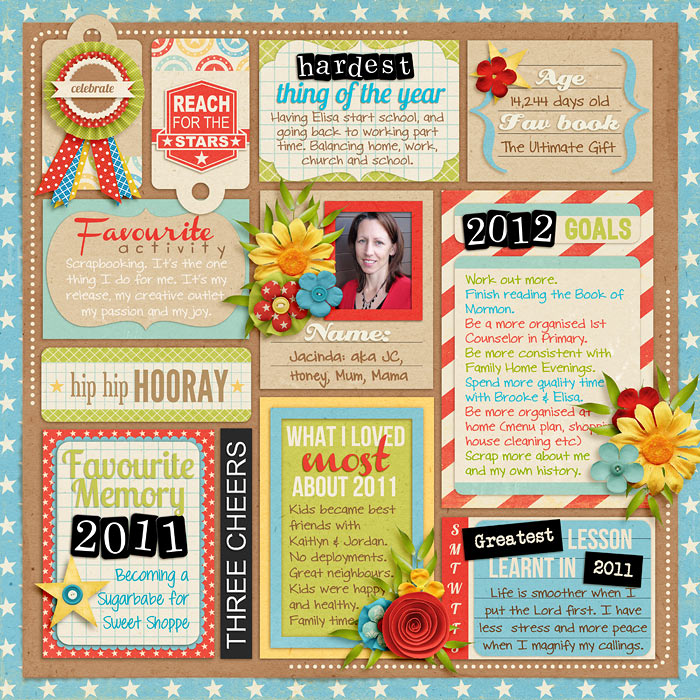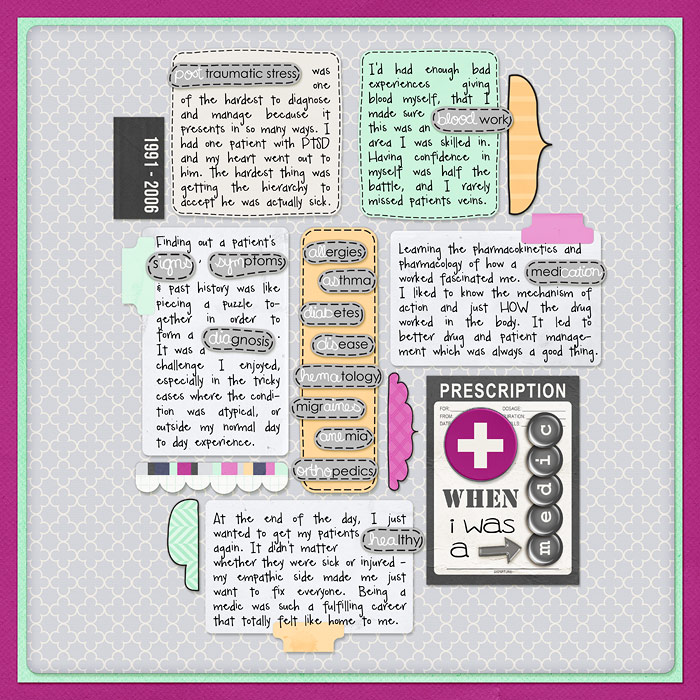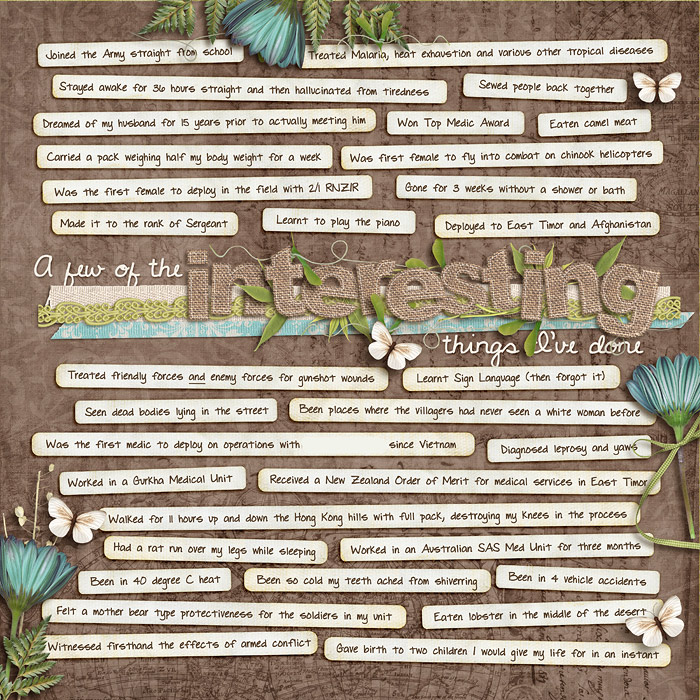 So there you have it. That's the way I do my journal pages. Sometimes the words are taken directly from my personal journal/notebooks, other times I think it up on the spot. I hope this has helped inspire you in some small way to include more journalling in your scrapbooks.