Scrap Like A SugarBabe: LeeAndra
This week's Scrap Like A SugarBabe post is from LeeAndra. Her gallery is full of story-centric layouts that tell the story behind the story, and this article will give some tips 'n' tricks on how to do just that.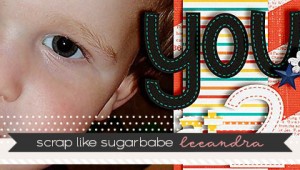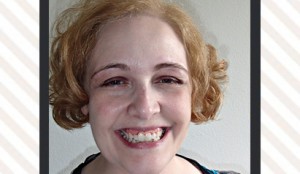 Hi there, scrappers! I'm LeeAndra, and I'm a SAHM of two littles and have been digitally scrapping since 2003. I've been active at SSD since the beginning but only became a Babe in the fall of 2015. Almost all of my layouts include some type of journaling, and that is what I'm going to spend the next few minutes talking about in this SLASB post.
Let me start with this disclaimer: it is okay if you don't like journaling and it is okay if some or most of your pages do not include journaling. It is also okay if your journaling is not "deep" or written with perfect grammar or something that would win the Pulitzer Prize. This is a judgment-free zone here, ladies!
With that said, I want to encourage you to journal (more) on your pages! Even a basic who, what, when, and where captures part of your story that may not be immediately apparent depending on the photo(s) you have used. My favorite thing to do, however, is to go behind the 5 Ws (the ones listed above + why) and use my journaling as a launching pad to tell the story behind the story.
The story behind the story, to me, is capturing the bigger picture (see what I did there?!) behind the photo(s) on my page. For example, I'm sure almost every single one of us has scrapped a birthday layout (or thousand!) before, right?! Typical photos you might include on a birthday page would be the presents someone received or someone posing with party guests. Looking at the pictures would tell you what presents were received and what people were present so that's not usually something I focus on retelling in my journaling. My journaling would focus on something either much smaller or much bigger, like why a particular present was given and why that's important to know or how the birthday boy or girl had changed in the last year, than what could be seen in the photos.
Let me give you a more specific example with this layout.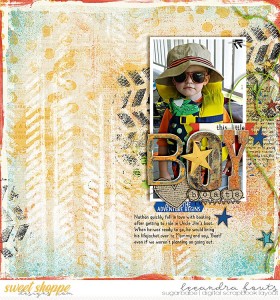 Let's start by all agreeing that this is a pretty stinkin' cute photo of my son, right?! Ha! It would have been perfectly okay if I had scrapped this cute photo in a cute way and called it done but I wanted to tell the story behind the story. You can tell from the photo that my son is in a lifejacket and swimsuit, and you can tell from the title that it's because he is about to go on or just got off of a boat. What you can't tell from either one of those things, though, is how excited my son was to go boating and the cute way he showed his excitement, and that's where my journaling comes in. One of my very favorite things to journal about is my children's quirks and personalities, and this is a perfect example of a very small story that builds a bigger picture (through the combination of all the pages I make about him) of who he is.
Here is another example layout.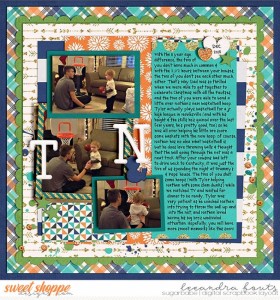 This page looks like it is about my stepson and my son playing basketball together (and I do talk about that in my journaling) but it's really about their relationship with one another. There's no indication from the photos I scrapped or the kit I used whether the two of them spend a lot of time together or have a close relationship so I made sure to discuss those things in my journaling or, more simply, to give the photos some context. The photos alone tell the story of two boys in a living room with a basketball hoop. With the addition of my journaling, the bigger picture is that these two boys live 2 hours apart in 2 separate houses and being in the same living room to play basketball is a rare opportunity. That's a whole different story, and that story is important to know.
Let's look at one last sample layout.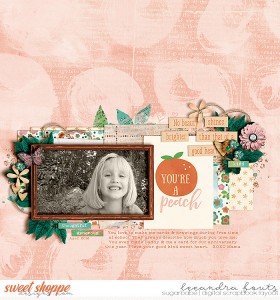 Remember how I love to make pages about my children's personalities?! This is one of those pages. My journaling could have been about how I perceive my daughter to be sweet and kind like a love letter from me to her (and I have done that kind of journaling on other pages). Instead, my journaling talks about two micro-stories that show in a more tangible (and much less biased) way that my daughter has a sweet kind heart. These were stories that I had no photos for, and while I could have taken photos of the cards and used those on the layout instead of the photo of her, that wasn't the point. It doesn't matter to the bigger picture, the story behind the story, what the cards looked like; what matters is that she made them at all.
The most important thing to keep in mind is that there is no one right way to journal. Your story is your story, and you are the best person to tell it however you want to tell it.