Posted by Robin Carlton •
Hi Sweet Shoppers! Kim here with my very first post!
I know many of you already use Pinterest. Personally, I use it on an almost-daily basis and I LOVE to use it for scrapbooking inspiration. Today I want to share a couple of the ways I use it for my scrapbooking needs and hopefully I can inspire you to start using it if you don't already do, or to finetune the way you're using it if you already have an account!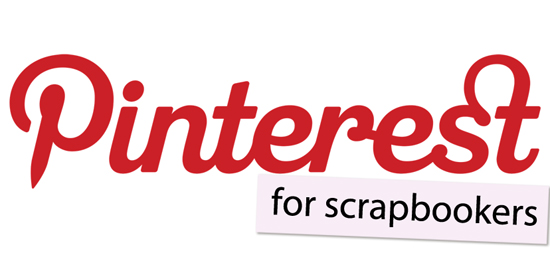 Pin the layouts you love from the galleries.
This one is pretty obvious and it's something that most scrapbookers already do. Most of us have accounts at several galleries and adding all our favorite pages to the Gallery's Favorites folder, results in favorites all over the place. With Pinterest you can keep all your favorite layouts by others (or by yourself!) to one board. Next time you're looking for inspiration, you'll only have one place left to visit!
Follow others and repin, repin, repin!
The more scrapbookers you follow, the more of their scrapbook related pins will show up in your feed. You can easily find other scrapbook boards using the seach box at Pinterest, or by digging in the repins your own layouts get. You can see who repins your pages and by visiting their boards, you can find more scrapbookers by seeing who repins their layouts! Follow them all and you'll have to spend less time browsing the galleries for inspiration yourself. I have found many paper scrapbookers this way and since I usually don't browse paper scrapbook galleries myself, I've found a great extra resource for inspiration for my pages.
Use the description box to write down what you like about the layouts you pin.
I have pinned certain layouts because I liked a particular idea I want to try myself. But with over 600 pins on my layouts board, it gets hard to remember all the reasons why I pinned them. Now I try to add a few words like: 'composition', 'title work', 'colors',… to make it easier for myself when I browse my board for inspiration.
Pin tutorials you want to try.
I used to pin scrapbook related tutorials to my scrapbook board, but they would easily get lost there. Now I save them all to one board I dedicated to tutorials. Most of them are Photoshop tutorials, but any kind of tutorial can go there.
Pin great examples of typography to use as inspiration for your titles.
I'm fascinated by typography! There's lots of great examples to be found on Pinterest. It's very interesting to see how (and which) fonts can be combined to make an eye-catching title for your pages.
Pin advertisements or other examples of graphic design to use as inspiration for your layouts.
Personally I have made one board called 'Graphic Design and Typography' because often those two go hand in hand. Browsing that board always makes me happy.
Pin quotes.
One of my boards is just for quotes. I look in there when I can't find the right words for my layout or when I need an idea for a subject to scrap about.
Pin photos to get inspiration for your own photos.
We scrapbookers all take tons of photos, right? On my Photography board I pin photos that inspire me. Be it because of an interesting pose I want to try myself, a creative idea or a cute prop I'd like to try. I also pin photography related articles to that board. Those can contain tips for better photography, a list of the best lenses on the market and so on.
Pin the kits you want to buy to a digiscrap wishlist.
If you shop at different places, a board like this is great to keep track of all your wishlists. And even if you only shop at SSD, it's still a great way to share your interests with your scrapbooker friends! (for your next birthday you might even get a couple of long wanted items! )
Pin fonts.
I probably have thousands of fonts on my computer. On my fonts board I like to keep visuals of interesting fonts. Even if I already have them, chances are high I forgot about them.   The next time I'm looking for the perfect font, I can take a peek at my board first before browsing through the huge stash on my computer. Timesaver!
Follow InspiredbySSD to keep track of the challenges and repin the ones you would like to try.
The staff team of SSD does a fabulous job gathering inspiration for your pages through challenges! And you can even gain great discounts if you complete them!
Repin the challenges you want to try to your own SSD challenges board.  When a month is complete, you can either keep the board for further use, delete it, or you can re-assign the pins you want to keep to one of your other boards for future inspiration.
Pin prompt for journaling.
I have a separate board for scrapbooking prompts. It contains lists. Lists of questions to ask my kids, list of photos to take, lists of questions to help me with my Book of Me,… Again, there's lots of those to find on Pinterest and it gives me ideas for pages to scrap.
Make a separate board for photobook cover inspiration.
This might not be relevant for everyone, but if you typically have your pages printed in bound books, it's nice to have a place where you can easily find inspiration for your covers!
Pin handmade cards and other paper/hybrid projects to a separate board.
Just so inspiration is easy accessible when you try your hand at one of those!
Pin your own pages if you want to inspire others.
Lots of scrapbookers browse Pinterest for inspiration, so why not posting a couple of your own pages you're proud of?
That's it! I hope this list was helpful. After all the hard work you did by pinning stuff to your boards, don't forget to browse your pins often and DO something with all the inspiration you gathered! If you want to follow me on Pinterest and take a peek at some of the boards I talked about, you can find me HERE. If you want to share any other tips about using Pinterest as a scrapbooker, let me know through the comment section!