Journals . . . Hybrid Style!
Do you use a journal to record your journey? Rebecca shows us creative ideas for hybrid journals
I hope I am not alone in that I'm probably a few months – okay, years – behind on scrapping everything that I would love to have recorded about my family history.  I have come to terms with the fact that I will not remember every story. However, they do need to be jotted down somewhere. And, this is where I turn to a good ol trusty side kick . . . pen and paper.  Of course, it must be pretty if I'm going to keep the journal going!
Journals come in all shapes, sizes, and forms, but don't limit yourself to the traditional book! There are so many different boxes, containers, and envelop albums that you can use to store your deepest thoughts. Even a calendar is a great option for a journal that is never far away. My mom has used a calendar for years to keep track of key events and memories.
Here are some other examples from the Sweet Shoppe Community of different types of books and objects that are great ideas for journals to capture and store your memories and every day notes, or to just act as a creative home for your thoughts and ideas.
Altered Journals
When I think of journals, I think of the standard book with cover and lined papers inside. However, you can dress up an inexpensive composition book, journal, or a binder to create a custom look.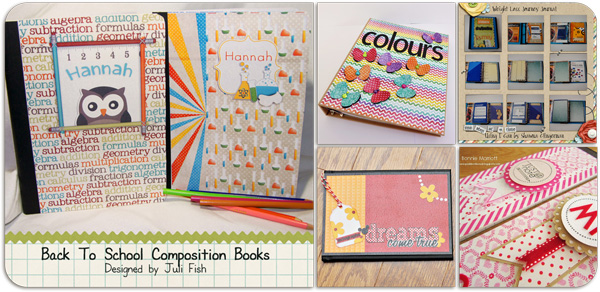 Handmade Journals
Can't find the right journal in the store? Try your hand at making one. All you need to do is print out your pages and hold them together with string, binder rings, or have it spiral bound at an office supply store.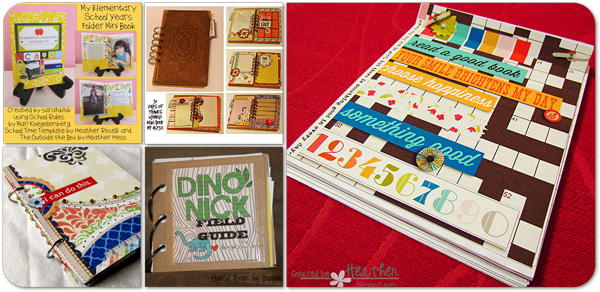 Outside the Box Journals
You don't have to settle for the basic book shape for a journal. I created the rolodex album as a journal hoping that since it is "3-D" it won't get lost in the shuffle of other papers and books that land on my desk.  Another neat alternative to a book are jars, boxes, or bags. Preprint journal cards or have strips of paper handy to jot down your thoughts and then drop them into the container!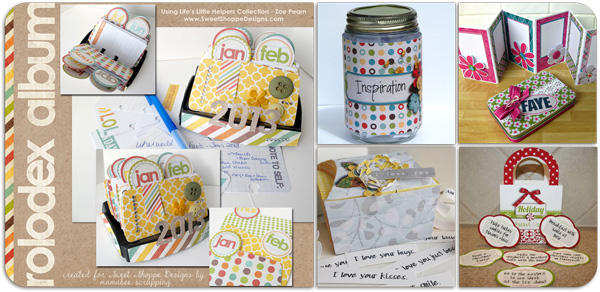 I would love know what you use to journal. Have you dressed yours up? Please drop a link in the comments. I would love to see it!!! 🙂
{{Hugs}}
Rebecca aka MamaBee