Must-Have Birthday Photos
Laurie gives us some wonderful ideas and inspiration for capturing birthday celebrations
Hello everyone!! One of the most important things in documenting anything is photos, right? Today I'm going to highlight some must-have photo ideas for remembering those special birthdays in your life!!
Shots you won't want to miss (these can work for any and all ages!!)
Balloons
Cake: Before shots are awesome so you can see the masterpiece. After shots are awesome, especially when you have little ones who make big messes!!
Gifts: You can show them wrapped and then capture the aftermath!!
Birthday boy or girl with their favorite gift
Decorations, favors, and treats: You can get some amazing and colorful pictures of these things if you have themed drinks, snacks, etc. Check out Pinterest for some amazing ideas and inspiration!!
Blowing out candles
Favorite meals: We always make favorite birthday meals when we celebrate birthdays in our house. Taking pictures of the special meal is a great way to remember what everyone loved.
Birthday boy or girl waiting for guests to arrive
Party guests/friends and family
Action shots: Catch shots of the kiddos playing or trying to break open a pinata.
What they wore: This can be such a fun one. For Libby's 5th birthday party, she picked out a black velvet dress and black tights and paired it with these shoes. It still makes me giggle!!
Holding up fingers: One of my faves for the kiddos is having them hold up the number of fingers for their new age.
These are just basic ideas. It's fun and so easy to expound on these basic ideas.
Birthdays can be so joyful and are so much fun to photograph and remember
More ideas to capture your memorable days
When my daughter Libby turned five, she was so into taking pictures, so we bought her a cheap little point and shoot camera. We gave her the camera in the morning, and by the evening she had captured her birthday as she saw it. Sure, the quality of the pictures wasn't the best, but I cherish these pictures so much because it helps me remember her day through her eyes.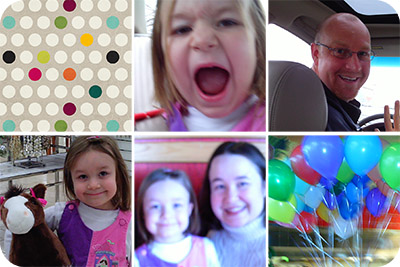 For Libby's seventh birthday, we took her out to lunch with her cousin (also her BFF). After lunch I took the two girls shopping and then they had a sleepover that night. I used Libby's iPod to capture all of the fun photos from the day. They've been able to look back at that day and remember the fun they had together.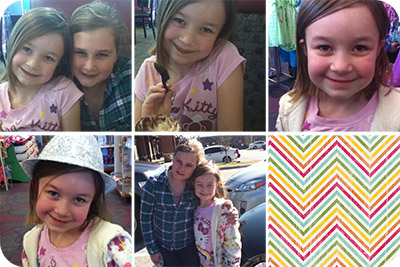 Birthdays can be so joyful and are so much fun to photograph and remember. So, get your camera out and make sure you capture these special days!
Credits: 365Unscripted: 4×6 collage cards by Traci Reed. Papers are from You Are My Happy (SSD Facebook Hop birthday freebie)