We've added a fun, new weekly post during this summer! We're having the SugarBabes hang out with Stacia and I on the blog. We only have a few more weeks of this & i'm so sad. I've loved seeing what the SugarBabe's write.  Today we're lucky to have Niki with us & she's got a fun one if you have kiddos going back to school! Thanks Niki!
With all the gorgeous new (and old) back to school kits and the awesome blog post this Thursday on taking great photos for the big day, I thought I'd keep the theme going. Only today I thought it might be fun to get ready for the new school year in a little bit of a different way. We all know that if we take a picture on our kid's first day of school and then compare it to a picture taken on the last day – that kid would look pretty different. Those darn kids just change and grow all year long. But it's not only their looks that change throughout the year…they're changing little by little on the inside too.
So why not start the new school year with an interview with your kids? I bet if you were to ask them a series of questions at the beginning of the year and then ask then the very same questions at the end of the year – some of those answers would be totally different! I'm going to give it a try with my littles this year and see how their interests and ideas change over this next 9 months or so.
Here are a few of the questions I'm going to ask and document. Hopefully these will help get you started!!
What is something you do really well?

What are you afraid of?
What do you want to be when you grow up?
Who is your favorite person to spend time with?
What is your favorite book?
If you could meet someone famous, who would it be?
What would you do with a million dollars?
What's your favorite thing to do with your family?
What new thing/skill would you like to learn this year?
What is your least favorite chore?
Here is a page I made asking my 9 year old these questions…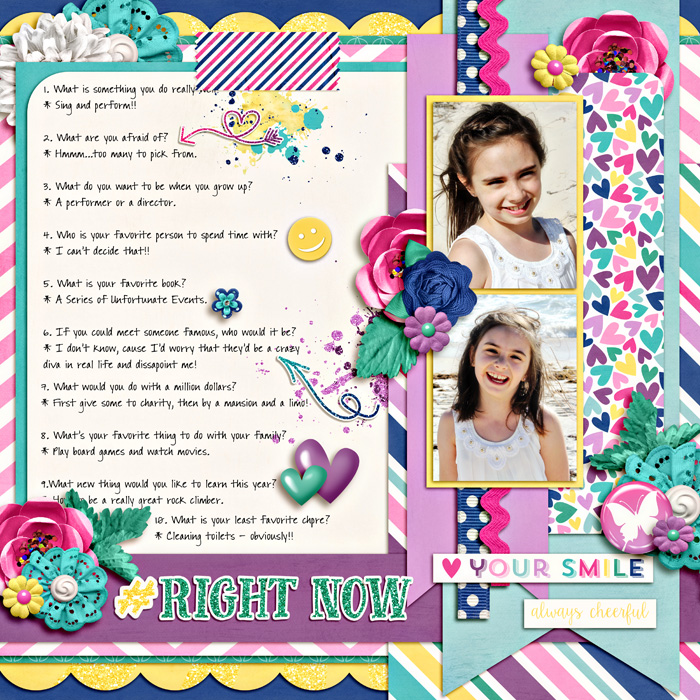 I think it will be fun to ask these questions again at the end of the school year and then show my kids what's changed and what has stayed the same!  I'm also going to challenge myself to turn these questions into a layout for each of my kids and then at the end of the year they'll hopefully have a fun 2 pager all about them. I challenge you to do the same. Happy new school year!!