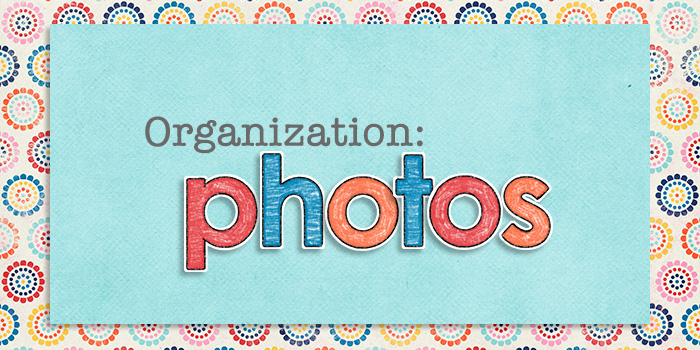 Today we are going to talk about another aspect of organization—organizing your photos!! I have never been good with keeping things organized. I do it for a little bit, and then I get lazy. I notice that when I let my photo organization get away from me, my scrapping suffers. If I can't easily find a photo to scrap, then I get stuck in the rut of using the same pictures over and over because they are what I can find!! Today we're going to look at a few ways to organize your photos so you're never left wondering where those awesome photos are hiding!!
Here is the breakdown of how I organize my photos: I have a master folder for each year. Inside the yearly folder, I have a folder for each month. This is such a simple way to organize. If I have a pretty good idea of the kind of photo I'm looking for, then I just go to that particular folder and search for that photo. The only thing that I find lacking in this particular method is that if there are months that you take lots of photos, finding that one perfect photo can definitely be a challenge, Especially if you're like me and don't weed out the duds (photo is out of focus, someone is blinking, etc)!! Sugarbabe Rebecca also organizes by Year > Month > Date, and then she adds key words of the pictures in that folder.
SugarBabe Lydia is one of my organizing gurus!! She also organizes photos by date but tags her photos with keywords. She even uses tags like "silly," "fun," or "siblings." When she is looking for photos to use with specific kits, she can just search for that tag and she has a great array of photos to choose from!!  She also tags her photos with "2012 to Scrap" and "2013 to Scrap." She has smart folders that pull in photos with those tags. After she scraps the photo, she can remove the tag and the photo is automatically removed from the folder!!
SugarBabe Kim does most of her photo organizing in AcDSee. Here is her folder structure. To Scrap > 2012 > 0325 party grandma. When she clicks her folders, she can see all of the photos she has tagged for that category. From there she is easily able to search for a template or kit to go with her photos.
For those of us with YEARS of photos to scrap, designer Julie has a WONDERFUL idea!! When you are overwhelmed with which photos you want to scrap because there are just so many to choose from, create a folder and put a maximum of 10 unscrapped photos for each year in the folder. That's not to say that your other photos aren't as important, but if you could choose just 10 memories for a specific year, you wouldn't have to be so overwhelmed with getting every memory scrapped. When you have just 10 photos in that folder, you can be on the lookout for specific kits to go with your chosen photos. I am in love with this idea!! There are so many times I want to catch up on certain years, but I don't because I'm never sure which photos to scrap! Sadly, I end up not scrapping any from those years because it can be so overwhelming!!
Do you print your photos? Before I started digital scrapbooking, I spent SO much money on printing photos. I only print the photos that I frame around the house. While considering Project 365, I found a website that has a really awesome idea. With Shuttercal, you can upload your daily photos and journaling. At the end of the month, they print and ship your photos to you and at the end of the year you have a cute little box full of photos. If you don't do Project 365, you can still implement that sort of idea. Buy some cute storage containers and print your very favorite photos!!
Really, there is no right or wrong way to organize photos. Everyone has their personal preferences. Hopefully, you were able to pick up a few tips and tricks to implement into your photo organization.