Darla shares some of her favorite products for scrapping your goals 
Before the new year started, I was already thinking of what my goal would be for 2013 – what would I do to change the way I lived my life now and start a new journey? While I was at a party with friends, I sat and watched everyone having so much fun and I thought to myself how much I was enjoying myself. It was then that I realized how hard I push myself to be a perfectionist and how often this way of life did not leave me much time to relax. I realized then that I wanted to enjoy life more, and the only way I could do this would be to relax a little more and not let the stress that life can throw at me run my journey in life. Excited to create a layout to inspire me daily, I turned to our wonderful store looking for products that would be perfect to scrap my goals for 2013. And, here is what I found that I wanted to share with you: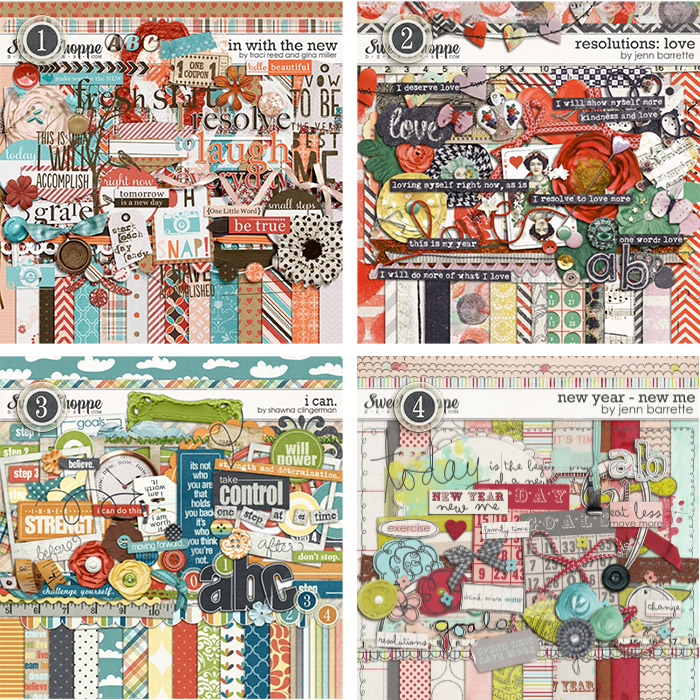 1. In With The New kit by Traci Reed and Gina Miller – This is a wonderful kit filled with warm beautiful colors to help you scrap your goals for the year! The kit includes elements that help you scrap your "one little word" or encouragement to start your year's journey. As a bonus for all you Project Life scrappers, there are journal cards included that you could use for all the PL pages you create in 2013.
2. Resolutions: LOVE by Jenn Barrette – This is another kit that beautifully helps you create pages about your new year's resolutions or goals. What I love about this kit in particular is the encouraging word strips to remind you to cherish yourself as you scrap your goals!
3. I Can. by Shawna Clingerman – How can you go wrong with a kit that motivates you to keep your goals for 2013? The colors are so fun and bright in this kit, which help lend to that positive motivation to scrap your new goals.
4. New Year: New Me by Jenn Barrette – This is a fun and whimsical kit from Jenn Barrette that you can also use to scrap your goals. My favorite parts of this kit are the cute little alphas and encouraging word elements to help you scrap your pages about the New You for 2013!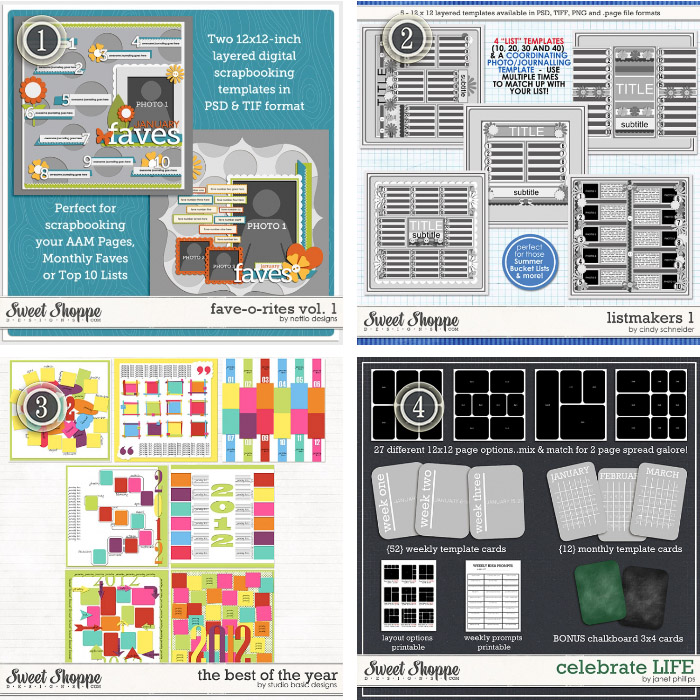 "You are never too old to set another goal or to dream a new dream."
Sometimes you need a little help to get started on creating that page about your new goals, and here are a few that I found in our shop:
5. FAVE-O-RITES Vol 1 by Nettio Designs -Lynnette has a whole series of templates that encourage you to scrap your favorites, and this particular template set allows the flexibility to create a list of your goals quickly!
6. Cindy's Layered Templates – Listmakers 1 by Cindy Schneider – Cindy has these perfect templates that let you create a list of all your goals or resolutions for the new year.
7. The Best Of The Year by Studio Basic – While this particular template set is centered around highlighting your past year, I loved the possibilities and flexibility of this set to help you create quirky and fun pages about your goals for the new year.
8. Celebrate LIFE by Janet Phillips – This is a really fun set of templates by Janet Phillips that helps you not only scrap pages about your initial goals but allows you to use them to create monthly pages to show how your journey is going throughout the year!
9. 10,080 Minutes Frame Stamps by Traci Reed – These stamp frames are a fun way to quickly add a bit of flair to your photos about your journey throughout the year!
10. It's Goal-tastic by Nettio Designs – Well how can you not love these templates from Lynnette that help you create a page about that one word that will motivate you on your journey? I loved them so much that I created my own page with the templates highlighting the word that I hope will help me find much joy and love in 2013!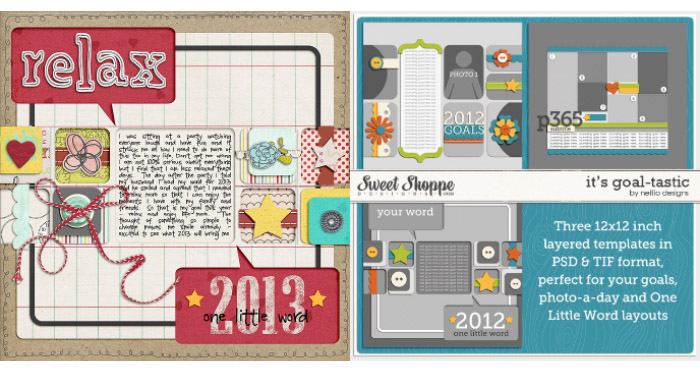 There are still many more products in our store that would help you create your goal pages, but these were my favorites that I hope you can find inspiring enough to create your own journey page or pages! Happy Scrapping!