365 Days of Bliss: Day 24 – The Big Two Nine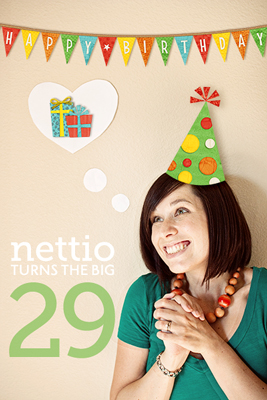 Happy May 24th everyone! Lynnette here with my first 365 Days of Bliss post. Welcome to the awesomest day of the year (in my opinion of course, hehe)…
My birthday!
I LOVE birthdays. Birthdays are right up there with Christmas for me in the category of most awesome holidays of the year. I love the balloons, the cake, the presents. There's just something so cool about a day that gets to be all about you.
(Well, except if you're my dad, my maternal grandma and my brother-in-law. Then you all have share the same December 23rd birthday. And I find it weird that three family members brought together by marriage have the same birthday, haha.)
If you think this is born out of some sense of insane sense of self-importance and vanity, I assure you it is not. I am this way about ALL birthdays. As Adam will tell you I was more excited about his birthday in March than he was, haha.
But today's birthday isn't just any ol' birthday for me. Today I officially turn the big Two-Nine. The age I will remain for the next many years to come, haha.
I'll admit, I have mixed feelings about turning twenty-nine.
On the one hand, turning one year older sure beats the alternative, haha.
But at the same time it feels a bit, well, old. Am I really only twelve short months away from turning thirty?
I mean, thirty is practically forty which is practically fifty which is practically one small step away from rockin' a walker with tennis balls. (Although considering my 93 years-young grandmother just started using a walker earlier this year, she'd probably tell me I was being silly and twenty-nine is still plenty young. And I know she'd be right.)
But really, where has the time gone??? Do I really only have one year left to make it onto one of those super-amazing-people-under-thirty lists?
In general, I try not to be too doom and gloom when it comes to age. It is what it is, age ain't nothing but a number, with age comes wisdom…all that jazz. Why worry about something that in the grand scheme doesn't even really matter?
But I think the reason the big two-nine has hit me so hard is it feels like such a milestone. A rite of passage. The last official year of my twenties.
In the same way that 16, 18, 21 and 25 were all milestone birthdays, so too is twenty-nine for me. It's like the last great stepping-stone toward becoming a full-fledged adult.
And as any scrapbooker knows, milestones are a great opportunity for scrapbooking.
For the last several months, I've been thinking about how I want to document my twenty-ninth year.
Do I go with another list project like my 28@28 list? Maybe a 30 before 30 list?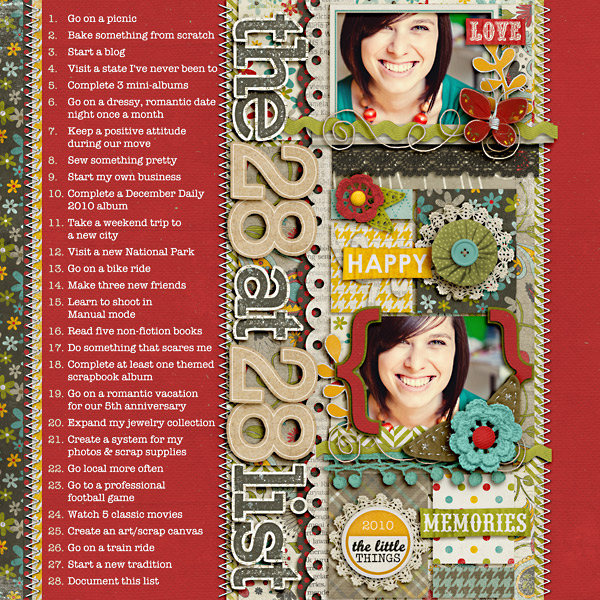 Do I go with another P365 type project like my Deployment:365 album from 2009?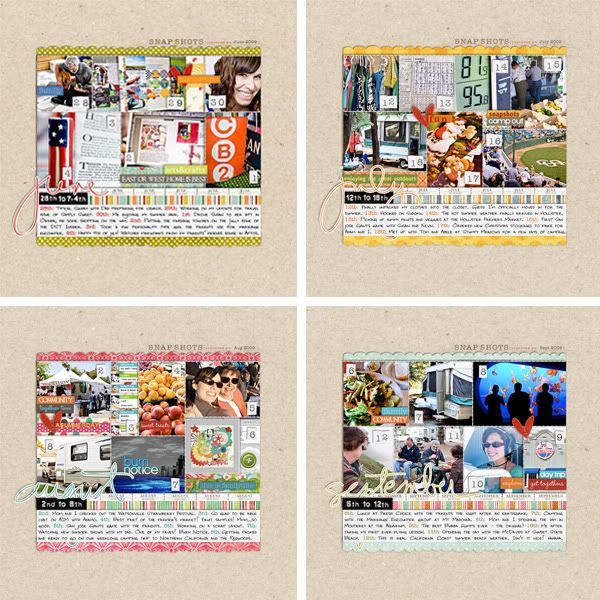 Or do I go with the it-trend of the moment and do something along the lines of Project Life?


Project Life photo found here.
The more options and inspiration I viewed, the more confused I became about what direction I wanted to go. So I decided to make a list of exactly what I wanted out of my 29th year album. This was my list:
Daily Life
– Document what our everyday life looks like – similar to P365 but less structured.
Memorabilia
– Create a home for all the little bits and pieces of paper and things I love to pick up.
Adaptable
– Ability to adapt for the story – with more or less photos/story.
Easy Upkeep
– Needs to be manageable to maintain over the course of the year.
Seeing what I truly wanted out of this album made my decision a lot easier for me. I needed something a bit less structured and a bit more adaptable than P365 but more daily life related than my 28 @ 28 list. Something more hybrid than digi.
Which is leading me more and more towards something like Project Life. Not necessarily with the official Project Life kit (which is sold out anyway) but something similar to that concept.
Where my scrapbooking adventures will eventually take me, I don't know quite yet. But I do know I'm excited for the scrapbooking possibilities of my 29th year.
Hello, twenty-nine. It's going to be an awesome year.
Birthday elements from Zoe Pearn's super cute Birthday Boy kit.