Featured Designer – Ponytails Designs
Hi Lovelies!  It's Friday and MAY!  Already, I can't believe it.  We hope you've been able to find some time to enjoy the weather, if it's nice in your corner of the world.  It's been pretty chilly here after a couple 80 degrees, we got hit with some gloomy ones in the 50s.  Yuck!
It's time to introduce our next featured designer, Natasha Kitos of Ponytails Designs!  As you know, our fabulous designers are celebrating some of our most memorable days in our new A Day To Remember series of kits! Nat's A Sunshiny Day is exactly what we need, April Showers bring May Flowers, isn't that the way it goes?  I have always been a sucker for flowers and foliage in a kit and this one is full of it!  Such pretty colors too.   Let's take a look!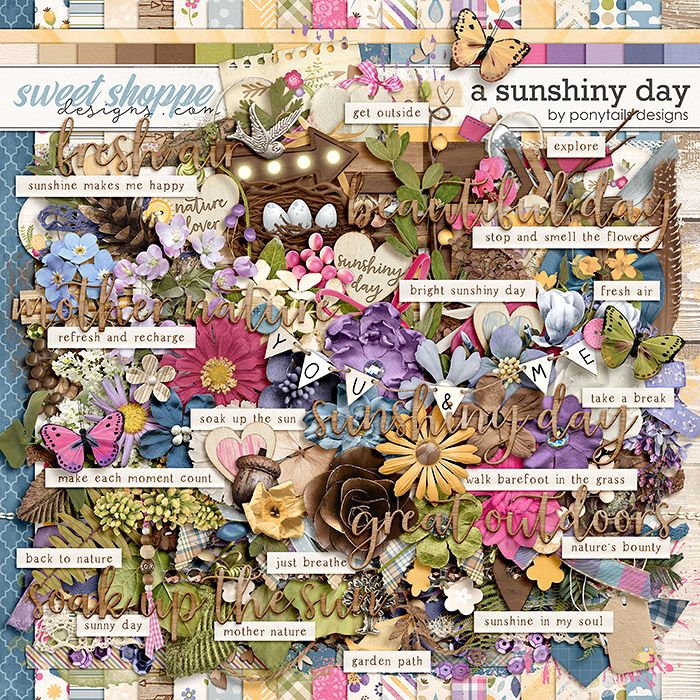 Now that we've had a chance to oooh and aaah over A Sunshiny Day, it's time to get to the interview.  Don't you just love learning more about the designers?  I know I do!
We asked Nat questions about herself, her love for this hobby of ours, and some of her favorite layouts or products:
1) Walk us through a typical "day in the life" of you!
My days are pretty simple.  I get up at 6:30 so I can enjoy a quiet cup of coffee before getting my daughter, Sarah, up at 7 to get ready for school.  Then I'm at my computer checking emails, the forum, etc.  I generally do 3 or 4 hours of planning or design work through the morning.  If I have "real life" things to do, then I'll usually do that after lunch.  This will include running errands, doing barn chores (we have two horses), and whatever else needs to be done that day.  Then I'm at my computer again until dinner time.  After dinner I spend some time with Sarah hanging out or watching a show.  Once she's in bed I may have a glass of wine or two and watch TV until midnight or so.  I work night shifts two nights a week as a 911 fire dispatcher, so those days I sleep as late as possible before getting up to start the day.  Like I said, pretty simple and not very exciting!  Basically, I spent the majority of my free time in front of my computer doing something related to scrapping, since it's not only my work, it's also my favorite hobby and my passion.
2) How has the industry changed since you first became a digital scrapbooker or designer? How has your style changed? Can you share one of your first previews so we can see how far you've come?
Oh my, things are so very different now from when I started, and in a good way!  I think the skill level throughout the industry has improved immensely.  The quality of product out there now is so amazing compared to where it used to be, both from a personal use perspective as well as in commercial use.  As far as my personal style goes, I've changed over time from the cutesy/themey type of kit to a more sophisticated style.  I'm much more focused on color and overall feeling.  I try very hard to include items that will work together well and cluster nicely.  (I'm big on the clusters in my personal scrapping!)  I've also started adding more depth in my papers, as well as messier items in general.  I think these types of things balance out the prettier aspects of any kit.
This is one of my earliest kits created in the fall of 2012, a few months after I started designing.  I remember at the time being so thrilled with it, but now it just makes me cringe!  LOL!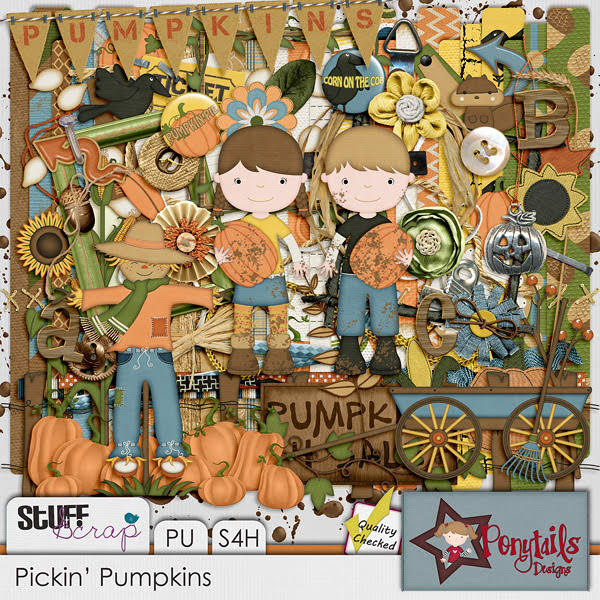 3) What kit are you most proud of creating in the last year? Why?
I think my favorite is my Free Spirit collection.  I just love everything about it.  The message speaks to my heart, and the purples and golds are so gorgeous together!  It's a perfect blend of Boho and glam.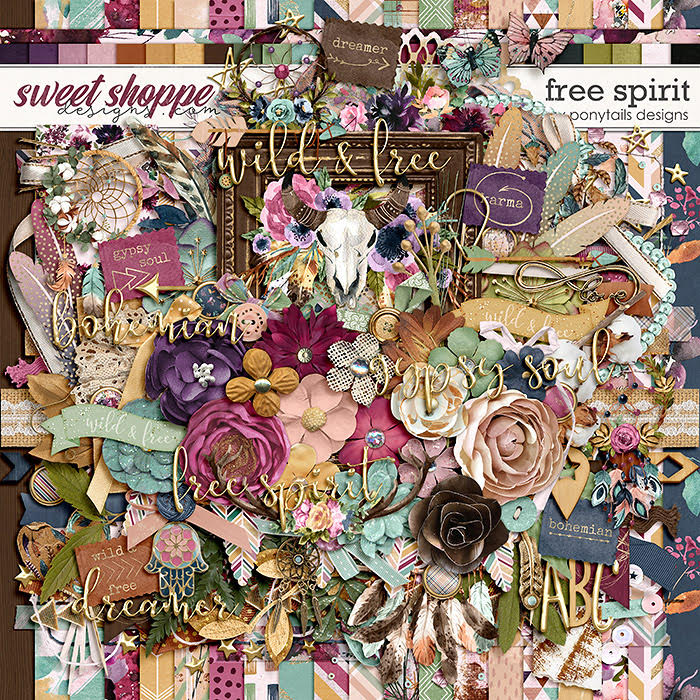 4)  Is designing your only job, or do you work outside of designing?
As I mentioned above, I work night shifts as a fire dispatcher at our local 911 centre.  It's a challenging and rewarding job which has allowed me a glimpse of the best and worst of humanity, which has definitely taken a toll.  Now I generally work only two nights a week, which is plenty as I'm not getting any younger and those 12 hour night shifts are getting harder.  It's one of those jobs where you're paid for what could happen, so my shifts can range from sitting for hours with nothing to do but read or crochet, to being so busy that I don't have time to even go to the bathroom, let alone eat!  After almost 18 years on the job, I've dispatched calls for just about everything you can imagine… from babies being born to the Olympics to plane crashes to massive dock fires.
Here's a page I created years ago that commemorated one of my biggest fires to date.  It was a bog fire that lasted weeks, but I was working the day it started and man, was that a day!
5) If you could visit anywhere (anyone), where would you go / who would you see
and why?
My answer to this question is definitely different now than it would have been a year or two ago, but I'd say without a doubt I'd visit my daughter and son, both of whom live in the Seattle area.  I'm in Canada and the borders have been closed, so I haven't seen them in over a year now, which would have been inconceivable to me before this whole pandemic.  I long to give them both a great, big hug!!!
Now let's see A Sunshiny Day in action!   Here are a few layouts from our talented staff!  First up, Nat scrapped with her own kit!  We just adore when designers find time to scrap!!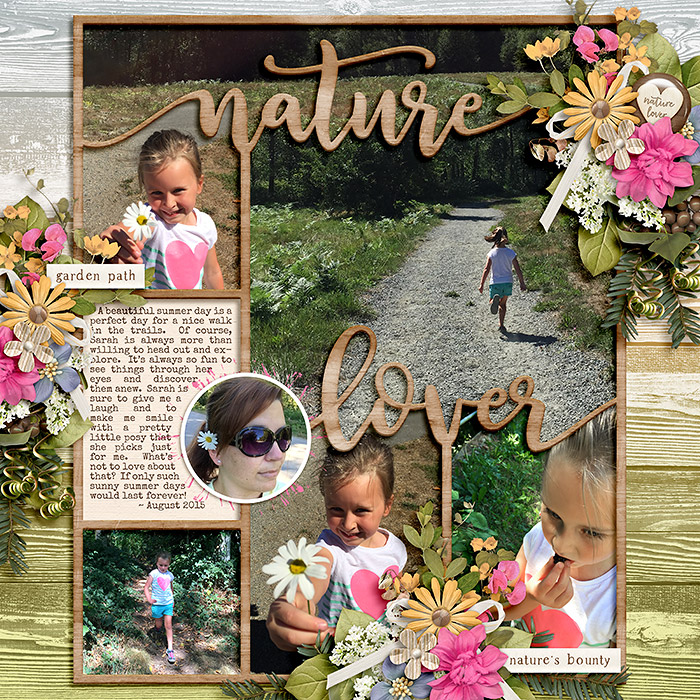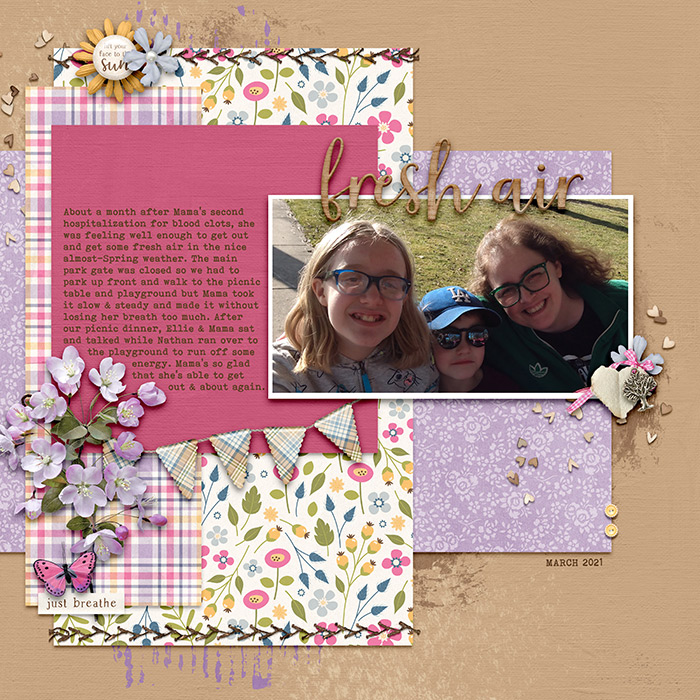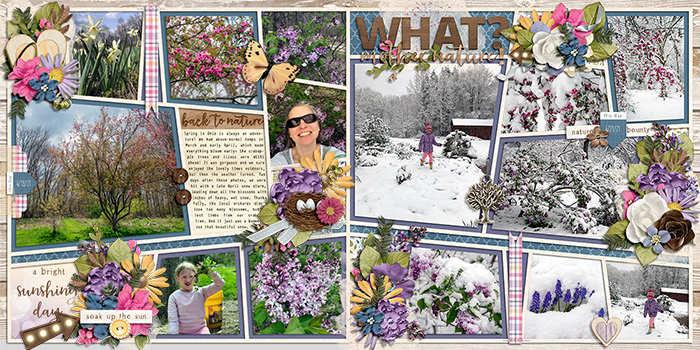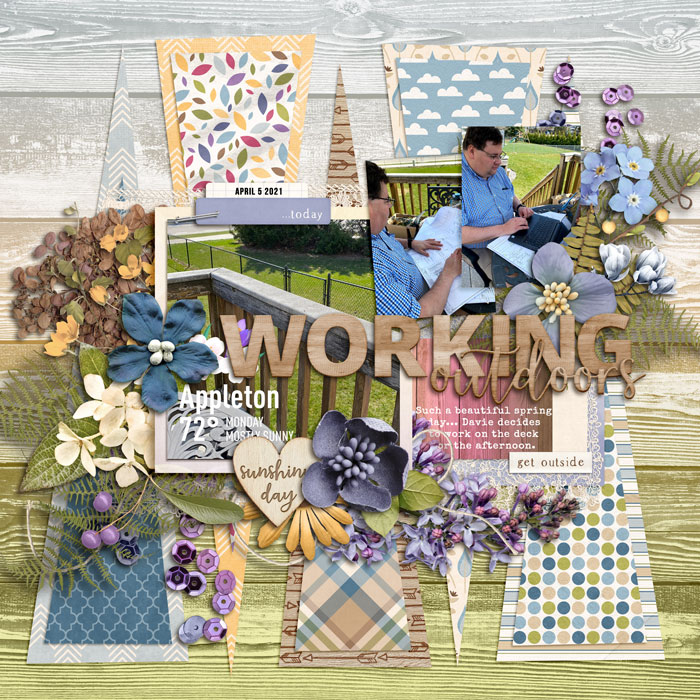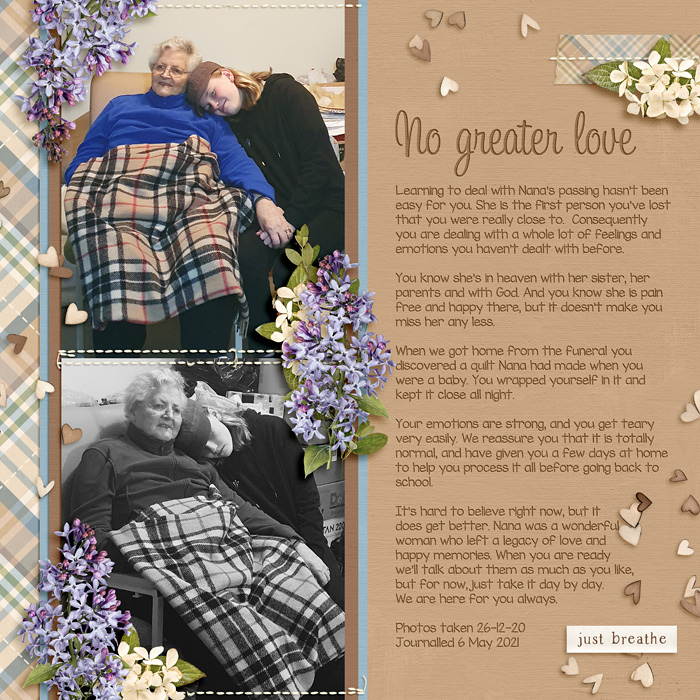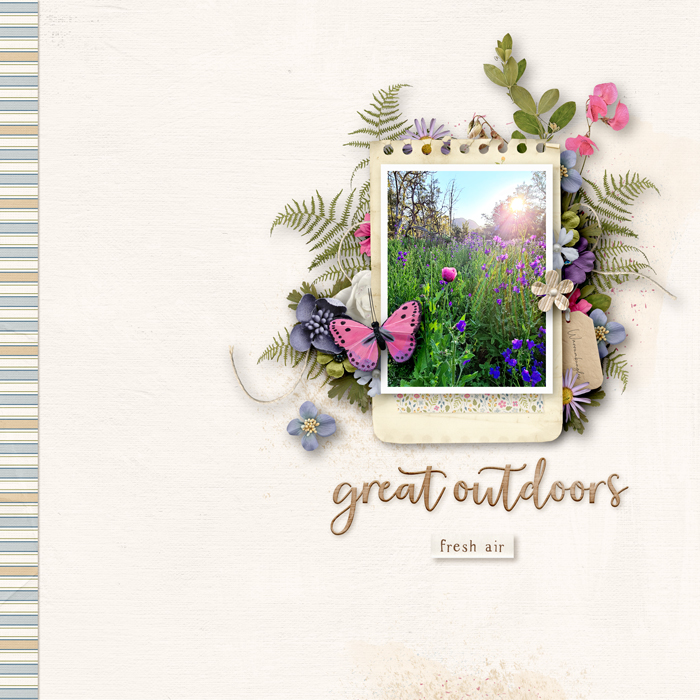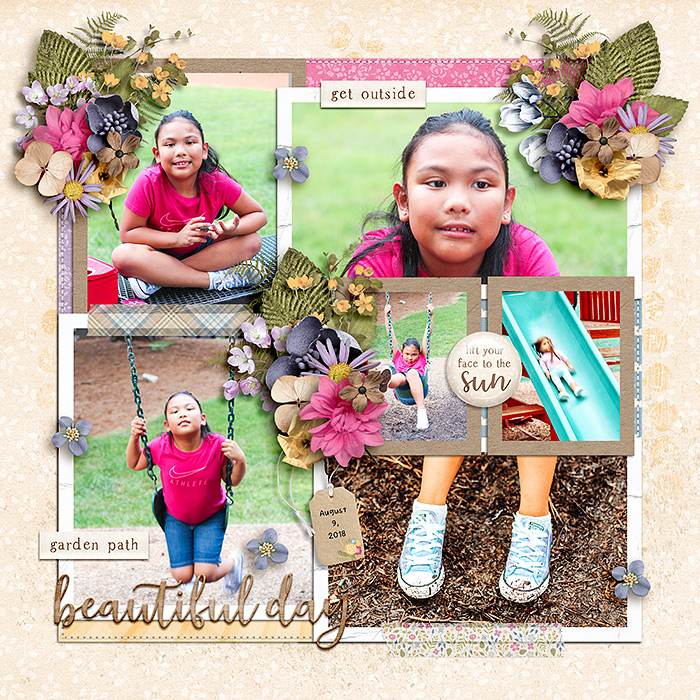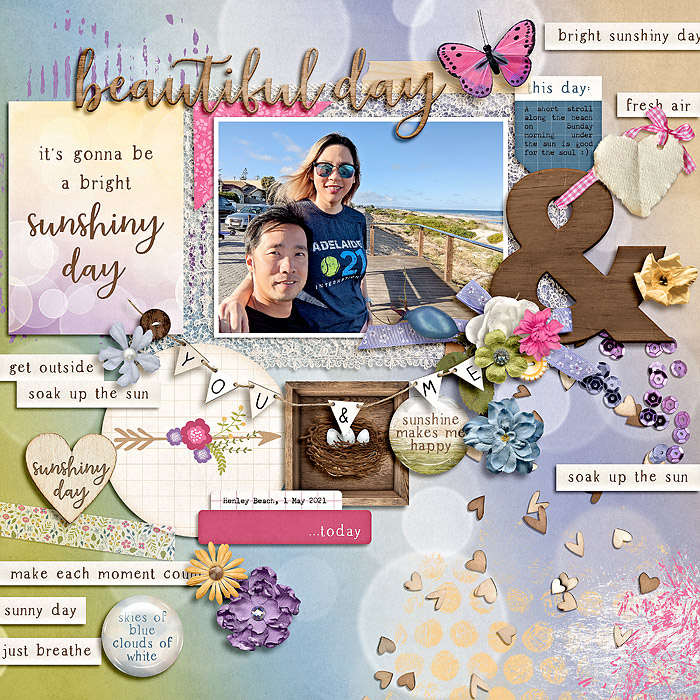 With that, go fill up your shopping cart with $10, and A Sunshiny Day will be automatically added for FREE! This special offer will only be available through Friday, May 21th when our new releases go live, so don't delay! And don't forget to come back next week for a sneak peek at Nat's Featured Designer 15 sale which will be Tuesday, May 18th! Have a great weekend!