Making Magic: Tips & Tricks for Photos with Santa
It's the second week of November … have you planned out your Christmas cards yet?
This is The Time of Insanity for professional photographers, when everyone tries to squeeze in a photo shoot so they can send out an updated photo of their family as part of their holiday greetings. It's also when professional Santas are hard at work meeting, greeting, and posing for photos with kids for the exact same reason. After all, nothing says "Merry Christmas" quite like a pic of children sitting on Santa's lap!
For the last 18 years, my father has lived the life of a real-bearded Santa Claus. In the nearly two decades I've been working as his photographer, I've learned so many tips and tricks for getting a truly magical photo with Santa. And in today's post, I'm going to share them with you. If you have a small person in your life – a son or daughter, grandchild, niece or nephew, or godchild – make this the year you create and record a visit with Santa that truly captures the magic of the season!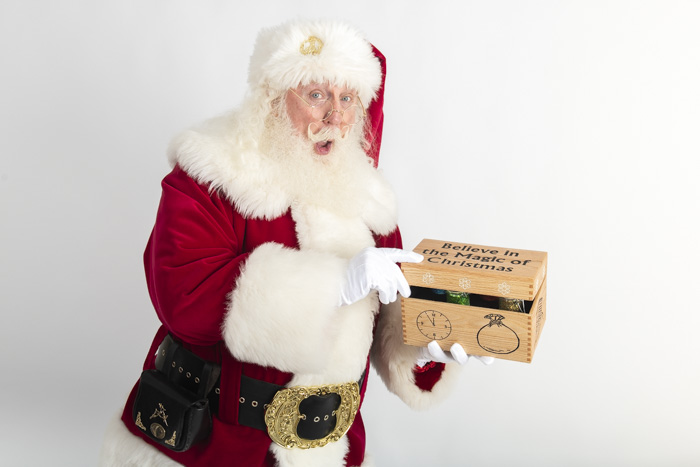 What to Wear for Photos with Santa
Any time you start talking about posing for photos, the first question that comes up is "What should we wear?" When it comes to photos with Santa, Rule #1 is don't wear red. Since Santa's suit is red, dressing a child in a contrasting color creates significant visual interest and helps them stand out. Green and blue look fantastic, as do yellow, pink, white, and metallic gold and silver. The other reason for avoiding red: have you ever tried to match two red garments? Some reds have a blue undertone while others are orange and putting them together just looks awful.
Personally, I love it when kids show up for photos with Santa in their pajamas. There's something sweet and innocent about a barefoot child in their pj's… it looks as if they've snuck downstairs on Christmas Eve to catch Santa leaving their gifts.
If you want a photo of your child sitting on Santa's lap, be sure to test model their outfit while they're sitting. I've seen little girls show up in vintage-length dresses (which hit above the knee) that look lovely when standing, but when sitting, ride up so high their undies are on display. When in doubt, go for a longer skirt or add a pair of matching bloomers.
Hair bows look adorable in Santa pics – bows on gifts, bows on kids – and if you're going to use them, go BIG. Smaller bows are easily lost in the photograph and won't stand out. Instead, do a single large bow to accent a ponytail or half-up/half-down hairstyle. And if your little person is a baby with sparse hair, a head wrap tied in a bow looks especially precious.
What to Bring to Photos with Santa
Don't be afraid to add a meaningful prop to your photo with Santa. Bring along your child's favorite toy and include it in the photo. Is this the year your nephew won't go anywhere without his special stuffed animal? Is your granddaughter's best friend her American Girl Doll? They can hold the toy and show it to Santa, or you can put it in a place of prominence in the set.
Do you have a toy that's a family heirloom? Consider bringing it along. Adding grandma's rocking horse or great-grandpa's wagon to the shot can turn your photo with Santa into a legacy portrait.
Regardless of the age of your little person, bring not only a packet of Kleenex but also a package of wet wipes. It's far easier to clean the snack crumbs off their face before the photos than to Photoshop them out of every image!
And speaking of snacks, bring a few along, but choose wisely. Few things are more frustrating than trying to photograph a "hangry" child, so being able to boost their blood sugar a bit before they visit with Santa will make your life easier. Just ensure the snack you choose isn't messy and won't stain their face or clothing. Avoid chocolate and fruit punch at all costs! Graham crackers, goldfish, string cheese, or apple slices are all excellent choices.
How to Shoot Photos with Santa
"It's like a rodeo," my dad says. "You've got 8 seconds. That's where the magic happens."
The very best photos of children with Santa happen in the first 8 seconds. You'll capture their look of wonder and excitement at being face-to-face with Saint Nick. Their smiles are most genuine because they happen unprompted. It's also the very narrow window before the tears start, before your toddler realizes it isn't Dad holding them, when they look up at Santa and begin to process "hey, this is a stranger…" Eight seconds.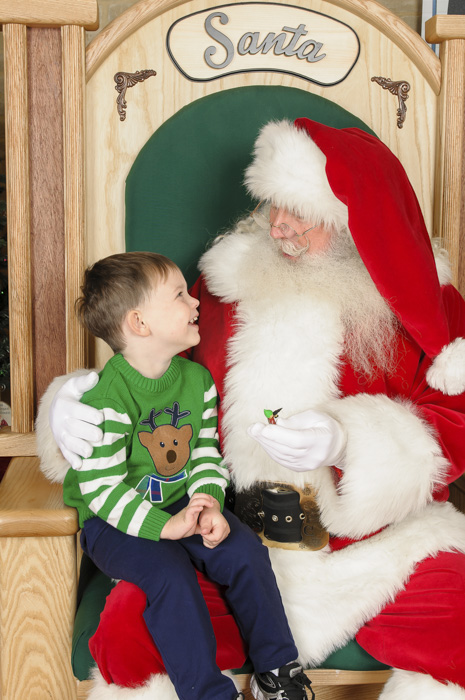 So, if you're the one behind the camera, here's my advice for you:
Have your camera ready to go. Check the battery levels and memory card space. Dial in your settings. Have it all ready well before the child steps up to meet Santa.
Shoot in Shutter Priority mode. On a Nikon, this is the "S" on the dial. On Canon cameras, it's the running man. Set your minimum shutter speed to 1/125.
Set your focus to automatic and continuous. You want your camera to automatically focus the lens rather than having to move the cursor to choose a focus point. You have to be quick!
Set your firing mode to multiple exposures. You want your camera to take more than one photo when you press the trigger so you can choose the best frame of the bunch. If your camera gives you the choice between a slow and fast multiple exposure mode, choose fast. You want to shoot rapid-fire, as many photos as you can, in that 8 seconds.
Be in place, ready to go. Lens cap off. Camera on.
Have another adult responsible for guiding the child and introducing them to Santa. You can't be in two places at once, and to capture that magic, you need to focus on shooting.
Don't give the child any directions yet. You're trying to capture their genuine reaction right now, and it's important that it be organic. Let them focus on interacting with Santa at first before you start directing them to "smile!"
Ideas for Posing for Photos with Santa
Once you've shot those first 8 seconds and captured their initial reaction, you can begin directing and posing your little one. Here's a few ideas…
Have a noisemaker – like a squeaker, a horn, or a bell – to catch a small child's attention and have them turn to face the camera. Just be ready to shoot.
Tell the child to cross their ankles. It prevents them sitting with their legs spread apart and keeps them from swinging their feet.
Encourage the child to whisper a secret in Santa's ear. That makes for a sweet photo!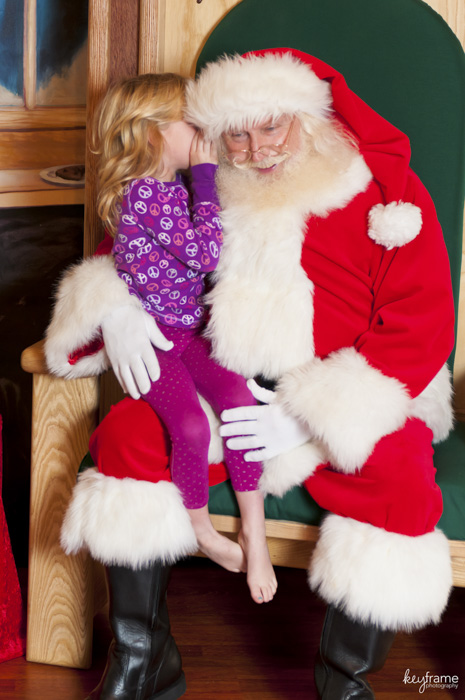 If the child is comfortable, ask them to give Santa a hug or a kiss on the cheek.
With older children who may be reluctant to sit on Santa's lap, have them stand next to Santa. A "buddy pose" with their elbow on his shoulder, a fist-bump, or a high-five make great shots that capture who your child is now.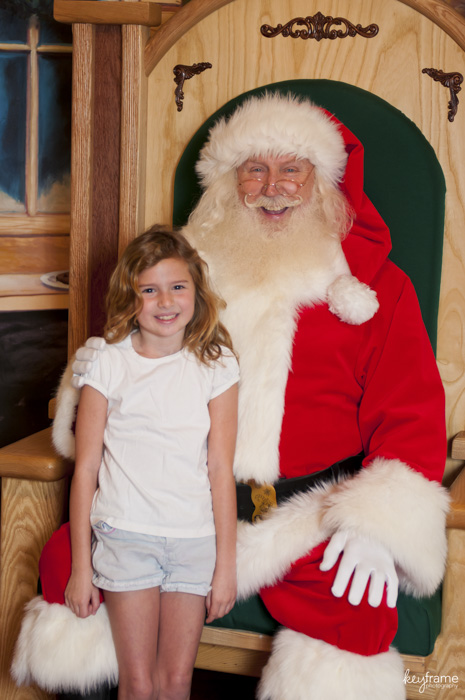 If there's a hand signal your child knows and uses, capture it. Direct both Santa and the child to make a thumbs-up, peace sign, "I Love You" in sign language, etc. Or have your child give Santa a high-five.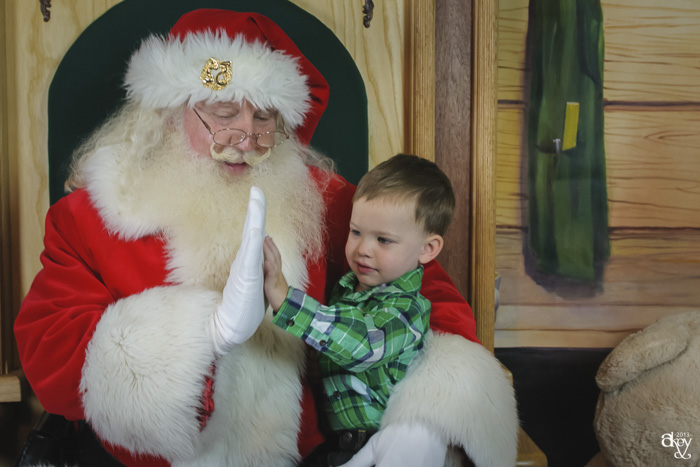 And please, do your Santa a favor: when removing the child from his lap, make sure they don't have a handful of Santa's beard.
How to Photograph Children Who Are Scared of Santa
This time of year, you'll begin seeing viral posts circulate with photos of children screaming and crying on Santa's lap. While even tears can make for precious photos, I beg you – don't purposefully traumatize your child. Please. Think about the mixed signals you send when you tell a child not to talk to strangers, and then turn around and hand them to a big man they don't know who has a face full of facial hair.
If you know your child is likely to be nervous or frightened, there are several techniques you can use to make their visit with Santa less traumatic.
Once you arrive to see Santa, do not say the words SCARED or FRIGHTENED. At all. When you tell a child "Don't be scared!" or "There's no reason to be scared!" the last word they hear is SCARED, and that's what their brain focuses on.
Instead, talk about how excited you are they get to meet Santa. Talk about how nice and kind he is. Call him a friend. These are the words you want the child to focus on.
If there's a Mrs. Claus, engage her in speaking with your child. Many children are comfortable with Mrs. Claus long before they're comfortable with Santa.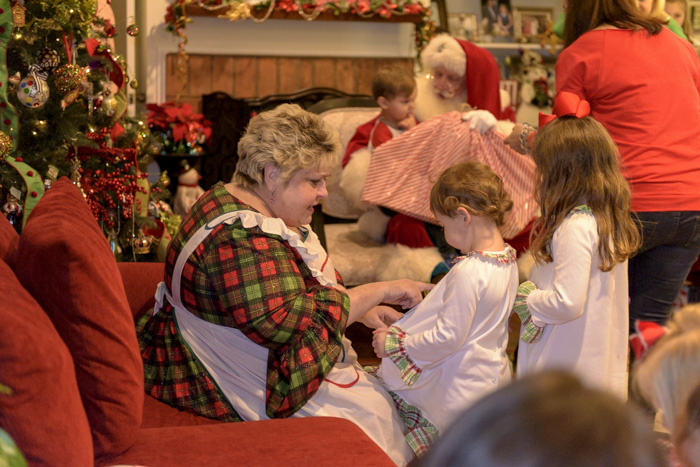 Allow time for Santa to visit with your child. Professional Santas use props to tell stories and answer questions, and it's a great way to warm up a reluctant kid. Santa can show off his magic pocketwatch that doubles as a music box, or the ring of keys he uses to get into houses that don't have chimneys, or the giant sleigh bell that only rings if you believe.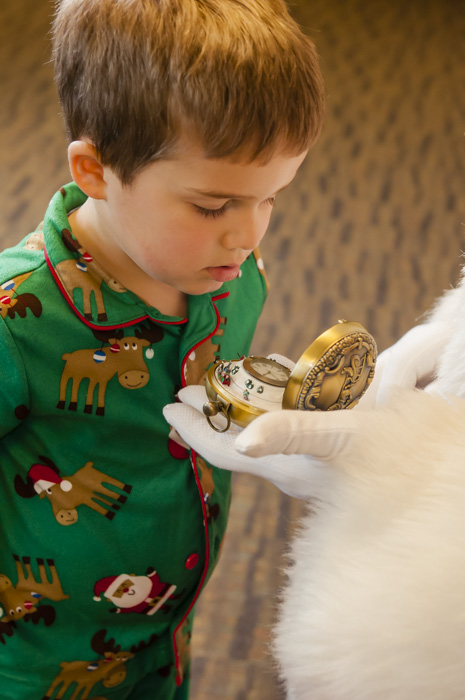 Let Santa read them a story. There are so many fantastic books with beautiful illustrations about this season, and most professional Santas are experienced storytellers. "The Night Before Christmas" told from Santa's perspective is always a hit with kids.
If the child absolutely refuses to sit on Santa's lap, don't force them. You can still capture a beautiful photo with some creative wrangling.
Sit a toddler on the floor in front of Santa with a favorite toy.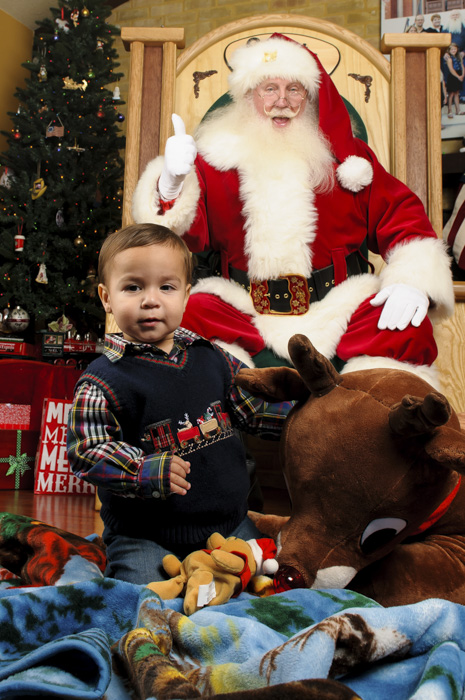 Have Santa get up from his chair and leave the child's eyesight. Then encourage the child to sit in Santa's chair while he's away. As you take their photograph, have Santa quietly walk up behind the child and join the photograph. Bonus points if Santa makes a "shhh!" face with his finger in front of his pursed lips, making it clear the child doesn't know he's there.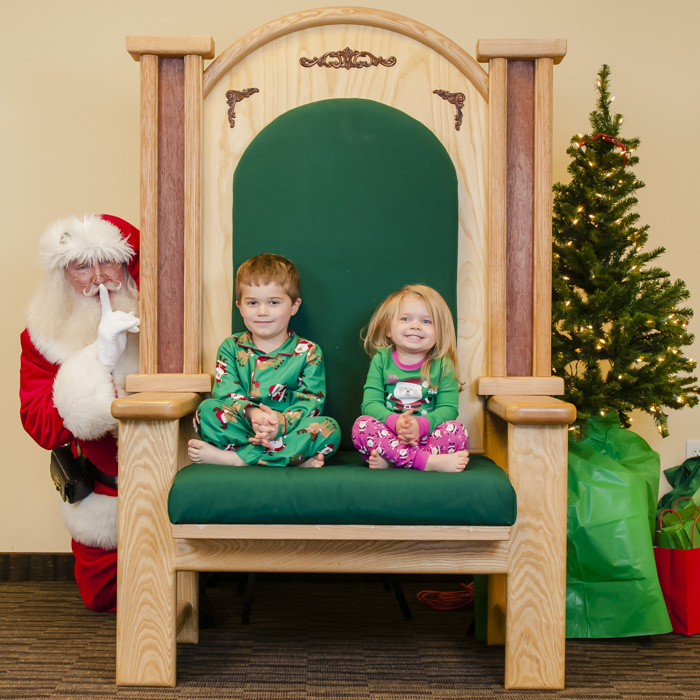 An adult can hold the child and keep them facing and focused on the camera while Santa walks up behind them to join the photograph.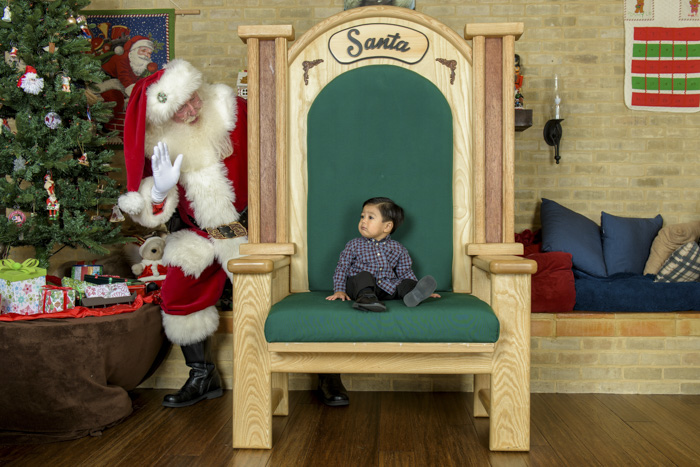 How to get the best Santa Experience
By this point, I'm sure you're thinking, "Okay, Angie – these tips are great, but how on earth am I supposed to have the Santa at the mall read my child a story?"
Well, you don't.
Photos with Santa at a shopping mall or another large, public space are fantastic for older children who are excited to see Santa and will be eager to sit with him for a photograph. If a child is at all trepidatious, after standing in line for 20 minutes and watching other children shriek and wail and lose their minds, they're going to do the same. Compound that with the fact that they're suddenly on stage and have dozens of strangers looking at them (really, we know they're looking at Santa, but your three-year-old doesn't) their anxiety is compounded by stage fright and the result is a melt-down.
So what's the solution?
If you want the very best Santa experience and truly magical, one-of-a-kind photographs, you have two options: hire a high-end photographer offering a "Santa Experience" photo shoot, or the budget-conscious option is to hire a Santa for a home visit and take the photos yourself.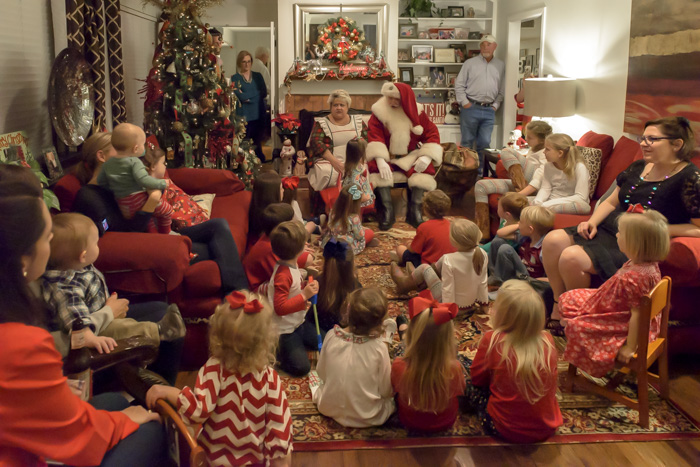 How much will a home visit cost? Well, it depends on where you live and which Santa you hire. My parents live and work in San Antonio, Texas and charge $150 an hour. His Santa colleagues in Houston and Dallas charge an average of $300 an hour. And if you get a Santa who is just starting out, they may be charging just $50 an hour. Even at the higher rates, it doesn't have to break the bank. An hour is a long time for Santa to visit with just two or three children. Instead, get together with four or five other families and split the cost between you.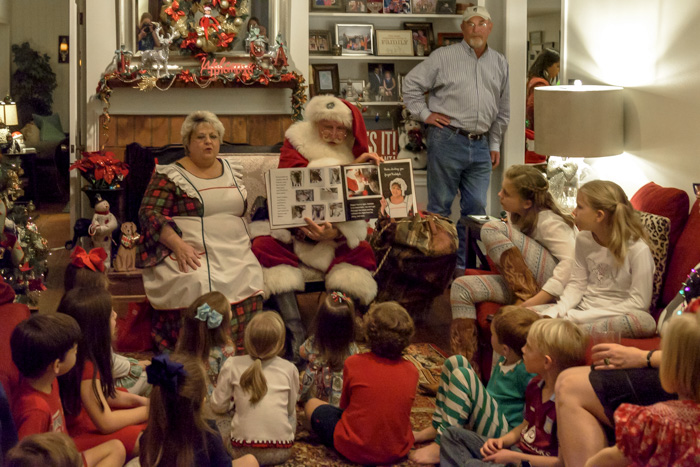 The best place to find a Santa is through a Santa organization: like the Lone Star Santas in Texas, the Nor-Pac Santas in the Pacific Northwest, the Palm Tree Santas in Florida, and more. Their website will usually have a directory or a "find a Santa near me" tool to connect you with their members. Start with your favorite search engine and use the terms "Santa Organization" and your city or state.
You can also work through a talent agency, but the drawback to this approach is you may not have any direct interaction with Santa before your event.
When hiring Santa, it's a good idea to ask them these questions:
Do you read books to the children?
Do you tell stories to the children?
Do you have props you share with the children?
Do you sing songs with the children?
What else do you do other than just take photographs?
Some Santas have a "Santa Throne" or other specialty chair available for rental. If you don't want the added expense, here's some things to keep in mind as you set up your photo area:
The chair for Santa should be fixed and firm. Nothing that rocks or rolls.
You want a seat that will put Santa's legs at a 90-degree angle when his feet are on the floor. A dining room chair is much better than an upholstered armchair or recliner.
Choose an armless chair if you can. That way the arm isn't poking into the child's back or bum when they sit on Santa's lap.
The wider the seat, the better. A bench is ideal; that way, a child can sit next to Santa and there's room to pose Santa with multiple children.
It's time to make magic!
As you begin making plans for the upcoming holiday season, I encourage you to prioritize experiences over things. A child will play with a toy for only so long, but they'll remember the time Santa came to their house and read them a story forever.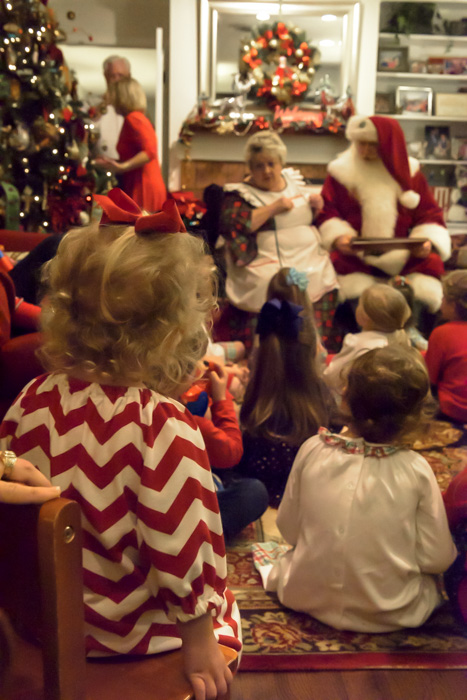 Now that you know what to wear, what to bring, and how to shoot photos with Santa as well as the best poses and how to photograph children who are frightened of Santa, you've got everything you need to create the ultimate Santa experience with your family and friends. So what are you waiting for? Go make some magic! And as always, be sure to share the results of your hard work in the Gallery. I can't wait to see it!