Featured Designer – Lliella Designs
Happy December!  I hope you're ready for the hustle and bustle of the season!  I'm not sure if I am, but at least my tree is up.  I'm going to keep this short and go ahead and introduce our next Feature Designer, Allie of Lliella Designs.  Allie is another designer that has a unique look and such adorable little characters in almost all of her kits!
Keeping with the festive spirit in mind of our big birthday, our designers decided that a year long celebration of everything that makes our lives special would be the perfect way to keep the party going, "Celebrate YOU!" is the theme that will be inspiring our Featured Designer freebies this year! From your job, to your school, to your favorite holidays and more, we're celebrating all of life's memorable moments this year, and  Allie's contribution to this year's series is no different! Celebrate Jesus will be great for this time of year!    Add $10 worth of goodies to your cart and this beauty will be added for FREE!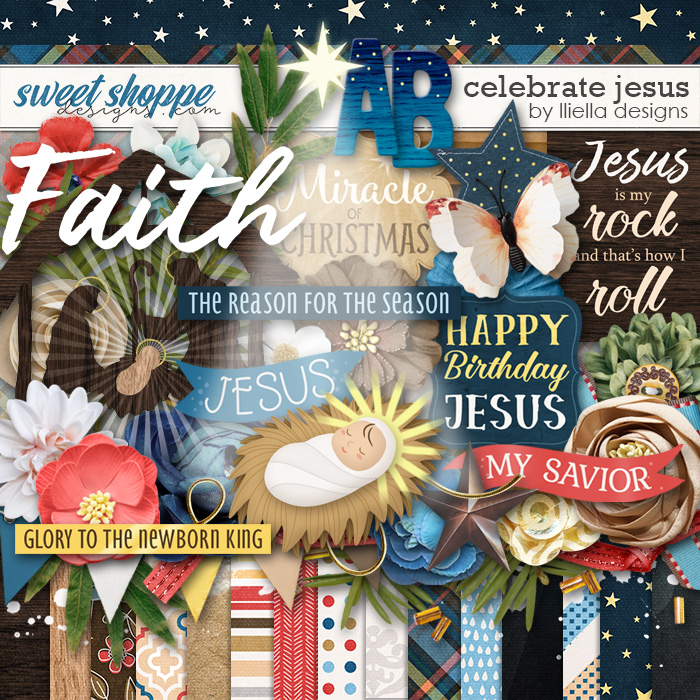 Now let's get to Allie's interview!
What is your favorite thing to "celebrate"? Is it your birthday? Christmas? Something else?
– I dread when December rolls around. I don't like to celebrate Christmas or my birthday, which both fall this month. Thinking of what to gift people stresses me out. As for my birthday, I stopped keeping track of my age decades ago hahaha
While we usually just have dinner with my family and extended families, I rather prefer to travel or go on outings. I celebrate the bonding we have with my family or friends during these travels. I don't care if it's just local or international travel, road trips or really long travel time (bus, barge and more bus for 16 hours) But travelling and visiting somewhere new just makes me happy and have something to look forward to.
What is your camera of choice? Can we see some of your favorite shots?
I have a Canon 6D DSLR, but it's just collecting dust somewhere. It's just too heavy and bulky.
I now use a Samsung S22 Ultra phone, and I love it! It's what I use for everything like take photos during my travels. These were taken during 2 separate trips with my family and sisters this year. We visited Guimaras and Gigantes Islands.
Do you watch tv or listen to music when you're designing? Or do you prefer silence?
I usually open Youtube to listen to while designing. News, crime stories, science, nature, kill count, celebrities eating hot sauces and more! I also listen to old (80's, 90's mostly) music sometimes, too.
How far in advance do you start working on your next product? Do you have a list of themes in the queue or do you just decide what feels right from week to week?
I have very poor time management skills. I start a kit about 2 weeks before release. Research what I want included in the kit, start drawing the unique elements. Then I procrastinate, thinking "oh, I still have time." Then a couple of days before release day, I work on it non-stop. sometimes going to sleep at 4am (release time is 6am my time, Saturday) Super last minute! Occasionally, I finish up 4 hours after release time. Chaotic, I know, but I can't seem to help it.
I usually do the seasonal kits. Other themes I usually decide what I want to do last minute. I do have a few folders that already have inspiration images and are ready when I want to tackle them someday.
Those photos are stunning!  I  want to go somewhere warm and tropical now!  Let's see what the team has been up to this week with Allie's Celebrate Jesus kit!




This kit is so pretty, you can definitely use this kit for anything if you want to, but it's wonderful for celebrating the holiday season!
Don't forget to come back on Friday, December 9th for a sneak peek of what Allie will have in her Featured Designer 15 sale!