Featured Designer – Simple Pleasure Designs by Jennifer Fehr
Happy Friday Sweet Shoppers!  This year has been flying by for me and it's hard to believe it's already November and already time for a new Featured Designer.  Today we're featuring Jennifer, of Simple Pleasure Designs by Jennifer Fehr.
Jennifer's kits are so full of whimsy with a boho vibe and fantastic colour palettes.  Every time she has a new kit I fall in love with it and can't wait to unzip it and see the goodness.  Her artsy papers and other artsy touches paired with her fantastic flowers, foliage, and ribbons always make clustering so easy with that painted artsy goodness that just makes my heart happy.  The only problem with her kits is that I want to use it all – and what a great problem to have!
Before we find out more about Jennifer, check out her Featured Designer kit, which is FREE with a $10 purchase from now through November 17th when the new releases go live that day.  It's November, so officially Christmas Season, right?  Jennifer dived right into that with her Featured Designer kit.  A Country Christmas: Kit is so adorable, and what a perfect way to kick off scrapping the holidays.  To me it reminds me of a Christmas movie in a kit, where the big city girl goes to a small town and meets the small town boy with great dimples and they live happily ever after.  This kit is great for any of your Christmas or winter memories, the krafts and reds are a perfect mix!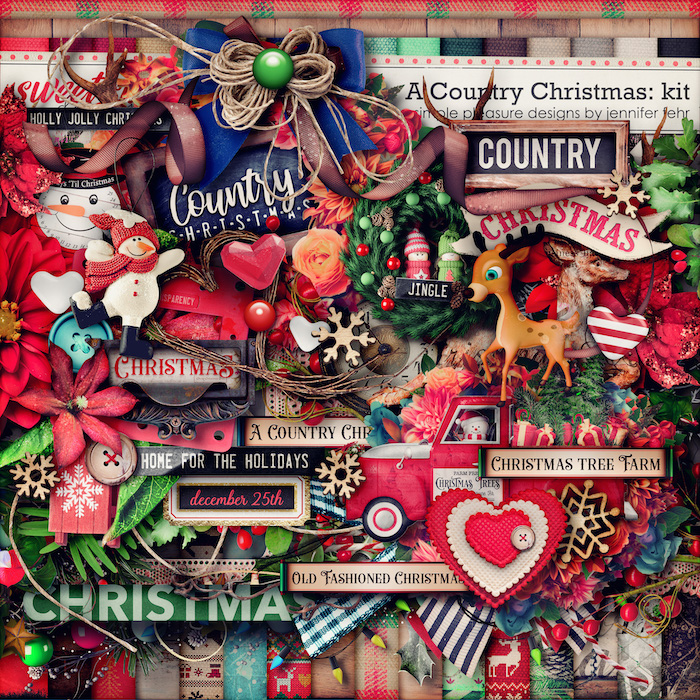 Jennifer has created these great add-ons to the kit as well, they coordinate so well with the kit, check out all the Country Christmas: Trimmings Bundle which includes SO many fun things to add on to the kit.  Just by purchasing this you'll get the Featured Designer kit FREE, so run to the Shoppe and check it out!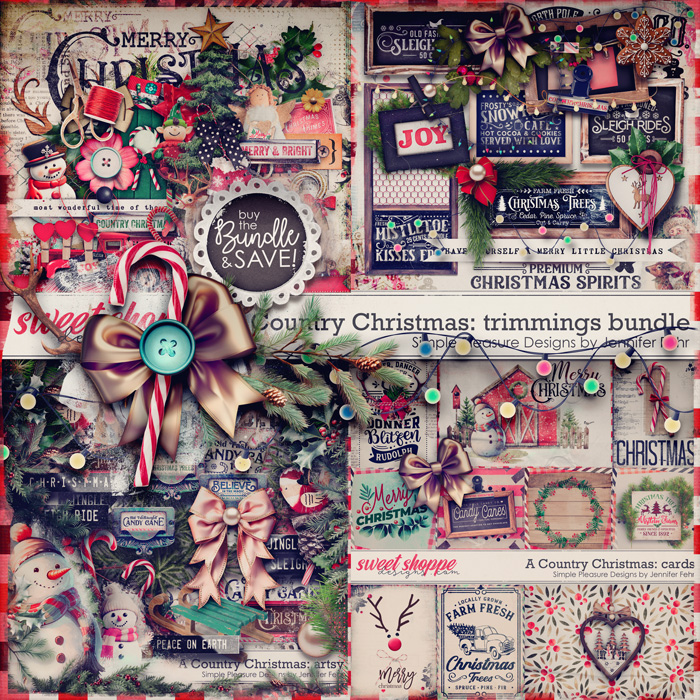 Here is what you will get in this massive add on: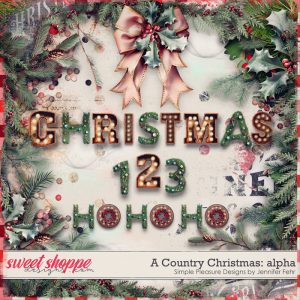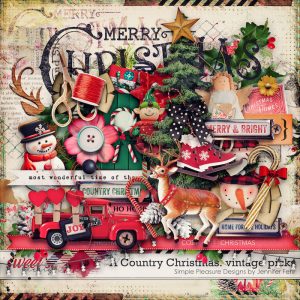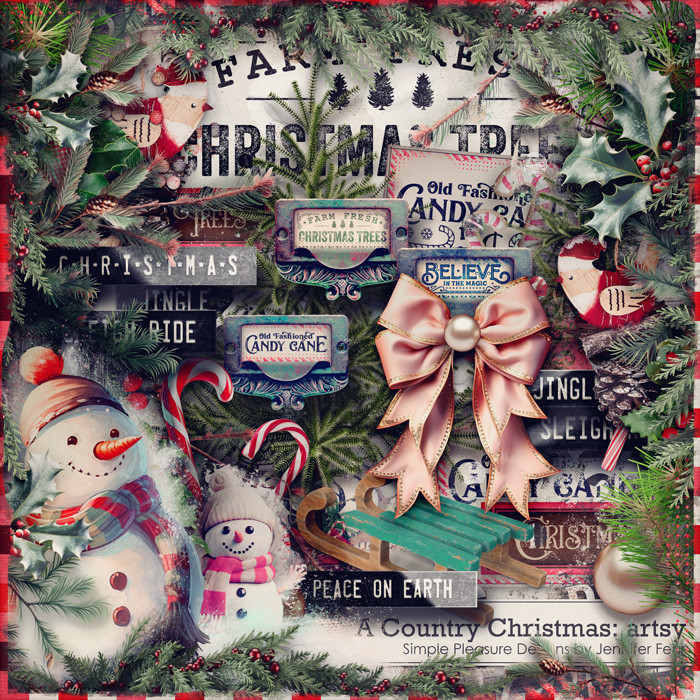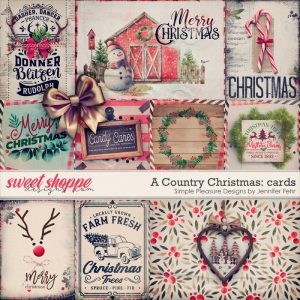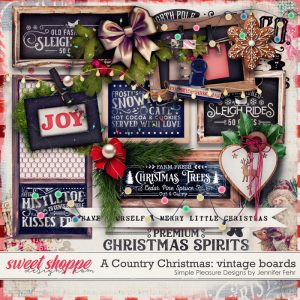 And now let's find out more about Jennifer!
Tell us about your journey with digital scrapbooking… How did you find out about it? Did you start with paper first? How did you get started designing? Where was your first shop? How and when did you end up at Sweet Shoppe Designs?
I started scrapbooking before my boys were born and my oldest will be 19 this January! In 2001 I was was invited to a Creative Memories class and my page was TERRIBLE lol!  I did really enjoy it and with the pleasant persistence of my CM Consultant I had my own class and found myself moving around the room helloing everyone else rather than work on my own page layout. On a sad side note: I was going through the loss of a baby at that time and would go through 4 subsequent miscarriages.  I was a Preschool Teacher at the time and it was very tough to be with little ones each day while my heart was breaking during the losses I was experiencing.

Scrapbooking became my therapy. I began to scrapbook my Wedding Day and then on to a Heritage album for my Mom, Birthday albums for my Brother & Sister's 40th and I learned and fell in love with the creative process. My Consultant signed me up with Creative Memories and I went on to have great success sharing my passion and love for the art of Scrapbooking and what a wonderful form of therapy it was! I was with Creative Memories for 16 years and enjoyed trips and made so many amazing friends!

I went on to learn how to scrapbook digitally when Creative Memories launched their "digital program." I instantly fell in love with the digital process and started to create designs and marketing pieces for Creative Memories on the side. In time I started a blog which lead to my own shop.   Several years later I was approached by Robin here at the Sweet Shoppe and it was an instant fit for me. After one year I closed my personal shop and began designing exclusively for the Sweet Shoppe! BEST decision EVER! I have LOVED my time here and I am so thankful to Rubia Padhilla of Studio Basic Designs for discovering my shop and sharing my work with Robin! SUCH a gift!
How long does it take you to put a collection together from start to finish?
It totally varies… Some kits can come together in a a few days and others take 2-3 weeks. It all depends on the inspiration, my personal mojo & TIME haha!
Where do you find inspiration for a new kit?
I find inspiration in what is around me… Vacations, artwork that I see or quotes. I find that sometimes a specific quote or Wall Art will tip my design radar into full gear! Sometimes it is as simple as a billboard a LOGO or even a commercial! 
Just a simple SPARK of creativity that sometimes comes from the least of expected places.
If you had an hour to yourself, but were not allowed to use it to scrapbook or design, what would you spend the hour doing?
Having a bath with a good book, a massage or crushing a workout & THEN a bath with a good book & a massage LOL.
If you could go on a date but only had $25 to spend, where would you go?
Thats a tough one… but these days I think $25 might just provide me with 2 coffees at Starbucks, perhaps a chocolate chunk cookie to share and a good ol' fashioned chat!
What's the last really great book you read or tv show you watched?
I am a SUCKER for Historical Romance Novels set in the 1800's.  Lisa Kleypas and Sarah Maclean are a couple of my faves and I tend to go back and read their books over and over again. Although this title is not one of her historical romance novels, I loved Smooth Talking Stranger and the subsequent editions by Lisa Kleypas.
Anything else you'd like to let us know?
I am so honoured and privileged to be the featured designer this week.   Thank you to ALL of my fans for your continued business AND support, it has meant the world to me!

XO Much Love,
Jennifer of Simple Pleasure Designs
Before I show you some of the great things the SugarBabes have done with Jennifer's amazing kit I wanted to show you a few of my favorite pages from Jennifer's gallery because not only are her designs fantastic, so are her own scrapbooking pages.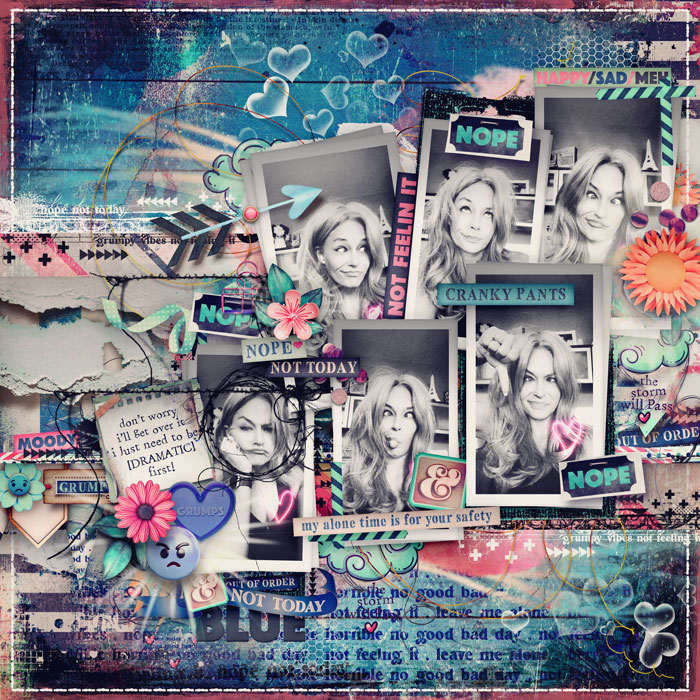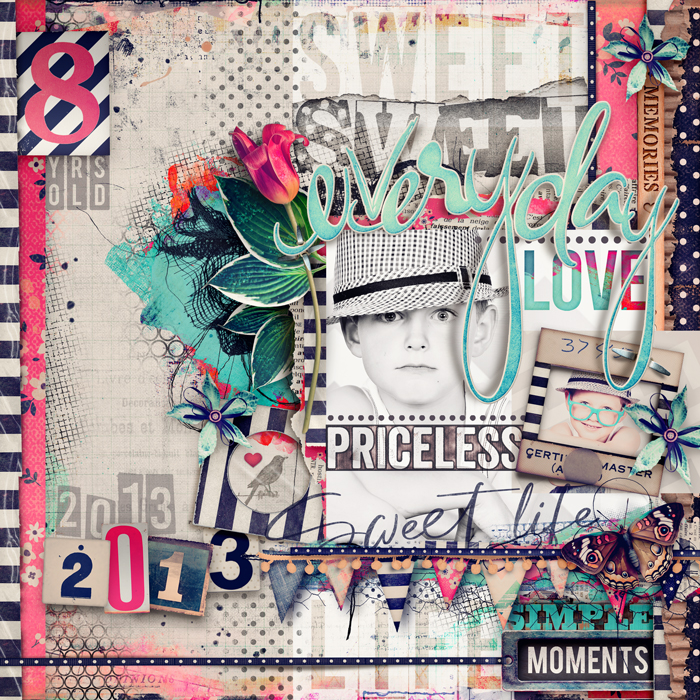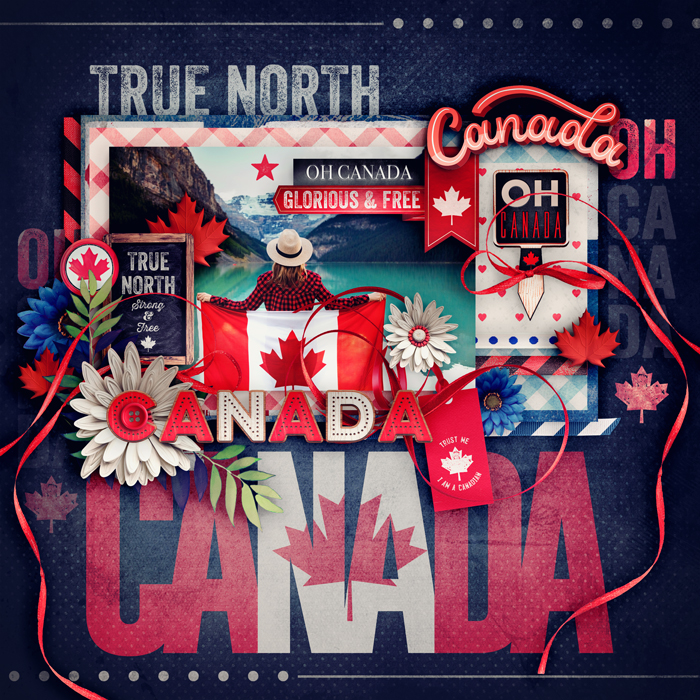 And now check out these great pages from the SugarBabes showcasing Jennifer's Featured Designer Kit, A Country Christmas: Kit.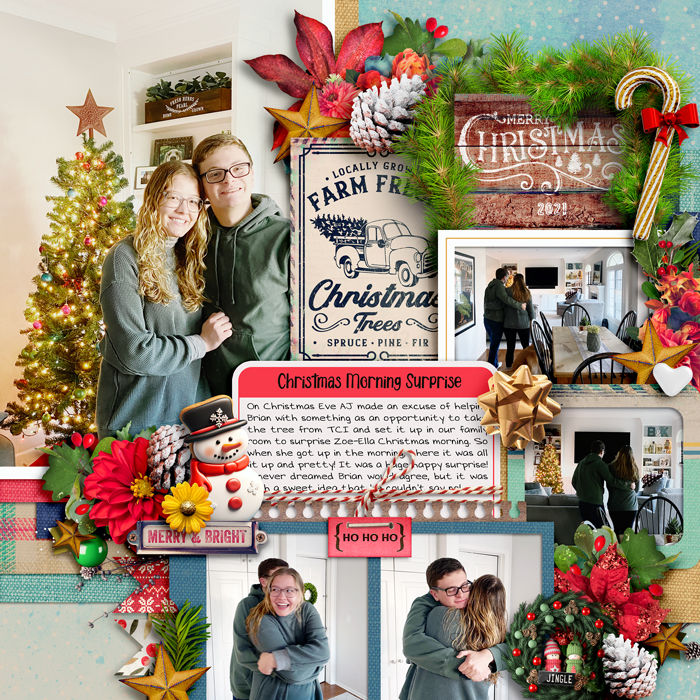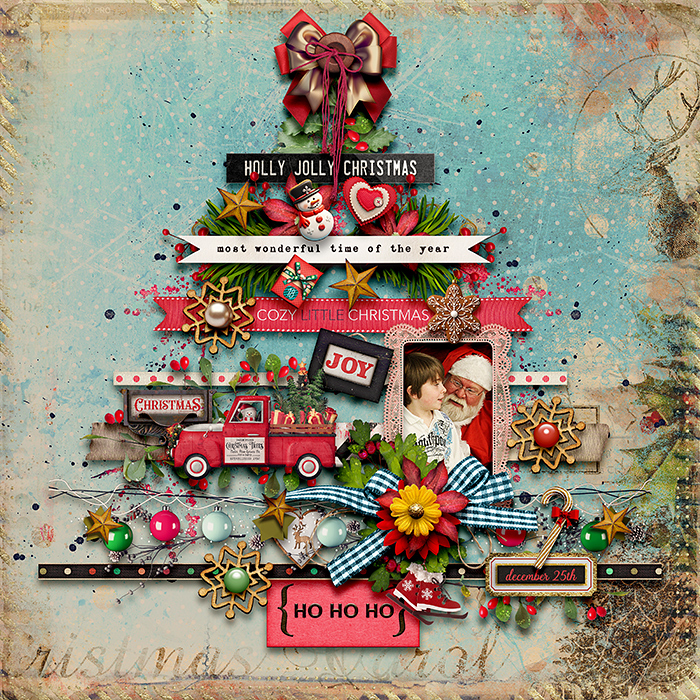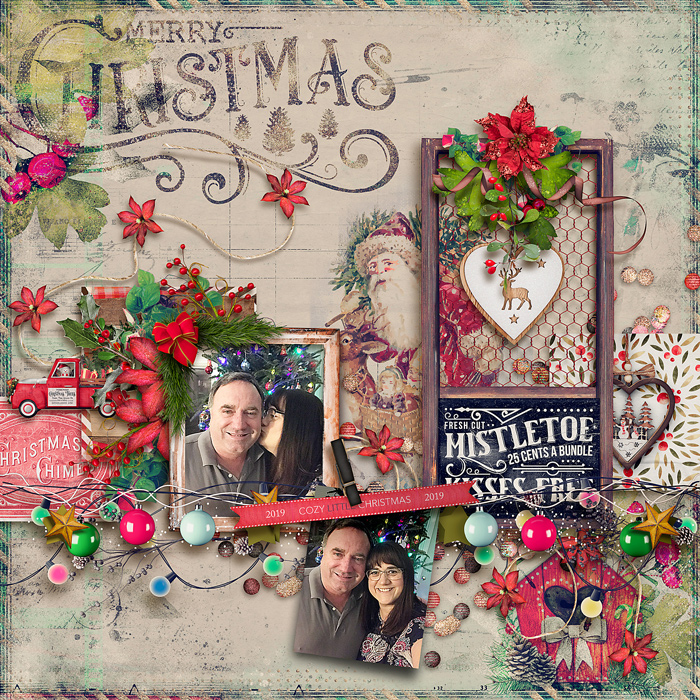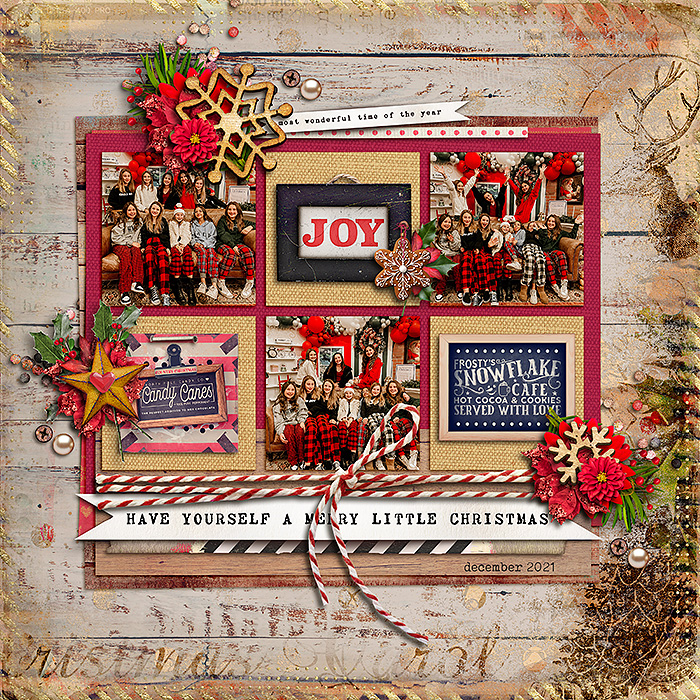 That's it for now, I'll see you here next Friday to give you a sneak peak on the products Jennifer has picked for her Featured Designer 15 sale, you're not going to want to miss it.  Until then, keep on scrapping!