Show-Off & Shout-Out with the SugarBabes – November 2023
"Gratitude is the healthiest of all human emotions. The more you express gratitude for what you have, the more likely you will have even more to express gratitude for."
– Zig Ziglar
The very happiest of November to you all, my sweet scrapbooking friends! Though we should practice gratitude year-round, this is the month where we focus on this healthiest (and most positive) of emotions. Personally, I am grateful for our community of scrapbookers, life artists, writers, designers, and memory-keepers here at the Sweet Shoppe. Thank you for being a part of that!
One of the ways we can practice gratitude is by leaving words of thanks and praise on one another's layouts in the Gallery. We call this "leaving love", and here at the Sweet Shoppe, we believe in it so much, we've made it part of our monthly challenge-and-reward system. You'll find the "Show Off & Shout Out" thread in our This or That Challenges forum. When you leave love for 15 layouts in the gallery, share a layout you created this month and want to show off, and share a layout someone else created and posted in the gallery to which you want to give a Shout Out, you could win a free kit or mini bundle up to $15 in value. Our winners for the month of October were MirandaB (in the 'leaving love' category), Ginette (in the "show off" category), and sucali (in the 'shout out' category, as nominated by aussiegirl). And the big winner of our $50 gift certificate for completing all 15 This or That? challenges in October … drum roll, please … is tanyiadeskins! Congratulations to you all.
I asked some of the Sugar Babes to share their our own Show Off and Shout Outs to wrap up the month of October. Here's what Amie, Charlene, Eve, Heather, Krista, and Sherly had to say.
Amie's Show Off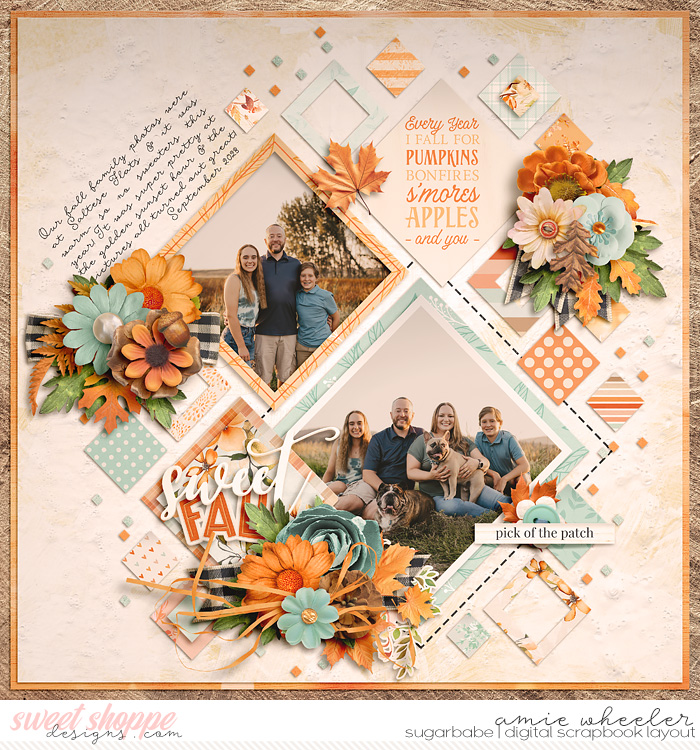 Why Amie is proud of this layout: "I love how this collection about pumpkins worked so perfectly with our Fall family photos! I also loved the unique shapes in the template and the paper squares gave me the opportunity to use so many of the gorgeous patterned papers! Lastly, I love the pops of orange- not one of my usual colors, but I loved it here!"
Amie's Shout-Out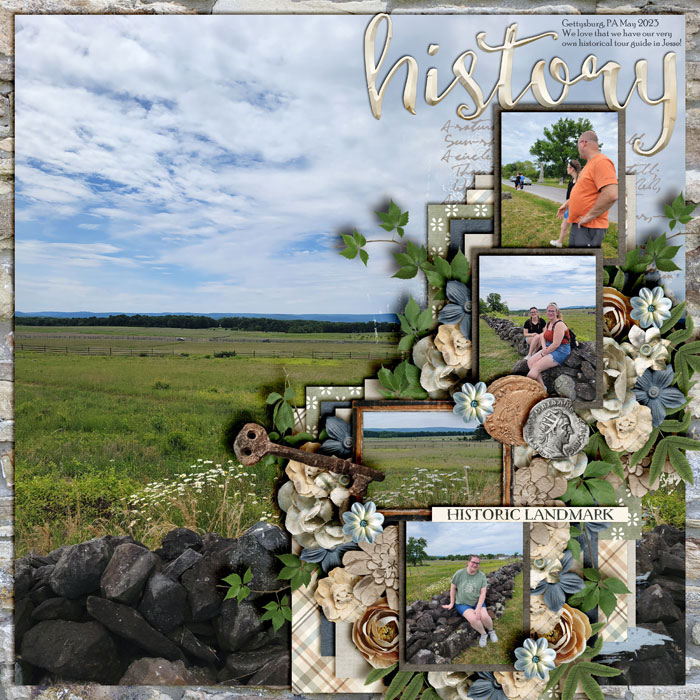 Why Amie loves "Gettysburg" by aussiegirl: "I love the stone background paper, the large background photo with the smaller supporting photos! I love the leading lines of the photos too! She used so many fun patterned papers too as well as pretty floral/foliage clusters!"
Charlene's Show Off

Why Charlene is proud of this layout: "I was drawn to the paper with the butterflies stamped on it and decided to push myself to use it. This isn't my usual style of scrapping but I enjoyed exploring the "artsy" side of myself while creating this layout."
Charlene's Shout-Out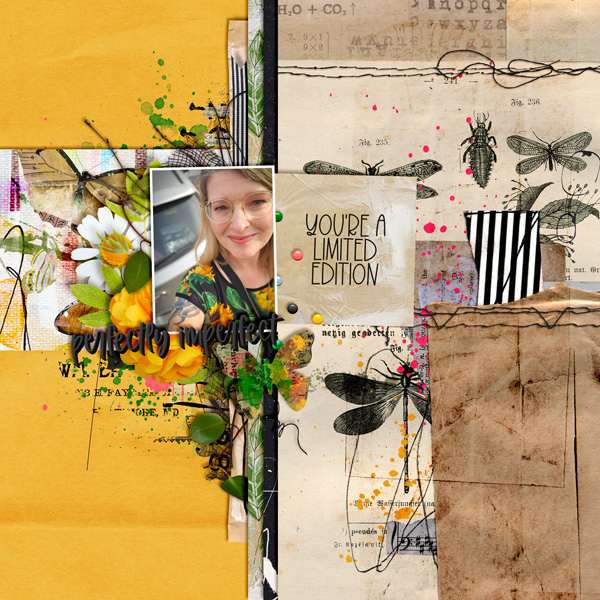 Why Charlene loves "A Limited Edition" by Cinna: "The contrast of the yellow background paper to the neutral papers caught my eye in the gallery. I love the layers of papers, messy stitches and the foliage around the picture. And what a perfect pairing of picture and kit!"
Eve's Show Off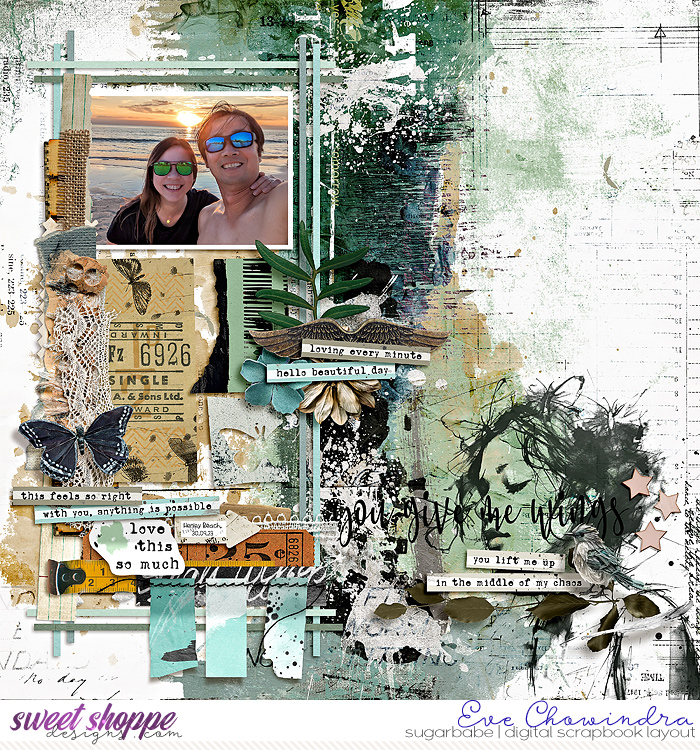 Why Eve is proud of this layout: "When I chose this template and this kit, I didn't plan to make an artsy page. I used the template as-is and after placing all the elements, my layout just came together and I really like how it turned out."
Eve's Shout-Out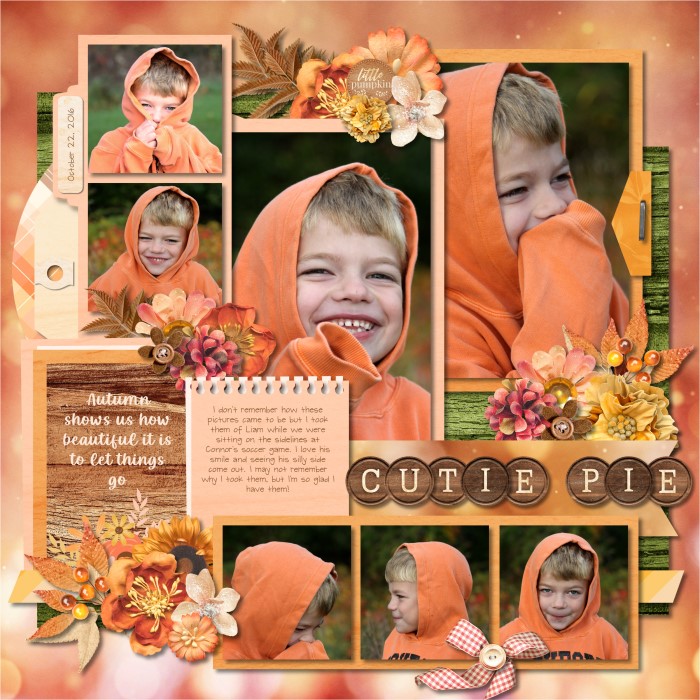 Why Eve loves "Cutie Pie" by bienejen: "This monochromatic page draws my eyes immediately and those series of photos are so precious. It's a perfect kit to scrap this photos and he is a cutie pie for sure!"
Heather's Show Off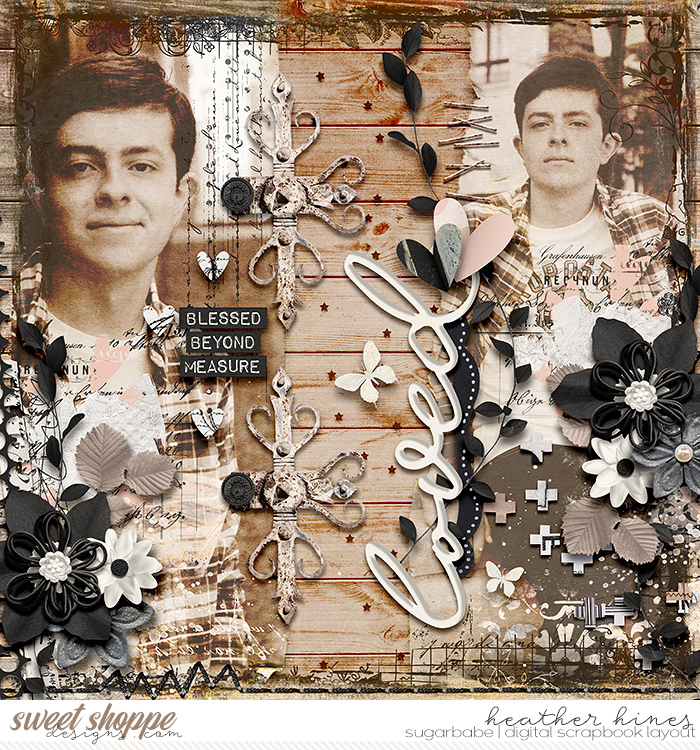 Why Heather is proud of this layout: "My favorite pages usually are the result of me having no idea what I'm going to do and just start throwing things on the page and moving it around. I knew I wanted to use that hinge element from Bobbie's amazing kit and that was the jumping off point. I love how it turned out. This page also features one of my favorite faces!"
Heather's Shout-Out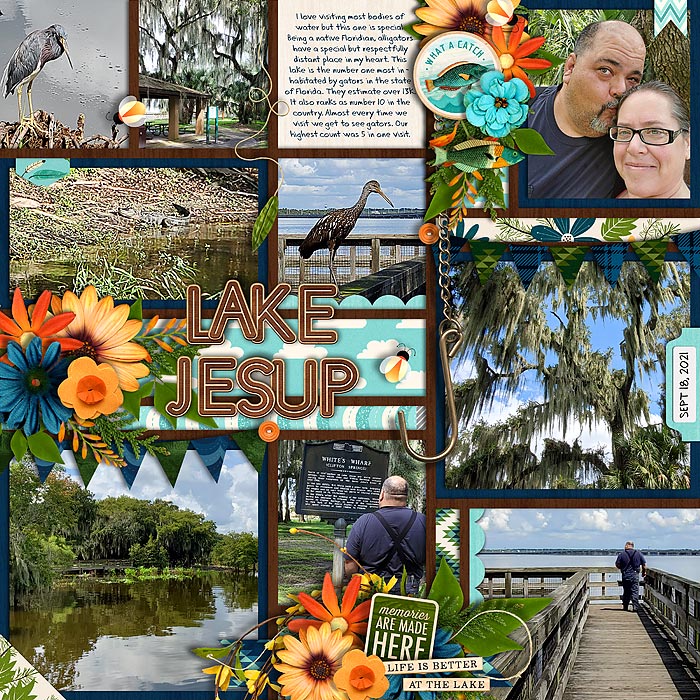 Why Heather loves "Lake Jesup" by tanyiadeskins: "Photos are usually the first thing I notice on a layout and these photos are amazing! The photos inspire me to get outside with my camera. I also love the block design, alpha title and perfect element placement. That dangling fish hook is the perfect touch!"
Krista's Show Off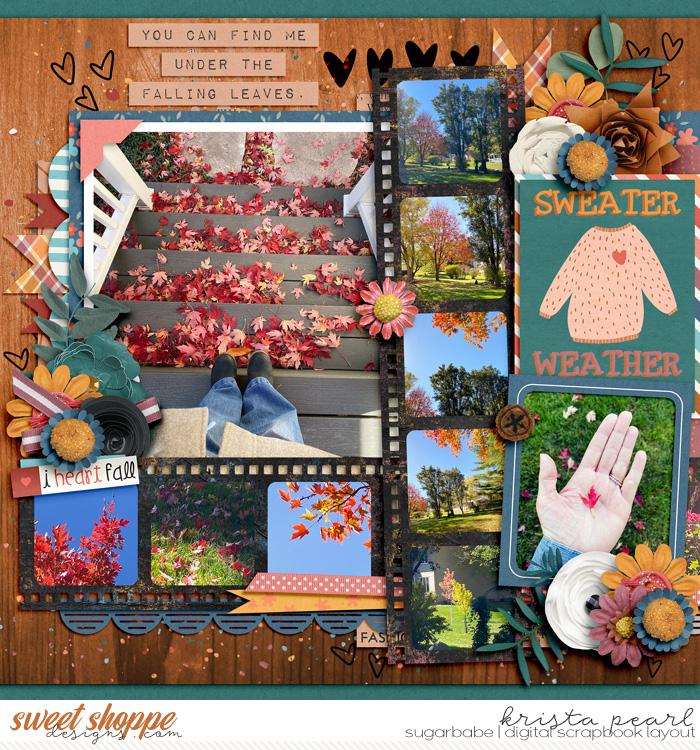 Why Krista is proud of this layout: "I'm happy with how this one turned out with all the photos on the same page. I combined a couple of papers to make the desired film color. I love the colors in the kit and how they make the photos seasonally pop with autumn yummy."
Krista's Shout-Out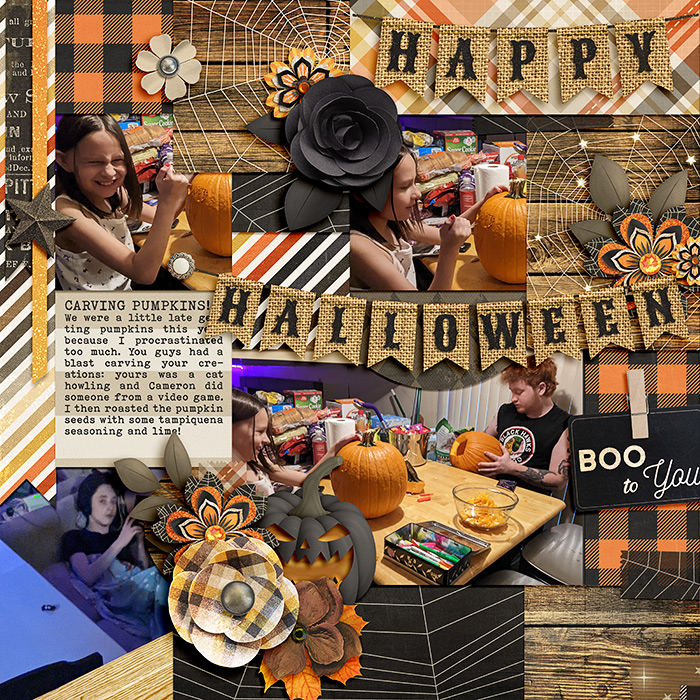 Why Krista loves "Halloween '22" by msbamf2you: "I love the banner title work and how the candid photos and patterned papers fill her background. She creates a whole vibe here, and I'm there for it all! The clusters and colors are all so Halloween perfection too! I love that it's part of a spread – which she shows in her credits. Such a great job!"
Sherly's Show Off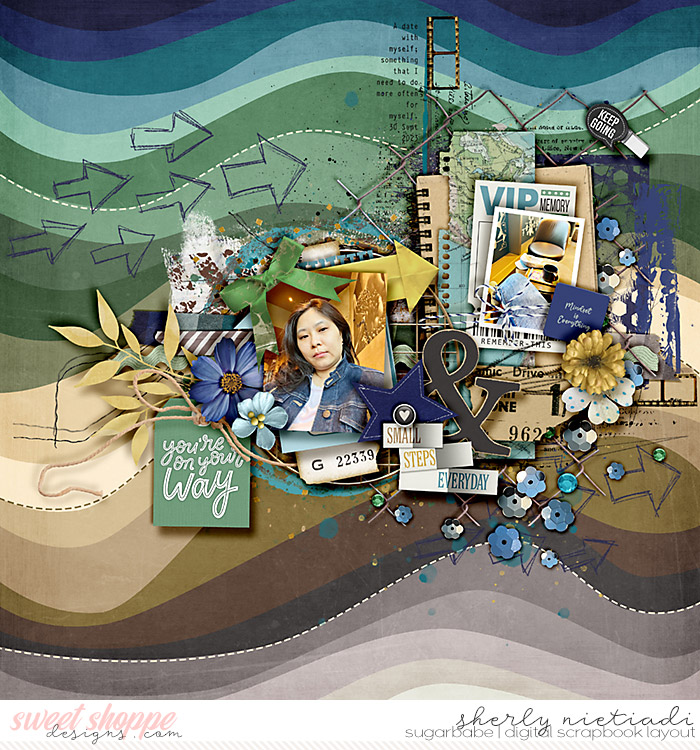 Why Sherly is proud of this layout: "First of all, I love this gorgeous SSD collab that comes with such a positive message. Secondly, I came to love that background paper as soon as I saw it and was determined to use it. I love all the layering I've created and the photo I scrapped is one of the few selfies I took and like."
Sherly's Shout-Out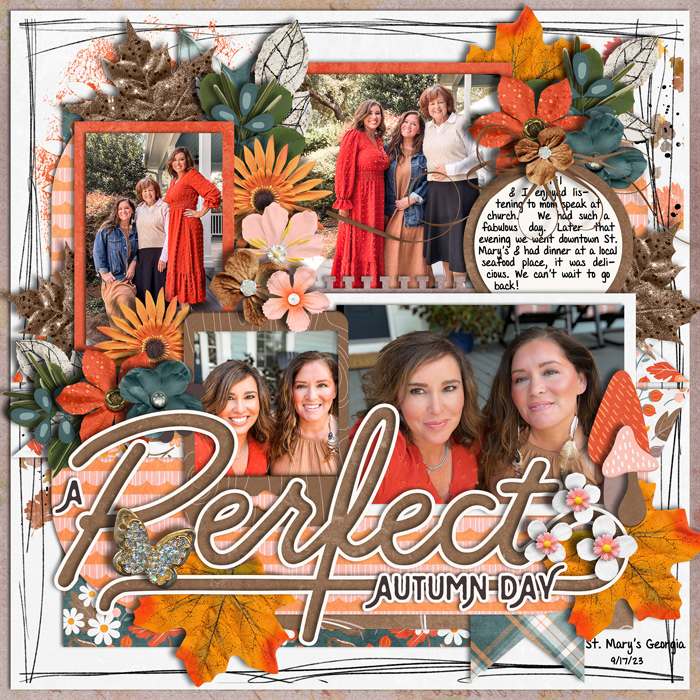 Why Sherly loves "A Perfect Autumn Day" by stormchaser: "Such a gorgeous autumn page that stood out of the gallery. The photos perfectly coordinate with the kit and the template she has used. Not to mention, the beautiful shadowing! So lovely!"
---
Author William Arthur Ward once wrote, "Feeling gratitude and not expressing it is like wrapping a present and not giving it." When you look through the Gallery and find inspiration or enjoyment in a layout, don't just feel it – express it! Click the "comment" button and leave a few words of love for a fellow scrapbooker. I'll see you in the Gallery!