Playing with Strings, Ribbons & Paper Clips
Hi there, Sweet Shoppers! Lex here with a quick how-to on playing with digital strings and ribbons. You can add more realism and fun to them by "threading" them through various other items on your layout.
Products used:
Oodles of Tags 2 by Julie Billingsley
Embrace the Everyday by Traci Reed
Office Drawer by Traci Reed
DJB Poppyseed by Darcy Baldwin
Step-By-Step Instructions:
1. Here's a tag and the string that I want to "attach" to it. The string layer is above the tag layer in your layers palette.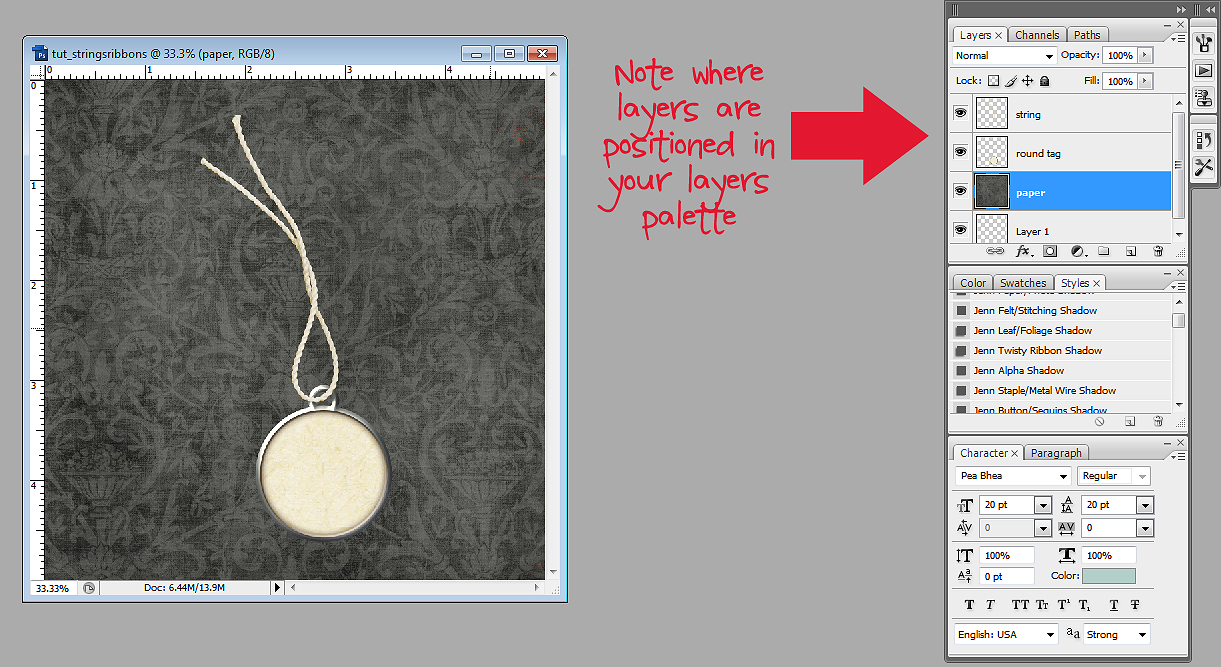 2. Zoom in as close as you can. You want to zoom into the place where the string will hang from on the tag.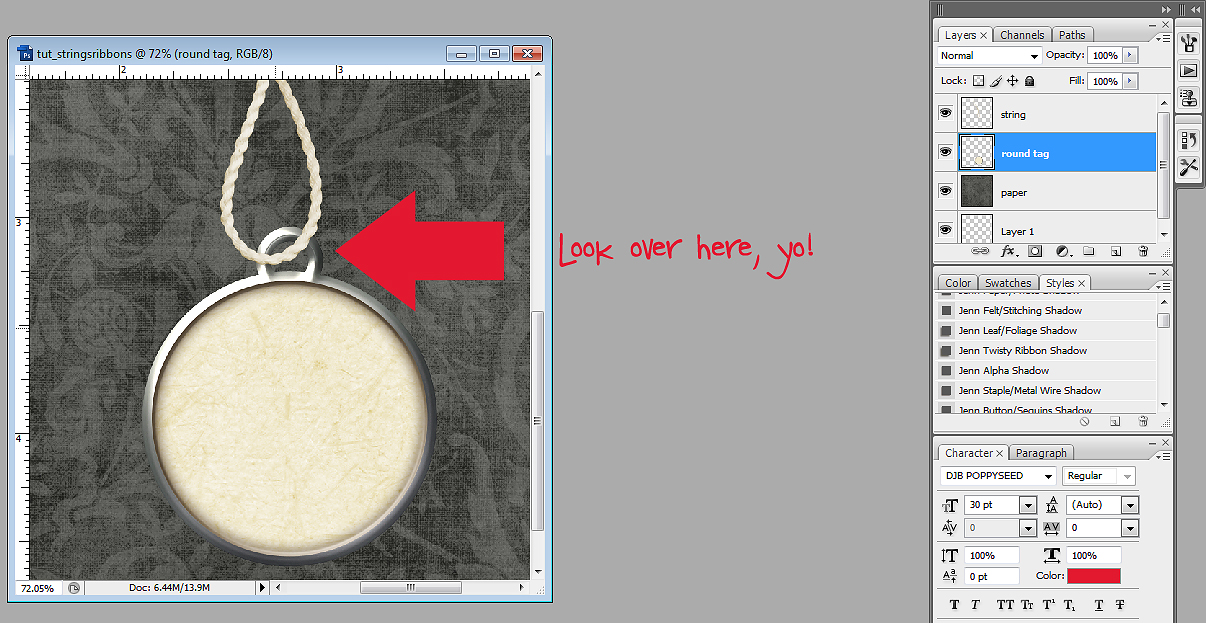 3. Holding down the CTRL button, use your mouse to click on the thumbnail of the tag layer. You'll get marching ants around your tag.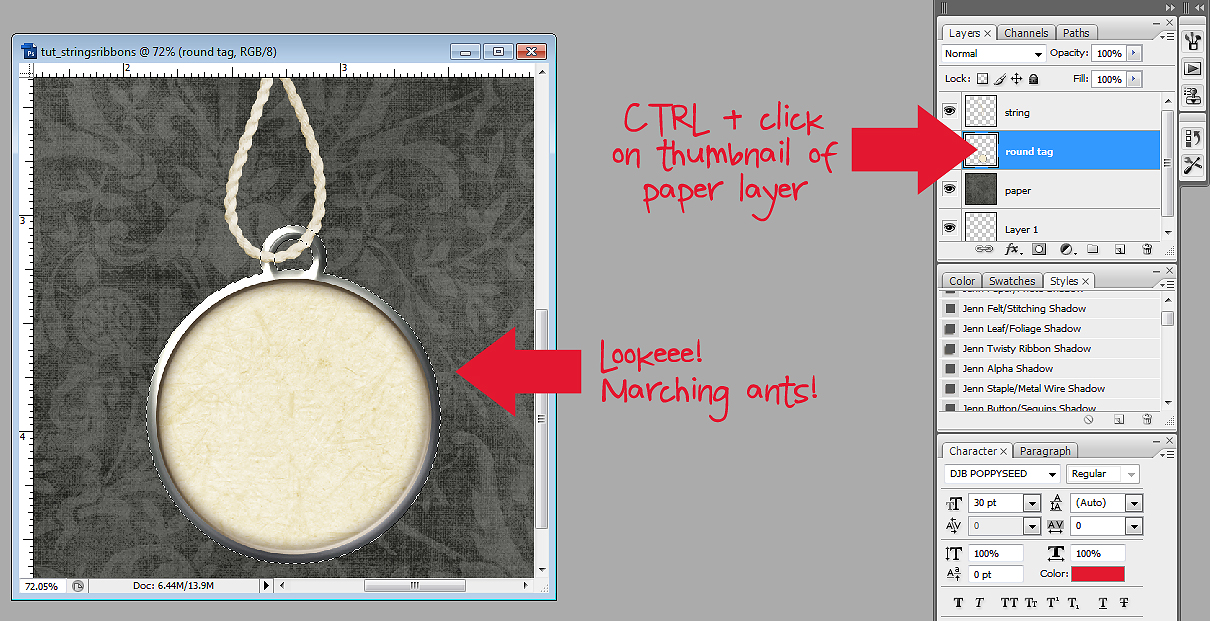 4. Go to your Eraser tool on your main palette.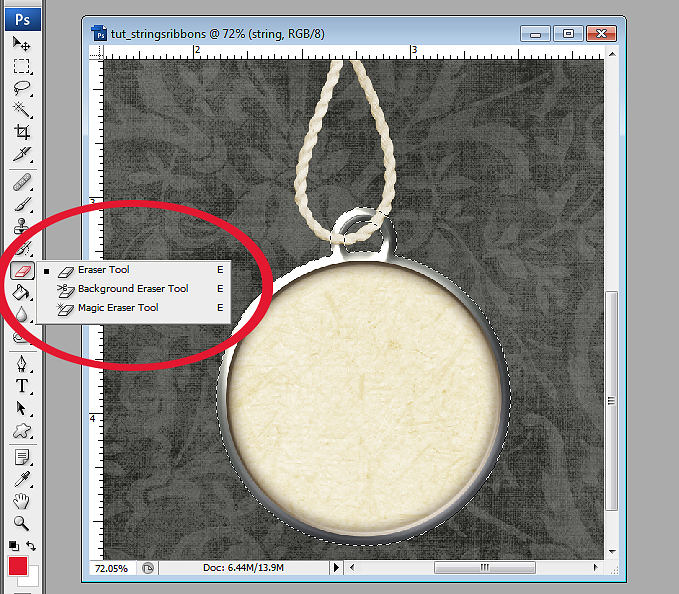 5. Highlight/make your string layer the active layer.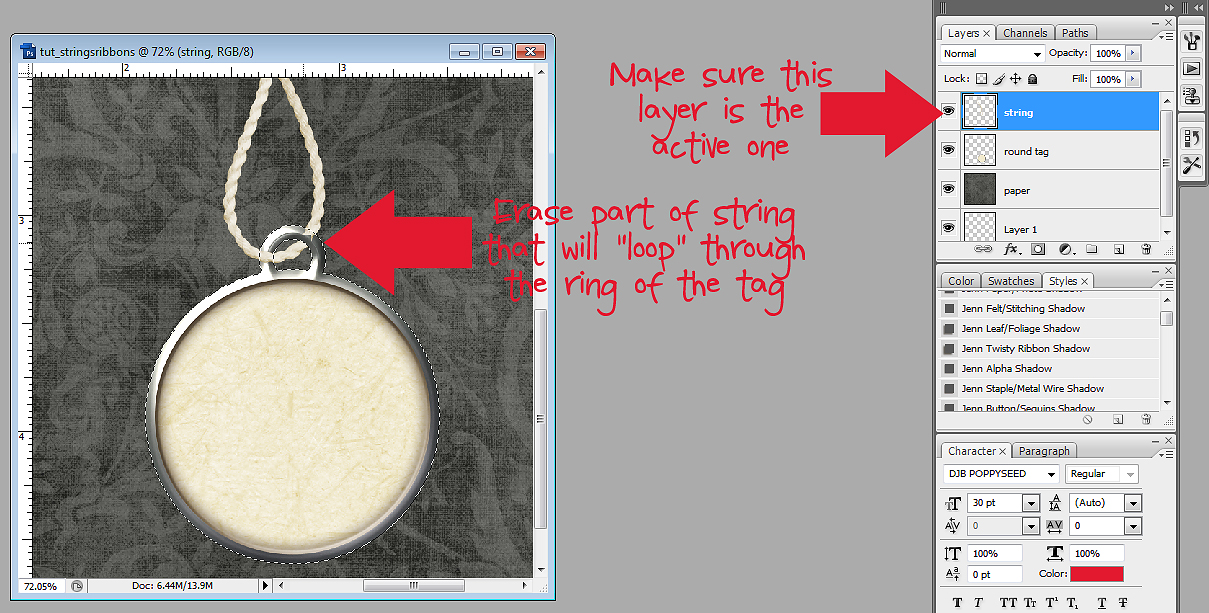 6. Using your eraser tool, erase the part of the string to make it appear it's looped through the tag's ring.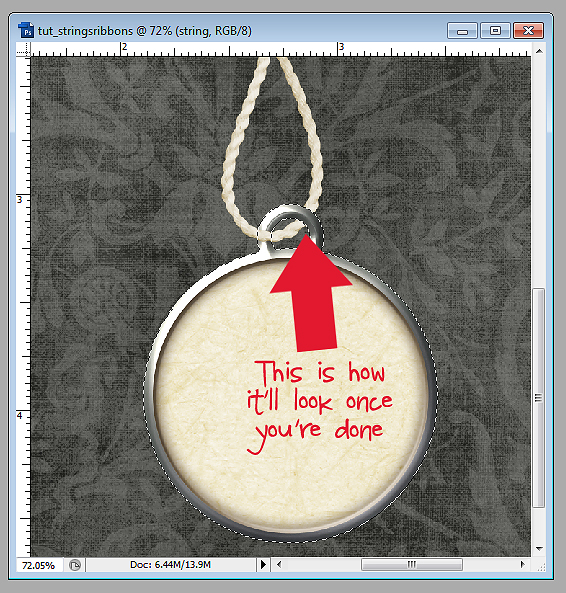 7. Press CTRL + D to deselect the tag layer and remove the marching ants.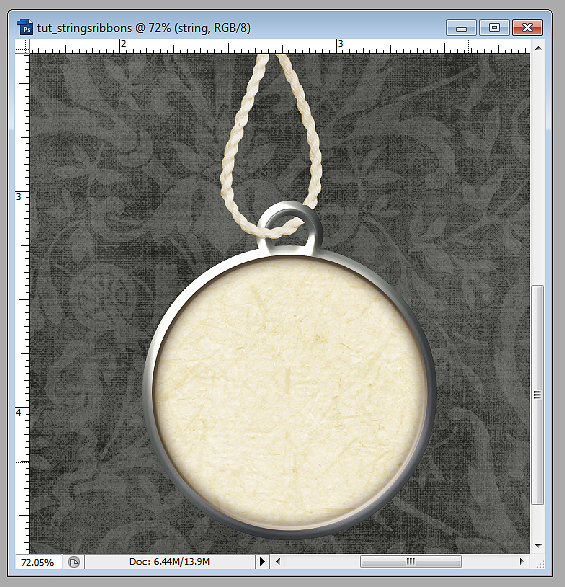 8. Zoom out and see how awesomely you threaded that string through the tag! Add a fastener, your journaling, etc.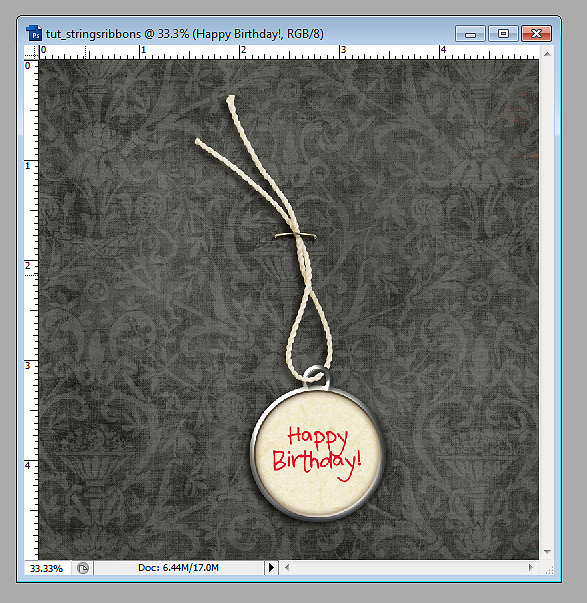 You can also use this same "selective erasing" principle when you're working with ribbons, paper clips and other fasteners where a part of it is "hidden" by the item they are fastened on.
9. Make sure your fastener is above all the other layers you plan on clipping it to.
10. CTRL + click on the thumbnail of the card layer to get the marching ants.

11. Follow the same erasing method (steps 4 to 7).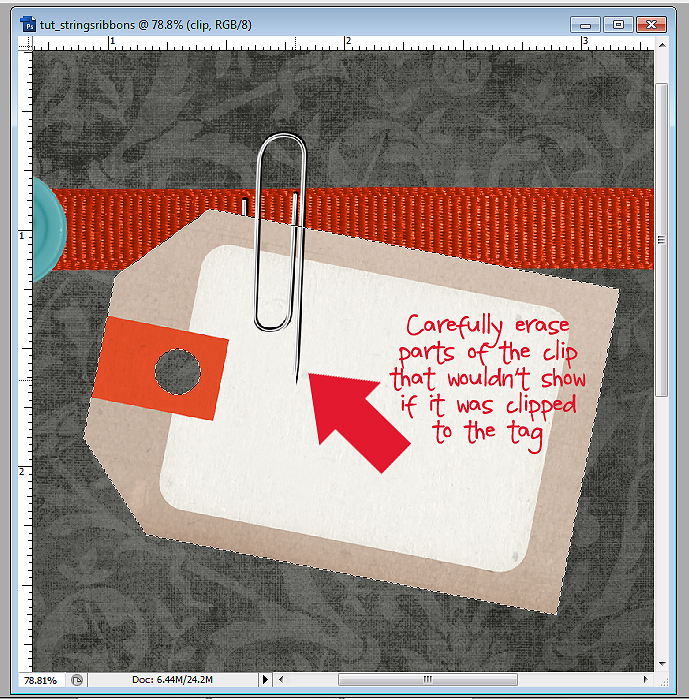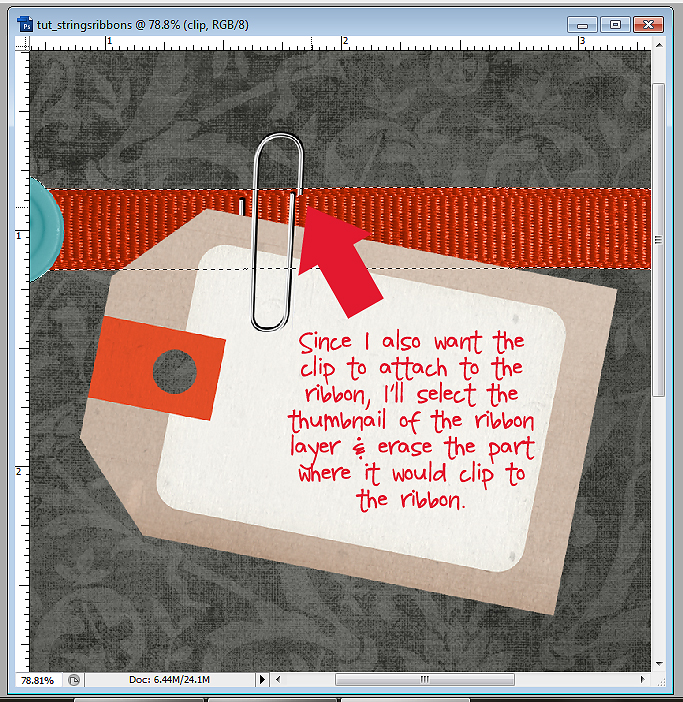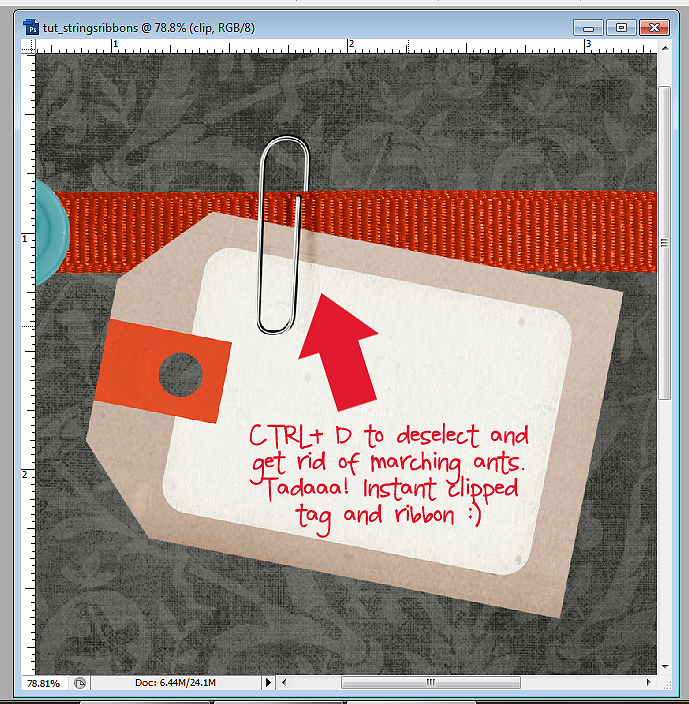 The benefit of selecting a particular layer (such as the tag layer) is that when you are erasing the parts of fasteners you don't need, there's no danger of you accidentally erasing beyond the selected area of the tag layer. You can try this method on many other things: threading strings and ribbons through tags, holes in notepaper, alphas with holes, etc. Go nuts with it! Happy scrapping!