Pocket-Style Scrapbooking: The Minimalist


Hey everyone, Kiana here and I'm back with some tips on pocket-style scrapbooking. If you're a fan of our blog then you may remember this post for one of my Tuck It Tuesdays. I wanted to adapt it for tutorials because I think there's some valuable information here for getting started with digital pocket-style pages, or assembling those big albums in a quick & easy way.
I was thinking about how we as digi-creatives & artists might want to use pocket-style in our lives: vacation albums, baby albums, big events like weddings and many of us for a digital form of P365/P52 combinations. Pocket-style pages were embraced as a simple, easy, and mostly quick way of getting your albums done. That can still be true even while I attempt to pile on element after element on my own pocket-esque pages, lol. So in this post I want to talk about 'The Minimalist', the digi-creative/artist that wants an easy & quick way to get her (or his) albums/pages done. There are some basics that you'll need to keep things as simple as you can and this will increase the speed in which you can get those pages completed. Let's get into some simple tips for quick, easy and truly minimal pocket-style pages.
---
You need a system for how your pages will look, what product(s) you will use and what photos will go into the album. Some of the questions you might ask yourself include:
Is this going to be an album for an event, like a wedding? Maybe you need to finish your last vacation album or that baby book? Perhaps you want to take on the 52 weeks of the year? Are you looking to add clusters or other embellishments on your pages too?
My advice would be to start as plain as possible – basic grids with little to no embellishments are going to be the most straightforward.
Here's a few ideas for templates that offer just that, with clean grids perfect for all the photos, some journaling and perhaps a journal card or two.
Janet has a complete 52 Weeks template set that is perfect for any of the above mentioned. With places for the week (or title) lots of journaling to tell the story and some photo and card spots this set can get you through multiple albums with different looks.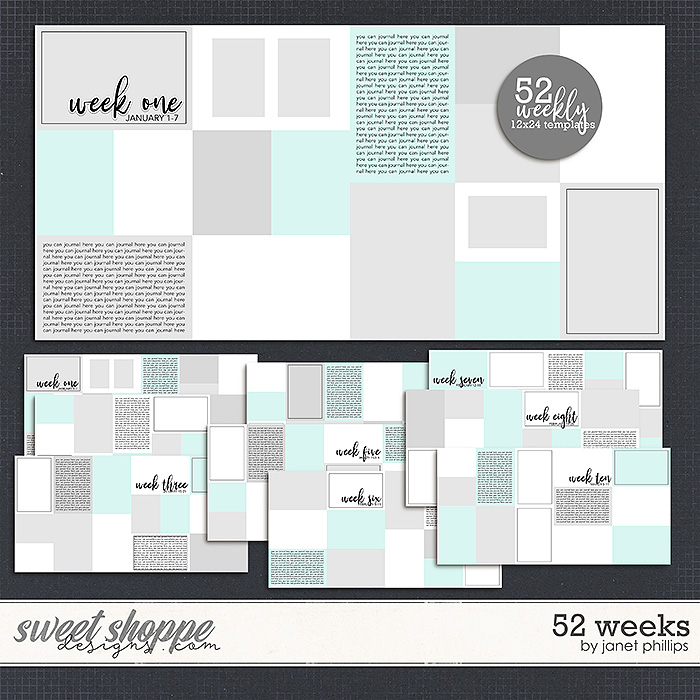 Along with those I found a few other choices like, EZ Albums from Erica, Project Temps from Amanda Yi and Stories by Kristin Cronin-Barrow – all clean & organized grid templates with no embellishments to get you started on your albums.
Maybe you like the idea of using a few embellishments, like some word art, word strips or small flowers. You can definitely incorporate those, on a small scale and used minimally these shouldn't take much longer to add to your pages and can give you that little "something extra" that we digi-creatives tend to crave on our pages.
You can even use templates that have placeholders for extra elements. By adding or subtracting from the template you can still come out with clean, minimal pages that allow the story to take center stage.
Amber of Southern Serenity Designs has some great sets and this My Life Project for January is a super cute start for those looking to add some extra to their pocket style layouts without being "over-the-top" with clusters and layers.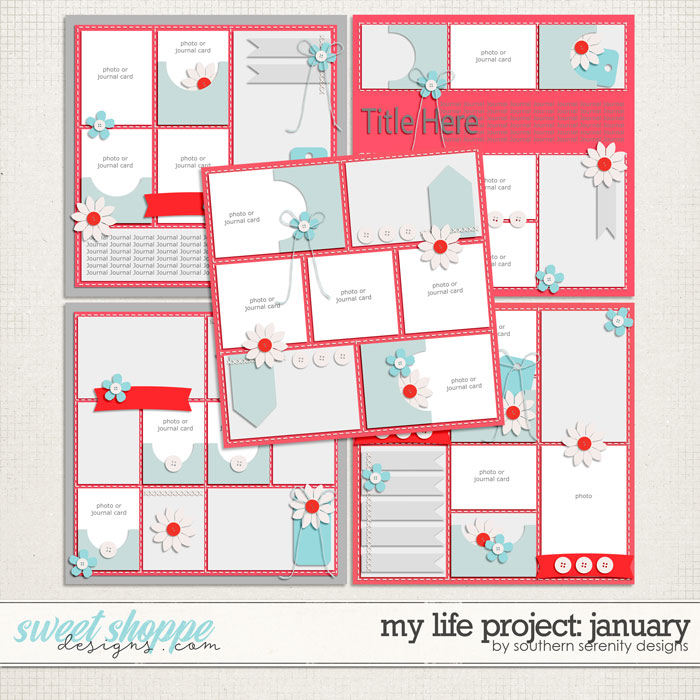 Maybe you love the look of a basic grid but you want to add a little "quirkiness" to them. Finding fun stitched grids or tilting one of the photo spots can create just enough visual appeal for the minimalist.
Or go for a more realistic look by adding digital page "protectors" on top for the plastic look to add interest to your minimal grids.
Traci Reed has some great stitched templates, 365Unscripted, for a quirky grid look that you can use as your base and then add a few embellishments for a super cool looking minimal page in your albums. Traci also has a great tutorial about shadowing acrylic & plastic here that may help some of you.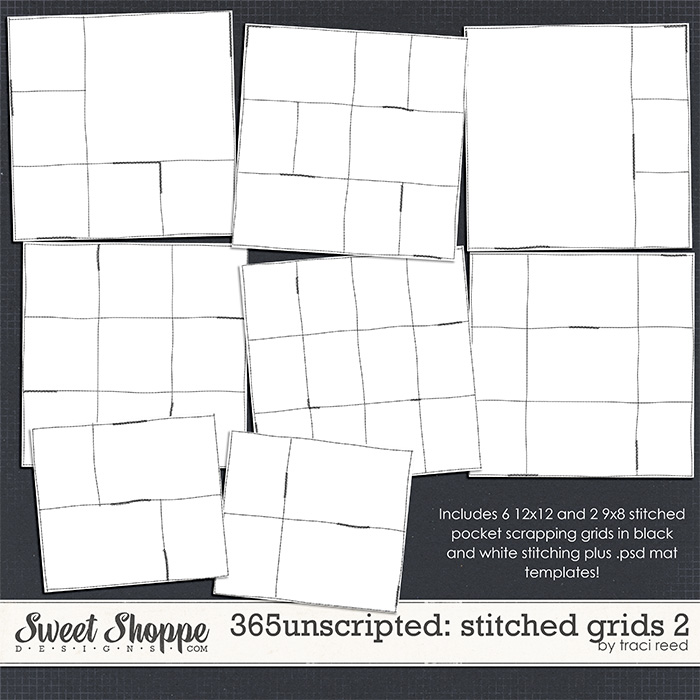 And Wendy of WendyP Designs, offers these realistic looking plastic sheets with, Pocket Letter Template. Fill these digital pockets with photos, journal cards and more; or less if you're a true minimalist.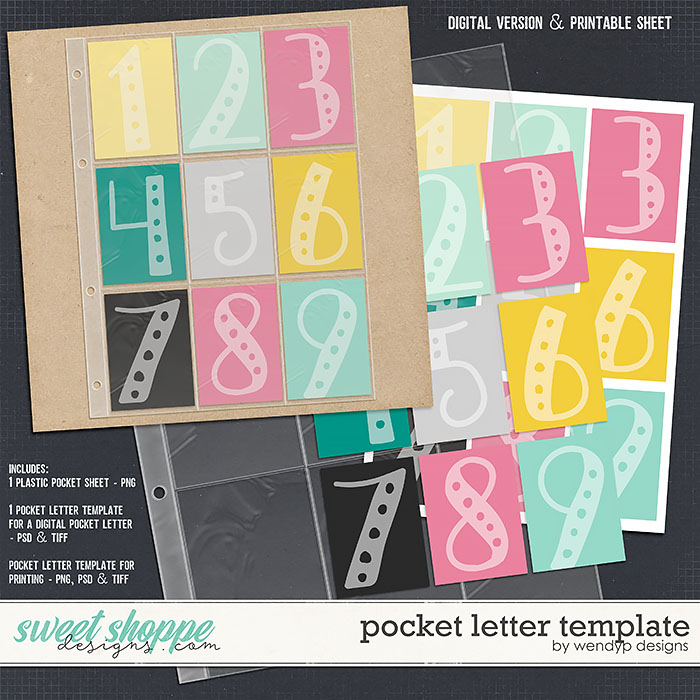 Of course maybe you just want to wing it and create your own signature grids for a weekly project or event.
If you are comfortable creating grids you could totally create 1-3 of your own premade grids for your album. Then all you have to do is plug in the photos, papers & journaling etc. every time you start a new page for your albums. *tip: start with a 12×12 blank page, line up 4 rectangles sized at 900px wide x 1200px tall, that will give you one row, then duplicate for 2 more rows
Our Sugarbabe, Krista creates the majority of her pages in pocket-style. When I asked the Babes about pocket-style pages in the forum, she said:
"You all know I love pockets. 99.9% of my layouts use the same template."
Say it isn't so….the same template? She creates some of the most gorgeous pages I've seen and while hers aren't always "minimal" they are in the basic grid design (hint: I just gave the tip on how to create your own) which is super easy to plug & play with photos, journal cards, patterned papers and journaling. See this example:
*if you remove her elements that sit on top, her page is a minimalist pocket-style page*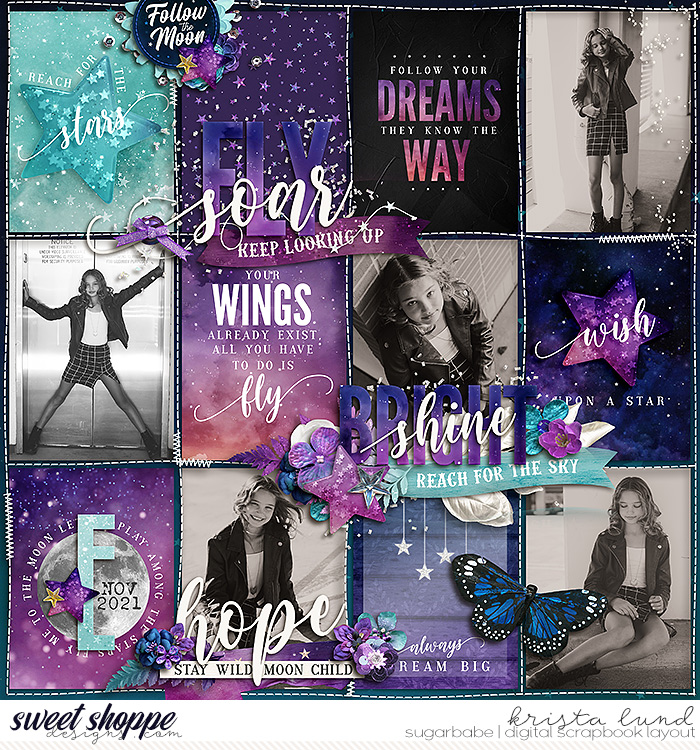 You can read some more about Krista's process and how she approaches these pages, starting with the exact template she keeps using time & time again! That speaks a lot to the versatility of pocket-style pages.
---
There are some examples of some pages I shared that use many of these more minimalist ideas on the blog post I wrote. This post should give you more inspiration I found from the gallery of minimalist pocket-style pages to get your albums done as effortless as possible.
I didn't get time then to create my own example of a minimalist pocket-style page so I wanted to record my own version using the grid that I explained above. HERE is how the page I created came together, I do explain the grid process at the beginning of the video. And you can see my page below, I restrained myself a lot because I am definitely NOT a minimalist…lol. No shocker that I wanted to pile so many more pretty things on this page. *But I'm proud of my restraint. 😉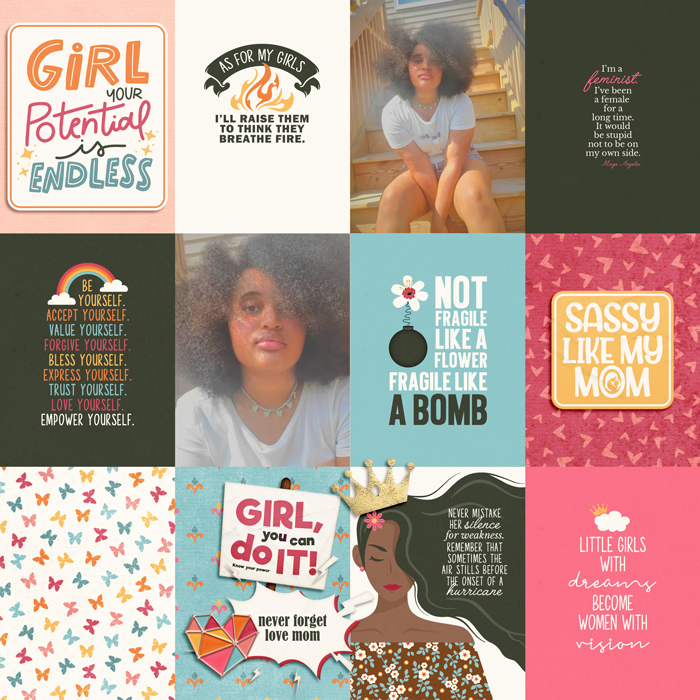 If you like my method of just using journal cards, there's a whole section in the shop of beautiful cards to get any project or theme you have started. If you have questions about anything I mentioned let me know in the forum I'm happy to help!

Supplies used: Fragile Like A Bomb Mega Bundle by LJS Designs