Scrap Like a Sugar Babe: Krista Lund
This week we continue our spotlight of the newest Sugarbabes here at Sweet Shoppe. This week we are hearing from Sugarbabe Krista, kristalund in the formus. Krista's gallery is full of gorgeous pocket style pages. Her pocket pages are not in a weekly/monthly format, but just general everyday pages done in that format.
Hi! I am Krista Lund. I am married to my high school Sweetheart and we live in Livermore, CA (about 45 min from SF) with our 3 Kiddos and dog. In addition to Digital Pocket Scrapbooking, I love photography, reality TV, brownies and coffee. As a Family, we like to hang out at the pool with Friends and travel. Today I thought that I would walk you through How I Create a Pocket Page from Start to Finish.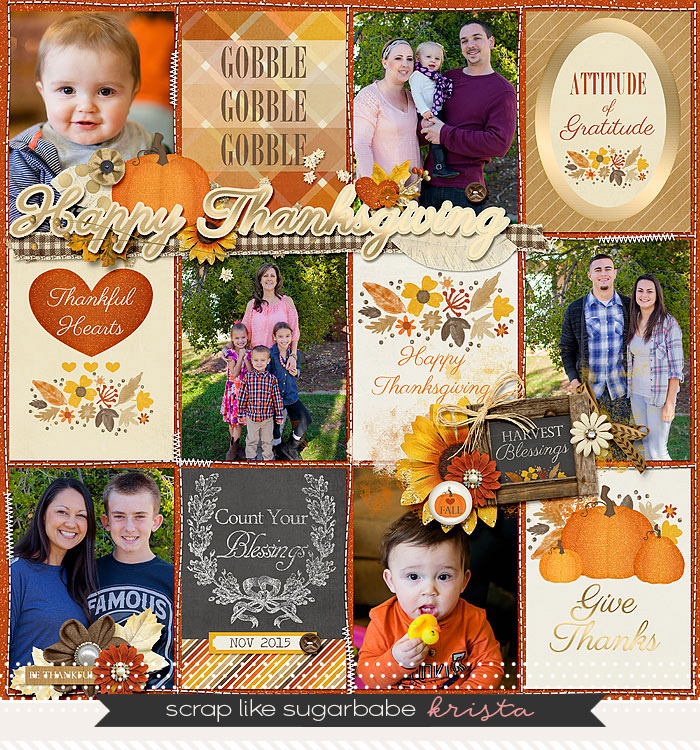 Since discovering pocket scrapbooking in 2012, I fell back in love with Scrapbooking- more specifically Digital Scrapbooking. I liked that this style of scrapbooking offered me a way to scrap
our everyday moments as well as the BIG moments! using multiple photos on one layout or double page spread. Quickly! Being a full time working mom of 3, I don't have a lot of time to scrap. Plus, I am really far behind because I take an insane amount of photos!
As this pocket type scrapbooking evolved, more and more designers made it their own and a ton of awesome products hit the market. So now not only do I continue to document our weeks using Pocket Scrapbooking, but this is how I scrap 99.9% of my layouts.
I thought I would take you through my Pocket Page design process.
It usually starts with a Kit or Collection. For this layout I am using Attitude of Gratitude Collection by Jady Day Studios. What I love about this collection is that Yari has included everything I like using in my pocket pages (and then some):
Journal Cards
Patterned Paper
Elements
Word Bits
And GLITTER!!
After downloading and unzipping the files, I open all the Folders.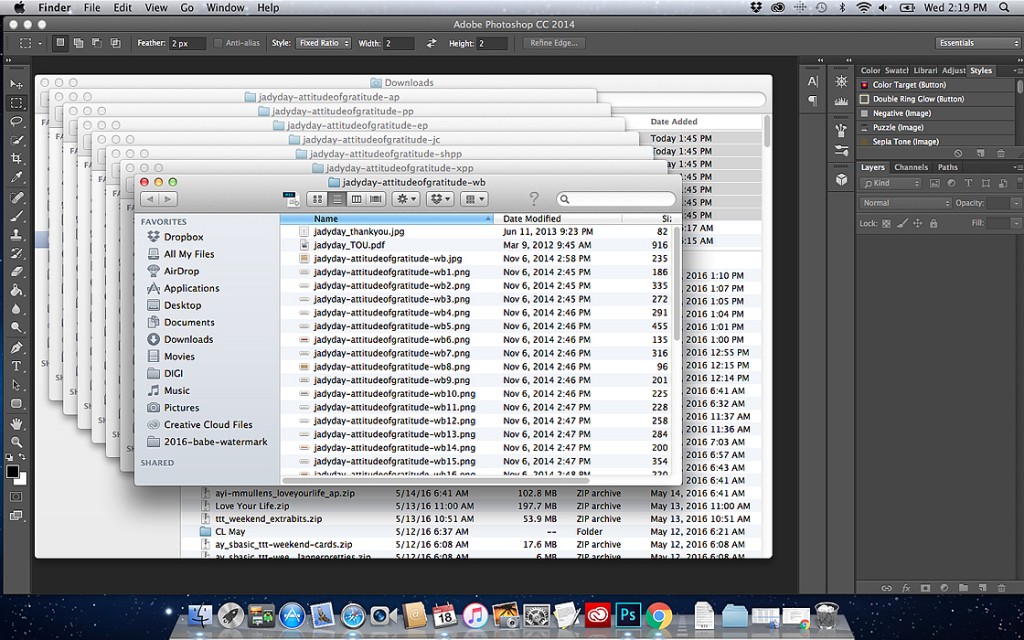 I also open the Folder where I keep all my favorite GO TO Pocket Templates. For this layout I chose to use 365Unscripted: Stitched Grids 2 by Traci Reed. I use Traci's templates on at least 75% of my pocket pages!! That is how much I love them! Since I use them so much, I created a new file within the Template Folders just for me where I added the black and white stitching layers on top of the template. I turn on the layer of the color stitching I want to use. I also added drop shadows.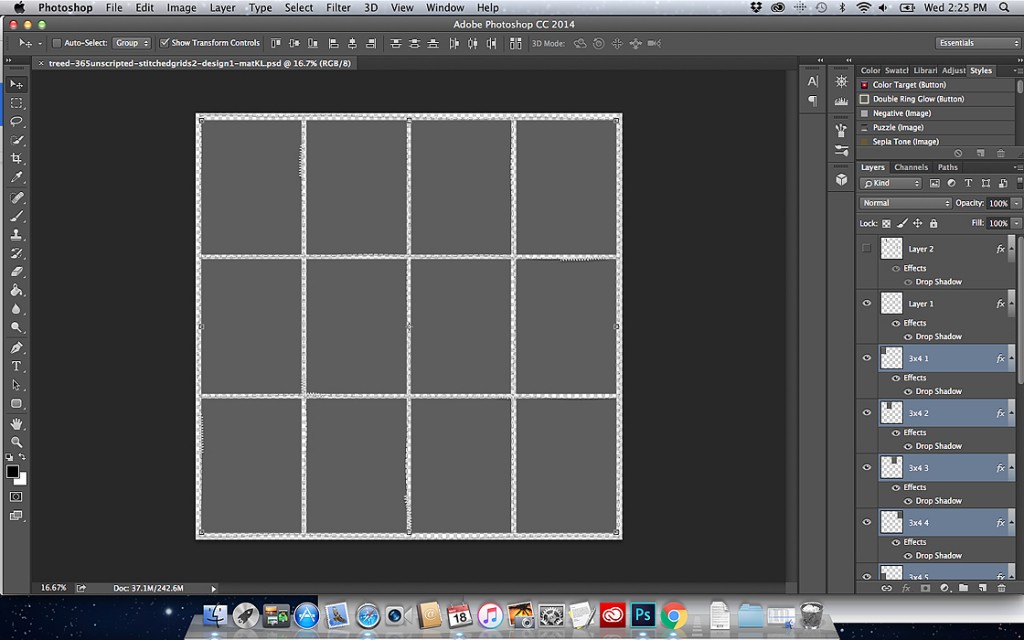 Next, I add my Journal Cards. If there are a ton of cards in the folder, I will select a few to open. If there aren't too many, like in this collection, I bring them all into Photoshop and place them into cards. Typically I just add them in the pockets using clipping masks.
My style is to usually not put Journal Cards next to one another leaving open spots for photos and patterned paper. Sometimes there are so many great cards in a kit, and I must use them all so then I will place Journal Cards next to another. Time Saver Tip: Copy the Journal Card Preview the Designer already created. I pull those Journal Cards into Photoshop and place onto a piece of patterned paper. I will then select all the Journal Card Layers and resize smaller to create a border. See this layout and kit preview here for an example.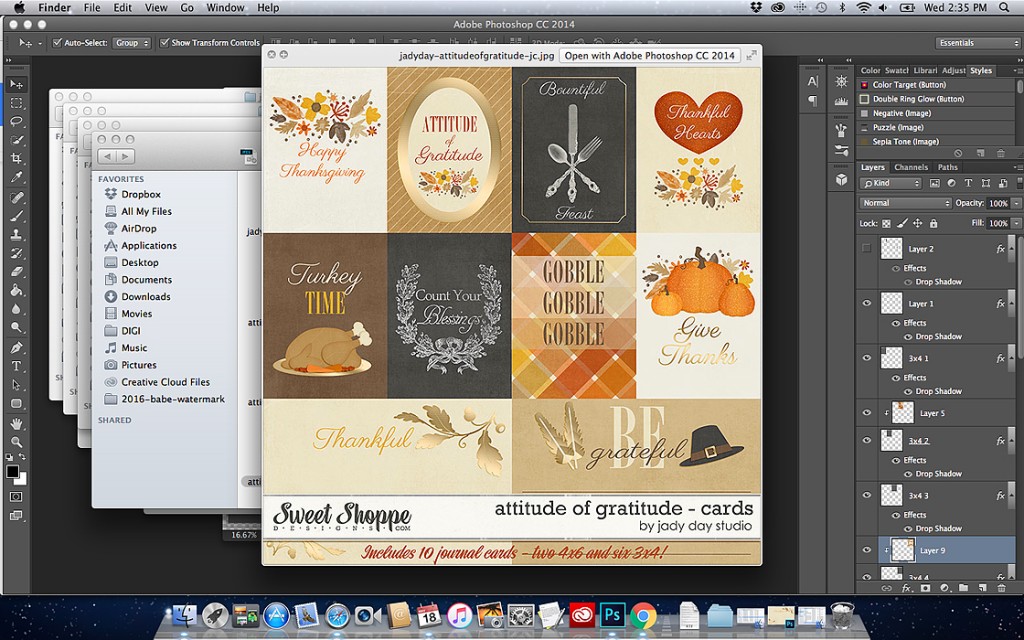 I then add my embellishments. I first select the following:
Word art, scatters and ribbon for my title
Additional Journal Cards
Washi Tape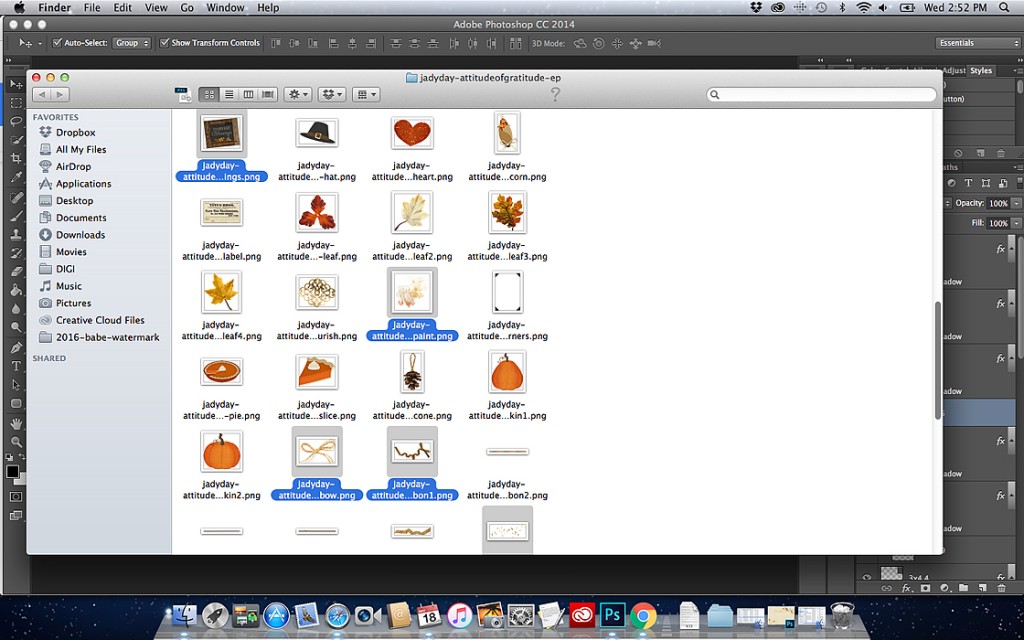 I get everything placed on my layout in the general area and layer order I want. All of these elements are placed on top of the stitching layer.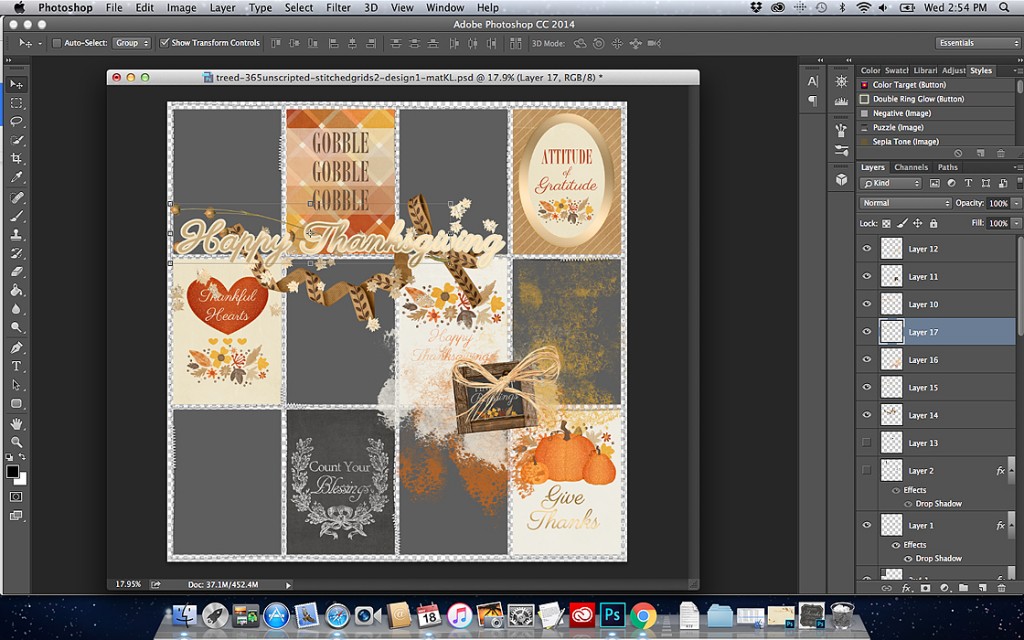 I then resize and position these layers. I typically group these elements so that they cross over multiple pockets.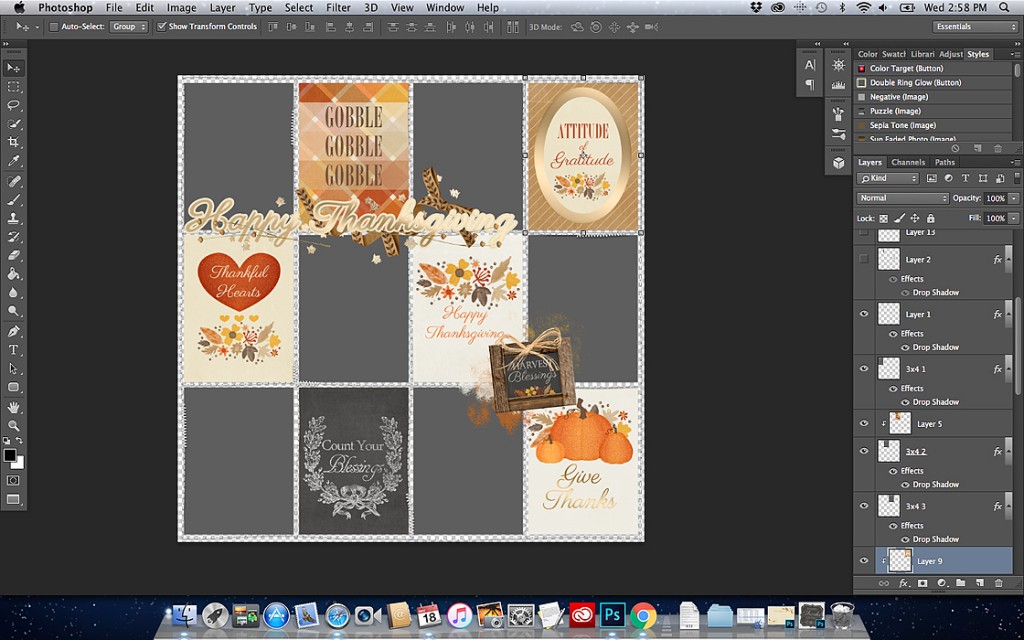 I then go back and select more embellishments. Now I am looking for anything I think is cute! I usually end up pulling in way more than I can use on a single layout, but I do try to squeeze them all in. Maybe that is why my pocket pages look cluttered. LOL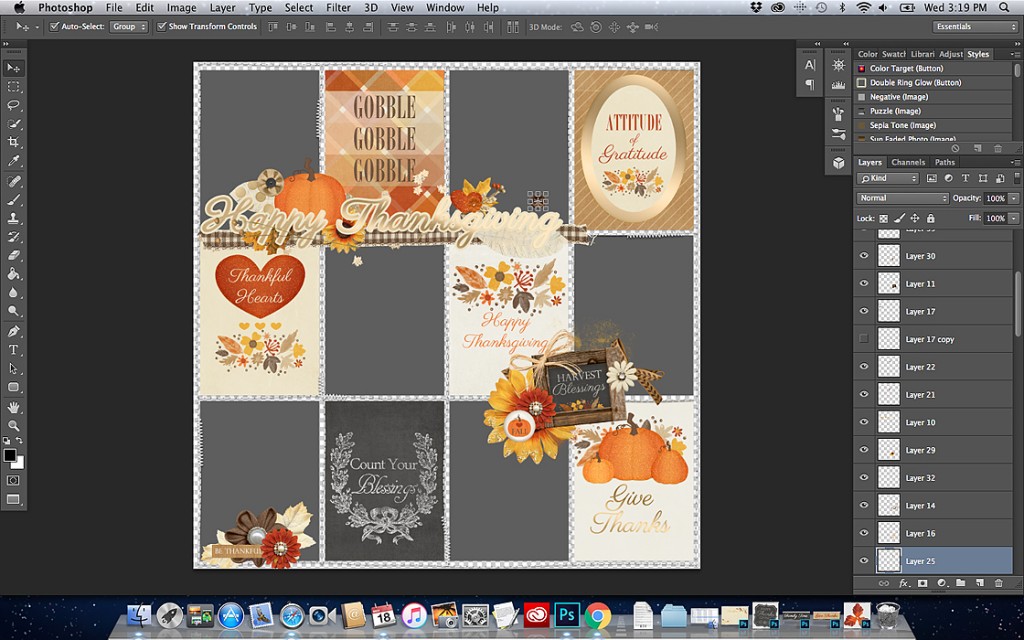 I add more cute elements to my title areas and then create a third cluster of elements to create a visual triangular shape between all 3 clusters.
Here is where I add my shadows. I use Shadow Styles because they have been done for me and all I have to do is click my mouse! When all shadows have been set, I quickly scroll through my layers in the Layers Palette to make sure all layers have a shadow.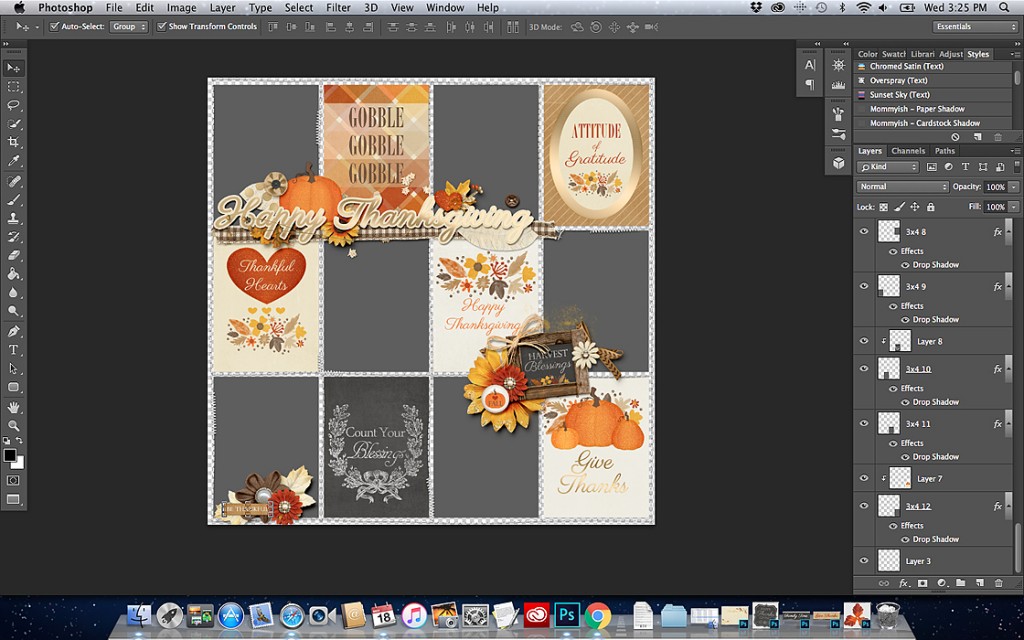 Next I pull in my photos. I use SmugMug as one of my 3 photo back up and organizational methods. I browse through all my Folders, which are set up like this:
Year > Month > Date_Event
When I have found the photos I want to use, I download them from SmugMug and drop into my pocket page.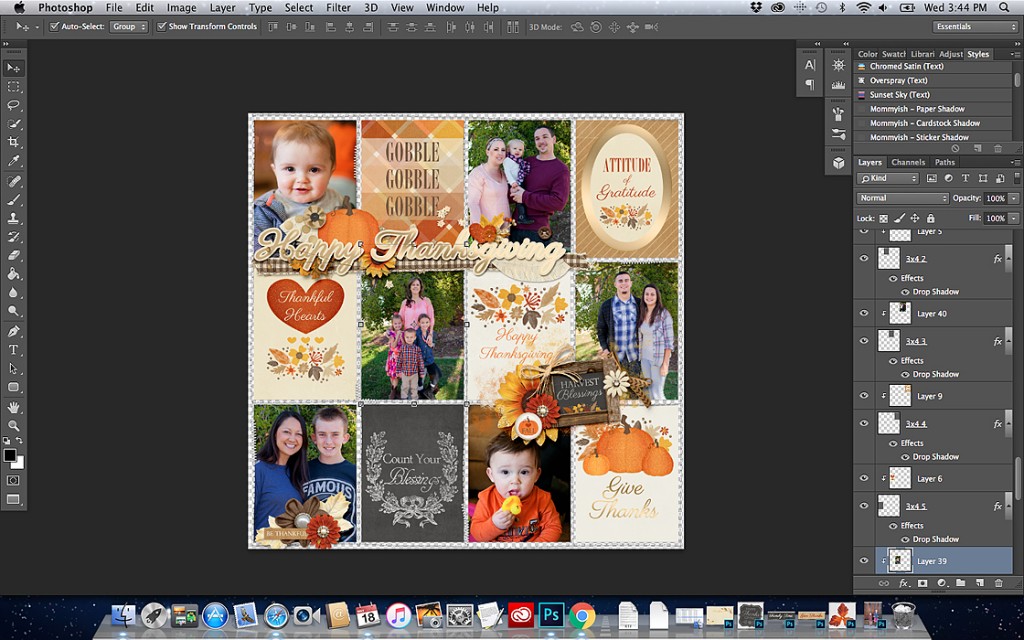 If I didn't have enough photos to fill the empty pockets here are some things I use:
More Journal Cards
Patterned Paper
Journaling
In this case, I had enough photos.
Now is the time to select my background paper. This is the one drawback about doing Pocket Pages for me. I wish there was an opportunity to use more patterned paper! But after you added the Journal Cards and Photos there usually is only room to use 2-3 pieces of patterned paper. A solution would be to use the kit again, but I hardly ever do that. I blame the Designers for always creating such wonderful kits!!!
So I select all the papers I think would look good and pull them into Photoshop. I add them one by one to the background. In this layout I have added 6 papers. I turn off or delete the layers I don't like.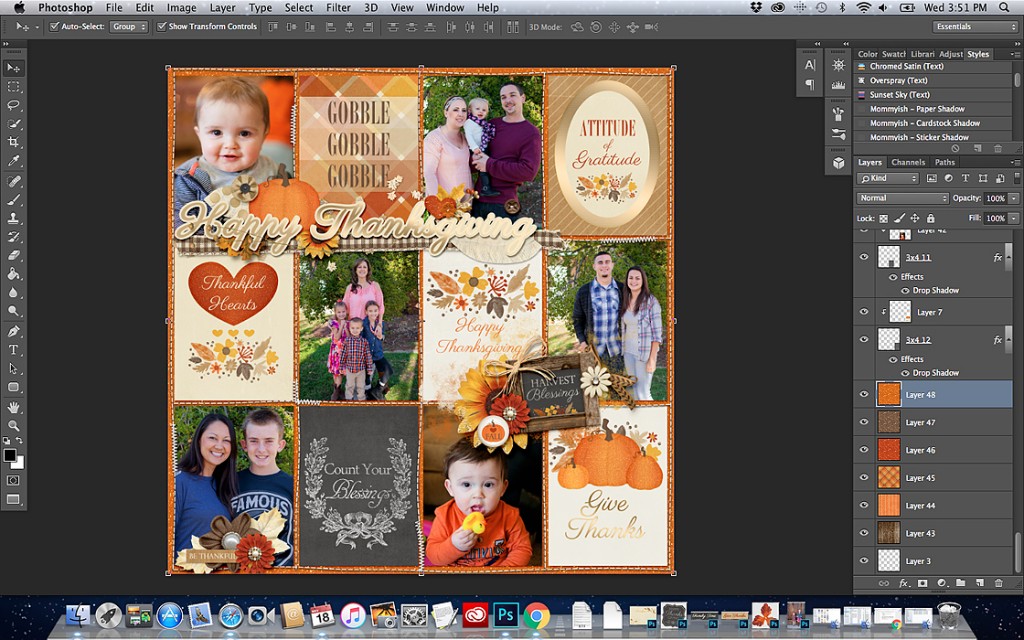 I chose the orange glitter. All layouts need a touch of glitter, right?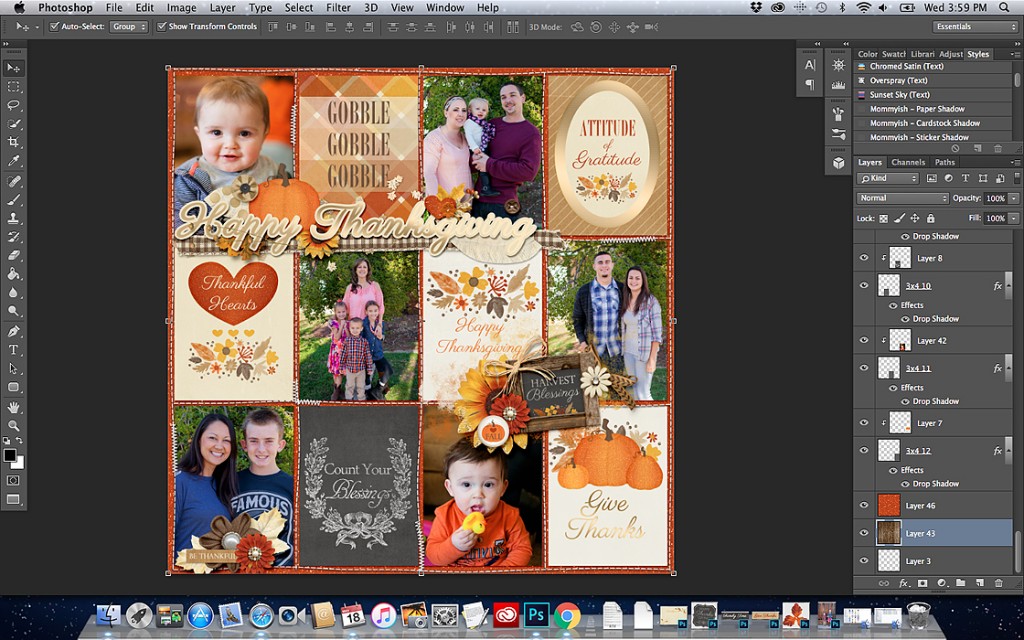 At the very least, I add the date to every layout. Journaling is important too, but since I also create Project Life pocket pages, I don't worry about journaling on every single layout.
There wasn't really a space to add a label on this layout. So I created one by moving a Journal Card up, adding patterned paper and a label.
And Done!!