Scrap Like A Sugarbabe: Heather Greenwood

Today I'd love to introduce you to Heather! Heather is not only an amazing scrapper but a wonderful person too! Her insight into her life that she provides through her scrap therapy pages inspires many of us to scrap the hard stuff as well and use our scrapping as a means to let the emotions out.  Never afraid of using color and pattern, Heather doesn't shy away from the beautiful patterned papers that are the Sweet Shoppe's trademark style!
My Claim To Fame:
Hi there, Heather here and today I'm going to share a little bit about my love for scrap therapy and patterned papers. Looking through my gallery, you'll find that I'm pretty much an open book, especially when recording the not so happy moments in my life and I'm not afraid to use big and bold papers for my backgrounds and use lots of papers on my layout.Why is scrap therapy so important:
I feel it's so important to record even the hard times, not just the good times and the fun memories, so that you can look back on them and see how much you've grown from the experience. I have a hard time keeping an actual journal but sometimes I just need to vent on paper. I thought, what better way to do that by creating a pretty scrapbook page. I know if I do journal, I end up getting distracted and like to look at pretty things, so it's kind of a combination of how my brain works and it helps me get it out and work through my feelings and also use my creativity to make it all artsy and stuff.
Heather's favorite scrap therapy pages:
Tips for scrap therapy pages:
Just start typing, let it out like you would write in your diary or journal
If there is a lesson learned, make sure to talk about it so that you can look back and see that you have grown in that area
You're probably going to cry, so a box of tissues is good to have on hand
A good scream before you start sometimes helps to get things started
It will be unnatural at first if you've never done it before… it's ok, the goal is to just start and it will start flowing the more natural it become for you
Make it nice and pretty… you can even make it hard to read too by lowering the opacity of the journaling if you don't want people to be able to read it… I did that in this layout, but not enough for people to not be able to read it, but just so it looked like the background of the layout, you can lower the opacity even more so that people really can't read it though…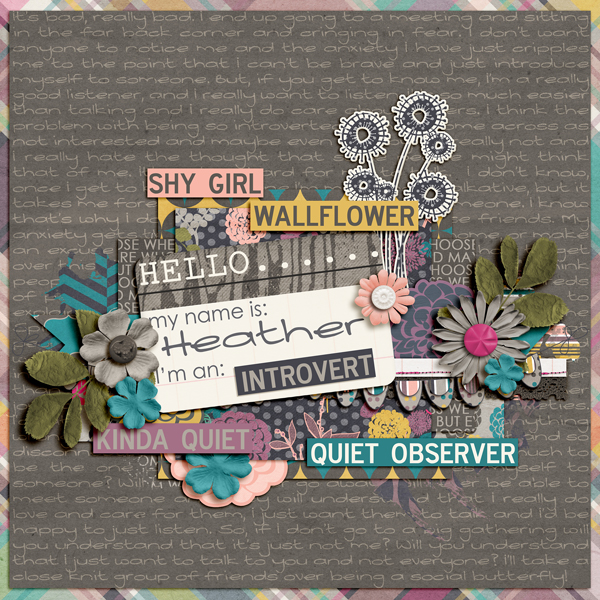 Why patterned paper inspires me:
I think it stems from my addition to fabric. I love bold, eclectic fabrics and I find that I like that on my scrapbook pages too. It's probably because it's a way of expressing myself and my loves on my pages and I'm totally an eclectic person in my style. Just like I use bold, eclectic fabrics and often a mix of several coordinated fabrics on my clothes and in my house, I like the same for my layouts. I don't really seem to stick to one particular style and like to mix styles up. I can't seem to use just one paper either. I need to use lots of paper on my pages. The more the merrier, in my opinion. I think it's this shy girl's way of expressing who she really is inside. In my head I'm a bold, eclectic and outspoken person, but the shyness keeps me from actually being that person, so my pages represent that side of me when I'm too afraid to be who I am, if that makes sense, LOL
Heather's favorite pages using patterned paper:
Tips for using patterned papers in a layout:
"Mesh" the patterned papers in the kit by making one of the multi colored papers the main paper, like a plaid or striped paper
Make a statement by using a bold patterned paper as your main background paper
Use a solid background paper and lots of snippets of patterned paper
If you're going to journal, go with one of the subtle patterned papers for the background or use journal cards for journaling on
Pile all the patterned papers on and then just tilt and slant them in several different directions or off the page
Use interesting shapes like chevron, or hexagons to make a quilt like effect for your background
Use big shapes like circles and bigger paper blocks for bigger patterns and use paper strips or smaller shapes for the smaller patterns
Use a frame to frame some papers instead of inserting photos in the frame
Only use a few elements to make the papers really stand out and show them off
Just don't be afraid, the designers work hard on creating them so let them shine!!!