Scrap Like A Sugarbabe: Alexis Aragona

Who doesn't love Lex?  She is one of the sweetest, bubbliest, most helpful Sugarbabes we have and her take on scrapping with all our lovely themey kits gets me every time! She knows how to take a kit and turn it's theme on it's head and make it work for her like it never had any other purpose but to be on her layout…she's that amazing! So let's get down to brass tacks and see just how she pulls it off!
Lex's Claim To Fame:
Hi Sweet Shoppers, Lex here to talk about how I like to scrap non-themed layouts. If you'll look at my gallery, my style is really eclectic at best–I have all kinds of pages because I fall into moods or get a crush on a particular style and want to play with it a lot.
I think one of the reasons I like non-theme scrapping so much is largely also because I don't have any children. Plenty of kits can be very kid-specific, but I've found that I can work with a lot of them by thinking about how I can adapt them to my style and stories. I usually scrap about myself, my husband, my family, and my friends.
Lex's Favorite Non-Theme Layouts:
How I Adapt Kits for Non-Theme Scrapping:
1. Sometimes I am attracted to a single paper or even an element. In the case of this layout using Traci's
Weird Science
, it was these different colored rings. I knew I wanted to highlight them so I opted for a white background. Then I saw the nuclear symbol in the kit and thought of the  idiom "going nuclear" and that helped me with the topic of my page.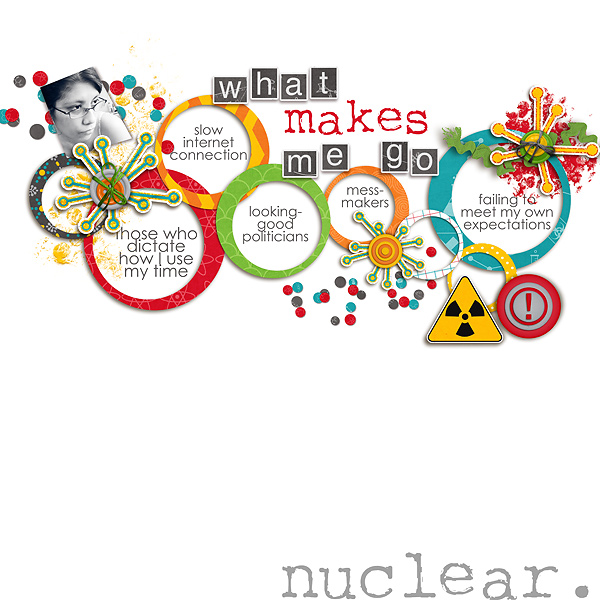 2. What also works is if I'm able to think of a metaphor/idiom that can work with the theme. Here, I obviously want to point out how much I notice my husband. In the second layout (using Libby's retired 7-10 Split kit), I just wanted to express how I still get a thrill when he smiles at me.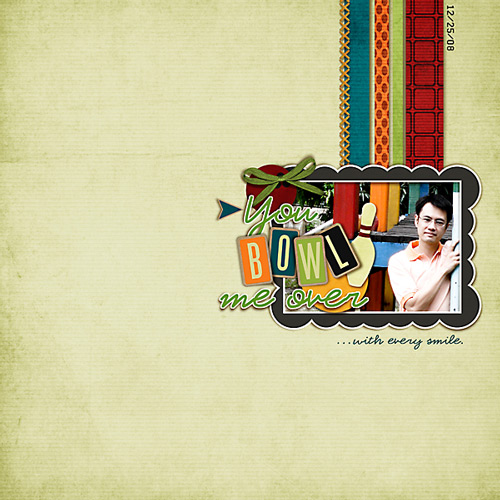 3. One of the reasons I love the designers here is that with themed kits, they also add in enough "regular" elements and papers that I always have plenty to play with. Traci's 
B Tru 2 Ur School
 is a gorgeous color palette and even with the tons of school-theme elements, she also had lots of flowers, tags, buttons, and papers that I could make a non-theme layout.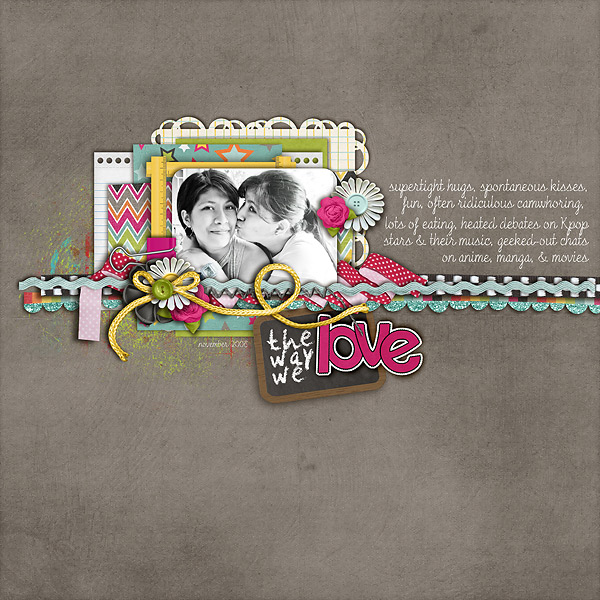 4. Other times, I will love a themed kit so much I won't really care and just chuck even the themiest elements into my layout (see one of my favorite non-theme layouts, above). I love Kristin's 
Deck The Halls: Chic
 for its palette and beautiful touches like the white berries and snowflakes. I wanted them in my layout, even though my story isn't about Christmas at all. I compromised and put in a photo that had snow in the distance (haha!), but even if all I had was a photo with a white background, I still would've played with this kit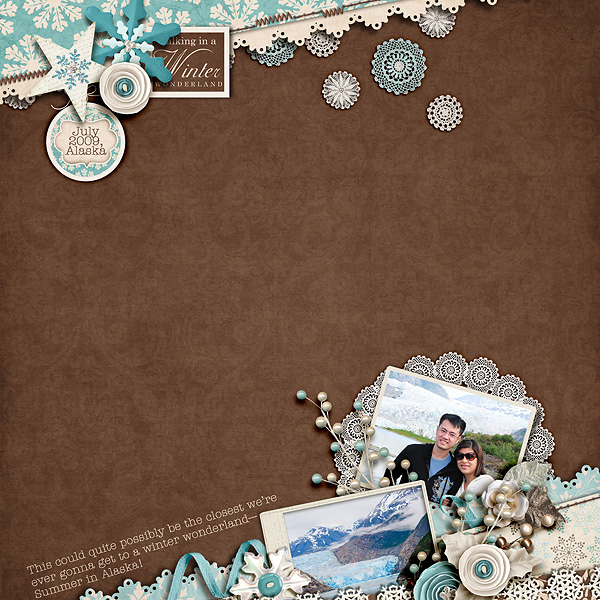 Other Tips and Tricks for Non-Theme Scrapping:
1. Don't be afraid to mix and match–on the rare occasions I want to supplement what's in a kit, I'll use an element pack or two.
2. Open your mind to various possibilities. I used Traci and Meghan's
Ruffled Feathers
kit to describe a hilarious conversation with my husband that had nothing to do with Angry Birds! But I did use that phrase to describe myself, lol. Sometimes even the themiest kits can work with whatever stories you have.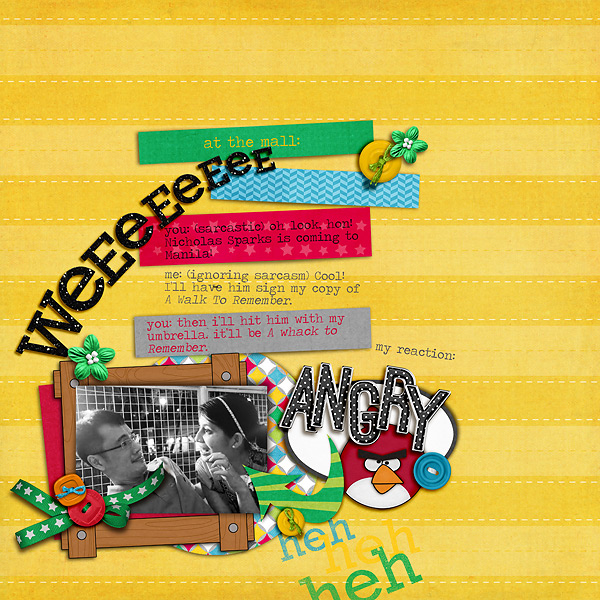 3. Refuse to limit yourself. If you believe that the possibilities are endless, they really are! I've used boyish kits to scrap about my sister; I made a layout of my brother with a kit that had touches of pink. I scrapbook for myself, and my loved ones are so happy to see their pages and know the impact they have on my life. I'm sure your family feels the same way too, so don't let perceived limitations prevent you from playing with themed kits if you really, really love them