Scrap Like A Sugarbabe: Tronesia Derrico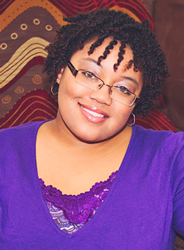 About Tronesia:
I am from Central Alabama  known to some as the place where "Roll Tide country" exists. Alabama is big on football, religion and eating good food…lol! My family has recently relocated to Wisonsin and I am still trying to get used to the cold weather. I have one daughter, Aida, whom will be turning 5 years old in a couple of months. I have been with significant other for 7 years and he has been along for this fun journey of mine into the world of scrapbooking.  I started scrapbooking when I was pregnant with my daughter. I made one traditional album and very soon figured that it was not the thing for me.
My Claim To Fame:
To be honest, I have no idea what to call my style of scrapping. Traditional, clean, modern and vintage would be the words I would use to describe what I try to achieve in my pages.  I have tried quite a few things over the years I have been scrapping. Some have stayed with me and some I just do not even try because they are not my strong point. I do know there are a few things I always try use on every page and tend to get comments or questions about them.
Shadows:
Back in January of 2009, I got on a mission to learn how to shadow the items better on my layouts. I like my pages to look realistic. For example, if a paper mat is flat against a background, I would add elements above it only. If I want elements stacked upon each other, I will alter my shadow settings so that the distance of the element on top is increased. This way it will look like it is sitting further away from the page. The best way to learn shadows is to experiment with your settings. My favorite things to shadow are ribbons…ribbons and buttons and flowers.
Photos:
Photography is my second love next to scrapbooking. I try to keep my edits as clean as possible. Every now and then I will add a more noticeable photo treatment; it is very rare. My reason is that I want my pages to be timeless. When I am 85 and looking back at my albums, I do not want to regret all of the processing I have done on my photos. I want to see my child, my family…whomever is in it..without distraction from the moment that was captured. Nice fresh color and I let the elements and papers of the kit do all of the fun stuff.

Element Placement & Size:
I do not like placing elements on my photos…this is another rare thing for me. I try to make sure my page focuses on the photo and the story. If I add flowers, clusters or whatever near my photos, I am very careful with the proportion. Big flowers means a bigger photo on the page.
Journaling:
I did not journal a lot in the beginning, but now I have to have it. For me, if I leave out the journaling, it is like I am only telling half of the story. Even if it is just one or two sentences, or a list, I will include the story.
Here are a few of my favorite pages: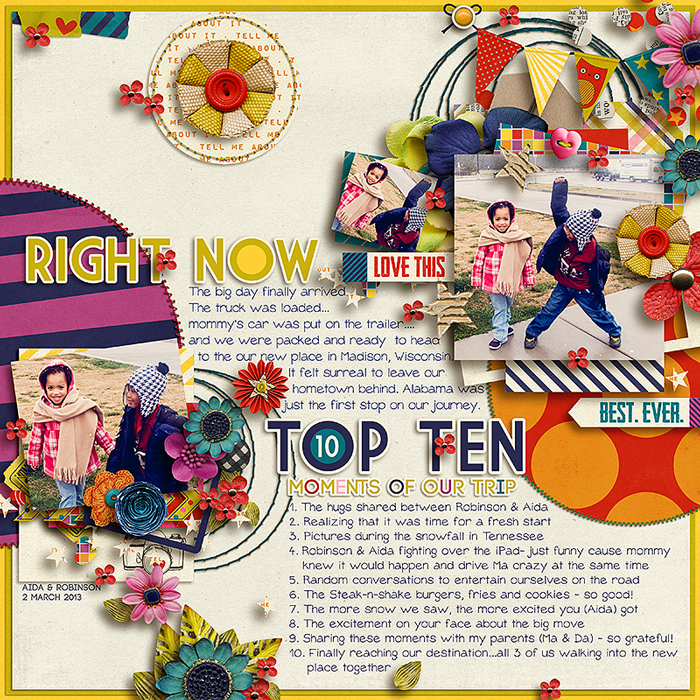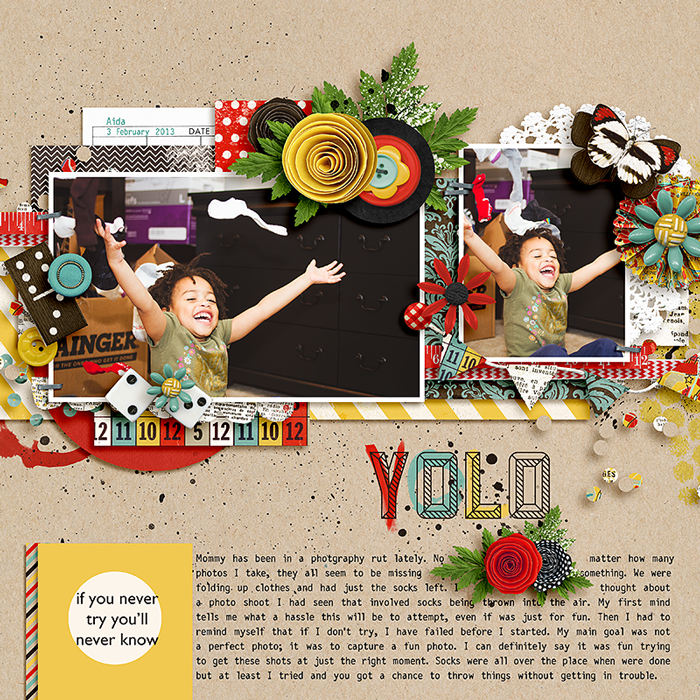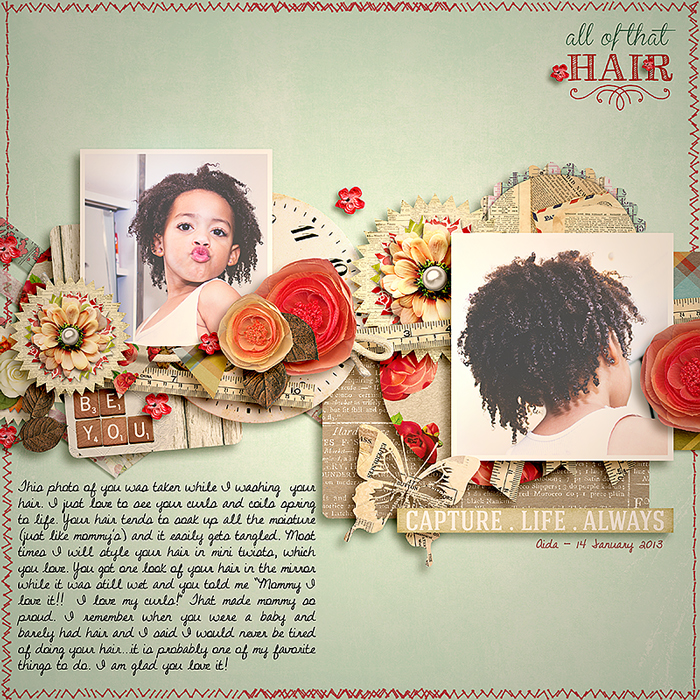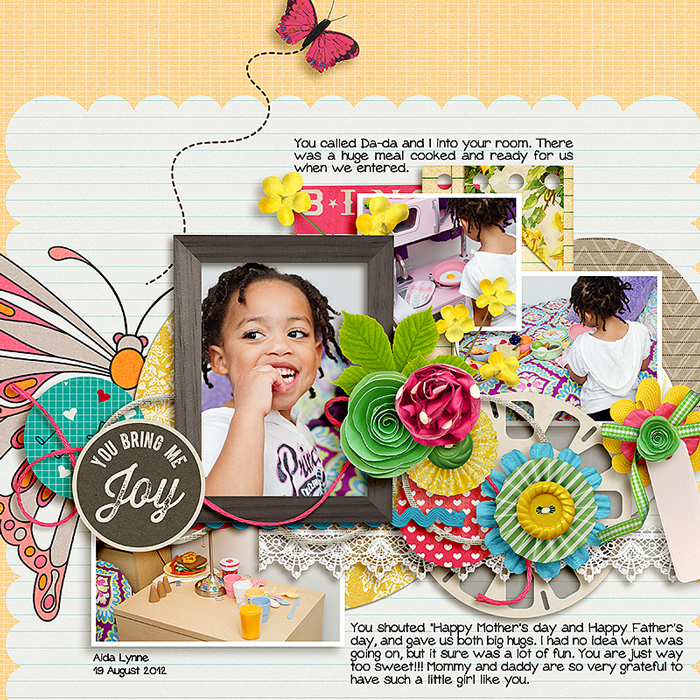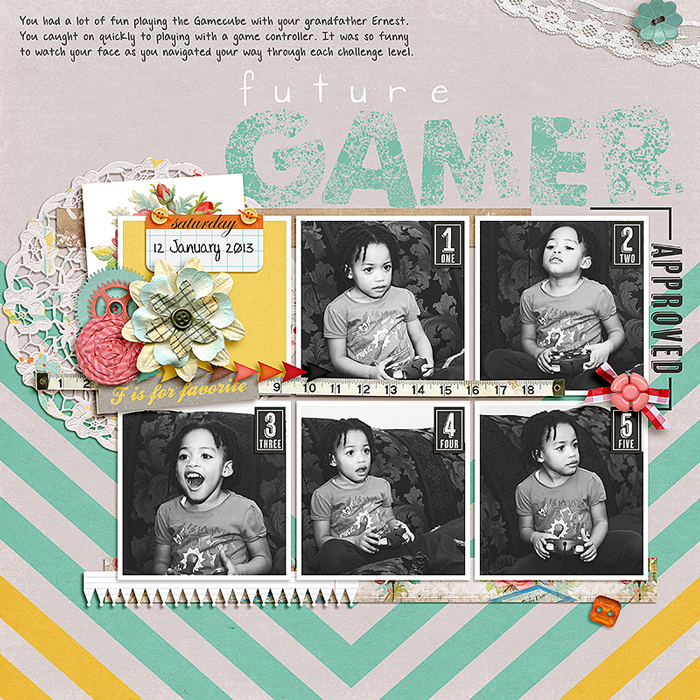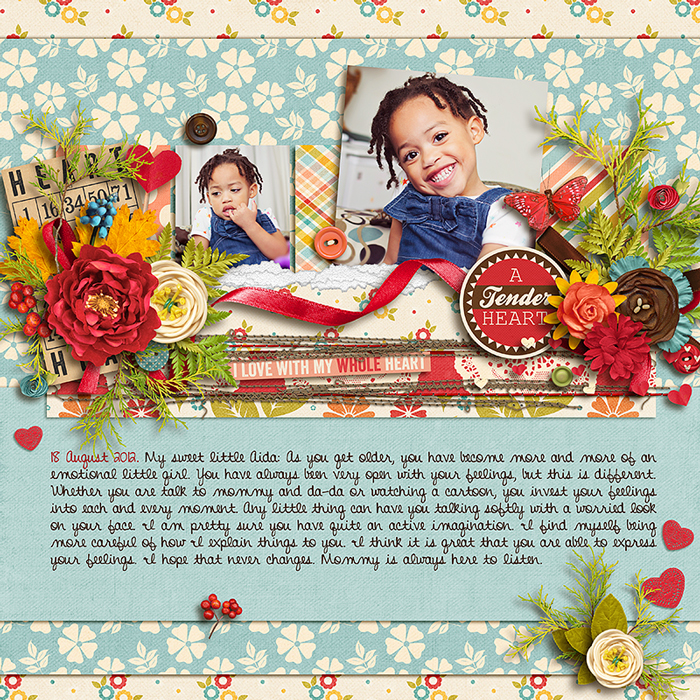 So that is a little peek into how I scrap. The one thing I always try to remember: scrap for family and myself first. If that is the main objective, the finished product cannot be anything but wonderful and full of precious memories.