Paper Scrappers and Digital Supplies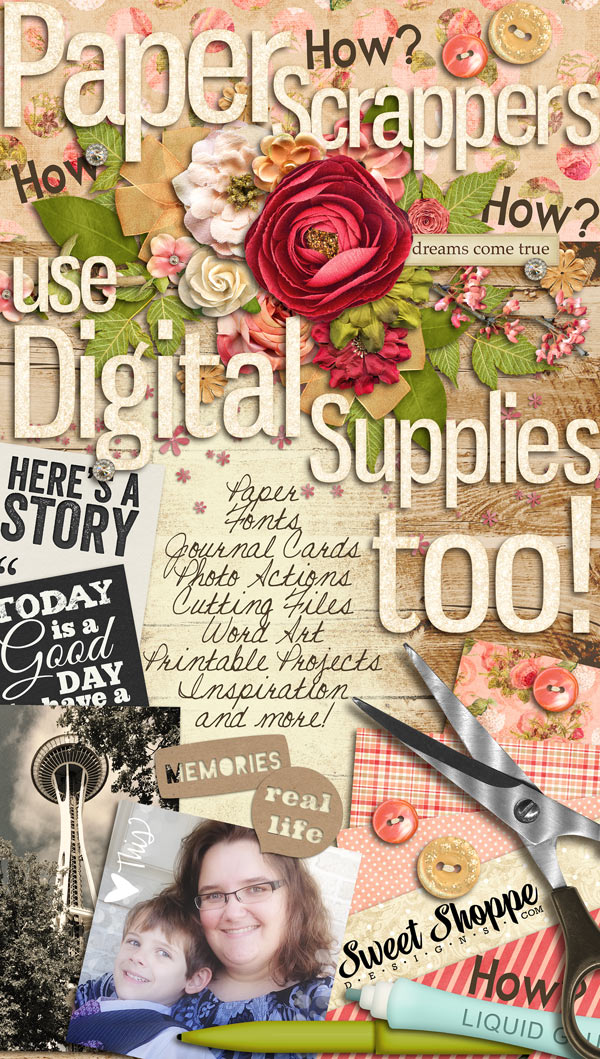 Hello, Paper Scrappers!! Welcome to Sweet Shoppe Designs, the home of the finest quality digital scrapbooking supplies on the web!
Wait . . . you aren't in the wrong spot . . . and no, I'm not here to convince you to come over to the dark side of digital scrapbooking. *insert scary laugh* 😉 From scrapper to scrapper, I want to make sure you aren't missing out on an AWESOME resource. From editing your photos, to incorporating your own handwriting into a font, to resizing and printing endless amounts of an papers and elements, digital scrapbooking supplies have you covered. If you create scrapbook layouts or participate in Project Life, digital items are an affordable and accessible option to really get the most out of your scrapbooking budget. 
Unlike the traditional brick and mortar stores, digital scrapbooking stores are open 27/4, 365 days a year! How many times have you been working on a layout late at night and have run out of a certain paper or letters for a title? With digital, you can hop over to the computer, search for what you need, click purchase, and within minutes, it is on your computer ready to be printed. You don't have to stop working on your page to run out to the store or to wait for an item to be shipped to you from on-line store! Another perk of digital, is the ability to modify. Is the color of the letter not the right shade of blue to match the paper? Or, is the flower cluster a little too small? By using photo editing software, you can easily change the color or resize any digital item. Need another sheet of paper or a pattern that is expertly designed to match? Just print it out!! You can print as many copies* as your heart desires! (*Personal used only.)
You say you can't print at home?  You can find very reasonable printing prices at your local print shops, Costco/Sam's Club, or at online stores, such as Persickety Prints, which many of our community members use for photos and printing of their journal cards.
This article is just touching the surface of how paper scrappers can use digital supplies. Please keep your eyes out over the next few months for additional posts by the Sweet Shoppe Designs' staff on more tips and tutorials on a few of these topics in the Tutorial section of our blog.
1. Paper
One thing is for sure in the digital world, there is no shortage of stunning papers! And, one thing I have carried over from my paper scrapping days is the love . . . and hording . . . of fabulous papers! Now, I don't need to horde it! I can print and print as many papers I would like for my projects. Most of us don't have access to 12×12 printers, so you can send the jpeg to a print place, like Persickety Prints, or you can print on standard sized paper and use these fabulous papers as mats, tear out strips, or punch shapes to help enhance the page's design. See a pattern that you love but wish it was smaller? Resize the paper to create an all new look or print t on different types of papers, such as textured card stock, vellum, or fabric. There are so many options for just once piece of digital paper.  For information on basic paper for printing, click here.
2. Fonts
The right font can really make your page shine! Many of us love to use our own handwriting to really personalize our pages. Did you know that you can have your handwriting turned into a font (see Custom Font Service)? What a time saver to be able to type out your journaling in a word processing program and then printing it out for your layout! We even have text paths, where your can use photo editing software (such as Adobe Photoshop Elements), quickly select your font, and type out your journaling in the shape (see Text Paths in the store). For those of us who may not care for our own handwriting, Sweet Shoppe Designs has a huge selection of handwriting fonts . . . even kids' fonts! And, these fonts can be used in  word processing, presentation, and spreadsheet programs and in popular photo apps for your smartphones, such as Over and Phonto.
3. Journal Cards and Project Life
One of the hottest trends for documenting life is using the Project Life method. Sweet Shoppe Designs has you covered with beautiful journal and filler cards in 3″x4″ and 4″x6: sizes (see the Project Everyday category in the store).  You can print the pre-designed journal cards as you need them and then you don't need to store stacks of cards that you might never use! Another wonderful use of journaling cards are writing out your story, and then storing it with your photos that are waiting to be scrapped, so you don't forget the important details of the event.
4. Unlimited Supplies
I've touched on this topic in the "perks" of digital products . . . the unlimited supplies. I know many of us paper scrappers have had this happen . . . it is late at night, we are in the scrapping groove, laying out the title of the page, only to find out we are out of the letter "a!"  Doh! I could either stop what I'm scrapping and wait until the store opens in the morning, or I could order online and wait days for it to be delivered to my house. If I'm working with digital alphabets, I can print out a whole sheet of the "a" I need!!  Score! And, this is true with any digital element and paper: flowers, frames, word art, journal cards, and sticker elements. Once you see the potential of digital, you won't look at a frame the same way again!
5. Photo Actions and Styles
Raise your hand if you have more photo apps on your phone than you have contacts in your address book? Haha. Even if you don't have a smartphone or you still prefer to edit your photos with cool actions and styles on the computer, Sweet Shoppe Designs has a wide selection of stunning effects. With photo editing software, these actions and styles are easy to use, and you will see quickly how your photos can shine! Once you have edited your photos, you can send them to print wherever you normally print (see Photography Actions and Photo Editing Tools in the store).
6. Cutting Files
One of the new tools that has revolutionized the scrapping industry has been electronic cutting machines that uses the AI, SVG, DXF, and JPEG formats. We have a number of element packages available for purchase to be used in these machines (see Cutting Files in the store). Plus, if you are familiar with your cutting machine, elements and alphabets in the store can be easily cut out in minutes, no need to get those scissors out! Even if you don't have a cutting machine, there are shape templates that you can cut out and used as templates for paper or photos (see Shape Templates in the store).
7. Themes
Here at Sweet Shoppe Designs, we have an extremely talented group of digital scrapbook designers, each with a style all their own. You will find something that fits your layout perfectly! The search function in the store will allow you to be able to search for any topic or theme you are scrapping. Can't find what you are looking for? Our outgoing and friendly community will be more than happy to provide you kit suggestions (see Digital Scrap Kits in the store, and stop by our Forum to ask for suggestions)!
8. Word Art
Word art can make a page go from great to fabulous! The majority of the digital kits in the store have word art for the theme included. If you want a totally unique and customized look for your pages, we have many element and word art templates that you can edit in photo editing software. Clip papers or fill in color from the color wheel in the photo editing software, print, and you have a one of a kind word art for your layout (see Element and Word Art Templates).
9. Printable Projects
Outside of journal cards, we have a lot of printable projects for layouts or quick gifts. You'll find calendars, pre-decorated pages (just add photos and print), home decor, learning games and aids, and gift packages. Some of these projects come already decorated, and all you have to do is print and assemble. Or, use them as a template with your own papers (or, may I suggest, printed digital papers), cut, and decorate (see Printable Projects).
10. Ideas
Every now and then, paper and digi scrappers alike, could all use a bit of inspiration, right? Maybe it's a subject for a page, or a cool trend to try. Sweet Shoppe Designs is known for its innovative challenges and ideas. Our galleries are filled with beautiful pages and we have idea books in the store that will help inspire all scrappers, no matter the medium (see FREE Idea Books and  Simply Sweet Magazine)!
Do you have additional questions or need more ideas?  Here is a list of other links we think you might find interesting:
I hope you found this helpful, and if you have more questions, we are here to help!
{{Hugs}}
Rebecca aka mamabee