I, Rebecca, have a confession… I'm in love with paper! Phew, there I said it… I love it so much that at age of 7 I knew I wanted to work for a paper company and even started college as a Paper Science major.  My college interests did change along the way to Computers and Communication, however I was still hired by my dream paper company and worked there for about 10 years! Oddly, I never toured our facilities that made paper… I could talk your ear off on how they make facial tissue! haha
My love of paper continued into my personal life… my hubby to be was an engineer for a company that made paper machines… and of course being a traditional paper scrapper, I collected paper like it was going out of fashion. I still have crates full of paper in my scrapbook area that I just haven't found the courage to part.  Today, I am a hybrid digital scrapbooker and have even more pretty patterns at the click of the printer key!! But what paper do I use?
If you have been in an office supply store, looking at the rows of paper, trying to figure out what to buy… copy paper, photo paper, brochure paper, presentation paper, cardstock, textured cardstock, index stock… the list goes on… how to choose? It can be confusing!  This seems to be a big question that many beginner hybrid scrappers ask… and today, I hope to shed some light on this subject.  Now, I'm not going to get into what brand is best… that is like talking religion and politics… haha. Some swear that you need to use the same brand paper as your printer… others like a certain brand over another… I am going to stick my neck out and say it really comes down to personal preference… and trust me, I think I have tried it all!!

Just a very, very small sampling of what in hanging out on the shelf under my printers…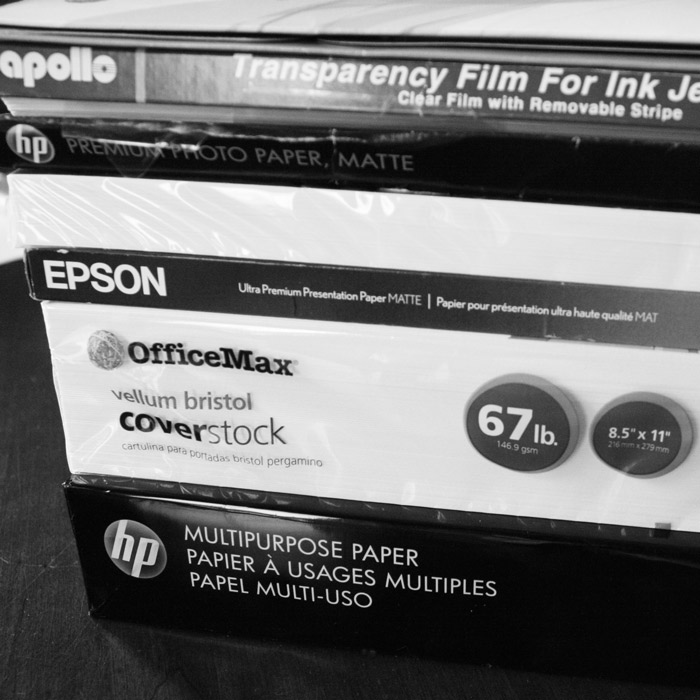 We need to take a minute and break down the information on the package…
Paper weight (lbs)
For hybrid artists who are looking at paper for creating packaging or other decor items where you need a strong thick paper, something that will stand up well to weight or handling…. look for the largest pound (lbs) number that will fit through the printer.
The easiest is when the package says… 20lb or 50lb… the higher the pound weight, the thicker and heavier weight the paper is… 20lb is like copy paper vs 60lb is like card stock.  Do you wonder where these pound weights come from?
Each category of paper (bond, book, text, cover, etc) has their own parent sized paper (or called basis size) that is the base for the paper's weight… for example:
If you would take 500 sheets (1 ream of paper) of 17×22 bond paper and it would weight 24lbs.
So, if you see on a package 24/60… this means that 500 sheets of 17×22 bond paper weights 24 lbs and 500 sheets of 25×38 text paper would weight 60lbs. What does this really mean? That the two type of paper packs, 24# bond paper is the same thickness as 60# text paper.  Did I lose you? haha… I haven't seen this much outside of sending brochures  to a print shop or buying printer paper for everyday use.  This is just in case you find yourself in a trivia contest, going for the win… 😉
I have seen some brands of paper with just the metric setting… where again, the higher the gsm, the thicker the paper…

Copy paper at 24lbs will be 90gsm
Heavy weight Presentation paper at 50 lbs will be 140gsm
Cardstock at 90lbs will be 162 gsm
Here is a great converter… http://www.desktopsupplies.com/paper-weight-converter.html
Other Things to Think About
Another debate you will hear is Matte vs. Glossy… this really comes down to a personal preference. One thing to note, depending on your printer, glossy paper may take a bit longer for the ink to dry.
Now you are probably wondering… what about photo paper? That is certainly an option! Most photo paper is not double sided and many hybrid artists like to be able to print on both sides. However if you are printing a hybrid/digital layout or creating a photo rich project, this might be the route you would like to go. Like glossy, I would let it dry after printing.
Acid free paper… if you are from the traditional world of scrapping, you are well aware of this phrase. All wood has a chemical compound called Lignin… and I could go all Paper Science 101 on this with you… but I'm afraid I would totally loose you! Lignin is what can cause your paper to yellow and become brittle over time, think back to old newspaper clippings… it can also cause photographs to discolor over time, too.  Today, most commercial paper is Lignin or acid free.
If you ask in the forums, most of us will say we use double sided, heavy weight presentation paper… there are a few that will use card stock. Again personal preference… some will say that card stock is known to really eat up printer ink and others will say that presentation paper provides a truer color profile.
With any paper you choose to use, I would strongly recommend reading your printer's instructional manual. Many printers have special settings for each type of paper to help with ink usage and colors.
Happy printing!
Rebecca aka Mamabee