Scrap Like a Sugarbabe: Sherly Nietiadi
Sherly is one of our newest Sugarbabes at Sweet Shoppe and is the 5th of the 6 new Babes to be focused on in the Scrap Like a Sugarbabe series. Sherly's pages always have a bright, fresh crisp look to them and part of that is due to her amazing layering and shadowing. 

About Sherly:
I am Sherly and I am absolutely thrilled to be one of the 6 newest Sugarbabes! I am 31 and married to my college sweetheart. We have a rambunctious soon-to-be 4 years old son. We currently reside in Beijing, China, my husband's hometown. I am a stay-at-home mom with education background in Mathematics and Computer Science.
I stumbled upon digital scrapbooking through my friend's blog in November 2008, when my husband and I were still studying in Liverpool, United Kingdom. I searched and tried and haven't look back since! I never paper-scrapped and I did a few of blog designs early on, so Adobe Photoshop was not new for me. Scrapbooking is a memory-keeping activity for me, as well as a creative outlet and stress-reliever!
Today, I am going to let you peek into my scrapping process. Most of the time I do not plan ahead of how my page will look like, so, it really is a 'go with the flow' process for me. In particular, I am giving you a rundown on how I scrapped this layout 'Smile'.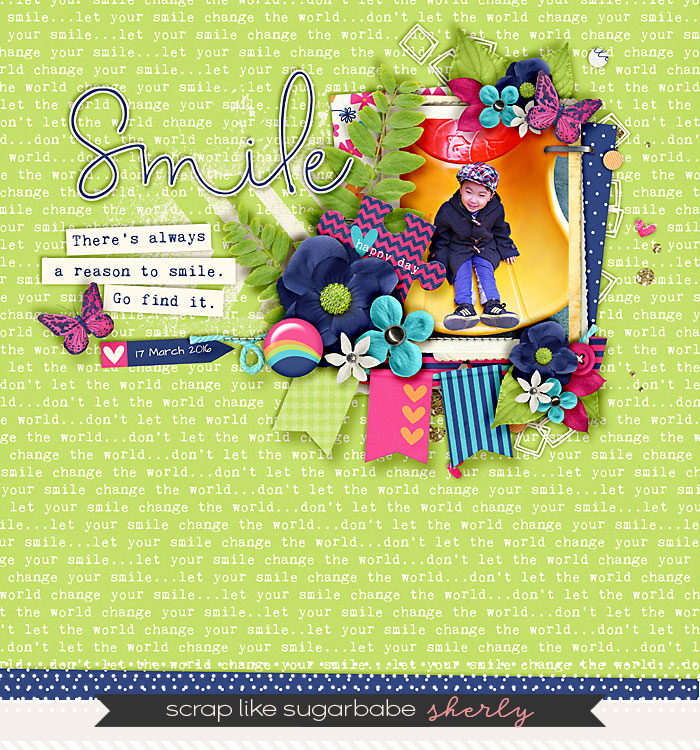 First, I pick the kit that I want to scrap with. I also pick the bits and pieces that I want to use here, e.g., a template, alpha (if I am not using the one in the kit) and, sometimes, stitches or paint pack. I preview the elements and papers from my kit and choose my background paper. Here, I decided to use a gorgeous scoop 'When I see you smile' by Erica Zane & Libby Pritchett.
Secondly, I pick my photo. When I get the photo I want to scrap with I edit them accordingly. Then, I place my photo on the background paper I chose. The photo placement is crucial to how my page will look like later on, except for the times when I am using a template. At this stage, I also add other papers and paper elements like scallops to my page.
Now, this is where I spend most of the time doing, clustering. I usually use the 'triangle rule' for my cluster placements, with the photo is within the centre of the triangle. I do the clusters one side at a time and, the first cluster is, when I pick which elements to use. If you look at my gallery, you will notice that I love using greenery and flowers. There is hardly any page without a flower in it!
My clustering process always starts bottom up with the leaf/greenery/foliage placed first. I prefer big foliage than a single leaf, because it instantly creates a good depth of field for my cluster, but, it does not mean I will never use single leaf element.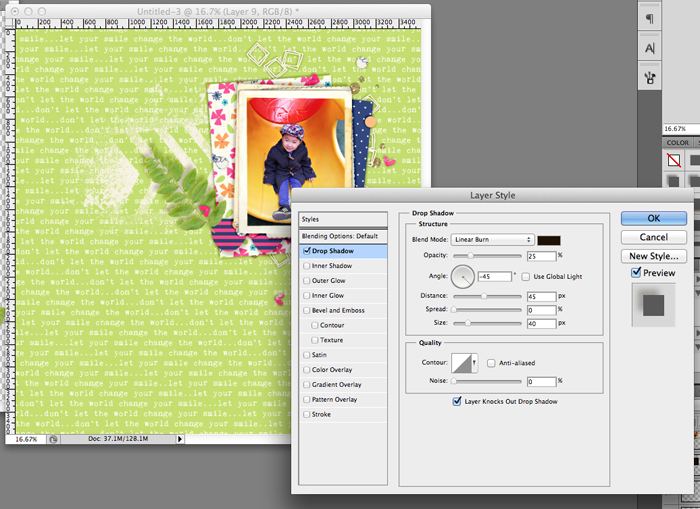 Then, I choose my flowers and other elements. I rotate and play with them so that I can get a realistic flowers arrangement look. I always try to put any unique elements the designer included in the kit on my page as an additional touch.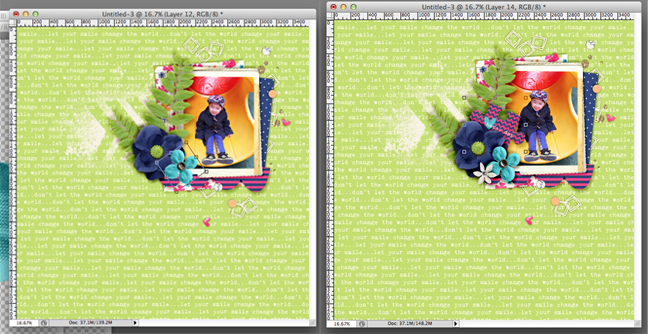 After doing one cluster, I repeat the process with other cluster(s) that I planned to make on the layout, mostly with almost the same elements that I use previously, so that it looks consistent. Along the way, I might add bits of new flowers/elements on my clusters if needed.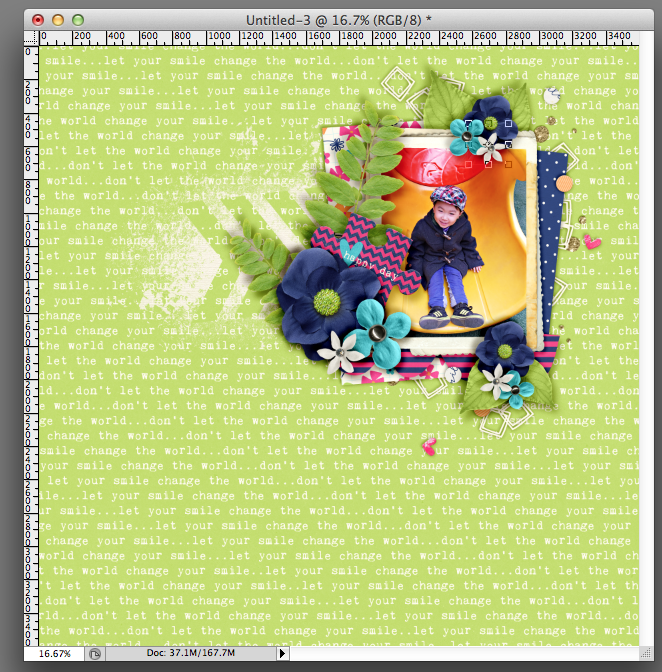 Flairs, buttons, staples or stitches are great finishing touches that sometimes use. I especially love stitches and staples. I notice that I rarely use buttons and flairs, but I am trying to do better. When I do use buttons/flairs, I always rotate them and never put them as is. It really depends on the angle of the highlights on them.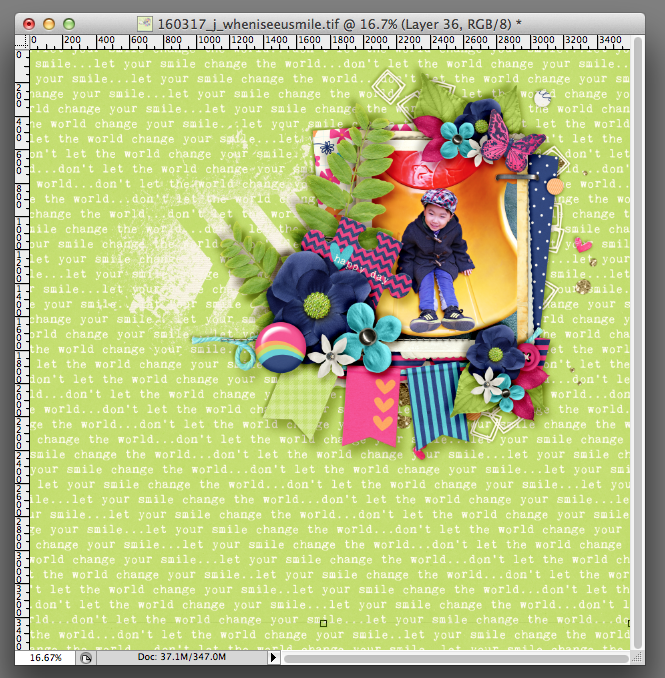 The last stage of my layout is always the title work and the journaling (or at least putting a date on it). It is also the time when I might add or remove things to balance the overall look of my layout. In this case, I added the dark blue polka dots paper at the bottom.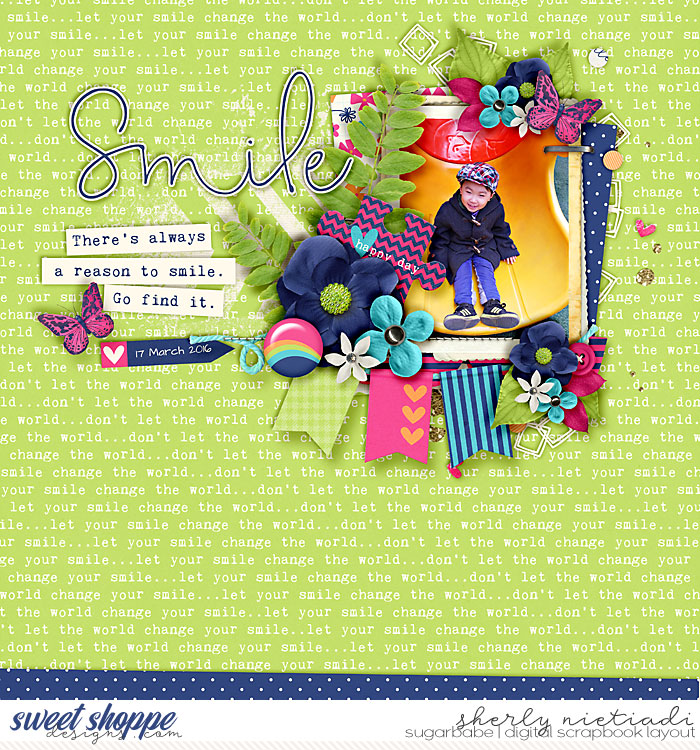 So, that is a glimpse of how I scrap most of the time. I hope you enjoyed reading this and was able to learn something new along the way.