Blending Background Papers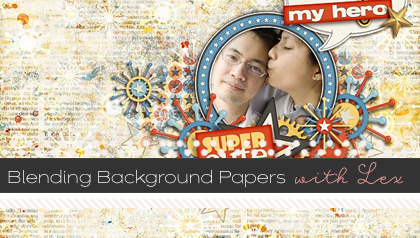 Hi everyone, Happy Friday! Lex here to talk and show a little bit of how I blend background papers. One of the reasons digiscrapping is such a passion of mine is it allows me to play around with so many variables–background papers one of them. I find it so freeing and exciting and overall, really good for the mojo.
Materials used:
Wallflower by Jenn Barrette and Meghan Mullens
Masked Marvels by Julie Billingsley
Courageous by Libby Pritchett
Aloha Sunshine by Kristin Cronin-Barrow and Zoe Pearn
Software: Adobe Photoshop CS3s
Why I Like to Blend Papers:
My favorite background papers are usually either solids with subtle texture, or very lightly patterned papers. Not every kit will give me that; on the other hand, some kits give me waaaaaay too many gorgeous papers I want to use. Since on average I'll only play with a kit once, I like to blend papers together to sort of give me the best kind of hybrid I can get. Like–I will love the texture of one plus the color of another, OR I like the idea of blending two different textures and/or patterns together (I have such a weakness for grungy and/or newsprint pattern paper!). It depends on my mood and the available papers in a kit. Many times I get a little too carried away with blending papers so I fall in love with my background paper and then just want to slap on my photo and call it done :PAnother reason is as a CT member my goal is to make a kit stand out as much as possible–and blending papers is one way to show versatility in a kit.

Nothing makes me happier than seeing the many ways a kit can be scrapped

Some Examples of Blended Backgrounds:
 

How I Blend Background Papers: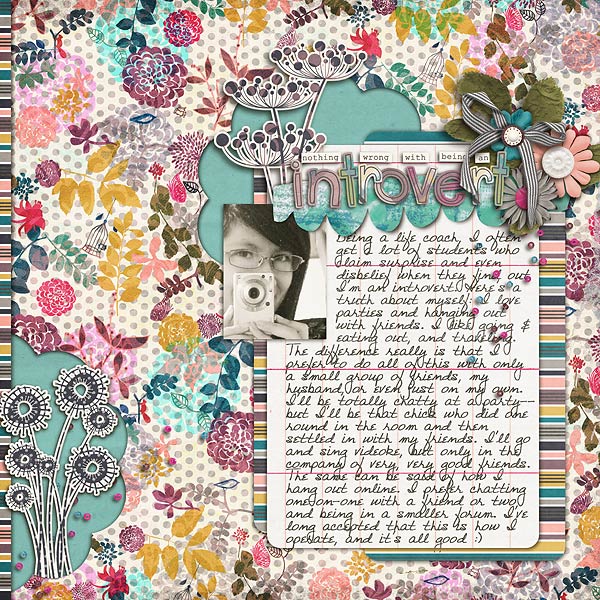 For this layout, I actually blended two very busy papers together–I ended up liking the combination a lot, especially when mixed with the striped paper of the kit. This is the "equation" I used for it: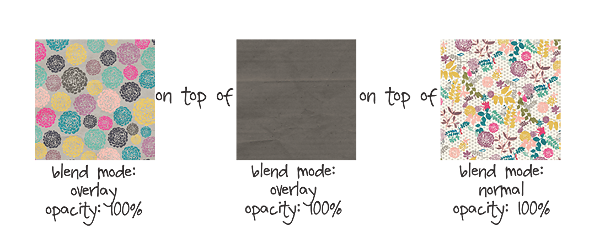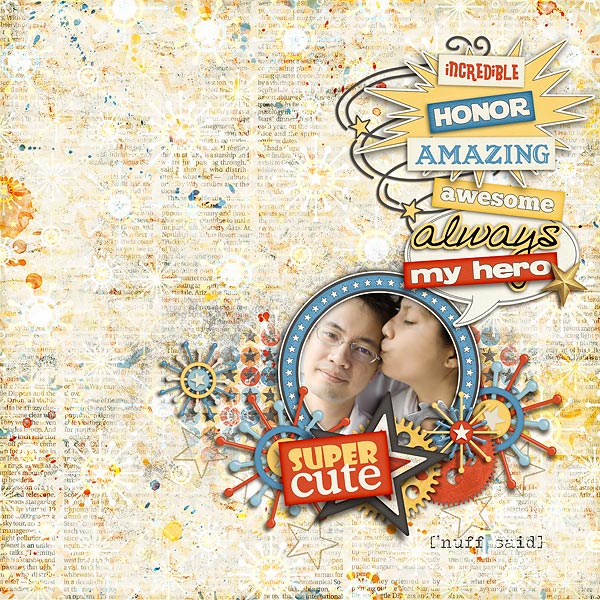 Remember my confessed weakness for newsprint papers? I really loved another pattern in Julie's kit so I was playing around and really liked the sort of fireworks effect here. I ended up duplicating one paper and fiddling with various opacities until I got the pattern I liked.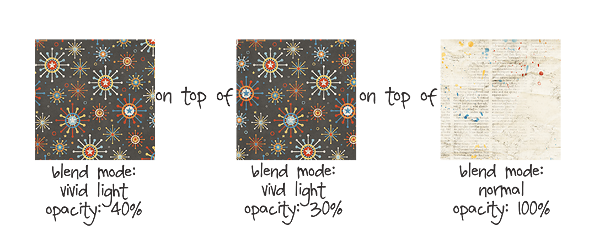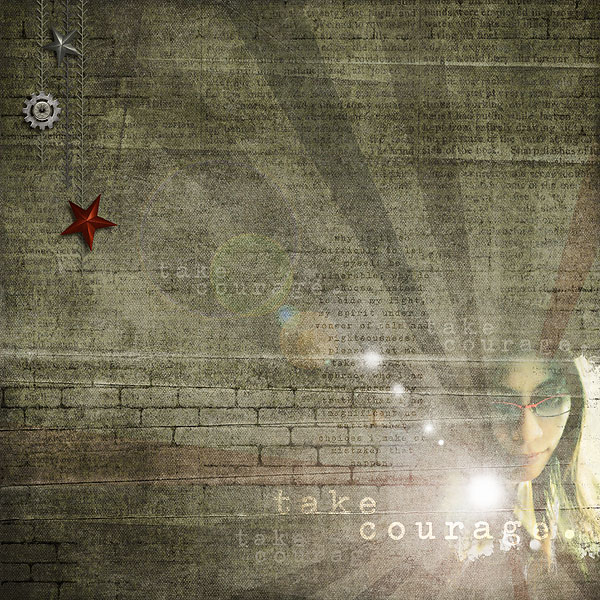 Libby's Courageous is a perfect example of a kit that just has SO MANY awesome papers. I wanted to use them all, seriously! I ended up blending four different papers and played around for a loooong time because I was enjoying myself.

Fun Bonus: Playing with Paint Wash
So, the 
Paint Wash of Julie Billingsley
? 
BEST. INVENTION. EVER. You'll notice it's primarily for when you want to add journaling to a patterned paper, but I like to use them as masks because they are so large and occupy much of the background on a layout.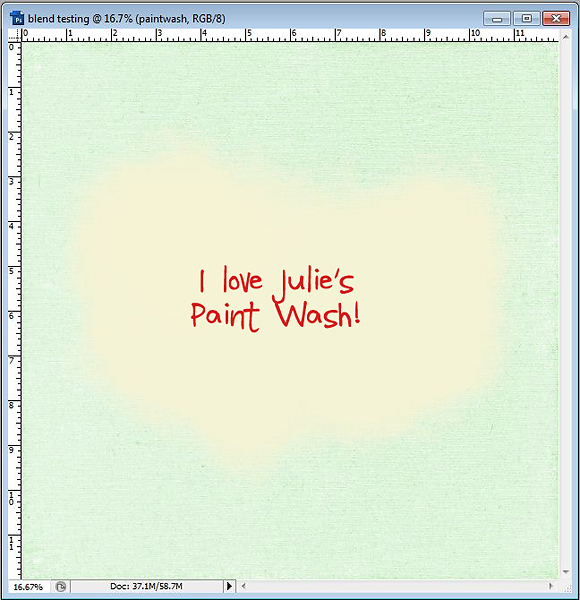 A cool thing I like to do is to first duplicate the paint wash layer.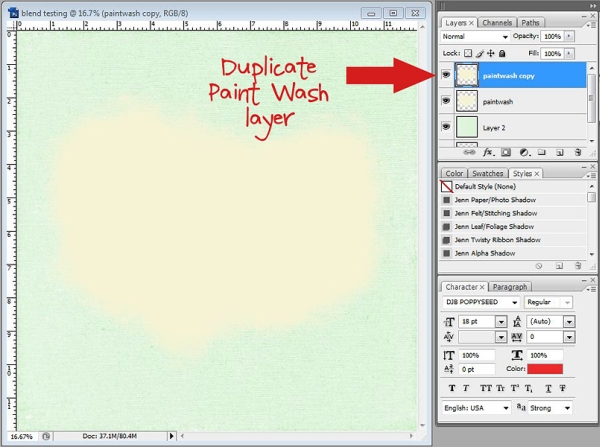 Then I'll change the duplicate layer's color so you can see which layer is which.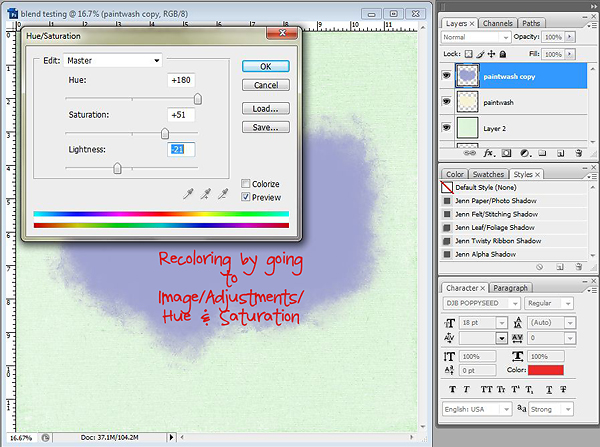 I'll shrink the duplicate layer (CTRL+T) so you can see the lower Paint Wash layer peeking out.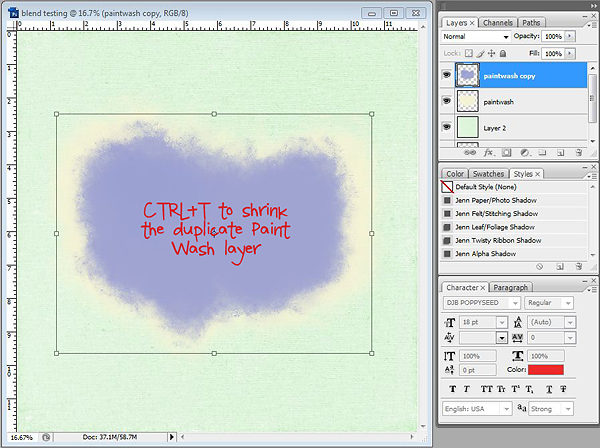 Then I'll clip a pattern paper (CTRL+ALT+G) to the lower Paint Wash layer.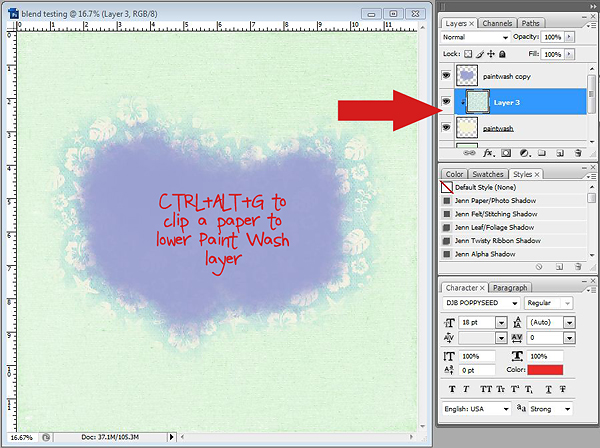 I'll do the same for the other Paint Wash layer.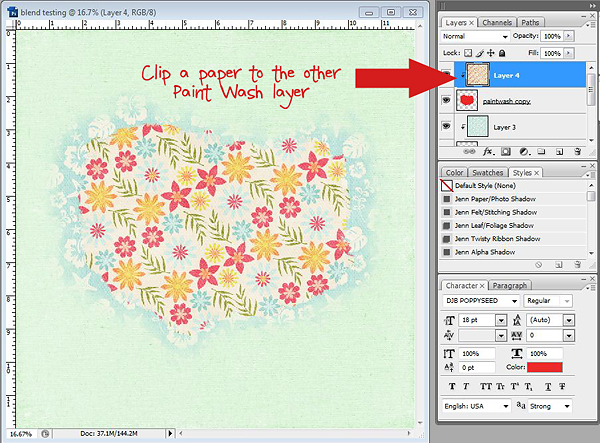 Tada! Cool, no? Then I'll get to playing with blend modes, layer opacity, hue/saturation, etc  until I get a blend that I like. Or I could put this blended mask above a set of blended papers. Or I could just have white space background and have this blended mask be the main background. Or I could keep adding paint wash layers and clipping papers to them. Or you could also use various other masks (I love Penny's–especially this set!) and clip papers to them. Or I could just use it as a painted accent behind a cluster. Lots of options can happen here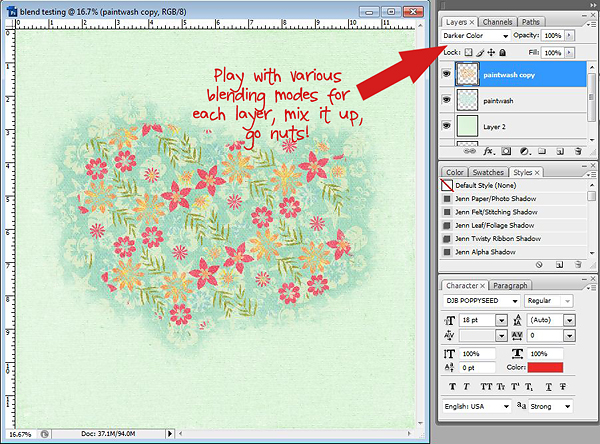 If you've read Heather's tutorial on Painting With Paper, it's actually very similar, except that she uses brushes. Anyway, I hope you found some of these ideas helpful. As with learning anything new, have fun with it!