Tips for Photographing Fireworks Displays
Need some tips and tricks for getting great fireworks photos? Erin is here to help you out!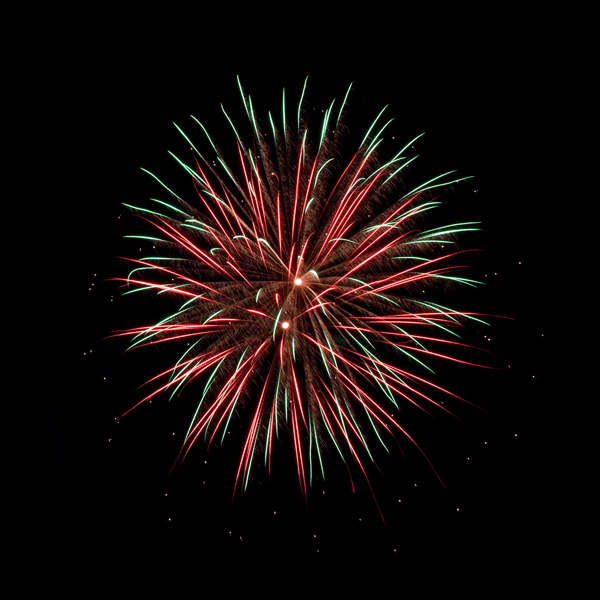 Here in the U.S., Independence Day is almost upon us and some of you might be looking to challenge yourself with photographing the fireworks displays going on in your area. I always love to challenge myself and try new things with my camera, and fireworks photos are a really fun way to do that. The good news is, it's really not as difficult as you might think. I am going to outline a few things that will help you, and also list some really great informative resources to get you on your way to capturing stunning shots of fireworks.
Some things you will want to bring with you:
A tripod
Remote Shutter Release (optional)
Bug spray (completely unrelated, but vital nonetheless!)
If you don't have a tripod, here is a cool tutorial on how to make one from basic materials you might already have laying around.
The idea is that you need your camera to be completely still while you take your photos. You could set it on any firm surface for this to work. Like the roof of your car perhaps.
If you don't have a remote shutter release (basically a remote control to make your camera take a picture), you can set your camera timer. It might take you a few more tries to get the shots you are looking for. You will have to anticipate when the shots you want are going to happen. Try setting it for different time intervals and see what happens. How many seconds does it take after the "BOOM" before you see the awesome display?
Here is a great article from Digital Photography School for DSLR users wanting some technical help with capturing fireworks.
Some other tips:
Try out different white balance settings to see cool color variations. Definitely check out how it looks on the cloudy and florescent settings. You'll see some pretty different results!
If something isn't working for you, don't be afraid to break the "rules" and make your own. Just because an article tells you to use f8 for your aperture setting, it doesn't mean you can't try other things out and see what works for you!
Keep your focus on manual and set to infinity.
If you're working with a point and shoot camera, it may just have a fireworks mode already built in. That will help you lots! There are some great pointers at Tech Hive on shooting fireworks with your point and shoot.
And, a few things to keep in mind:
Bring plenty of memory. You'll probably take lots and lots of shots on your way to capturing "the" shot.
Bring a flashlight so you can see your camera settings better.
Have extra battery power with you. It never hurts to play it safe!
Also, here are some tips for shooting fireworks with your cell phone camera. There are some things in there I never would have thought of, and I now know some cool new apps I need to add to my own phone!
What about adorable kids waving sparklers around and shooting off some of their own fireworks? I suggest capturing these photos before the sun goes all the way down. That way you will have beautiful golden hour lighting and can avoid using harsh built in flash from your camera. Most likely, the kiddos are going to be moving around a lot and waving those sparklers all over the place, so I suggest keeping your shutter speed relatively fast . . . at least at 160 or so. The higher, the better. You will have to adjust your ISO and Aperture accordingly. Depending on the time of evening, you can have their faces point towards the sun. That's the beauty of the golden hour, the light becomes muted enough to avoid harsh shadows and squinty eyes. Try out sports mode if you are using a point and shoot camera.
However, if you want to get pretty creative, you can slow that shutter speed way down to bulb mode and have your child wave a sparkler in different patterns. You will then capture the trail of light rather than the detail of the "sparks." You will definitely need a solid surface or tripod and the camera timer or remote shutter release for this. It's fun to play around though!
I hope these tips will help you on your way to shooting amazing fireworks photos! I hope you all have a great holiday this year!