There's eight days remaining to finish off your January This or That? Challenges, Sweet Shoppe Scrappers! How are they coming along?
In case you're new to the Shoppe and have absolutely no idea what I'm talking about, here's the scoop: each month, the Sweet Shoppe issues 15 pairs of scrappy challenges. You choose one or the other to complete – "this or that" – and depending on how many you finish in the month, you can earn a 20%, 30%, or 40% discount in the Shoppe. Finish all 15 challenges, and you're entered in a drawing to win a $50 gift certificate to spend on Sweet Shoppe supplies! It's a fantastic way to get inspired, stay motivated, and keep producing scrapbook layouts for your albums month after month. You'll find the new set of challenges posted in the This or That? Challenges forum on the first day of the month.
There are just eight days left to finish January's Challenges. So, if you could use a little inspiration, we've got some standout layouts from your fellow Sweet Shoppe scrapbookers to share today!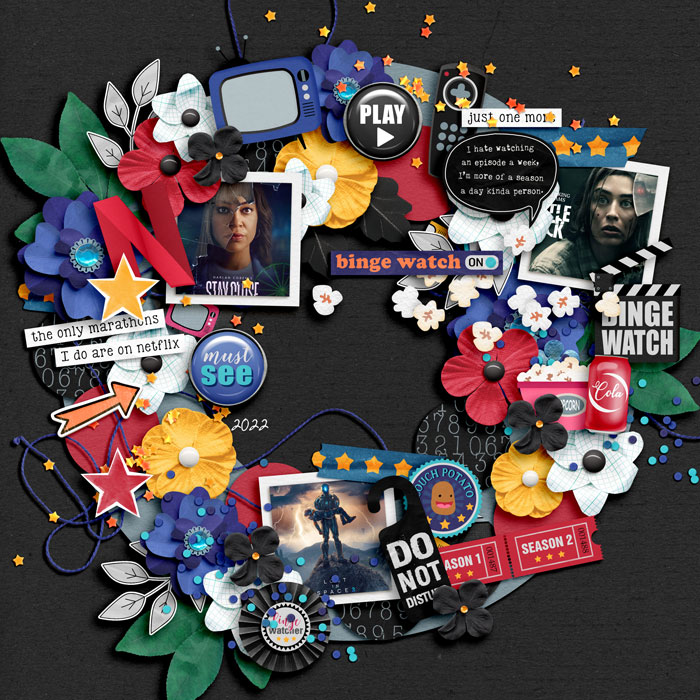 Challenge 10a – Scrap about the last TV show you binge-watched.
What I love: Wreaths aren't just for the holidays! She took a Halloween-themed template and completely repurposed it by using the fun Binge Watcher kit instead.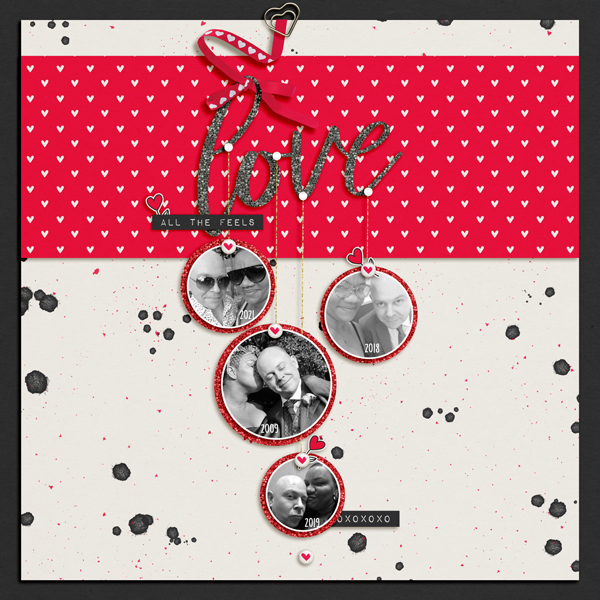 Challenge 14a – Scrap a page that uses 4 different photos.
What I love: Just as wreaths aren't just for the holidays, ornaments aren't just for Christmas! I adore the way she hung her four photographs as baubles off that stunning word art, which itself hangs from the top of the page with a clip and some ribbon.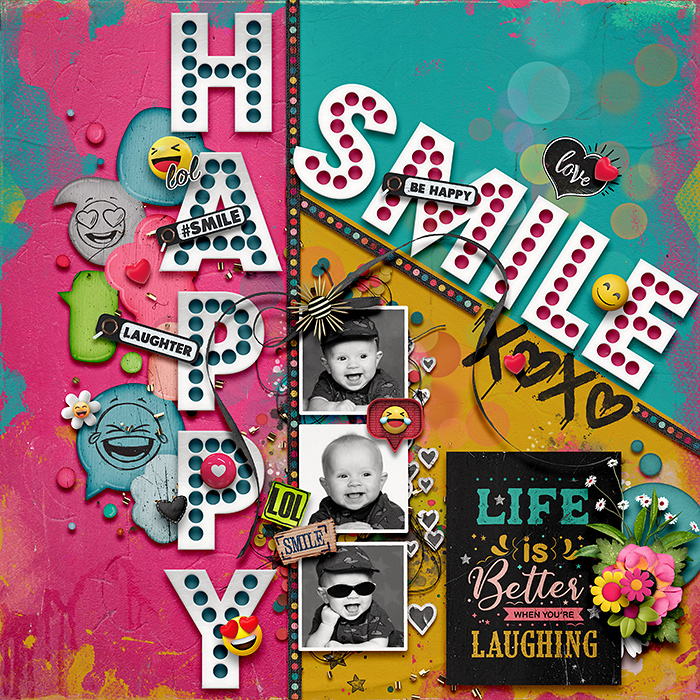 Challenge 7a – Tic, Tac, Toe … 3 photos in a row
What I love: There's so much contrast in this layout! First, between the bright colors of the papers and those darling black and white photographs. Secondly, between the rectilinear layout of the photographs and the triangular layout of her background and title. And finally, between the angular paper, card, and photograph blocks and the rounded decorative elements. Talk about a layout that POPs!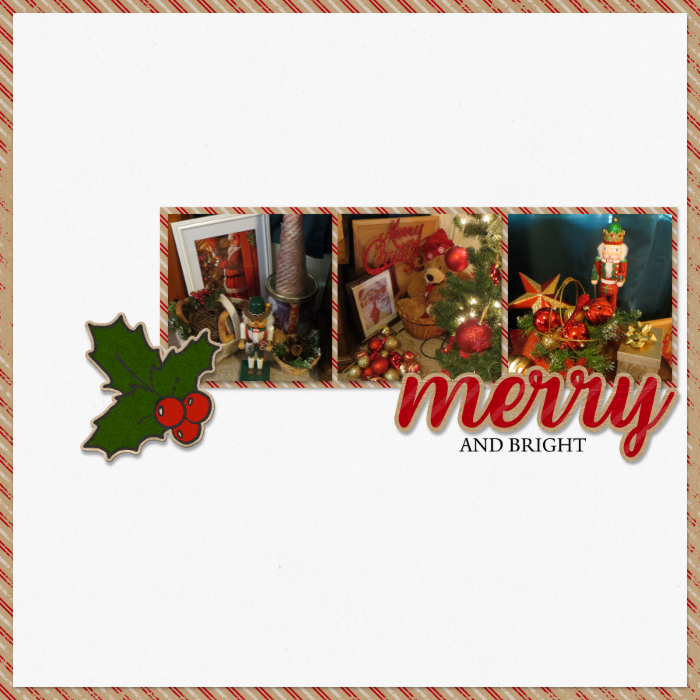 Challenge 7a – Tic, Tac, Toe … 3 photos in a row
What I Love: Another take on the same challenge, but with a totally different look – I love the whitespace that allows her detailed photos to stand out, and clever reversal of the patterned paper as the mat and frame and the solid white as her page canvas, rather than the other way around.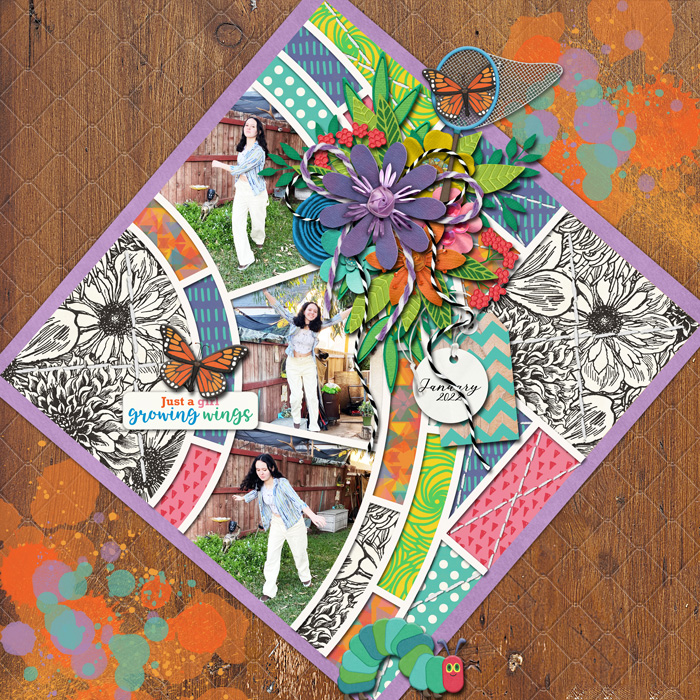 Challenge 13a – Scrap a page using a "patchwork" of paper as the main design composition.
What I love: The motion in the photos is beautifully reinforced by that funky, fun curved paper frame, and her selection of patterned papers for her background quilt is so beautifully balanced.
Challenge 13b – Scrap with a "patchwork" of alphas similar to our This or That title!
What I love: The fantastic angle on that photograph! Shooting a toddler down low, from the ground, creates an image of "their world" – or, at least, the world from their viewpoint. I also love that she went black-and-white with the photo and blended it with that vivid background paper for maximum contrast and visual interest.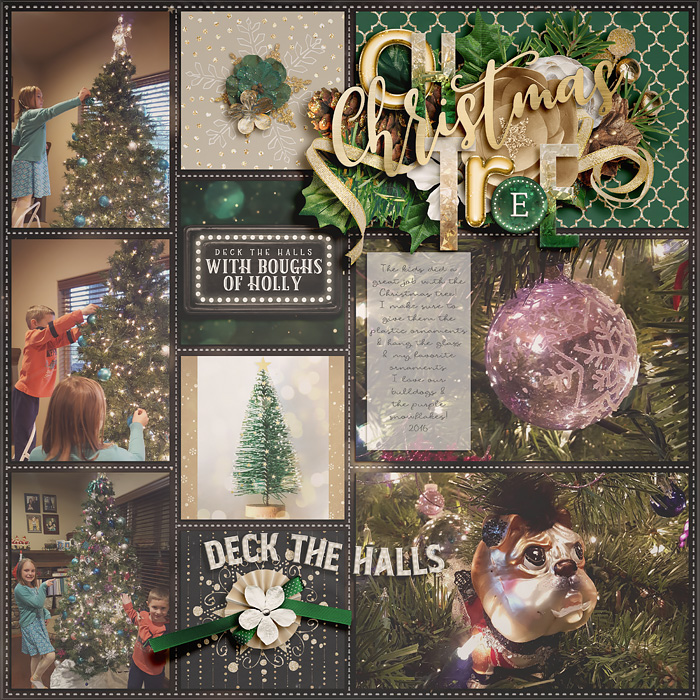 Challenge 13b – Scrap with a "patchwork" of alphas similar to our This or That title!
What I love: The mix of action shots of her kids decorating the tree and close-ups of ornaments does a great job of telling her story. The photo filter that slightly desaturates and gives the images a matte look allows her title to really POP by contrast, and WOW – what a standout title it is! The mix of alpha elements layered with word art, floral, foliage, and ribbon is perfectly clustered and shadowed.
---
If you LOVE Amie's title work and want to learn more about how to create advanced standout title pieces like hers, be sure to stay tuned for next week's SugarBabe Sunday … where we'll cover part 2 in our series on Title Work. If you missed last weekend's post, where we covered the first four of the six ways the SugarBabes create titles on their layouts, be sure to check it out!