Today is definitely a Sunday of celebration & recognition. For Christians, today is Palm Sunday, marking the beginning of Jesus' final week on earth. Anyone who did not grow up an only child marks today as National Siblings Day. Those with a canine at home can recognize today as National Hug Your Dog Day. And for all of us who scrapbook here at the Sweet Shoppe, today is Standout Sunday – where we single out some of the outstanding creative work in our community for adulation and inspiration. I have seven layouts for your viewing pleasure today, so settle in and get ready to enjoy some seriously beautiful scrapbooking. Here we go!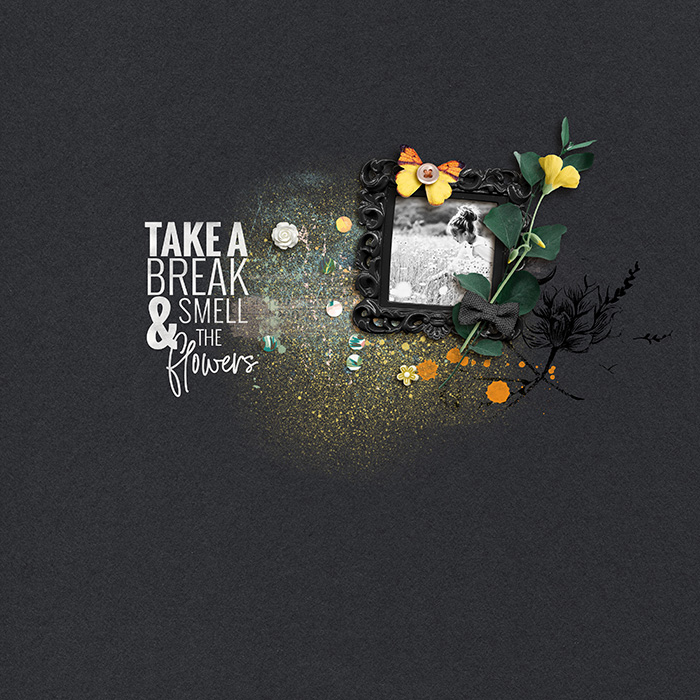 This layout is a masterpiece of simplicity! I adore the black background and ample margins; it allows those vivid elements and that lovely white title to just pop off the page. And the tone-on-tone of the black frame and black floral stamp against the black cardstock background adds such drama and it works so beautifully here. I love it!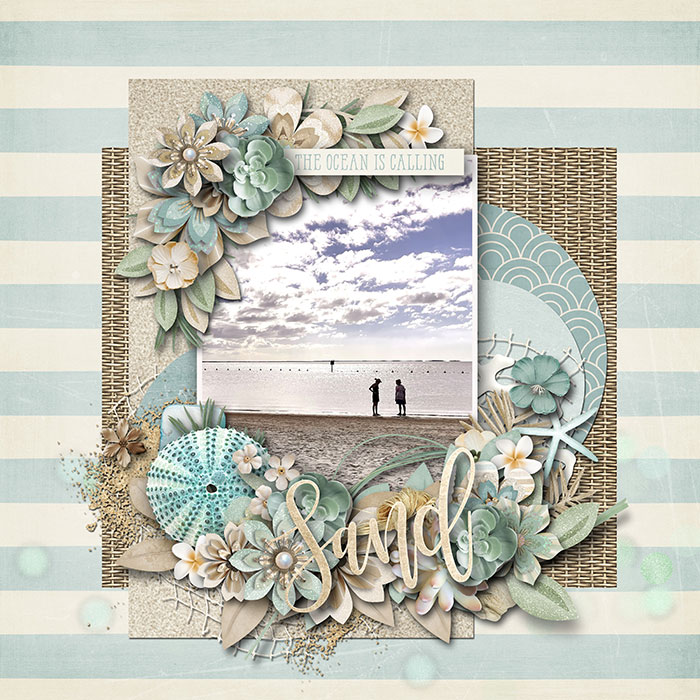 This is a marriage of the perfect kit for a photograph. But it's the page composition that made this a winner for me. Using the sand and rattan mat papers as the two large background mats is clever – since those are indeed two textures you'd be most likely to find beneath you at the beach, they ground the page perfectly – and the two element clusters surround the photograph in such a way that there's a sense of movement to it, around it, but not a complete circle, subtly evocative of the motion of gentle waves. This layout composition is stellar!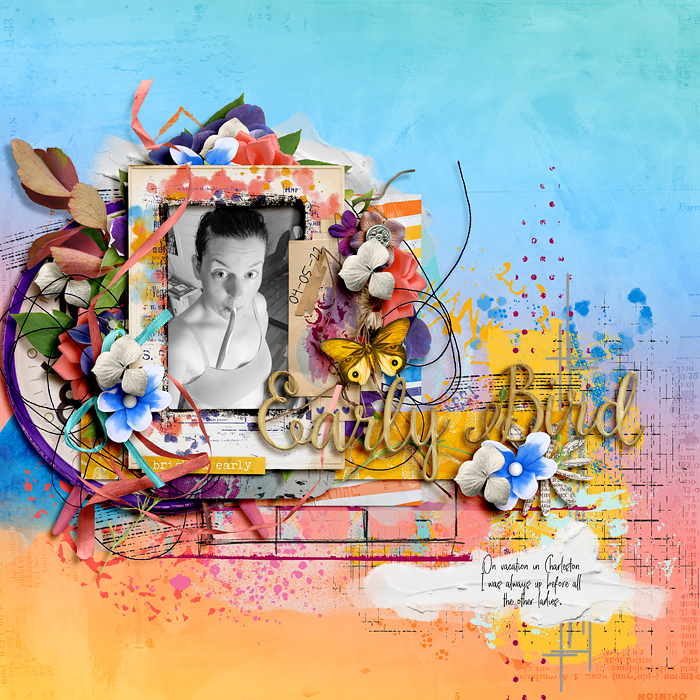 Oooooh, I am swooning over all the color in this gorgeous layout! From the lovely ombre background to the stunning layered cluster, it has so much beauty to delight the eyes! Choosing to then take her photograph black-and-white was a smart move. Whether it didn't perfectly match the shades in the kit or if she just wanted to let the kit take center stage, either way it works very well. Nicely done!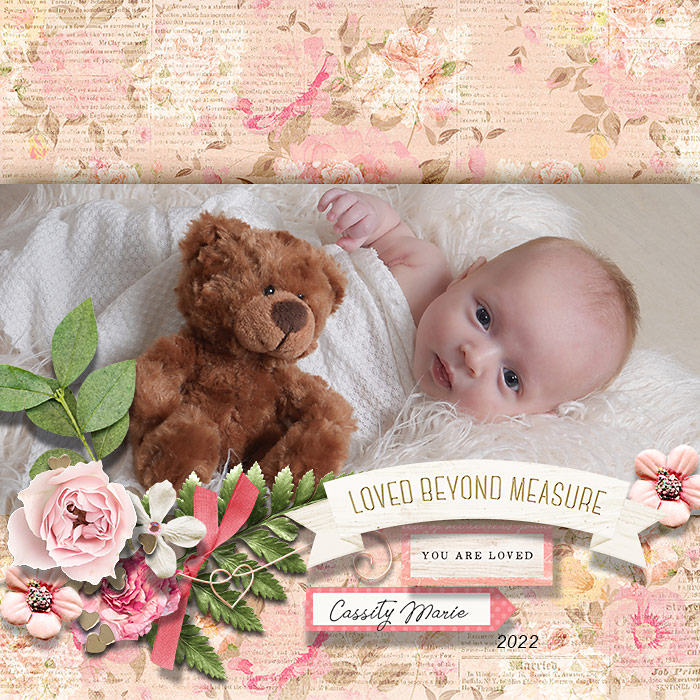 I love big photos, and I cannot lie – and when they're of sweet babies, I love them even more! What a showpiece this layout is – it will make a gorgeous album cover or framed piece of art to hang on the wall. One large floral cluster, perfectly placed beneath the teddy bear, allows the eyes to follow the greenery to that arched title and across to the baby's sweet face. Masterfully done!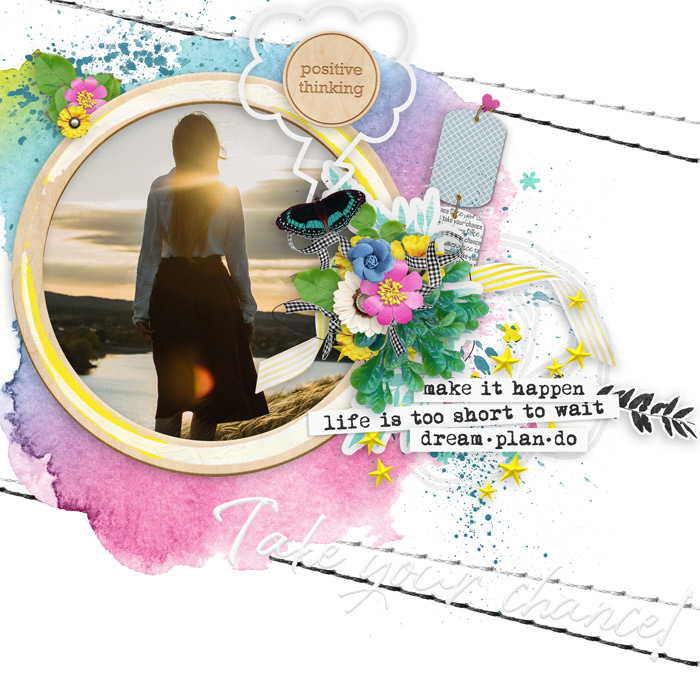 This layout popped out of the gallery with its clean, white background and single photograph surrounded by that colorful painted mat. I like the cluster work, and the "positive thinking" flair surrounded by the thought bubble is adorable. And, of course, I have to mention the photograph itself – with the backlit subject's pensive look of gazing off into the distance against that beautiful sky, it's beautifully shot!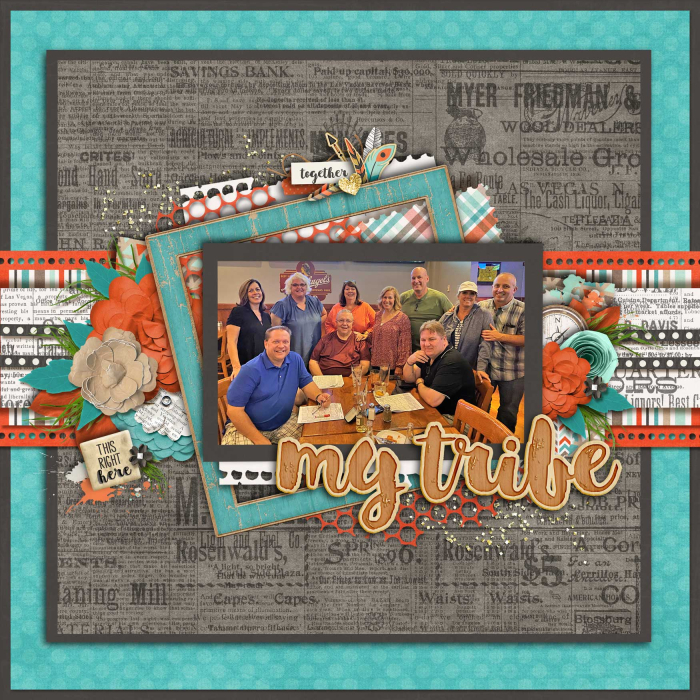 Group photographs that aren't pre-coordinated for wardrobe can be notoriously difficult to scrapbook, but you wouldn't know it by looking at this layout. I'm not sure if the artist is the woman in the center back wearing orange, but by choosing that color and pairing it with complementary teal, it makes her stand out. Adding a tone-on-tone grey as the largest part of the background balances out that bright color and matches the black and grey clothing in the photo, and the title in brown pairs perfectly with the restaurant's table and chairs. She's achieved a perfect balance of colors and neutrals with this snapshot group photo and it's a gorgeous layout for her album.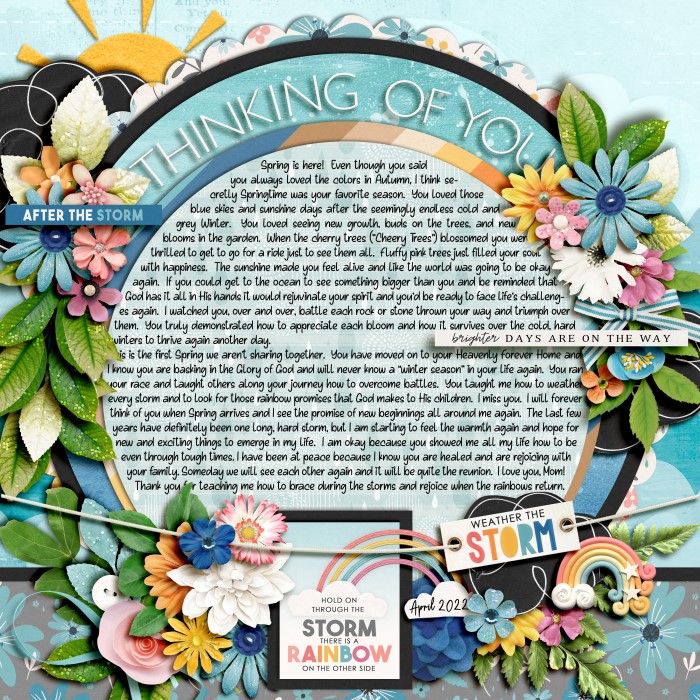 This journaling-only photoless layout is a letter to the artist's mother on this first spring since her passing. It's a sweet tribute that is deeply heartfelt and beautifully written. The first half of her journaling focuses on the surface features of spring and what her mother loved about the turning of the seasons; the second half digs deeper and talks about what she learned from her mother about overcoming battles and spiritual renewal. These types of layouts can serve two very important purposes: first, they can be therapeutic for the writer, allowing them a way to process their grief; secondly, they create a lasting record of the person who has passed that goes beyond just their photograph. It allows grandchildren and great-grandchildren to learn not only aspects of their personality they were too young (or not around) to discover, but also the important lessons that were passed down before they died. It's another way to ensure part of them lives on, and what a beautiful job she's done of preserving this one.
---
I hope you've found some inspiration today and can carve out time for yourself to create a bit. Be sure to share your makes in the Gallery so we can leave love on your layouts, and you might just show up in a future edition of Standout Sunday!