Pocket Scrapbooking: Getting Started
Hi Sweet Shoppers! Let's talk about the basic of pocket scrapbooking.  This scrapbooking trend has become my favourite way to scrapbook. Not only is it an easy project to do, it's fun and there are so many great pocket products to choose from!
What is pocket scrapping? 
In a nutshell, pocket scrapbooking is a blocked style of scrapbooking. Within the blocks, scrapbookers can add photos, journalling, art, and other ephemera.  One of the more popular approaches is to scrap a double-page spread every week showcasing the big and little events in your life. However, a pocket album can include anything that you want — for example, it could include weekends only, or show only school items, or even be a baby album. It's entirely customizable.
In paper scrapbooking, pocket scrapbooks uses clear page protectors that are divided into smaller pockets. There are various ways that the pocket grids are organized on the page. Mostly though, the pockets are sized 3×4 and 4×6 inches. Within each pocket, scrapbookers can include journalling, art or photos on cards. 
The digital take on this has been to replicate the pocket grids. There are a lot of options for designs — from digital page protectors to stitched grids to clean and graphic photo blocks.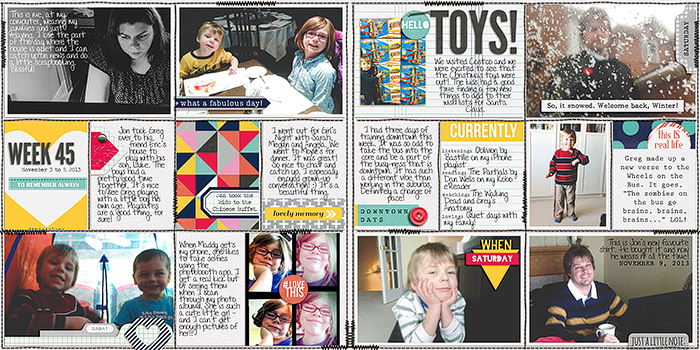 Another option is a hybrid approach. The same standard pocket sizes exist in digital pocket scrapbooking as in paper so digital pocket products can be printed out and easily used in paper pocket albums. In a hybrid album, you can design the layout and cards on your screen, print them out, and then add physical elements like buttons and ribbon for dimension.
If you think about it, pocket scrapping isn't so very different from the blocked page designs that we've been doing for years. The benefit of pocket scrapping though is the industry standardized and pre-made 3×4 and 4×6 inch pocket products that are perfectly sized for pocket pages. It makes scrapping a page quick and easy!
Staying Organized
No matter what your pocket album subject matter, if the project is going to take place over a long time, you'll need some organization strategies for your photos and memories.
Photos – I don't think you need to get too fancy with your photo organization. As long as your photos are easily sortable by date, you can find them and drop them into your pocket album.
Memories – You need to have some sort of way to keep track of the "little things" that happen in your life so that you can include them in your pocket album. Here's a basic checklist of sources for ideas that you can run through. I think you'll find more than enough to scrap every week:
Emails sent and received
Texts sent and received
Facebook
Twitter
Flickr
Your calendar
The news
Personally, I am a huge fan of using the Momento app. The app pulls the most popular social media feeds (Facebook, Flickr, Twitter, etc.) into one spot so that you can easily scan them for memories that you might want to include in your pocket album.
Basic Products
The most important products to think about initially are your templates or pockets. In digital scrapbooking, we have so many options! Choose faux-pockets, stitched grids, plastic grids, or no grid at all. You can also choose between rounded corners and squared corners.
The easiest way to pocket scrap is to use pre-made pocket cards. Fortunately, Sweet Shoppe has a whole category of pocket cards available. Here's a sampling:
A great way to easily add a personal touch to your cards is to use journal card templates + any kit that you want.
There are also a lot of full kits geared towards pocket scrappers. They have everything you need to create a pocket page and a lot of "flat" elements that are easy to work into digital pockets.
BUT, remember that ANY kit can work in a pocket album! Here are some non-pocket specific kits and the pages that I made with them.
Those are some of the highlights of pocket scrapbooking. Be sure to check out Sweet Shoppe's pocket scrapbooking Pinterest board for inspiration!