Using a Full Sweet Shoppe Kit for your Pocket Scrapbooking pages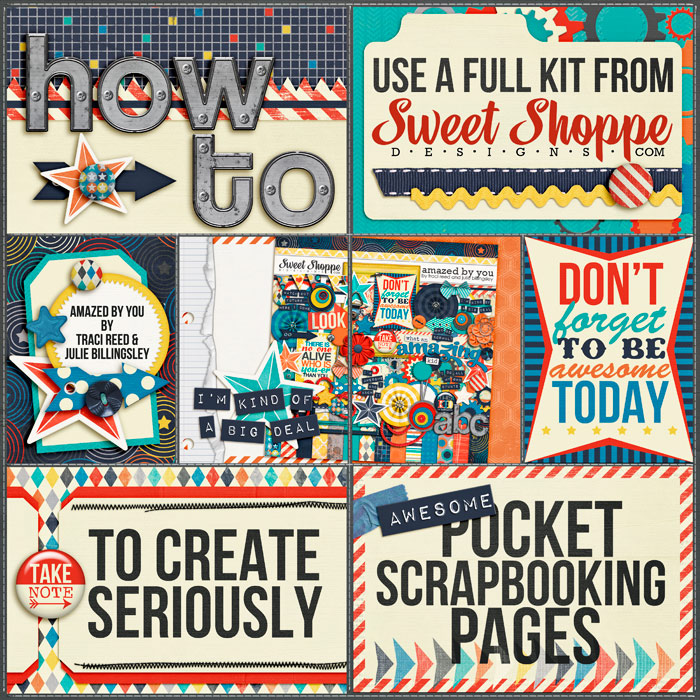 You've seen lots of inspiration for how to use the journal cards that are so popular right now on your traditional scrapbook pages, but I'm here today with a different angle.  How about using a Sweet Shoppe full kit in a pocket page design?  Pocket scrapbookers shouldn't feel that they are limited to using only the products in the store that are geared toward pocket scrapbooking.  There are so many beautiful products in the shoppe that can easily be put to good use in making your album even more amazing!
Whether you are inspired by the colors in a kit, the theme, the word art, or you just find yourself drawn to it (for me, it's a bright color scheme with a multicolor stripe paper), it's easy to feel intimidated to start a pocket page without any pre-made cards.  Don't let that stop you from breaking out of your comfort zone and trying new things!  If you love a product and want to use it, there are ways to make it work.  I am inspired by colors and word art, and there are so many kits with beautiful, bright color schemes that fit my style perfectly but aren't necessarily created with the pocket scrapbooker in mind.  Not to mention, for anyone considering starting an album like this, it might feel overwhelming to have to build your stash of journaling cards from the ground up!
An easy place to start
If you're feeling intimidated or not sure where to start, there are plenty of templates to help guide you.  These are blank slates which you can adorn with the papers and elements from your kit of choice and turn into pocket pages.  There are a variety of styles available for these, but they are all easy to customize and make your own!
I have put a few of these to use on hybrid layouts, so don't feel like these are strictly digital products!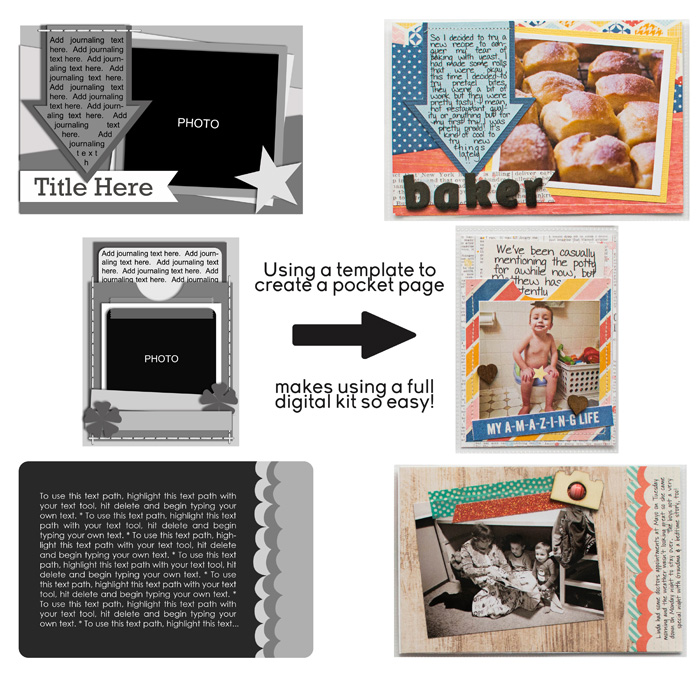 A stash of basics helps
If you just want something more simple, you can clip your favorite papers into your pocket page arrangement of choice, and layer photos and elements around it. Something that I really love to use on my pocket pages is word strips & word art.  Sometimes, a kit might be very themed and I just love the colors, so it's handy to have some general products in my stash to fill my pages a bit.
Don't over think it!
Or it could be as simple as clipping one of your favorite papers to your template (or cropping it to the appropriate size) and layering your photos or journaling, or elements (or all of the above!) in a way that is pleasing to you.  I do my project hybrid so I tend to use the more flat elements, but you could really embellish to your hearts desire in whatever way works for you!  I like to think of each individual pocket as it's own mini-page, and I can make it as simple or complicated as I would make a traditional scrapbook page.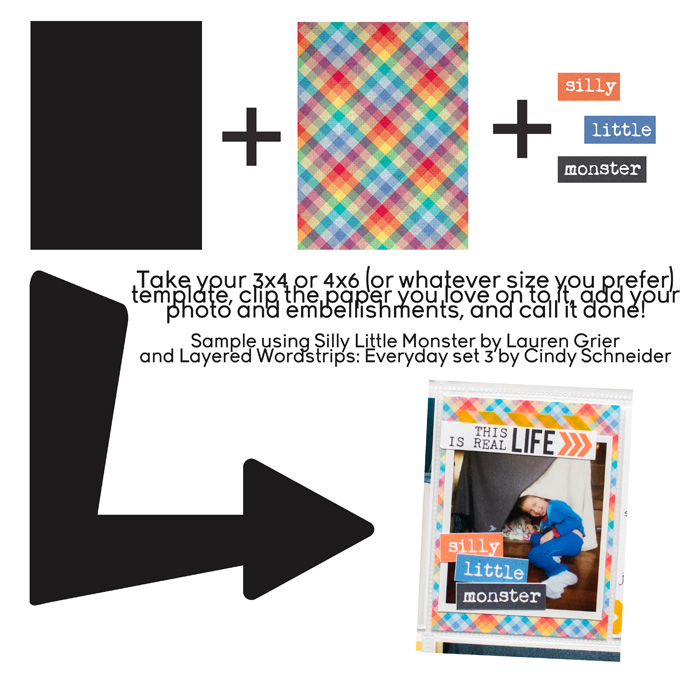 And while I choose a more clean, graphic style for my own pocket pages, you needn't shy away from using paint & grunge on your pocket layouts if that is your thing!
Some more ideas for using a kit in your pocket pages:
-Use paint or rub-ons or stamps directly on your photos, play with blending modes to try a new effect.
-Use larger elements or word art pieces on the card to create a filler card.
-Play with shapes and clipping masks to add banners, flags, and paper pieced backgrounds on your cards.
-Alter layered filler card templates to add extra journaling spots as suggested in Heddy suggested in the forums.
-Layer tags or blank labels on your cards for extra places for journaling.
-Use custom shapes and clip papers to them to add journaling spots or just a fun & unique filler card.
-Play around with the opacity on word art and use it on top of a photo for something a little different.
-Use washi tape or stitching or staples in a kit to adhere photos or elements.
-Add a strip of paper along the side or bottom of a photo for extra journaling space or a spot to anchor down some word art.
The possibilities really are endless and while having pre-made journal and filler cards is nice, it's not a must and if you really love a kit, you can make it shine on your pocket  pages even without them!
Here are some other examples of pocket pages that I have made using full Sweet Shoppe kits:
I hope you feel inspired to use a full kit in a new way on your pocket pages!  For more inspiration, see the Pocket Scrapbooking Inspiration Pinterest board and check out the Long-Term Projects gallery here at Sweet Shoppe Designs.