Scrap Like a Sugarbabe: Sheri Malcolm

Sheri is just downright amazing.  The things she does with lighting and blending blow my mind every time! Sheri is a prime example of everything you can do on a digital page that can make it so much different (better) than a paper page.  Let's take a look inside her handy little toolbox and see what we can find!
About Sheri:
I'll start by telling you a little about myself.  I've been married for over 10 years and have two wonderful boys.  Michael (8) and Thomas (6) are the inspiration for most of my pages.   I have a full time career which I really enjoy, so I mostly scrap in the evenings and on weekends. I've only been scrapbooking since 2008, but I've been working with digital art since 2006.  I've never ventured into paper scrapping or hybrid projects, but I aspire to some day!  Like many of you, I love being able to express myself creativity while creating keepsakes for my family to enjoy.
My Claim to Fame:
Aside from lots and lots of layering and circles, I like to integrate components like extractions, blends, text paths, brush work and other unique features that add a little pizzaz to the page.  In this example, I will take you through my typical scrapping process.   I've always been of the mindset that there is no right or wrong way to approach the development of a page, but I tend to follow a similar pattern.  I am primarily a kit scrapper, however, I will occasionally pull elements from packs or kits.  I also frequently recolor items (including apparel in my photos) to match a kit or vice versa.
Step 2:  Use the custom shape tool to design the page.  I also tend to shadow as I go.  In this case, a default custom style was applied when I enabled my custom shape tool.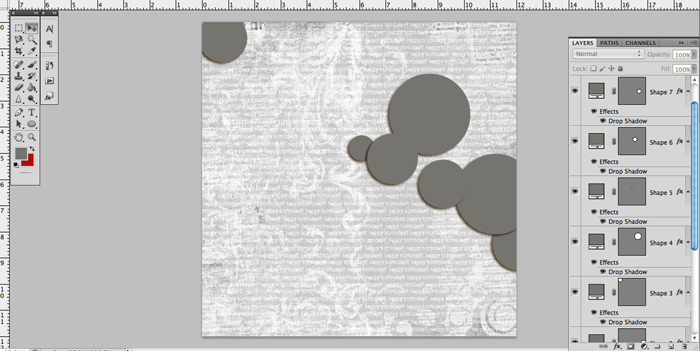 Step 3: Continue to develop the page design.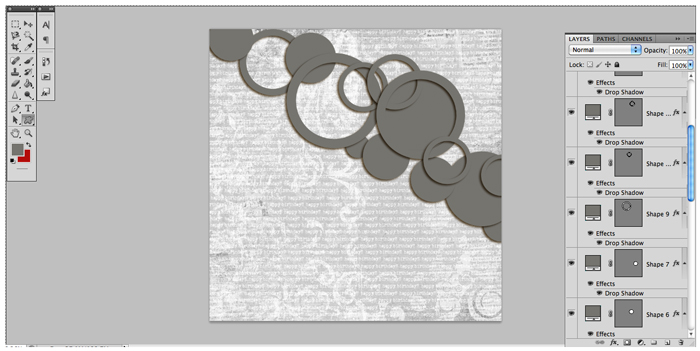 Step 4:Determine where you want your photos placed.
Thanks for taking some time to spend scrapping with me!
xoxo
Sheri (SeattleSheri)