Tutorial Round Up: February 2013
Erin highlights all the amazing tutorials that have been added to the site this month
Have you checked out the tutorial blog this month? The tutorial team has added some amazing tutorials that you don't want to miss!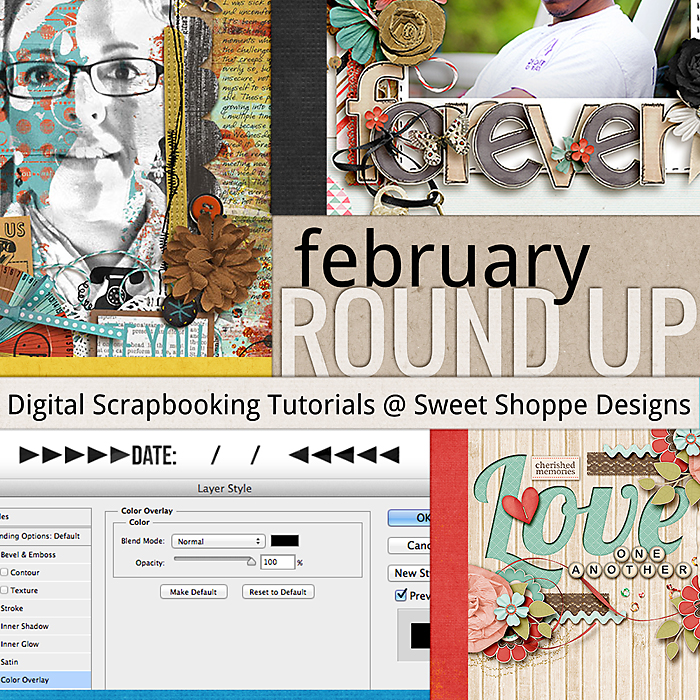 How To Make Your Own Brushes in Photoshop and PSE
Making your own brushes  has never been easier! Traci takes an element from her kit, Little Joys, and takes us step by step into making it a brush. It's a super neat trick that I am sure we all will be adding to our pages!
One topic that pops up quite often in the forums is how to improve our shadows. Well, Tronesia has saved the day with a fantastic tut on how to shadow alphas in our titles. Her technique definitely makes the title pop and stand out!
Scrap Like a Sugarbabe: Jacinda Prattley
Jacinda is so inspirational in the things she scraps about. She scraps not only her family life, but she's often writing letters of advice to her girls and telling her own story. I could get lost in Jacinda's journaling! That's why I'm so happy that she's chosen to talk about how she journals for her Scrap Like a Sugarbabe tutorial!
Getting Sketchy: Art Journaling
Looking for a new technique to add to your art journaling pages? Brook shows us how she converted a photo of herself into a pencil sketch. And, then she shows us how she used this pencil sketch to create an amazing art journaling page!
Three Methods for Creating Cut Outs on your Layouts
Do you love that cut out look but have no clue how to achieve it on your own pages? Well Lydia has saved the day! She has highlighted three different methods for creating cut outs. Definitely check it out and give it a go on your next layout!
Scrap Like a Sugarbabe: Keely Bostick
Keely is not only an amazing scrapper but she is a fantastic photographer. She manages to capture her life (and then scrap it) with such beauty and realism—no canned smiles here!  Get inside her head with this fantastic tutorial on capturing the everyday!