Think Outside the Album: Wall Decor – Fall Edition 9/24
Welcome to the September installment of Think Outside the Album, where we look at different ways to take our digital supplies off the scrapbook page and instead, use them to make the rest of our world just a little bit sweeter!
We've covered a variety of projects in this series that really stretch our digital art onto different mediums: from custom candy bar wrappers and double-walled tumblers to magnetic bookmarks and iron-ons for t-shirts and kitchen towels and even custom fabric for creating apparel and accessories.
This month, however, we're keeping things simple. We're truly taking our digital art outside of the album and putting it into a frame instead as we look at creating seasonal wall decor for our homes.
One of the easiest ways to add some seasonal flavor to your home is to add new framed artwork to your walls or table-top frames to your shelves. As a digital scrapbooker, you've got all the tools you need right at your fingertips to create customized pieces to match your decor and your personal style. Simply open your preferred digital design software, create a new document set to the size of your frame – I like 5×7 and 8×10 for seasonal artwork, but I've been known to go as big as 16×20 and 20×30 before! – and when you're done, simply send it to your favorite photo printer.
Here's some samples we made that are full of Fall flavor. Hopefully they'll get your creative juices flowing!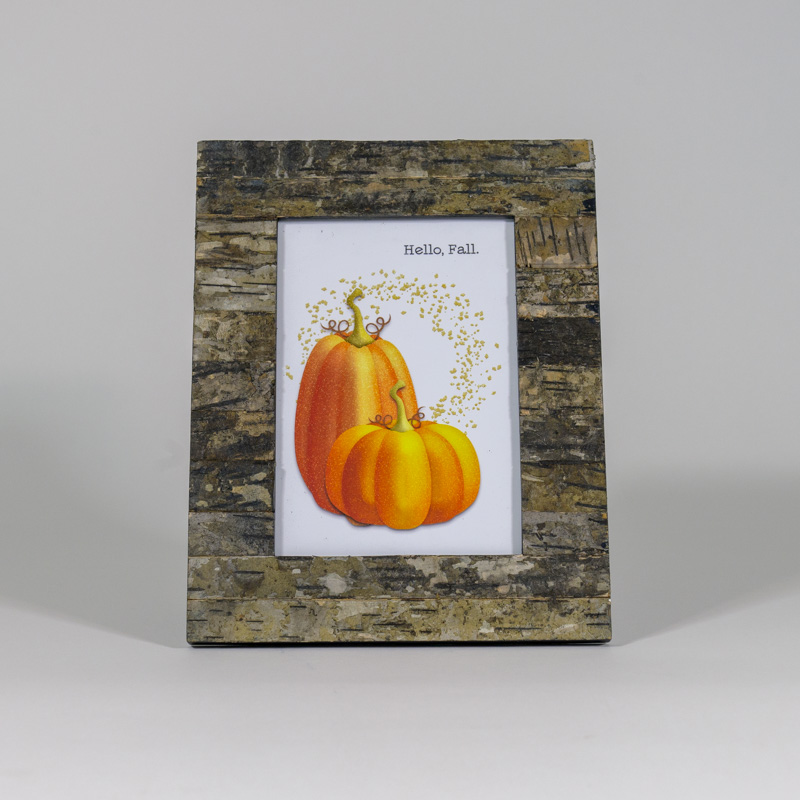 Created with Scrap Your Stories: Fall by Kristin Cronin-Barrow & Studio Flergs
Inspired by the free printable "Hello Fall" by Domestically Speaking
I spotted this free printable on Pinterest and thought it was cute, but a little on the simple side. Why not use it as a starting point? I found the perfect pumpkins in Scrap Your Stories: Fall by Kristin Cronin-Barrow & Studio Flergs along with a circular swirl of glittery goodness. Now it fits my style and looks super cute in my dining room!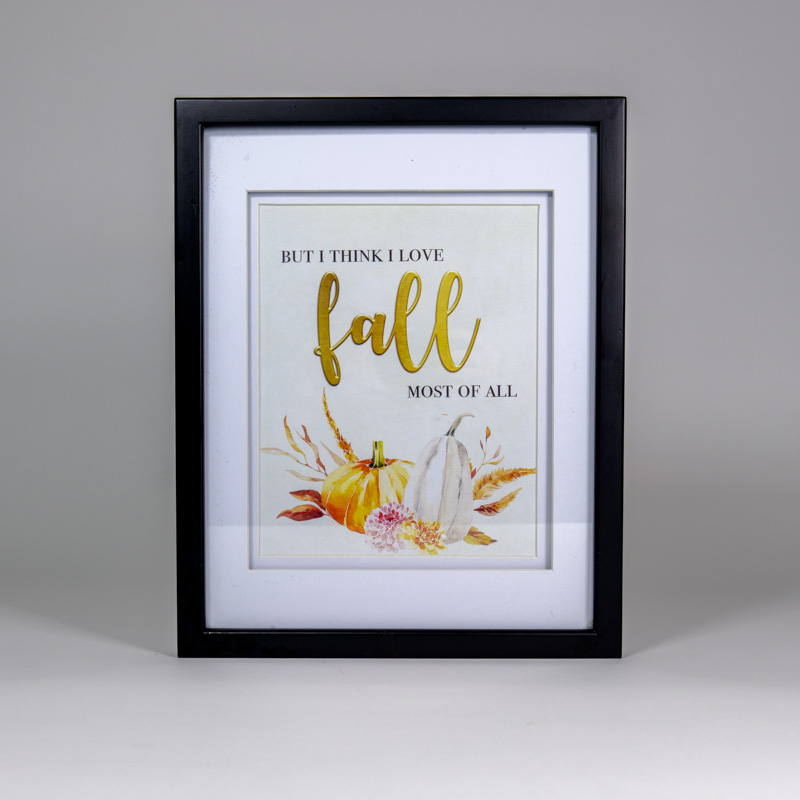 Created with Autumn Pleasures by Ponytail Designs
Here's another example that was inspired by another piece of art. Rebecca fell in love with this $25 Kirkland print, but knew she could create something similar herself. I think she did a great job!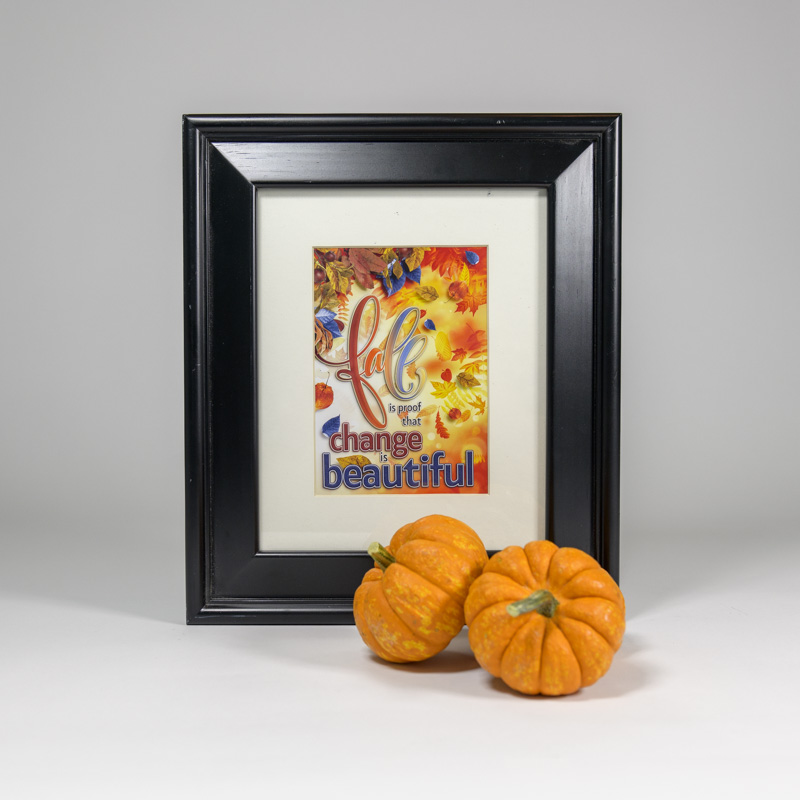 Created with Autumn's Glory by JoCee Designs
It isn't just full pieces of art that can inspire you. I saw a meme with the quote "Fall is proof that change is beautiful" and knew I wanted to use it to create something for my home. This will sit on one of my shelves along with some cute mini pumpkins. Instant fall decor!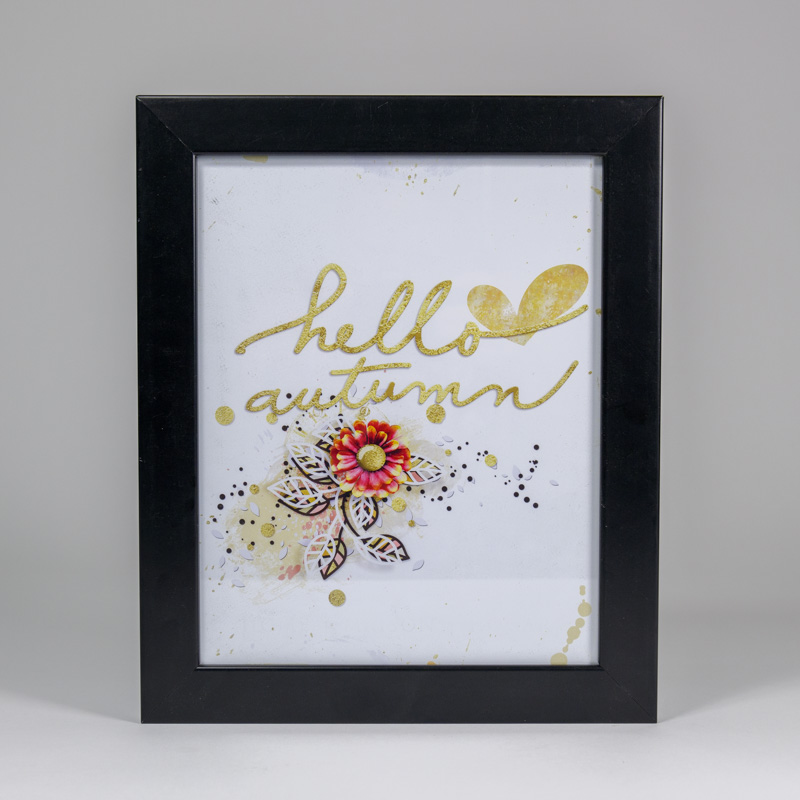 Created with Fall for Autumn Bundle by Red Ivy Design
If your space is white-washed and full of light tones, something like this gorgeous piece from Kiana would work perfectly.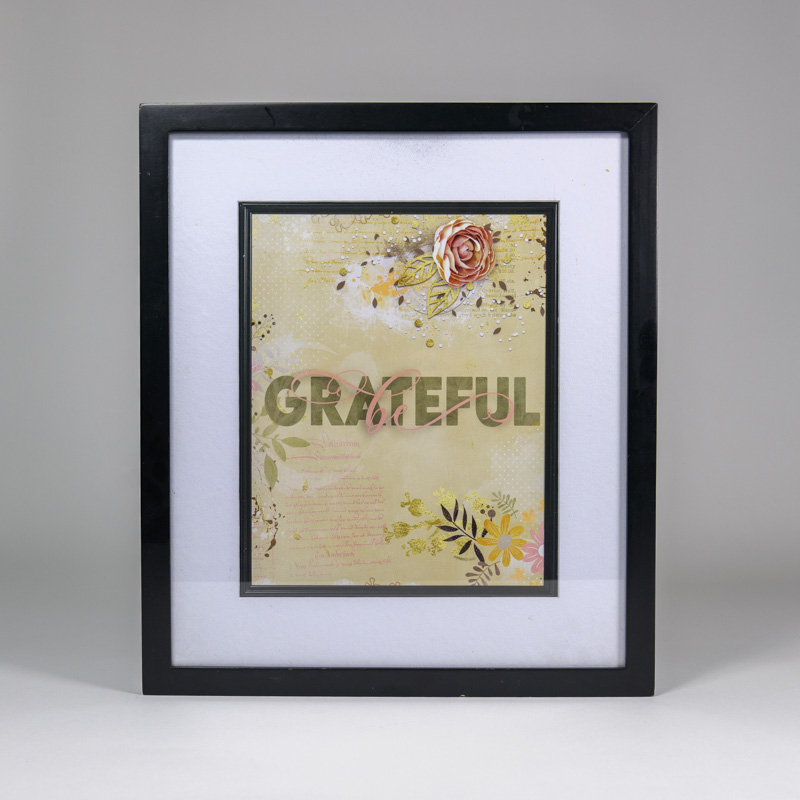 Created with Fall for Autumn Bundle by Red Ivy Design
On the other hand, if your decor is filled with neutral tans and browns, a piece like this would be right at home. That's the beauty of creating it yourself – you can easily customize it to whatever color palette you wish!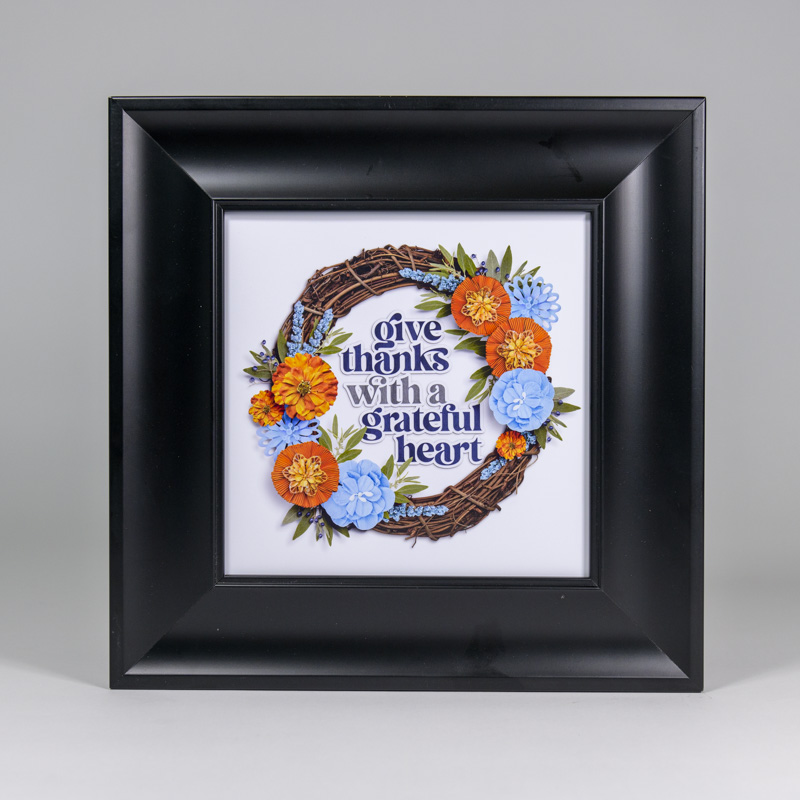 Created with Fall Homestead by Meagan's Creations
Wreath from Fall Sweet Fall by Meagan's Creations
My home is filled with shades of blue, which are tough to find in autumnal art. Not to worry! Thanks to this lovely kit from Meagan's Creations, I was able to whip up my own fall-themed wreath in shades of orange and blue.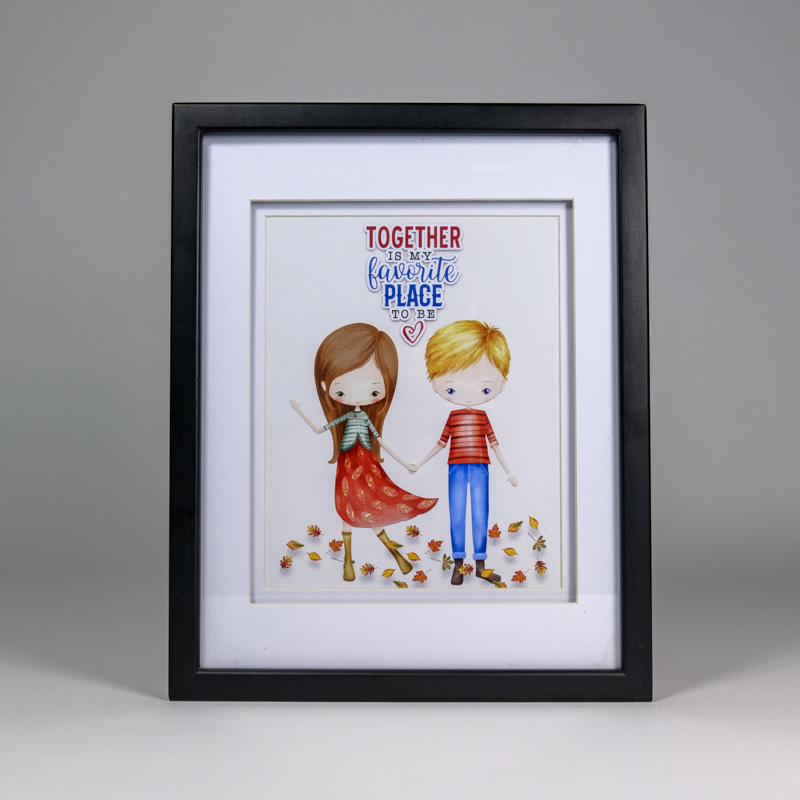 Created with Hello Autumn by Ponytails Designs and Fall & Halloween Memories | Stamps by Digital Scrapbook Ingredients
A piece of customized art makes a lovely and thoughtful gift. (They don't have to know how easy it was – that'll be our little secret!) I spotted this boy & girl in the kit "Hello Autumn" by Ponytails Designs and knew immediately I wanted to make a piece for my parents. They've been best friends since the age of 7 and celebrated their 48th wedding anniversary last summer. To make the kids look like my mom and dad, I changed the color of the girl's hair from gold to brown. Voila! I can't wait to give this to them.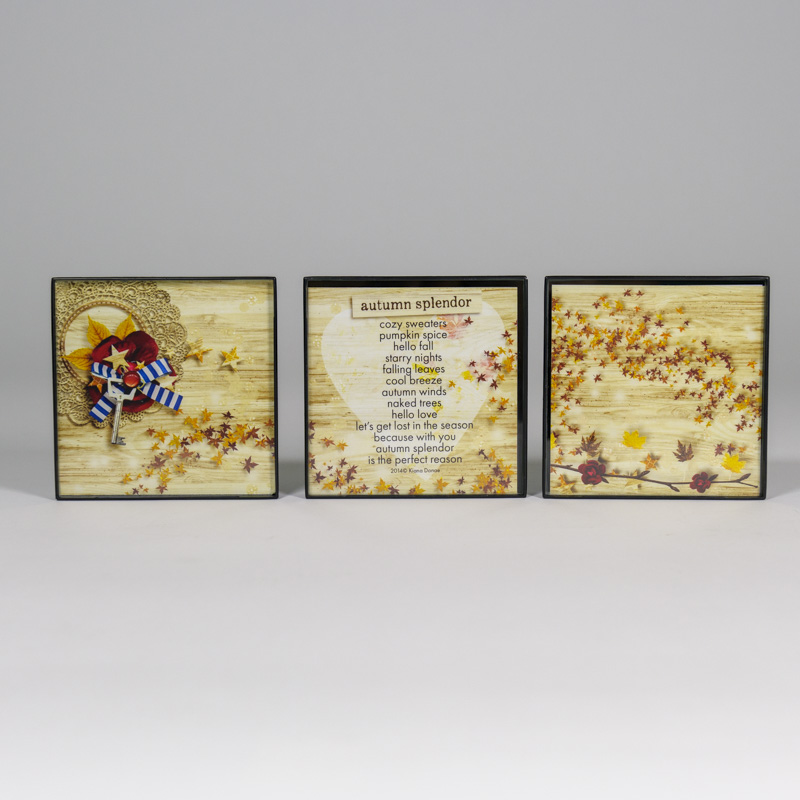 Created with retired kit Fall into Autumn by Kristin Cronin-Barrow
Kiana created this beautiful 4×4 triptych and included her original poem Autumn Splendor. I love the way that swirly scatter of leaves continues from one frame to the next! This is just the right size to sit on a desk and would be a sweet way to add some seasonal flair to your office.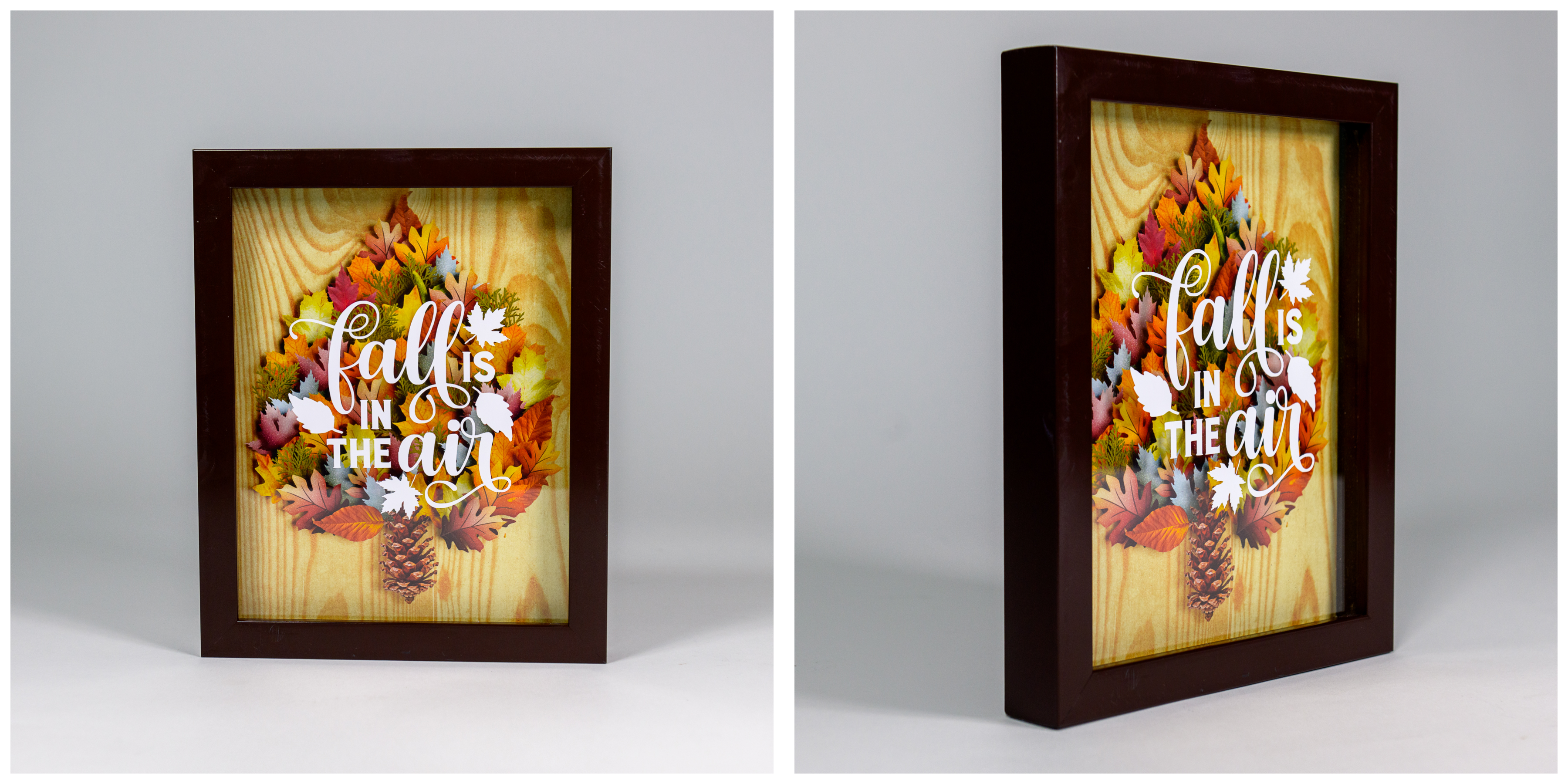 Created with Pumpkin Spice by Studio Flergs
Stickers and Stamps: Fall by Cindy Schneider
and Snuggles Templates by Erica Zane
For our final project, I decided to kick things up a notch and get my Cricut machine involved. I had a frame in my collection (yes, I collect frames; I pick them up when they're on clearance so they're on hand when inspiration strikes or I need a last-minute gift) that was almost like a shallow shadow box. There's about an inch of space between the glass and where the photo sits. I knew that would be perfect for "floating" a piece of word art in vinyl on the glass above the rest of my art.
First, I created a 6.5 x 8.5 image using Snuggles Templates by Erica Zane and Pumpkin Spice by Studio Flergs. After printing, trimming, and placing it in the frame, I then used rubbing alcohol to carefully clean the glass.
Next, I launched my Cricut Design Space software. I used the Upload function to upload the PNG of the word art I'd selected from Stickers and Stamps: Fall by Cindy Schneider. I chose Complex for my image type and Cut Image (not Print Then Cut) and added it to my canvas. After adjusting it to the correct size, I sent it to my Cricut and had it cut out of white removable vinyl.
NOTE: I chose removable because I imagine I'll want to re-use this frame for something similar in December, and I'd like the vinyl to come off cleanly. If you intend to use your piece year after year, by all means go with permanent vinyl instead.
I went through the normal vinyl-application steps of weeding, applying transfer tape, burnishing, and saying a few bad words as I very carefully applied it to the correct position on the glass. Then some more burnishing, a careful peel of the transfer tape, and …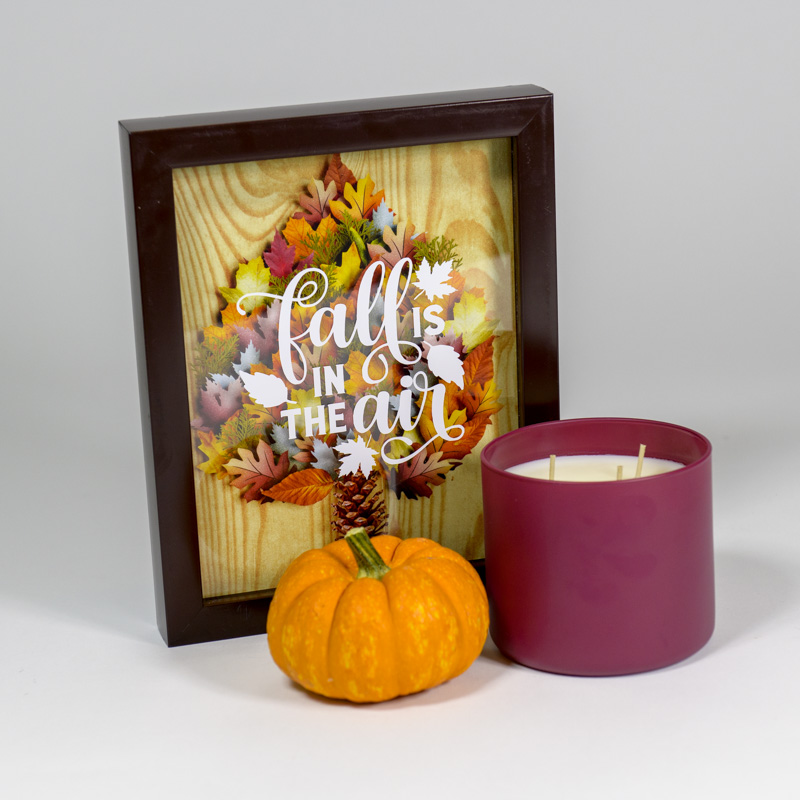 Created with Pumpkin Spice by Studio Flergs
Stickers and Stamps: Fall by Cindy Schneider
and Snuggles Templates by Erica Zane
My new favorite fall decor vignette!
That's it for this edition of Think Outside the Album. I challenge you to dust off the extra picture frame you've got sitting in a box somewhere, or go pick up a frame or two while it's on sale. Then treat yourself to a piece of custom wall decor that perfectly matches your living space, your personal style, and your feelings about the season. As always, be sure to share your finished project in the Gallery – after all, I can't wait to see what you create when you Think Outside the Album!