Our Favorite Sweet Shoppe Tutorials of 2013
Darcy highlights SSD's favorite tutorials of 2013
At Sweet Shoppe Designs, we strive to bring you great tutorials throughout the year that help you step outside of your comfort zone to create amazingly beautiful layouts that reflect your live and your creativity. As with all great end of the year traditions, we're wrapping up our 2013 tutorial year by bringing you a thirteen of our favorite tutorials from 2013.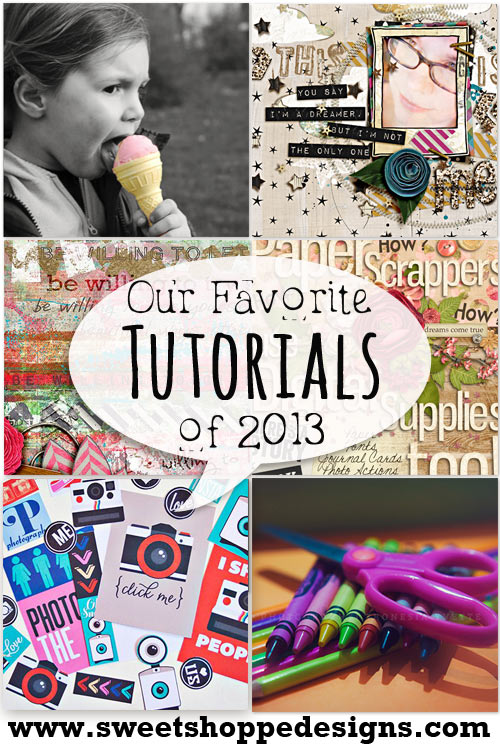 Playing with Text in an Art Journal Layout by Alexis  – Using fonts and cool techniques, Alexis was able to come up with this amazing art journaling page that shared her heart and her art.
Noted: Make Your Own Notepads by Keely – Using journaling cards from digital scrapbook kits, Keely was able to make physical notecards for gifts.
How to Partially Color a Black & White Photo by  Kim – When you really want to make something stand out in a photo, Kim shows you how in this creative look.
How to Make Your Own Brushes in Photoshop & Photoshop Elements by Traci –  Make your own scrapbooking brushes with this simple technique from Traci.
Scrap Like a SugarBabe – It's impossible to pull out any one of these awesome tutorials from our whole SugarBabe team. The talent here is extraordinary, and you'll learn something awesome from each one of our girls!
Welding Fonts with the Silhouette by  Heather – With the popularity of Pocket Scrapbooking and hybrid scrapbooking, many of us are finding ourselves drawn to using our new Silhouettes, but don't know how to take full advantage of what it has to offer. Heather shows us one great technique that makes things pop!
Clean Photo Processing by Tronesia – The first step of an awesome scrapbook page is an awesome photo!
Curating Scrapbook Inspiration by Alexis – Pinterest isn't only a pretty place to be, it's a perfect place to store your inspiration! Alexis shows you how to make the most of Pinterest to inspire!
Ombre Gradients by Lydia – Ombre was a big trend this year. Hair, fabric and scrapbook layouts! Check out how to achieve the look with Lydia's easy techniques.
All the Details: Macro Photography by Tronesia – Want to get really close to your subject and focus on the details? Tronesia shares some secrets about Macro Photogrphy.
Paper Scrappers and Digital Supplies by Rebecca – Don't let the digital label fool you. You can use your digital supplies to create amazing paper scrapbooking pages and hybrid projects!
True Screen Resolution for Accurate Printing by Keely – whether you're trying to make a journal card fit for your Project Scrapbooking layout, or getting the journaling size right for a printed layout, Keely shares tip on how to get the resultion right!
Create Your Own Cut Sheets from Digital Embellishments by Traci – Love all the embellishments from a particular digital kit and want to print them off on one page to save money and resources? Here's how!
With all of the awesome information on Sweet Shoppe Designs, its hard to share them all here, so tell us YOUR favorite tutorial from 2013!